By: Jonathan Kwan
January 10, 2014
One time at church, a high school girl came up to me enthusiastically and asked, "Have you seen the new One Direction movie?" -- which, to her disappointment, was a resounding "no". For some reason, many people are quite convinced I am a big fan of that kind of pop music, despite the fact I am completely out of their target demographic. Firstly, I am not in high school. Secondly, I am not a girl. But since we have brought up the topic of pop music that appeal to teenage girls, one question inspired by Hannah Montana comes to my mind: Can you really have the best of both worlds, like one of her songs suggest? (Actually, I am inspired by my colleague Aaron Lai's review on the Kingston DataTraveler Vault Privacy 3.0 32GB last week; I have never heard of that song until I read his introduction.) Back in 2006, even before SteelSeries rebranded their entire lineup to SteelSeries, I have reviewed a plethora of gaming headsets from them. This included the SteelSound 3H, SteelSound 4H, SteelSound 5H, SteelSound 5H V2, Icemat Siberia In:Ear, and Icemat Siberia. Some of them were okay for music, while others were awesome for gaming, but none of them were really good for everything. The scene has not changed much in the last few years, as we have covered a number of headphones from Tt eSPORTS and CM Storm. But today, SteelSeries brings to the table a completely new product that aims to crush everything that preceded it. The H Wireless is a Dolby Pro Logic IIx, Dolby Digital, and Dolby Headphone certified headset that promises to deliver unrivaled gaming and music performance... without wires. Is it really as good as it sounds? We here at APH Networks set out to find the answers.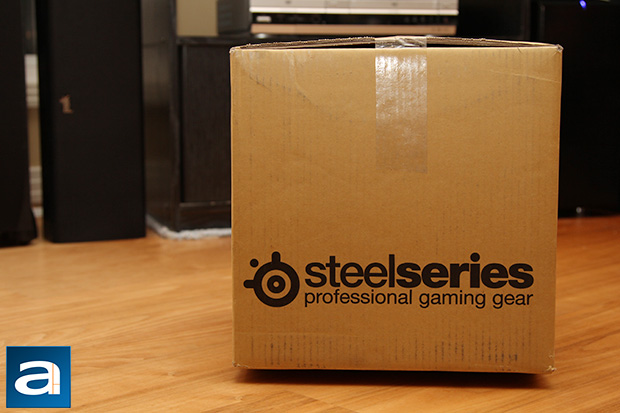 Our review unit of the SteelSeries H Wireless headset came in a relatively cube-shaped, brown corrugated cardboard box from the company's American headquarters in Chicago, Illinois, USA. This is right -- if you have been following APH Networks for a while, and read my SteelSeries Apex review a couple of months ago, you will realize SteelSeries is one of those rare people that does not have stuff coming from California. Using UPS Standard, we have experienced quite a number of delays; mainly due to the poor weather that delayed my Func KB-460 from FedEx as well. Once the snow cleared up, both products landed on our doorstep the same day. I was quite excited to try out the SteelSeries H Wireless, and so we begin.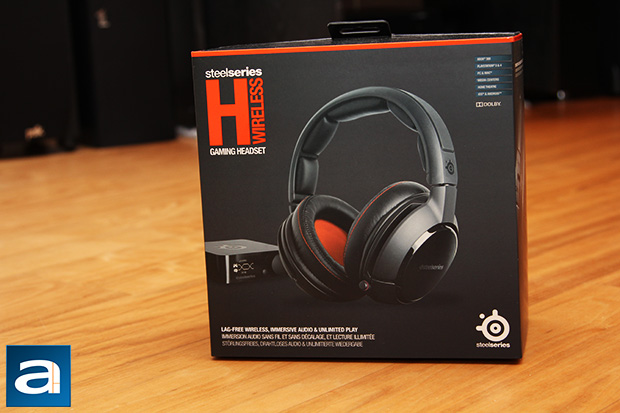 Upon opening the big brown package, I was rather surprised to see no additional packing material were used -- all that was inside the shipping box was the SteelSeries H Wireless in its retail box; the rest were all empty space. As far as the retail box of the SteelSeries H Wireless is concerned, the design theme has not changed much since my colleague Devin reviewed the SteelSeries Sensei in December 2011. I am a big fan of SteelSeries' clean and modern design, as shown in the photo above. The black and dark grey background is accentuated by white text printed on the box, with the model name in sharp, deep orange in the upper left hand corner. A photo of the headset itself can be seen occupying the majority of the box in the middle, with the transmitter box in the background. Feature highlights can be seen in the front, with more detailed descriptions at the back. The best part is it does not try to overwhelm you with information. If I were to see the SteelSeries Apex in a retail store, this will definitely give me a pretty good idea of what the product is, along with what makes it special. Generally speaking, the retail packaging is very classy, and quite appropriate for a product that commands of $300 at press time.
Before we move on, let's take a look at the specifications of the SteelSeries H Wireless, as obtained from the manufacturer's website:
Headphone
Frequency Response: 20Hz - 20000Hz
Weight: 297g (without battery)
Max Volume: 100dB* SPL @ 1kHz
Ports: Wired Mode / Share Port,
Chat port, mini USB FW update port
Transmitter
Wireless Range: 12m (40ft) straight line
Latency: <16ms, fixed
Ports: Analog In, Analog Out, mini USB,
Optical In, Optical Out, Power
Battery Type: Rechargeable Lithium-Ion, 1000mAh
Battery Life: 20 hours per pack, typical usage
Microphone
Frequency Response: 100Hz - 10000Hz
Mic Pattern: Unidirectional
Indication: Red LED on mute
Box Contents
H Wireless Headset & Transmitter
(2) Battery packs
(6) Cables: Optical, USB, Power, Analog, Mobile, Chat
Power adapter with (4) worldwide plug ends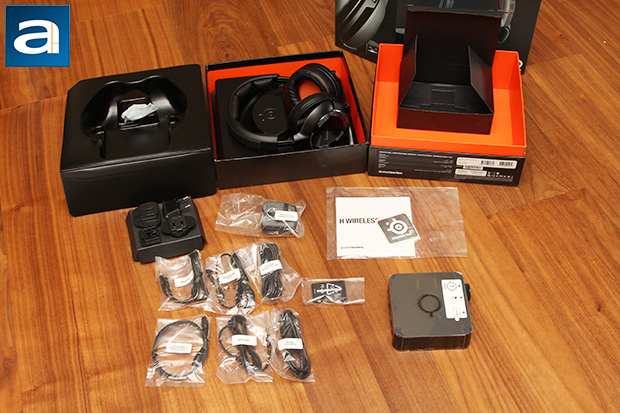 The SteelSeries H Wireless' packaging is very well designed. After sliding out the two piece sandwich type enclosure from the outer wrapper, you will find quite a number of items neatly packed inside. This includes the H Wireless headphones itself, transmitter module, two battery backs (One is already pre-installed), power adapter, and four different plug ends. This means, in addition to being able to draw power via USB, you can also plug the transmitter module into your wall socket no matter where in the world you are. Six cables are provided out the box. This includes an optical cable, 3.5mm analog, 3.5mm mobile (Same as the analog, but with microphone input), Xbox chat, USB, and power. The only thing missing is S/PDIF coaxial, but since we already have the optical interface, I am not complaining. You will also receive a manual and a sticker. To sum it all up, everything you will ever need is included.
---
Page Index
1. Introduction, Packaging, Specifications
2.
Physical Look - Hardware
3.
Subjective Audio Analysis
4.
Conclusion