By: Jeremy To
August 26, 2011
Nowadays, the world runs on the idea of being busy. Most of us find ourselves conforming to the world's view of staying busy because, well, it's the only way to survive. Heck, even the word "business" -- the very foundation of our society -- is derived from this very word. What does busyness bring us? Health problems, stress, lack of sleep, and even sometimes unhappiness. If one thinks about it, the world is simply an environment perfect for masochists who simply thrive for suffering, haha. However, as disturbing as this introduction seems, there is one thing that relieves us of becoming, for lack of a better word, zombies. This thing is hobbies. Some of us find enjoyment in arts, music, games, and much more. However, with a certain hobby, comes a certain price tag. Preston, my fellow colleague, once shared about his love for airsoft in the NZXT Bunker review back in March. Such a hobby requires a very deep wallet. Other hobbies, whether it may be as simple as collecting cards, or rocks, requires some sort of capital. Audio is no different. In fact, let me be the first to say that good quality audio equipment is quite a lot more expensive than your average deck of Pokémon cards. Recently, Thermaltake's sub brand Tt eSPORTS is getting in on the gaming audio industry with their Shock series of headsets. More specifically, we will be looking at the Tt eSPORTS Shock Spin headset. With this headset geared primarily towards gamers, can it compare against the big boys? Itching to find out? Read on!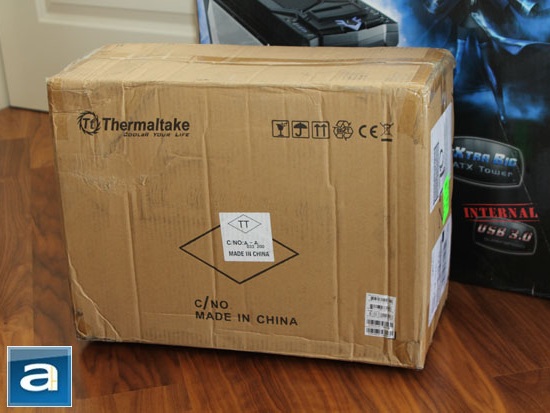 The Tt eSPORTS Shock Spin came to us along with another Thermaltake product; more specifically, the Thermaltake Chaser MK-1 I have reviewed last week. Although both units were packaged in separate boxes, they arrived to our officse here in Calgary, Alberta safe and sound from California, USA. Shipped via UPS Standard, the brown corrugated box took some hits along the way, but our Shock Spin arrived undamaged and ready for review.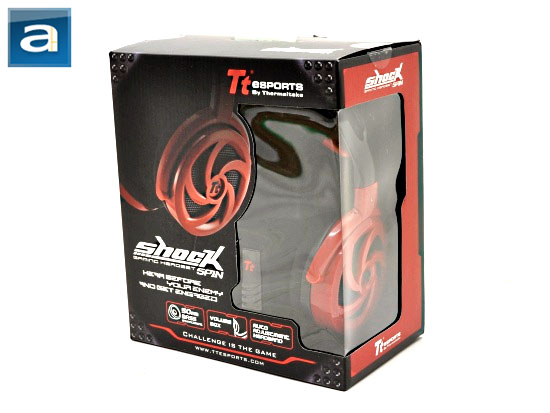 Following the very dramatic Thermaltake eSPORTS thematic design, the Tt eSPORTS Shock Spin retail box looks much like what you would find on other products in the sub-brand. The Shock Spin is encased in a red-black sheet metal box that screams gaming at any consumer. On the right side, the product itself is seen behind a display window for further viewing. The left side features a small image of the product itself, along with some key features marked as icons seen below the product name. Around the box, a more detailed list of features and specifications are found describing the Shock Spin.
Speaking of which, let's briefly look at the features and specifications of the Tt eSPORTS Shock Spin, as obtained from the manufacturer's website:
Features
-Neodymium Magnet Speaker: 50mm Neodymium Magnet Speaker oversized driver gaming headset with bass enhancement performance
-Microphone Box: Independent microphone box: Plug $ Play for quick communication with you team mates.
-In-Line volume Controller: External in-line volume controller for immediate volume adjustment
-Ergonomic Shaped Velvet Cushion: Provides long-hour gaming comfor with no constrivtive feelings
-Multimedia Player Compatible: Compatible with m ultimedia device with 3.5mm connector
Technical Specification Headphone
- 50mm Neodymium Magnet Speaker
- Frequency response: 15~20,000Hz
- Impedance: 32 ohms, 1 kHz
- Sensitivity: 95±3 dB SPL/mW, at 1kHz
- Rated Power:40mW
- Maximum Power:100mW
Microphone Specifications
- Sensitivity: -34±3 dBV / Pa@1 kHz
- Frequency: 100~10K Hz
- Direction: Omni-direction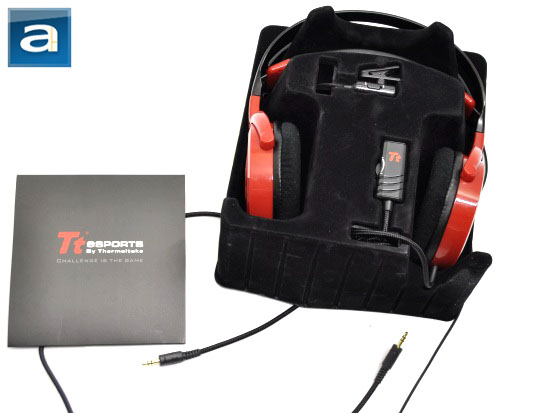 When I was opening up the Shock Spin, I noticed Thermaltake spent the effort in making sure the product will be safe from shipping. Unlike other products in the Tt eSPORTS lineup, the stand holding the Shock Spin is layered with a soft and fuzzy fiber coating to make sure the finish on the headset remains unscratched. Since the Shock Spin comes without a carrying bag, using the retail box for long term traveling may be your best bet -- if it isn't sitting around your neck already. Out of the box, the Tt eSPORTS Shock Spin does not come with many components. Found inside the box would be the unit itself, a microphone box, an in-line volume controller, a small package containing the user's manual in several languages, and lastly, warranty information.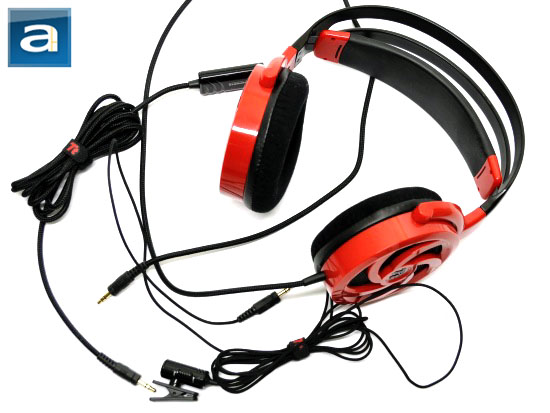 One of the main things you may have noticed right off the bat for the Tt eSPORTS Shock Spin is that this headset is an ordinary stereo channel headset. What does this mean? The wiring is fairly straightforward. The reason why this is important is because to use the Shock Spin only required one to use the 3.5mm jack plug. In reference to professional audiophile grade headphones, the latter probably utilizes a 6.3mm plug instead, so a 6.3mm to 3.5mm adapter is usually provided for those who wants to use them for computers or portable audio devices. Other headsets, like the Cooler Master Storm Sirus recently reviewed by my colleague Preston, came bundled together with a plethora of plug-ins which would generally make the headset difficult to use for you average digital audio player in its 5.1 configuration. Also, since the Shock Spin does not come with an integrated microphone onto the unit itself, it makes the product all the more user friendly in terms of the day to day functions apart from the computer. Whether the Shock Spin is tuned for music is another story; this is just hardware discussion -- we will cover its audio characteristics in our review shortly.
The braided cable length on the Tt eSPORTS Shock Spin comes out at approximately 90cm with a standard 3.5mm plug in jack. This can either be directly plugged in to your computer or audio device, if 90cm is all the length you need. The 3.5mm jack can also be plugged into the in line volume controller, which has a cable length of 214cm. At the end of the in line volume controller is another 3.5mm jack that can be plugged in directly to an audio device exactly like the jack found at the end of the headset. Together, the cable length extends over 310cm, and that is really long. Since the product comes with a separate microphone that is not attached to the headset itself, the microphone has its own cable with a length of 273cm. This again is considerably lengthy, and will allow the user to have a sufficient amount of cable slack. Since the wiring is fairly straightforward, the Shock Spin is no different than the average plug and play headphone.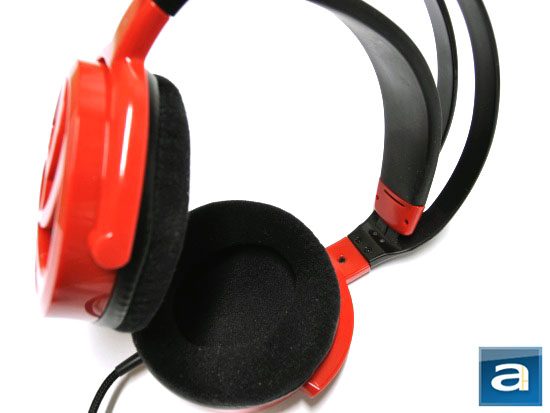 In the photo above, you can see the headset ear cups more clearly. The ear cups are not interchangeable, and follows a fairly standard velvet cushion ear cup. The ear cups are ergonomically designed to follow an oval shape that will fit around the user's ears fairly comfortably. The ergonomic cups can be rotated to fit the user. I would have liked to see the Tt eSPORTS Shock Spin come with interchangeable ear cups, especially for users that may enjoy the company of leather ear cups rather than the velvet fiber cushioned ear cups. Leather ear cups tend to provide more insulation, and in terms of gaming, that could very well mean a better overall gaming or audio experience. However, cushioned ear cups tend to provide better airflow for the ears, which can keep ears cooler in a hot room full of sweaty gamers, haha.
-----------------------------------------
The Tests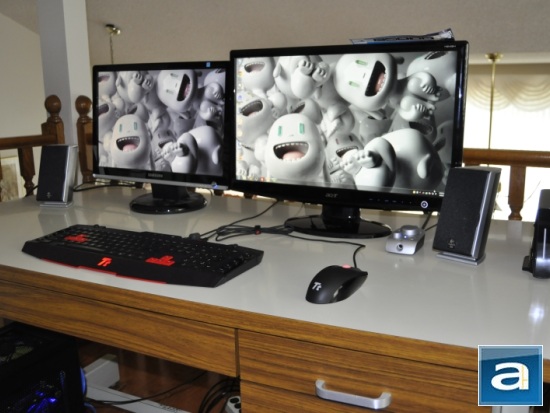 When it comes down to testing audio sound quality, there really isn't an objective way to measure it, as it may be quite different from user to user. However, what I can tell you is that we here at APH Networks may have a lot of experience with sound. A few of us at APH Networks have been musically trained, and I personally have had past had experience in a professional recording studio. Nonetheless, the Tt eSPORTS Shock Spin has been run through a series of subjective tests for the most objective rating possible. The tests were conducted primarily through the onboard Realtek ALC889 high definition audio codec on my Gigabyte GA-P67A-UD5-B3 motherboard. While it is no Auzentech X-Fi HomeTheater HD by a long shot, it still performs admirably well, as shown in the linked RMAA results. For mobile testing, I have used an Apple iPod Classic 160GB, iPhone 3G 8GB, iPhone 4, and an ASUS Eee Pad Transformer TF101. After approximately 48 hours of break-in time, I have started out testing with tracks that are uncompressed CDs, FLAC, or LAME encoded MP3s at 192Kbps or higher. For reference purposes, I have used a set of Logitech Z-2300 2.1 speakers, but it was not directly compared.
During the testing, I have found that although the Tt eSPORTS Shock Spin provides clean, crisp treble and alto voices, it seems to be overpowered by the bass. I would not go so far as to say the bass is entirely out of balance and is too loud, but the bass does seem out of place. When listening to music where a large amount of bass is apparent, the Shock Spin does not seem to handle it well. The bass lacks a sense of initiation in volume, and ends up mashing together, which can create a sickening feeling after a long time. The midrange seems very pronounced and clear, which is great. The treble, however, seems a little bit weak, and gets drowned by the other voices easily, even though it has a good sense of clarity.
However, keep in mind these are gaming headphones, and most gaming headphones are tuned this way for a reason. These headphones may have a good amount of bass to deal with footsteps, and may have a little weaker and more unpronounced treble to deal with the loud high-pitched gunshots, but still lack the overall atmosphere that is needed when listening to music. Also, the sounds produced by the 50mm speakers seem to deliver a very artificial sound when listening to my favorite tunes -- a property heard in the Cooler Master Storm Sirus. My colleague Preston writes, "... gaming and audiophile factor are mutually exclusive; one tries to project a wider range of audio sounds while the other emphasizes on specific frequencies during tuning". And no one could have said this better. While audio junkies so very hard try to balance out the entire soundscape, the gamers simply care about loud explosions, crisp footsteps, and clear gunshots. This dilemma usually creates a gaming headset that with an overcompensating bass, a weak but clear treble, and a middle range that simply does not fit anywhere. I do commend the Tt eSPORTS Shock Spin on having a very nice alto and tenor range; but with the bass and treble being so off balance, I have pretty much concluded that the Tt eSPORTS Shock Spin is not for your music. In fact, I personally went as far as to turn the in game music off in StarCraft II, because the low trombones came out very harsh and would give me a small migraine.
Much like the Cooler Master Storm Sirus, the Tt eSPORTS Shock Spin is in a whole new level for gaming. Since games like Counter-Strike 1.6 and Counter-Strike: Source focus on a different spectrum of sound, the sound engineers at Thermaltake had to make sure such frequencies were exaggerated for the purpose of distinguishing these sounds. These sounds have proven to be vital tactical information for most, if not all, modern first person shooters, since knowing where your opponent is on a map could very well determine whether you get to shoot first or not. Actions like footsteps, gunshots, grenade tosses, reloading, explosions are all just some of the sounds that the Shock Spin seems to handle very well. Determining the relative placement from all these sounds is very accurate, and will give most players an upper edge in the game. Other games that follow a different genre however (RTS, MMORPG, RPG, MMORTS etc.) may not have much of a performance benefit from using the Shock Spin. These genre of games are mostly interactive based where communication, not necessarily sound, is vital. This brings us to the microphone.
Since the Shock Spin does not have an integrated microphone, one will need to plug in the provided microphone, clip it on one's shirt, and press flip the on-off switch to "on". Let me be the first to say that using such a microphone is very uncomfortable. Having a weighted object hang from your shirt, another very long cable tangling with the headset cable, and finding myself looking down towards the ground to speak into the microphone is something that is not practical in the world of gaming. Communication in the world of RTS and MMORPG games is probably the most vital part as aforementioned. When testing the Shock Spin microphone on Heroes of Newerth, my teammates said, "It sounds like you are swallowing your mic". That is pretty much what the microphone is like. Such a microphone will not cut it for a gaming headset of this caliber, and I am not entirely sure as to why Thermaltake did not decide to add an onboard microphone to the headset. You will want the product to revolve around the user's habits, and not the other way around.
In terms of sound levels, I had brought the Tt eSPORTS Shock Spin on the bus, train, and even LANed with some fellow colleagues here at APH Networks. I will say that the ear cups really do not isolate as much sound as I would like. I found myself turning the volume up on my devices fairly loud to be able to hear clearly (And in turn, half the bus could hear the music coming from the headset). The in line volume controller is a nice addition as it allows me to adjust the volume on the fly without needing to use my device.
-----------------------------------------
Now that I am writing the conclusion, I feel fairly stupid about the introduction I already wrote, which you should have already read. Priced at $74.99 USD MSRP at press time, can the Tt eSPORTS Shock Spin compare to other audiophile headphones? Well, no, but let us take into account the fact t hat it was never meant to be. It is designed for gaming, and in turn, the Shock Spin really flexes its muscles in the league it belongs to. The engineers have tweaked the speakers to allow lower frequencies and higher frequencies alike to be more in-tuned with sounds produced during first person shooters. As well, the treble and the middle ranged frequencies are very clear and crisp. This combined with excellent soundscaping provides accurate pinpointing of where your enemies are located. Other great things about this headset include a stylish gaming design, abuse-tolerant and slick braided cables for cable noise and tangle reduction, gold plated 3.5mm connectors, ergonomic and adjustable velvet cushioned ear pads for comfort, and an on-the-fly volume controller. However, there are improvements needed on the Shock Spin. First off, although the bass is balanced to be stronger, Thermaltake must address the issue of the bass having no real audio clarity. It would have also been nice to have a interchangeable ear cup for those who want flexibility. The current velvet cushion ear cups do not insulate much sound at all, which can be a nuisance for those around you when using the headset. Lastly, the largest issue I have with this product would be its separate microphone box. I find this to be a problem for games that require constant communication with others online as the microphone box is uncomfortable and not very clear. Of course, because the Shock Spin uses a separate plug and play microphone, one will be able to use the headset for more mobile audio devices without having an onboard microphone hanging off to the side. If you are one that requires a fairly economic gaming headset for a specific gaming function in mind -- and by specific, I mean FPS only -- then look no further, as the Shock Spin will definitely deliver.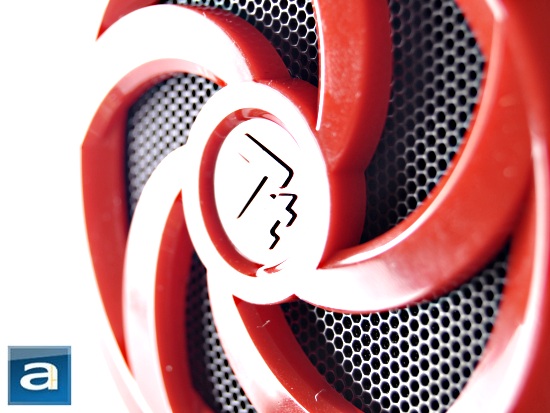 Thermaltake provided this product to APH Networks for the purpose of evaluation.
APH Review Focus Summary:
6/10 means A product with its advantages, but drawbacks should not be ignored before purchasing.
7/10 means Great product with many advantages and certain insignificant drawbacks; but should be considered before purchasing.
-- Final APH Numeric Rating is 6.8/10
Please note that the APH Numeric Rating system is based off our proprietary guidelines in the Review Focus, and should not be compared to other sites.
If you are looking to land some headshots with an upper hand against your virtual enemies, then the Tt eSPORTS Shock Spin is a commendable FPS headphone to consider.
Do you have any comments or questions about the Tt eSPORTS Shock Spin? Drop by our Forums. Registration is free, and it only takes a minute!