By: Preston Yuen
July 19, 2011
APH Networks is a "dedicated team of people passionate for technology responsible for... writing the reviews or reports, updating the news section, [and] administrating the technical side of the site". For the most part, we are hard at work, producing quality articles for readers and maintaining the site, just like how our Editor-in-Chief, Jonathan, claims "he does not like playing [video] games" because he needs to pays the bills. However, at times, we get stressed out from so much work we do here at APH Networks, that distraction is irresistible. Sometimes, it gets so out of hand, that our hardware testing sessions turn into APH LAN parties. These testing sessions and LAN parties are filled with STFUs (Shut the fridge up, because we don't want the dessert to rot), WTFITS (Why's the fudge in the storage, because something in the fridge did go wrong, and thus, the fudge would rot), and other such words that go through our brains, but do not actually come out of our mouths -- the APH staff does, in fact, get work done by the end of the day. Not only do we review mice and keyboards, but motherboards, chassis, and a variety of other products. Heck, we started to review games not too long ago. However, there was always one thing that seemed to be somewhat outdated at our audio testing lab, and that is none other than gaming headsets, such as the Cooler Master Storm Sirus we're taking a look at today. The Storm Sirus is a headset claimed to be designed for gaming enthusiasts and audiophiles alike. Is this the headset that will take both gaming and audio to the next level? As far as audio quality is concerned in regards to how each user defines it, you will have to experience it for yourself. But if you don't have that luxury, there is always one website you can trust, and that would be APH Networks.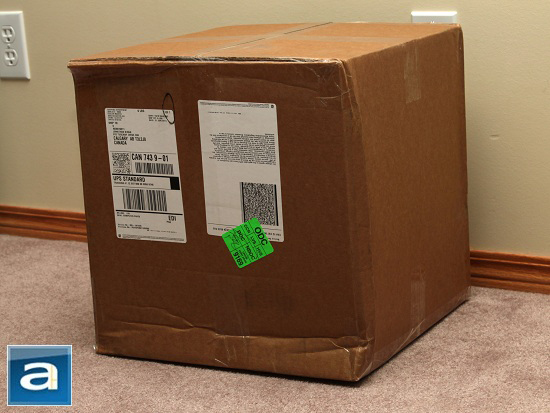 Our Cooler Master Storm Sirus came in the usual brown corrugated cardboard box via UPS Standard from our good ol' neighbors down south in California, sustaining the typical dents here and there. If you are experiencing déjà vu, fear not, because I have simply used the same packaging photo from Devin's Cooler Master NotePal X-Slim review, because both review units arrived together to our Calgary office before their respective official release dates. I am glad to say that, although the packaging sustained some damage, the review products arrived safe and sound, thanks to Cooler Master stuffing in some extra packaging to reduce the traveling shock.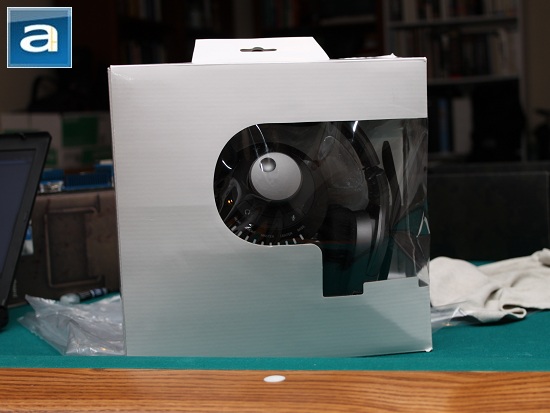 Being a product received before the actual release date, our review package came in a simple white cardboard box with a display window showing only half of the Cooler Master Storm Sirus gaming headset with the mic and control pod. I can assure you the official retail packaging will look much better, following Cooler Master's Storm series theme, with their product prominently displayed and features described on the back of the box, like most retail packing these days. If you can't help it, you can easily Google up the Storm Sirus to take a look at the packaging, haha.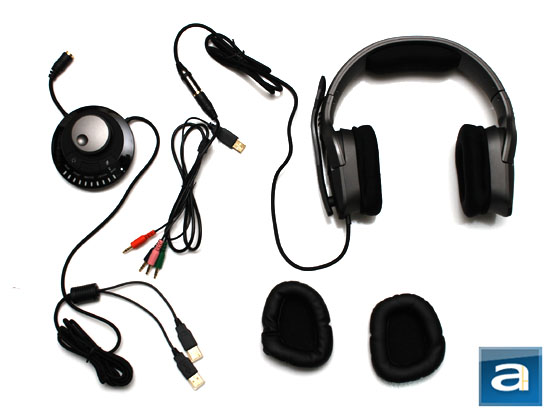 As mentioned before, the unit of the Storm Sirus is sent to us before the release date at the time of review, so out of the box, we only received no more than the headset itself, a "Tactical Mixing Console", as well as two leather ear cups that could be interchanged with the stock micro-fiber ear cups. To clear things up before it causes more confusion, the "Tactical Mixing Console" is simply Cooler Master's fancy way of saying a control pod, which technically is just a USB sound card and volume control pod that can vary the volume of different channels in your 5.1 headset.
Before getting into down to "work", let's take a look at the features and specifications of the Cooler Master Storm Sirus, as obtained from the manufacturer's website:
Features
- True 5.1 Surround Sound
- On-The-Fly Rear, Center, & Front speaker control for maximum sound customization
- Interchangeable ear-cups for breathable audio and noise cancellation
- Dual gold-plated USB Connectors for improved signal quality
- Microphone with LED mute indicator
Specifications
Headphones
- Channel: True 5.1 surround sound
- Driver: F/R/C: 30mm Sub: 40mm
- Impedance: F/R/C: 32 Ohms Sub: 16 Ohms
- Transducer principle: Dynamic closed
- Ear coupling: Circumaural
- Ear cushions: Detachable micro fiber
- Sensitivity: >105dB
- Frequency Response: 10Hz – 20,000Hz
- Distortion: Less than 1%
Microphone
- Pick-up pattern: uni-directional
- Frequency Response: 100Hz – 10,000 Hz
- Impedance: 2.2k Ohms
- Sensitivity: -46 dB ±3dB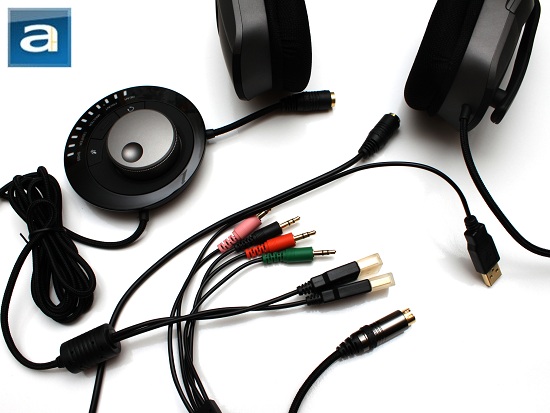 To make things clear before moving on to the headset itself, I'll go through what all these wires actually do. Although some parts of it may be pretty obvious for most people, some parts of it may not be entirely clear even to the best of us, so here we go. Stretching out the braided wire directly connected to the headset measures to approximately 120cm, and at the end is a 10-pin connector that could either be connected to the control pod directly, in which I will describe more a bit later, or the wire with the abundance of audio jacks. The color of audio jacks are pink, black, red/orange, and green, which correspond to mic, rear audio, center/sub, and front, respectively, with an additional USB to power the headset's lights. The length of this cable measures to approximately 75cm, while the length of each segment corresponding to independent audio jacks come out to be 11cm. The USB cable here measures to an additional 20cm longer than the audio wires, just in case your audio ports are quite a ways away from your USB port, so you have some extra working room.
The control pod is quite straightforward. If you don't like the audio system your computer already has, the control pod can help you bypass that entirely. Implementing a circular design in correspondence to the typical volume adjustment wheel would give users like me not too much trouble figuring how it works. Below the wheel are three buttons: Headset button on the left to turn the volume on or off, the mic button with similar features but for the mic of course, and the center button to change between various audio channels to change the volume. These will light up between the volume indicator and the buttons. Although it is listed as rear, front, master, center, and bass from left to right, you will be starting off on the master volume control, working in the order of front volume control next, followed by rear, then center, and lastly, bass. Flipping the control pod over, you will notice a nice sheet of rubber to keep it from sliding over smoother surfaces. Also, if you have noticed by now, there are two USB connectors on the end of the long cable on the Tactical Mixing Console. If you plug either one USB into your computer, it will provide sufficient power for both the control pod and the headset logo lights to come on. However, each USB connector is independent to the headset and mic connection. Both must be plugged in for both the headset and mic to work, unless you're planning to only use just the headset, or just the mic.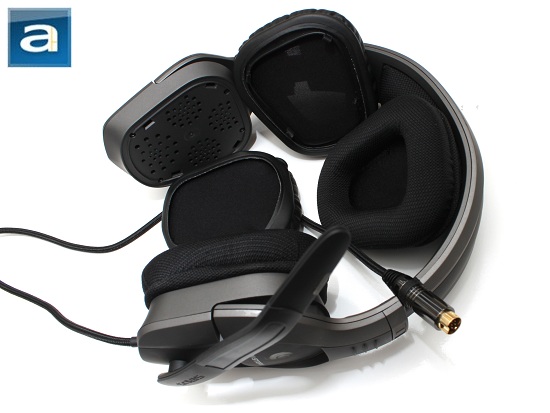 In the photo above, you can see the headset more clearly with the interchangeable ear cups, and overall graphite and black color scheme all around. On the topic of ear cups, there is a plastic clip in which you can easily remove if you ever decide to change between the micro-fiber and the leather versions. Personally, I would much prefer the micro-fiber ear cups, because it gives you a bit more air ventilation when using the headset for extended periods of time, while keeping your ears comfortable. Although some may argue that the leather ear cups provide better isolation from external noise, it doesn't give you as much air ventilation, and thus, would cause some discomfort when you start to sweat after a period of time. This is especially problematic if you are sitting in a room with a hot running desktop beside you, haha. To add a nice touch to the headset, CM Storm branding is printed on both sides on the ear sections, along with the glowing red logo and a small section with a stylishly designed mesh. Each side is length adjustable to better suit the position and comfort of the end user's ears. As well, there is a soft cushion on the top side. I wouldn't think anyone would appreciate a bruised head after a short period of game play, and I believe that Cooler Master has put some thought into this area. On top of this, "CM Storm" is engraved on the top side, with the product name "Sirus" on the pivot point of the mic. The mic is situated on the left side, and can only be rotated down in one direction. Taking a closer look, there is an LED to let you know that the mic is on while in use, and when it's retracted back up in an upright position, the mic will turn off. This is one feature gamers like myself would greatly appreciate when playing FPS games to avoid leaking team plans to the enemy. The only complaint I have here is that the LED is quite dim, and could be barely seen when you have your headset on since you will be looking at it from an angle.
-----------------------------------------
The Tests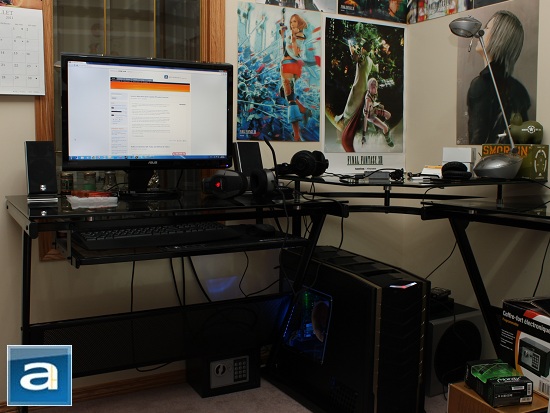 Yes, this is one of the few audio testing labs here at APH Networks. If you haven't noticed yet, this is the same testing lab shown in our Behind the Scenes page, but from a different angle.
When it comes down to testing audio sound quality, there really isn't an objective way to measure it, as it may be quite different from user to user. However, as a reviewer here at APH Networks, I have tried, to my best of my abilities, test the Storm Sirus through a series of subjective tests for the most objective rating possible. The tests were conducted primarily through the onboard Creative X-Fi audio on my Gigabyte G1.Sniper motherboard with the Storm Sirus plugged in directly. (CA20K2 APU/DSP, Hynix H5DU1262GTR-E3C 64MB DDR memory chip, Nichicon MUSE ES series and MW series bi-polarized capacitors, STMicroelectronics C4558 OpAmp, Cirrus Logic CS4882-CQZ, Texas Instruments LC245A.) This is probably one of the best motherboards on the market today with high performance 'integrated' -- which is probably closer to dedicated -- sound, and will reduce its potential to be a limiting factor in our benchmarking. For mobile testing, I have used my Apple iPhone 3G 8GB, Sony Ericsson Xperia X10, and PSP-2002 Slim as a reference for mobile testing. After approximately 48 hours of break-in time, which is a decent amount of time, I have started out testing with tracks that are uncompressed CDs, FLAC, or LAM encoded MP3s at 192kbps or higher. I have borrowed a pair of V-MODA Vibe IIs from my colleague Jonathan as well as using my Razer Megalodon 7.1 headset and Logitech Z-2300 2.1 speakers as references, but were not necessarily directly compared. Cooler Master claims that the Storm Sirus is designed for gamers and audiophiles alike. However, in my opinion, it occurs to me that this doesn't seem to be the case, and I will get into more details regarding this in the next little bit.
While the Storm Sirus delivers generally clean and crisp sounds through its 5.1 channel system, I found that while indulging into music and other audio in a similar category, there seems to be an element that is still lacking. Before I start complaining about what it is missing, I have to first give credit to Cooler Master for building relatively clean bass into the Storm Sirus. That said, while it is pronounced, it is neither particularly rounded nor solid; however if you are not a hardcore basshead, the CM Storm Sirus can easily get away being sufficient in use.
As far as the midrange layers are concerned and after extensive hours of benchmarking and testing, the Storm Sirus does a decent job at trying to project the vocalized and treble sounds, yet there is a limiting and suppressing factor that does not seem to bring out the quality. Yes, I know, this seems quite ironic because the Storm Sirus tries to incorporate both the "gaming enthusiast" factor while mixing it with the audiophile factor, as gaming enthusiast headsets/headphones are geared more towards lower frequency sounds, such as explosions and footsteps, while audiophiles prefer wider range of quality sounds in a fundamentally balanced manner. In this sense, it almost seems to me that the gaming and audiophile factor are mutually exclusive; one tries to project a wider range of audio sounds while the other emphasizes on specific frequencies during tuning. In my opinion, the midrange and treble sounds is like an amateur swimmer trying to stay afloat at the deep end of the pool; hence, the higher frequency sounds almost seem to have a slightly fake tune tacked on top due to its inability to project further. The problem here is that although it produces the necessary sounds, it does not capture the mood of the listener, which in turn degrades the emotion that the song is really intended to bring out. This simply results in a song sounding very artificial and "dead", so to speak. To summarize it up, all it means is the song will sound fine, until you listen to real audiophile headphones, and you will be able to hear all the differences. I cannot recommend the CM Storm Sirus to serious audiophiles.
When it comes down to gaming, however, it's a different story. Before we indulge further into this section, let's be reminded of our five senses quickly: sound, sight, touch, smell, and taste. Obviously, any of the latter four have nothing to do with the Storm Sirus. Having that in mind, let me ask you this: How well is your ability to hear? I don't know about you, but I'm quite sure my many years of listening to audio coming from various games counts towards depicting different types of audio gives me at least some credibility. As discussed before, the gaming enthusiast factor emphasizes more on low frequency and some high frequency sounds, and thus, seems to be the predominant advantage in the gaming area for listening to footsteps and other tactical audio elements. While using the Cooler Master Storm Sirus, I have also noticed the engineers made sure stuff like gunshots and other clicking noise in FPS games are extremely easy to pick up. I am sure many of us are quite familiar with FPS games such as Counter Strike: Source, Counter Strike 1.6, and Call of Duty series, along with third person action games such as the Metal Gear Solid series, as these games involves knowing where your enemies are in relation to you and your team. Not only that, getting an idea what they are doing is also really crucial, such as reloading or whatnot -- and the Cooler Master Storm Sirus depicts this accordingly. Because the Storm Sirus emphasizes heavily on frequencies that important in this area, it would not matter as much if the audio were to sound unrealistic. As aforementioned, it makes some frequencies easier to hear, while others are more suppressed, so the human ear can easily distinguish between the stuff you want to hear (Gunshots, clicks, footsteps, etc) than background noise that's not crucial to formulating your strategy. In such situations, it is more important to win the game than to be picky about whether or not audio should be realistic or not. As long as you win, it is better than to have everything tuned to perfect realism, right? In addition, the 5.1 channel environment helps gamers differentiate exactly which direction these sounds are coming from. This will help gamers determine where sounds are coming from specifically, and can act accordingly without further thought. I am very impressed by the gaming performance of the Cooler Master Storm Sirus, and from my experience, they are really like wallhacks for your ears. Legal wallhacks.
Swapping between the micro-fiber and leather versions of the ear cups, I noticed that there was little to no difference in terms of external noise isolation, or at least, for myself anyways. So I simply stuck with the micro-fiber ear cups because that was the most comfortable, in my opinion. Turning on my computer and pulling out my gadgets in a home and office environment, I did not turn my computer volume to anything past 40%, 5/16 on my iPhone, 2/7 on my Xperia X10, or 6/20 on my PSP before I could barely hear anything else around me. When it comes to taking the bus, train, or simply being in noisy and crowded areas, I had to turn up my iPhone to about 7/16 of the way, my Xperia X10 set to 3/7, and PSP set at 9/20, which were the maximum settings that I have ever gone with the Storm Sirus. With such settings, I was pleasantly surprised at how well the Storm Sirus could provide noise isolation in such environments. It's not like you are going to use the CM Storm Sirus on the bus, but it may prove to be useful in noisy LAN parties.
-----------------------------------------
Before you get too excited about the Storm Sirus, let's be reminded of a couple of complaints I have. Although the Storm Sirus gives generally passable audio quality for music, the vocalized and treble sounds are overtaken by the bass, with some unbalanced suppression and amplified frequencies, which skews this headset towards being a gaming headset more than anything else. Music that plays through the CM Storm Sirus doesn't carry forward the emotion for livelihood, but at the end of the day, consider this: Do you really care? In my experience, good gaming headphones and good audiophile headphones are pretty much going to be mutually exclusive from the very first day. They are tuned differently for different purposes. But where the Cooler Master Storm Sirus really wins is it amplifies on the right frequencies to make you win a FPS game, and that is what that matters. Excellent soundscaping in its 5.1 configuration makes it perfectly designed for most shooter games such as Counter Strike: Source and the like. With that in mind, I would just like to mention the leather ear cups may cause some discomfort after a period of usage. This may be just a personal preference for some people, and it may not necessarily be a complaint. Fortunately, you are treated to air ventilated micro-fiber ear cups along with a soft cushion on the top side of your head. Priced at $130 MSRP at press time, what more is there to say about the Cooler Master Storm Sirus? If you are a gaming enthusiast purely looking for an addition to your rig for some pure pwnage, then this headset will satisfy your needs.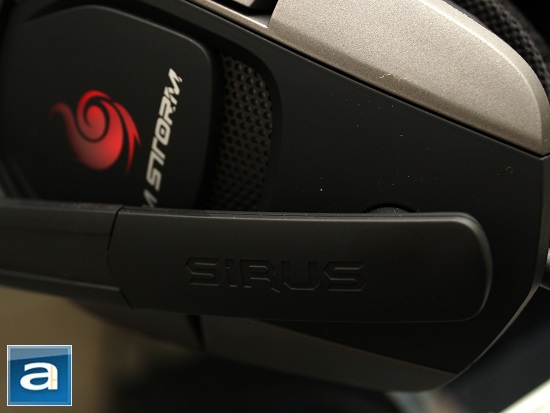 Cooler Master provided this product to APH Networks for the purpose of evaluation.
APH Review Focus Summary:
8/10 means Definitely a very good product with drawbacks that aren't likely going to matter to the end user.
7/10 means Great product with many advantages and certain insignificant drawbacks; but should be considered before purchasing.
-- Final APH Numeric Rating is 7.6/10
Please note that the APH Numeric Rating system is based off our proprietary guidelines in the Review Focus, and should not be compared to other sites.
The Cooler Master Storm Sirus lets you legitimately win the good fight without using any hacks. Not any illegal hacks, anyway.
Do you have any comments or questions about the Cooler Master Storm Sirus? Drop by our Forums. Registration is free, and it only takes a minute!