By: Jeremy To
August 12, 2011
A long time ago, in a galaxy far far away... the Thermaltake Empire ruled the cooling market. As many of you may know, such a phrase became known throughout the world in May 1977 as the phenomenon Star Wars Episode IV: A New Hope hit the theaters. The series -- filled with adventures -- gave an entirely new perspective of the wonders and the infinite possibilities of space. Recently, Thermaltake too has been showing us entirely new possibilities in the PC market. Starting with the magnificent super-gaming tower, the Level 10 in late 2009, and the more down-to-earth Level 10 GT in early 2011, it's no doubt that Thermaltake has no limits to their innovations. Of course, you can very well say that both of these chassis are still too "exclusive" when looking at the average gaming chassis in the market. However, these two PC "phenomenons" aren't the only thing up Thermaltake's sleeve. Enter the Chaser MK-1, the new super gaming chassis from Thermaltake. What is different about this case? Well, for starters, it won't blow a massive hole into your wallet -- and I think that in itself is a huge accomplishment. But will this innovative "Galactic Episoda" survive the deep travels of space in the pursuit of honor and glory? Hmm, maybe I am being a little too melodramatic; nonetheless, it is still a question unanswered, so read on to find out!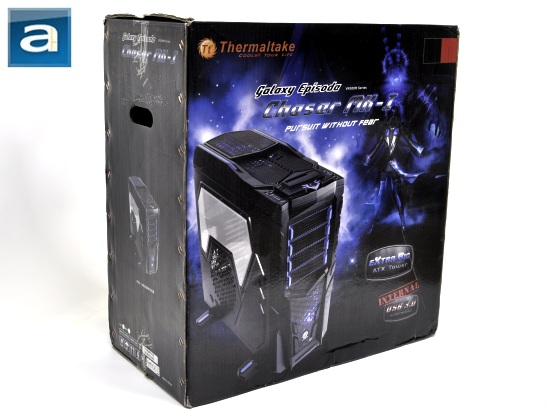 Like all products sent to us from Thermaltake, the Chaser MK-1 took the usual shipping route from our Southern neighbors down in California. Using UPS Standard, the large box made its way across the border to our offices in Calgary, Alberta. Accompanied with the usual dent and scratch mark here and there, there really was nothing much to worry about. The packaged was shipped to us without an exterior brown corrugated box that some manufacturers have done in the past. This is, of course, not an issue at all, since the retail packaging for computer chassis are design with travel and shipping in mind.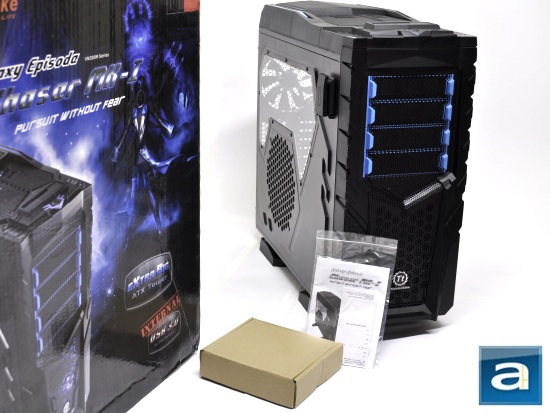 Taking a quick glance at the box, I can easily see that the Chaser MK-1 is quite a unique looking chassis. Taking on a galactic space-theme design, the box is fully colored with a blue-black color theme. Using the first picture above as a guide, the chassis is planted on the left side of the box for a clear view of the overall product. Beside it is a few icons of what is featured on the chassis like "Internal USB 3.0". To further set the mood, Thermaltake has planted the words "Galactic Episoda" just above the name of the product, with the chassis' slogan "Pursuit Without Fear" written below the product name.
Found around the box would be a list of features and specifications of the product as well as my colleague Jonathan's address written in big letters across the top flap. For the sake of my job security, I will not reveal that information, haha. Let us briefly look at the features and specifications of the unit, found on the manufacturer's website:
Features
-Command Center: With Chaser MK-1's fan controller onboard, gamer and enthusiasts can appreciate the convenience of adjusting the fan speed or lighting effect of the computer system.
-USB 3.0 SuperSpeed: Tired of reaching to the back of the computer to connect a USB 3.0 device? Chaser MK-1 features latest USB 3.0 ports with internal header. Two USB 3.0 ports are conveniently located on the front of the case.
-HDD Docking Station: By adapting world's best selling BlacX Docking Station concept into a computer case, users can now effortlessly transfer large volume of data without the need for a conventional external storage device. Simply insert any 2.5" or 3.5" SATA hard drive into the docking station and start enjoying hot-swap capability and blazing-fast transfer speed through SATA interface.
-VGA TripleMax 33CM: All of today's high-end and advanced graphic cards that are capable of delivering ultra-realistic, immersive and intense gaming experience have longer than usual form factor which means not all computer case will fit. Chaser MK-1 not only address this concern by supporting graphic card up to 330mm in length, but also designed cooling surrounding the graphic card location to improve heat dissipation and reduce acoustic output.
-CableClear Cable Management: Dramatically improves thermal efficiency of the computer system by ensuring power cables do not get in the way of airflow.
-Enthusiasts Water Cooling Ready: Spacious interior is only the bare minimum when it comes to water cooling. Chaser MK-1 features an innovative top removable panel that can be easily transformed to accommodate high-efficiency 24cm radiator!
-Combat Headset Holder: Headset holder designed into the case allows gamers to store their gaming headset easily and securely.
-Heightened Foot Stands: High thermal efficiency case that address all common and uncommon issues. Heighten foot stands elevate the whole computer system enough to prevent rug or any other soft flooring material from blocking the air intake/exhaust found on the bottom of the case.
Specifications:
-Case Type: Full Tower
-Material: SECC
-Front Bezel Material: Combination of plastic and high air flow mesh
-Color: Interior: Black; Exterior: Black
-Side Panel: Swivel Door with Transparent Window
-Motherboard Support: 9.6" x 9.6" (Micro ATX); 12" x 9.6" (ATX)
-Motherboard Tray: No
-5.25" Drive Bay: 4
-Ext. 3.5" Drive Bay: By using 5.25" to 3.5" Converter
-Int. 3.5" Drive Bay: 6
-Expansion Slots: 8
-Front I/O Ports: USB 3.0 x 2; USB 2.0 x 2; eSATA connector x 1; MIC & Speaker (support AC'97 & HD Audio)
-Liquid Cooling Capable: Yes
-Liquid Cooling Embedded: No
-Power Supply Supported: Standard ATX PSII Power Supply
-Power Supply Included: No
-Dimension (H*W*D): 567.9 x 237.0 x 581.6 mm; 22.4 x 9.3 x 22.9 inch
-Net Weight: 12.3 kg; 27.1 lb
-Security Lock: for peripherals only
-Application: Suitable for gaming, enthusiast, DIY and modding
Cooling System:
-Front (Intake): 200 x 200 x 30 mm Colorshift fan x 1 (600~800rpm,13~15dBA) or 120 x 120 x 25 mm x 2 (optional)
-Rear (Exhaust): 140 x 140 x 25 mm TurboFan, 1000rpm, 16dBA or 120 x 120 x 25 mm x 1 (optional)
-Top (Exhaust): 200 x 200 x 30 mm Colorshift fan x 1 (600~800rpm, 13~15dBA); 200 x 200 x 30 mm x 1 (optional) or 140 x 140 x 25 mm x 2 (optional) or 120 x 120 x 25 mm x 2 (optional)
-Bottom (Intake): 120 x 120 x 25 mm x 1 (optional)
-Side (Intake): 200 x 200 x 30 mm x 1 (optional)
---
Page Index
1. Introduction, Packaging, Specifications
2.
Physical Look - Outside
3.
Physical Look - Inside
4.
Installation and Conclusion