By: Jonathan Kwan
December 31, 2006
If you think the SteelSound 5H V2 would cost too much for you, and SteelSeries' SteelSound 3H is not quite the type of gaming headphone you are looking for, you are definitely not out of luck. Yes, you read that right; you are not out of luck -- at least according to high-end gaming peripherals manufacturer SteelSeries. SteelSeries did not only release a single product to address different portions of the enthusiast gaming market -- in fact, they made multiple attempts in creating products for gamers liking different genres of games, and also took into consideration the gamers with tighter budgets than the rest. As this sense of market segment is put forth by the name SteelSound 4H, it may or may not sit directly between the SteelSound 3H and SteelSound 5H V2 in terms of performance, but it definitely sits in between in terms of price (and fits in nicely name-wise too). What really matters now is the performance and practicability of this product; as always a huge emphasis over at APH Networks. And the ratings begin now. Oh, the excitement.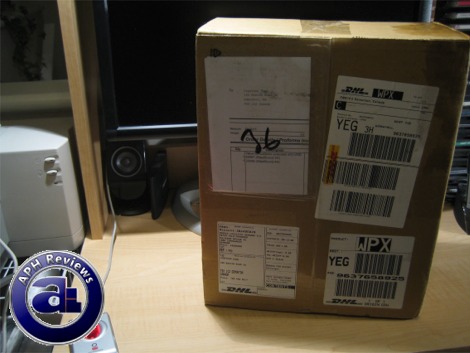 Our review unit came in a DHL box from SteelSeries' headquarters in Denmark. It was packaged within the same box that included the SteelSound 3H which we've already looked at a couple days back, and after receiving this more than a couple weeks back, we are really trying to get ourselves on track for all the products in queue for review. Often times, we get quite a portion of our review products early, but we are usually not very good at reviewing quickly enough. The reason behind this is that it takes time to test the products, and to test and find out more about a product usually takes significantly longer than a couple of days.
The emphasis is quality reviews. And that's our main focus over here at APH Networks. But anyways, let's get back on topic!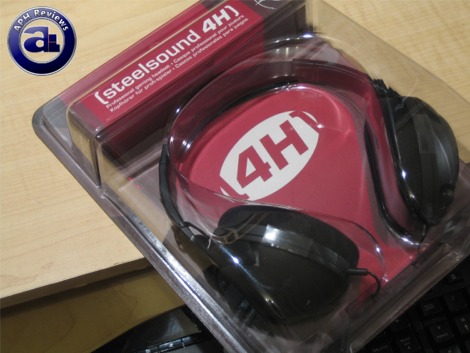 Our review unit came in a clear plastic package molded to the shape of a SteelSound 4H. The plastic itself is tightly attached to the cardboard at the back, so your retail package would be pretty much destroyed by the time you get the headphones out.
As usual, specifications and elaborated information in regards to the product is printed out at the back. Clear plastic molded to the shape of the headphones more clearly display the product itself even prior to opening.
Unfortunately, it has the strong plastic smell originating from products inside the box upon initial opening; quite similar to the SteelSound 3H we've reviewed a couple days prior. The difference is that the smell is not as strong and less persistent -- the odor was diffused within a few hours.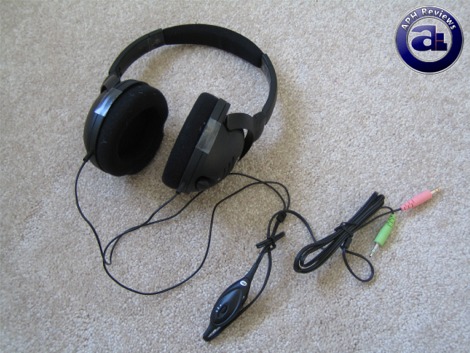 Out of the box, you will get the SteelSound 4H headphones itself, along with a couple of SteelSeries product promotion flyers. Nothing else is included -- no extension cables, no adapters, just plain old headphones.
As you can see in our photo above, the SteelSound 4H, although released at the same time as the company's SteelSound 3H, actually resembles more of the SteelSound 5H V2 than the 3H. I am saying this because the 3H is small and has an ability to be folded, while the SteelSound 4H has large, deep, and rounded cups, and roughly the same size as its older cousin. We'll go over what I just listed right after the specifications of these headphones.
The specifications of the SteelSound 4H, as obtained from SteelSeries' website:
* Lightweight gaming headset with XL-sized earcushions
* Developed in cooperation with professional gamers
* Retractable uni-directional microphone system
* Volume control, featuring 3 microphone settings
* Full-size earcups for maximum individual comfort
* Strong and deep resonating in-game sound projection
* 40mm SteelSound SunDancer(Sd) Units
Headphones
Frequency response: 16 - 28.000 Hz
Impedance: 40 Ohm
SPL@ 1kHz, 1 Vrms: 110 dB
Cable length: 1.8 meters (6 feet)
Microphone
Frequency response: 75 - 16.000 Hz
Pick up pattern: Uni-directional
Sensitivity: -38dB
Impedance: 2k Ohm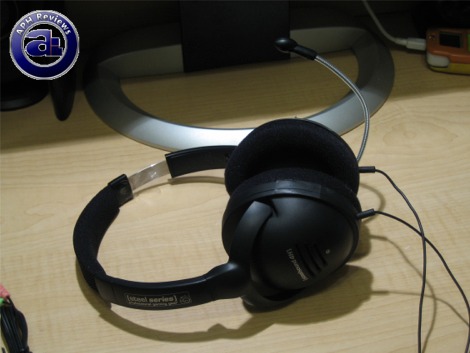 Take a close look at the cups in the photo above. The implementation is very similar to the SteelSound 5H V2 -- sized largely, deep, and thick padding to create a more '3D chamber' and hollow effect (by theoretical sense).
The side of the headband can be extended to reveal a short segment of metal in order to adjust SteelSound 4H's cups to fit around your ears. The extension revealing a segment of metal looks, pardon me for saying this, a bit cheap in this area. As for the headband itself, it is thin by two dimensions (Width and height); wrapped by a thin layer of mesh cloth with a thin layer of foam inside.
As usual from SteelSound line of headphones, a microphone can be pulled and retracted from the left cup with a flexible cord to be located appropriately in relation to your mouth and personal preference.
However, what's not implemented into the SteelSound 4H that's part of the tradition of SteelSound headphones is some sort of implementation to enhance portability, and a single cable leading up to one of the cups and allow signal to travel over the top of your head via the headband to the other cup to create less tangle. There's nothing included out of the box to carry the SteelSound 4H around; and without the ability to be folded nor dismantled, this can end up being quite a hassle for LAN parties and transportation for your own purposes. The loss in SteelSeries' excellent design of single cable leading up to one of the cups that's replaced with two thin wires with a Y-split in the middle is definitely not as good as what we've seen in all other SteelSeries headphones.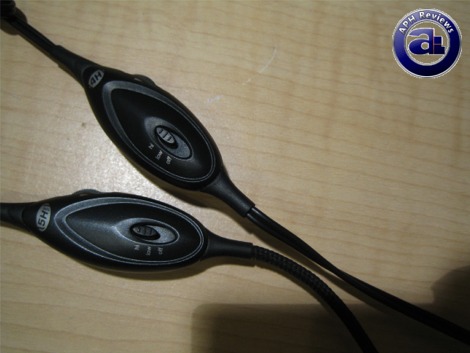 What's present, however, is the volume control module. The volume control module offers a manual rotatable gear for manipulating output volume through a resistor, while a three stage switch allows settings of Off, Low, and High for the built in microphone.
The wires are actually quite thin on the SteelSound 4H; not something we'd expect from headphones of this size. The SteelSound 5H V2 has a nice braided cord, while SteelSound 3H has a thick cable.
---
The Tests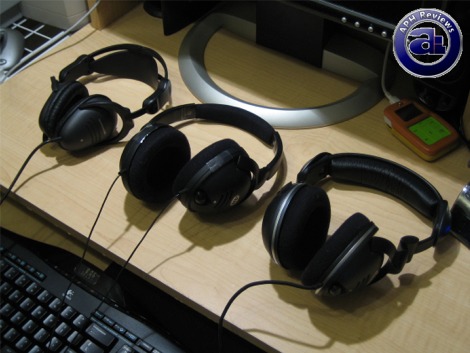 A shot of the three SteelSounds. From the left: SteelSound 3H, SteelSound 4H, and the SteelSound 5H V2. The original SteelSound 5H as well as Everglide's s-500 gaming headphones are in my "big box of things" (Basically large, clear Rubbermaid boxes that hold my reviewed units) that I am too lazy to bring out. After all, this is the last review of 2006!
Test Equipment and Notes
- Comparison and relative benchmark: Shure E2c, V-MODA Vibe, SteelSound 5H, SteelSound 5H V2, SteelSound 3H, Icemat Siberia, Everglide s-500
- Sound output: Integrated SigmaTel High Definition Audio on Dell Inspiron 6400 (Low End), Creative Zen Micro 6GB (Portable Audio), Creative Zen Vision:M 30GB (Portable Audio), Creative X-Fi XtremeMusic (Computer Sound)
- All music is encoded at 192kbps or higher
- Headphone mode is enabled on sound output devices where available
The size of these cups as well as distance from driver to ear is quite similar to the SteelSound 5H V2 to theoretically create a more chamber-hollow effect at a simulated 3D environment. However, the difference is how the sound is produced that's beyond the tendency of how it reproduces game effects -- the soundscaping ability is not the kind you'd typically expect with FPS gamer's headphones such as the SteelSound 5H V2. On the other hand, SteelSeries clearly states that the 5H V2 is designed for FPS gaming, while the 4H is meant for other purposes that do not require strong soundscaping.
While using these headphones, one attribute I noticed that's not exactly desirable is its thin headband with thin cushioning over the top of your head. This actually proves to be not as comfortable as a two phase headband design as seen with the Icemat Siberia and SteelSound 3H; more weight is concentrated over a smaller surface area creating a degree of fatigue after hours of use.
In terms of gaming headphones, midrange was improved for better voice and vocal performance that was previously unseen in audio products designed for gaming. The emphasis on treble and midrange has proved itself in FPS gaming environments, but the usefulness beyond its primary purpose is disputable. On the other hand, the improved midrange enhanced the naturalness of produced sound during usage for different applications.
Bass, as always, is a huge emphasis with gaming products. This comes into play when hearing footsteps from approaching opponents around the corner. How the SteelSound 4H was designed in terms of purpose isn't exactly for FPS, hearing opponents or the whole virtual environment and soundscaping according to SteelSeries as I said earlier -- but all in all, bass was a bit weak and not solid, let's say... it's not articulated or very distinct.
The good thing is, like the SteelSound 3H, the treble, although still not hitting anywhere 'sweet' in my opinion, is not overpumped and is not dry and I am more comfortable with less emphasized treble that does not sound artificial and dry than overpumped, dry treble with the SteelSound 5H V2. Why? Because it sounds more natural instead of a squeaky artificial sense.
Noise isolation is minimal with these headphones, so don't expect them to block out much noise, if any at all. Any talking or noise going around you can be clearly heard unless the volume output on your SteelSound 4H is very high -- in which we don't recommend you to do so at all, as it could cause permanent damage to your hearing.
When we take everything into consideration, we can say that the lower frequencies aren't very well put together, but the midrange is acceptable -- however, since the treble is a bit lacking, and subject to the sound emitted in the environment surrounding you, these headphones aren't the 'colorful' headphones you might be looking for. In fact, it sounds kind of dull and the SteelSound 4H has bits and pieces of the bad things the SteelSound 3H and SteelSound 5H V2 put into one product. Even some of the design negatives that we have not previously seen in other SteelSound products such as a non-collapsible and no dismantling ability is with the SteelSound 4H -- and the thin, double wire that leads up to both cups instead of one is another strike for the SteelSound 4H. Both the SteelSound 3H and SteelSound 5H V2 are excellent headphones with great performance, depending on your preference, for different purposes; unfortunately I believe the SteelSound 4H missed both of them.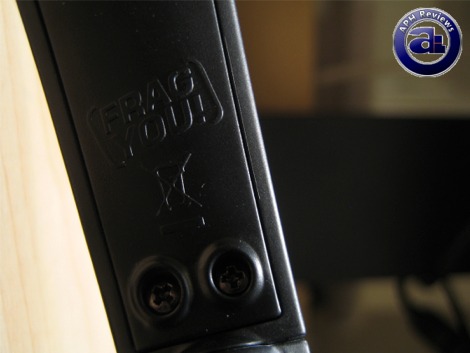 Special thanks to Thomas over at SteelSeries for making this review possible.
Rating: 5.0/10
- The rating 5/10 means "An average product with no real advantage; drawbacks and advantages just seem to cancel each other out.".
- More information in our Review Focus.
I have always been a big fan of SteelSeries' SteelSound line for gaming audio -- the SteelSound 3H, SteelSound 5H as well as its update, the SteelSound 5H V2, all achieved what it's meant for very well. The SteelSound 4H really isn't our type of headphones as the combination of negatives is pretty disappointing. We'd love to see a SteelSound 4H V2 roll around the corner soon though!