By: Jonathan Kwan
December 29, 2006
SteelSeries has been making gaming peripherals and accessories for quite a while. Whether it's iconic gaming products such as headsets to mousepads, or other miscellaneous odd products, they've got it. While the company's SteelSound 5H V2 is still our favorite high end gamer's audio up until this point, there's one significant aspect that needs to be addressed: Price. At $99 USD per unit is by no means expensive in our opinion; but this is very subjective as some want only top end products regardless of price, while other budget conscious individuals looks for something that has a lot of bang for your buck. As I self proclaim myself to be the guy in the second group, something of value and decent performance historically has always been my preference. To address this market niche, SteelSeries announced the SteelSound 3H and 4H last month to accommodate users of this preference. Earlier this month, both products arrived at my doorstep for our evaluation. How well will each product fit these group of people? We'll take a look at the SteelSound 3H headset priced at $49 USD today, and we'll thoroughly review the 4H as well shortly.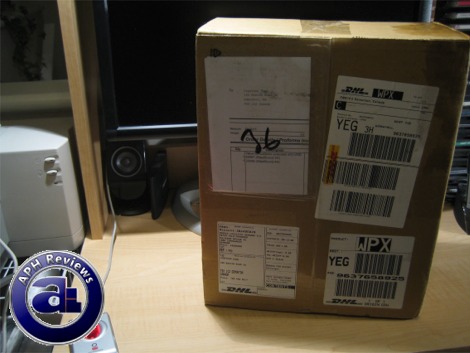 Our review units came well packed as usual in a large DHL box from SteelSeries' headquarters in Denmark. We can't really say we were expecting them that quickly earlier this month, but hey -- we are amongst the first in the world to receive these units, although we definitely aren't the first one to review them. Quite a delay, I had to admit -- but it takes time to test, so what the heck!
On a side note, upon opening the retail package (Not the box itself), we noticed some sort of strong plastic or chemical smell. It smelled pretty bad, so I recommend you leave it somewhere in your basement or some well ventilated area away from you for a few days before usage if you cannot bear the smell.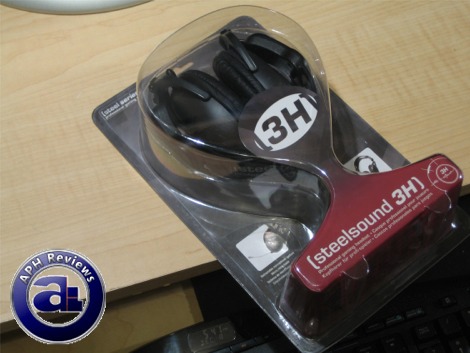 Similar to the company's SteelSound 5H V2, the retail package has a clear window directly showing the product along with a burgundy and dark grey color scheme. Specifications and elaborated information are printed at the back along with the "Frag You" stamp as with all their new products. Unlike the SteelSound 5H V2, however, is that the clear plastic packaging is glued to the cardboard at the back and not a flap withheld box. This requires destructive opening.
By default, the SteelSound 3H comes folded to show that this headset is actually foldable -- one of the bigger complaints when it comes to the SteelSound 5H V2 is that it can only be dismantled and not collapsible. With a foldable design, it further enhances portability and to an extent, it can actually fit in my pocket with a slight bulge. You are out of luck if you wear tight jeans though!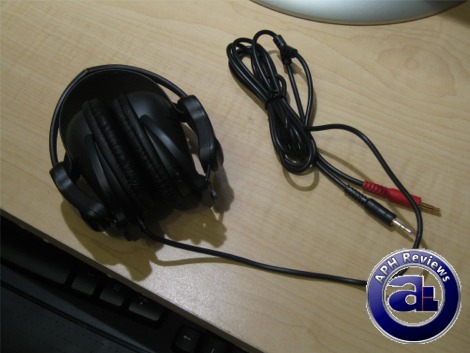 Out of the box, you will get the SteelSound 3H, and SteelSound 3H only. Surprisingly, not even an extension cable is included. What I really like is its collapsible design as I mentioned earlier. If you take a look at the cable, the material and relative thickness is actually quite similar to those of Shure earphones along with a solid Y-Split in the middle for two 3.5mm jacks. I'd like to say, right in the beginning, it seems that the SteelSound 3H is designed after our tastes after we criticized previous SteelSeries audio products.
Before we move on, let's take a look at the specifications, as obtained from the SteelSeries website:
- Foldable/collapsible lightweight gaming headset
- Retractable non-directional microphone system
- Comfortable to use, easy to transport
- Developed in cooperation with professional gamers
- Strong bass for optimal in-game sound projection
- 40mm SteelSound SunDancer (LCP) Units
Headphones:
Frequency response: 10 - 27.000 Hz
Impedance: 50 Ohm
SPL@1kHz, 1Vrms: 102dB
Cable: 2 meters (6.5 feet)
Microphone:
Frequency response: 50 - 18.000 Hz
Pick up pattern: Non-directional
Sensitivity: -40 dB
Impedance: 2.2K Ohm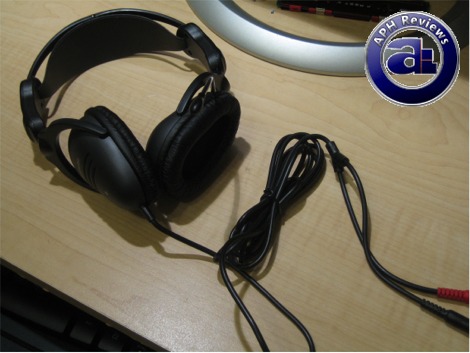 The headphone cups are designed to be flipped and reversed for its collapsible design, which was a little confusing to me at first, as I went like "What the heck?" -- noticing headphone cups were pointed the wrong way. When I was talking Tysei on our forums in real life, he was wondering the same thing. I played around with him and told him that it was a 'design flaw of the first batch rolling off production like' and that these 'engineering samples are always like this'.
Don't worry, I told him the truth a minute later. Our review units are not engineering samples and are retail packages, by the way.
Also to mention, another inherited SteelSound 5H V2 design that was implemented into the SteelSound 3H is its single cable up design; where a singular cable is connected to one cup only to allow signal to be internally transferred via a wire in the headband to the other cup. This design removes the need of double wires with a Y-Split in the middle leading up to both cups, creating extra convenience.
Notice there's no volume control module.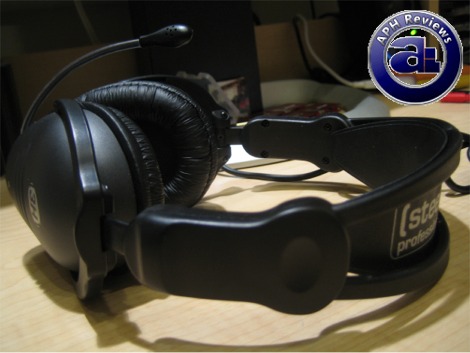 A look at the side of the SteelSound 3H. Another contributing factor of why we said these are pretty closely designed to our preference is the headband design. As we've mentioned in our Icemat Siberia review, this two phase headband design quite is quite similar (Although with differences) to that product. To clarify, it's not copying; SteelSeries and Icemat are entirely different brands with different target markets but are operated under the same parent company.
This design makes the headphones very comfortable over my head with pressure well spread over the given area without the weird feeling on top of my head after using other headphones for longer periods of time. The small cups (We'll put out more information later) make the part around the ear less comfortable, however.
Like the SteelSound 5H V2, a pull out microphone is integrated into the left cup with a flexible wire yet stiff enough to stay in place during use. The leather cups are extendable up and down.
---
The Tests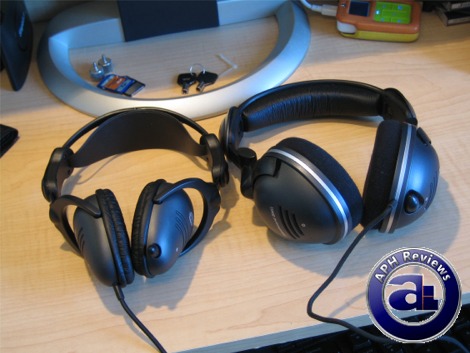 Test Equipment and Notes
- Comparison and relative benchmark: Shure E2c, V-MODA Vibe, SteelSound 5H, SteelSound 5H V2, SteelSound 4H, Icemat Siberia, Everglide s-500
- Sound output: Integrated SigmaTel High Definition Audio on Dell Inspiron 6400 (Low End), Creative Zen Micro 6GB (Portable Audio), Creative X-Fi XtremeMusic (Computer Sound)
- All music are encoded at 192kbps or better
- Headphone mode is enabled on sound output devices where available
Because of the relatively smaller size of cups, it allows the SteelSound 3H to be folded and compacted into a much smaller object. The change implemented is no longer a rounded cup seen in full sized headphones, but instead oval shaped cups with thinner and less wide leather padding surrounding it. This will automatically push the drivers much closer than your ears than other headphones from SteelSeries we've seen in the past.
The tradeoff we can immediately see is the loss of a more dynamic, virtual chamber environment for a three dimensional effect. We are not saying that the capability of soundscaping is very bad on the SteelSound 3H, but the SteelSound 5H V2 is definitely better in this area. This is essential for first person shooter kind of gaming -- but according to SteelSeries' site, the SteelSound 3H is not designed particular for these kind of games so we won't recommend it for this purpose either.
On the other hand, by placing drivers closer to the ears, it will sound louder and for a comparable volume between the SteelSound 3H, 4H, and 5H V2, the output volume required is much lower on the SteelSound 3H that we are looking at today.
Noise isolation is actually significantly improved from other SteelSeries products we've seen in the past. You can still hear the surrounding; but you'll notice a difference between the on and off modes unlike other SteelSound models.
Surprisingly, despite its branding of gaming headphones, there are many things made to the SteelSound 3H and 4H that makes it much more desirable for music than other products such as the original 5H as well as the updated 5H V2. Although there still isn't much soundstaging (But this isn't exactly music oriented), the bass, treble, and midrange are significantly improved. It is not the neutral blend of frequencies like the Shure E2c; it resembles more of the V-MODA Vibe for colorful sound. Of course, the V-MODA Vibe reaches a level of cleanness and clean separation between frequencies than the SteelSound 3H cannot achieve yet -- the V-MODA Vibe are earbuds geared for music, and it is twice the price of these headphones geared for entirely different markets.
We've seen earlier products such as the SteelSound 5H V2 that have pretty good bass, but minimal midrange, and overpumped, dry treble. We did not expect much different from the SteelSound 3H. Little did we know that we were quite wrong.
Firstly, the treble was not overpumped. It was much cleaner than other gaming headphones we've heard earlier; it's not dry, but the amount of treble is a bit lacking in my opinion. We are not trying to be (extremely) picky, but what I am trying to say is that neither the SteelSound 5H V2 nor the SteelSound 3H can hit the sweeter spots of treble produced. I am much more comfortable with SteelSound 3H's treble though, as it is not overpumped, and not dry and squeaky.
Usually, gaming headphones place a large emphasis on treble to pull out better reproduction of shattering glass and reloads in first person shooter games. But if the headphones are not directly intended for FPS gaming, then, well, let's just rate it by a music sense. I don't play MMORPG or RTS games anyway.
The major weakness of most gaming headphones we've come across in the past is midrange. There's usually minimal emphasis in this area as it may or may not be essential for gaming, but important for voices. I am quite impressed as the SteelSound 3H are being labeled as gaming headphones, the SteelSound 3H proves itself different from others. It's not that clean, but seems to have the lower layers of midrange that's missing on the V-MODA Vibe is actually present on the SteelSound 3H. Surprising, isn't it.
Bass is another important thing when it comes to gaming, especially first person shooters. Hearing footsteps requires yet another large emphasis in this area; and as usual the bass on the SteelSound 3H is fairly responsive and should be produced to the satisfaction of most people. Player location for soundscaping is another issue as we've mentioned earlier in this article.
When all three aspects were put together, in my opinion it is put together too 'tightly' without creating the clear and distinct separation of layers. Because the sound is not that clean, one could say that it is mixed together into slightly overlapping areas, thus the treble in the higher layers could feel like it is interfered by the higher midrange frequencies.
---
Wow. The SteelSound 3H is a different kind of gaming headphone and improved from previous products from the same company. Although different intentions, the SteelSound 3H comes at a low price of $49.99 USD MSRP -- half the price of the
SteelSound 5H V2
. Nice cables (But no extensions), same single cable design we've seen with previous SteelSounds, excellent portability, comfortable headband, and better noise isolation than other SteelSound models -- combined with sound that's much more to our tastes, although not without flaws -- the SteelSound 3H is
different
. And the difference, is a change for the better... if we did not hand out APH Recommended awards enough lately (We are harsh markers, I tell you, unlike those other sites, we don't give out awards randomly and freely), well, here's one more!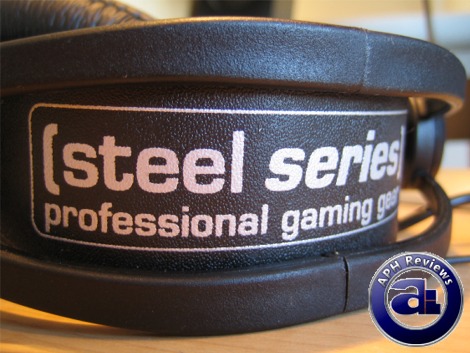 Special thanks to Thomas over at SteelSeries for making this review possible.

Rating: 7.9/10 | APH Recommended
- The rating 7/10 means "Great product with many advantages and certain insignificant drawbacks; but should be considered before purchasing.".
- The rating 8/10 means "Definitely a very good product with drawbacks that isn't likely going to matter to the end user.".
- More information of ratings and the "APH Recommended" award in our Review Focus.
The SteelSound 3H is designed very well physically, and the sound performance are much more to our taste than previous models. Although it still has its own flaws, I can confidently tell you that nothing is perfect. But $49.99 USD MSRP? I'd get it, if you are shopping for something in this area.