By: Aaron Lai
January 1, 2014
Happy New Year! Lately, it seems security has been a big issue for our American counterparts. In the earlier part of 2013, Edward Snowden left the country, and met with journalists to discuss his findings. Unless you have been living under a rock, the gist of it is he revealed several mass surveillance mining programs such as PRISM to search through data obtained by quite a few internet companies. Large corporations like Google, Apple, Facebook, and Microsoft had surrendered quite a bit of customer data to the American government. Even telecommunication corporations like Verizon, Vodafone, and British Telecommunications were reportedly handing over phone records of their customers. Of course, the first thing that all of these companies did was to deny any interaction of releasing consumer data, and even to the extent of not knowing about PRISM. When the government was confronted about PRISM and other surveillance programs, President Barack Obama was quoted saying, "You can't have 100% security, and also then have 100% privacy and zero inconvenience." While multiple opinions for and against these programs can be produced, the way I see it, what he is saying is you cannot have the best of both worlds, contrary to Hannah Montana's song. With privacy, security, and convenience a big topic lately, this brings us to our review of the Kingston DataTraveler Vault Privacy 3.0 32GB. The Kingston DataTraveler Locker+ 32GB we have reviewed back in April 2013 was perfectly capable of stopping unintended audiences from snooping on your personal data. However, the biggest let down of the device was its speed. Fast forward to today, Kingston is back with a beefier 256-bit AES encrypted drive, along with some USB 3.0 speed. Will this device be 100% secure with zero compromises? Read on to find out!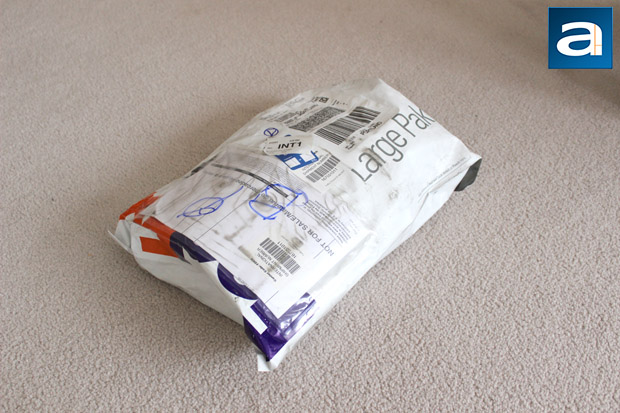 Our review unit of the Kingston DataTraveler Vault Privacy 3.0 32GB came in a plastic FedEx Large Pak from the company's American headquarters in Fountain Valley, California. As usual, inside the FedEx bag was not the retail packaging of the flash drive, but instead a small cardboard box. This additional layering of packaging ensures everything arrives in the same condition that it is sent in. Using the International Economy service, everything arrived in pristine condition.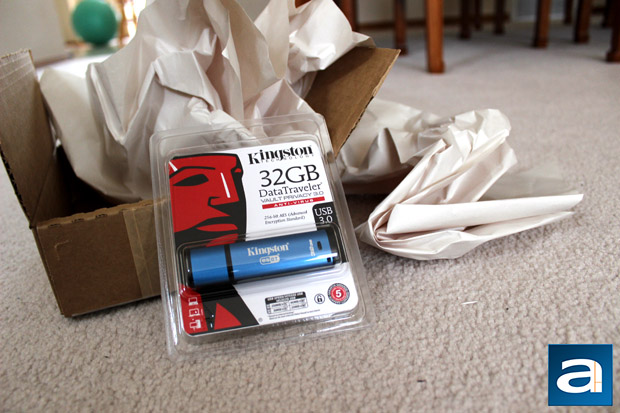 Opening up the inside cardboard box, we found even more brown packing paper to cushion the Kingston DataTraveler Vault Privacy 3.0 32GB flash drive. The review unit came in standard retail packaging. Unfortunately, this also happened to be my second least favorite type of packaging: Blister pack. The packaging is practically the same as the Kingston DataTraveler Ultimate 3.0 G3 32GB reviewed in April of last year by my colleague Jonathan Kwan. While the packaging does feel cheap, it is clean, conservative, and targets the business audience appropriately. Kingston's red Easter Island-like head makes an entrance on the left side of the background, with the name on the right. For your information, the flash drive is offered in various sizes from 4GB to 64GB in both Standard and Anti-Virus variants. Most businesses will be more interested in smaller capacity drives. At the bottom of the packaging, Kingston highlights in USB 3.0, this drive can hit speeds as high as 250MB/s read and 40 MB/s write, which is very impressive for an encrypted drive. We will do some later testing to see how these numbers match with our tests. Before we continue on in this review, let's take a peek at the specifications of the product, as obtained from the manufacturer's website.
Capacity: 32GB
Speed (USB 3.0): Up to 250MB/s Read, 40MB/s Write
Speed (USB 2.0): Up to 30MB/s read, 20MB/s write
Dimensions: 3.06" x 0.9" x 0.47" (77.9 mm x 22.2 mm x 12.05 mm)
Compatibility: designed to USB 2.0 specifications
Operating Temperature: 32°F to 140°F (0°C to 60°C)
Storage Temperature: -4°F to 185°F (-20°C to 85°C)
Minimum System Requirements:
- USB 3.0 compliant and 2.0 compatible
- Two (2) free drive letters required for use
Compatible with: Windows® 8.1, Windows 8, Windows 7 (SP1), Vista® (SP2), XP (SP3), Mac OS X 10.6.x–10.9.x, Linux v2.6.x+
---
Page Index
1. Introduction and Specifications
2.
A Closer Look, Test System
3.
Benchmark: AIDA64 Disk Benchmark
4.
Benchmark: ATTO Disk Benchmark
5.
Benchmark: Crystal Disk Mark 3.0
6.
Benchmark: HD Tach 3.0.1.0
7.
Benchmark: HD Tune Pro 4.60
8.
Conclusion