Page 2 – A Closer Look, Test System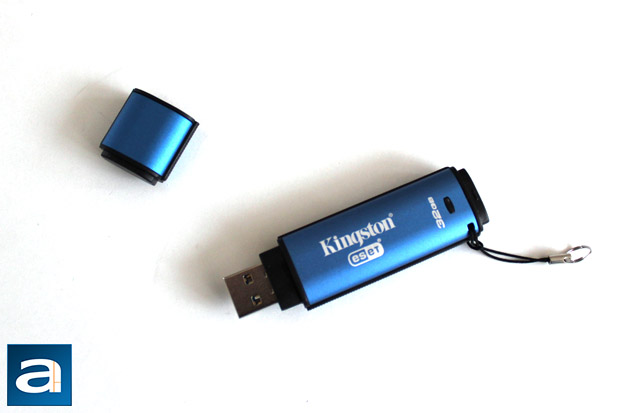 Kingston, as a company, has always been quite conservative in their product designs. While they show flashes of inspiration in their enthusiast HyperX line, the majority of their products have stayed true to the phrase, "function over form". In this case, the Kingston DataTraveler Vault Privacy 3.0 32GB looks practically the same as older Vault Privacy drives; with blue aluminum wrapping around a black plastic casing. My first impression was this is truly a big USB drive. I am quite aware that a lot of USB 3.0 drives are bulkier than their USB 2.0 counterpart, but it is still quite the difference. This also reminded me of the earlier days of the DataTraveler, specifically the Kingston DataTraveler Ultimate G2 32GB my colleague Preston reviewed more than two years ago. While this drive not as large, the rounded sides point back to an older design. In terms of sizing, at approximately 78mm length, 22mm width, and 12mm thick, this USB drive is not small, and will be noticeable when carrying it in your wallet, on a keychain, or in your pocket. In terms of mass, the DataTraveler Vault Privacy 3.0 weighs approximately 20g, which is heavier than some full plastic drives, but this will be fairly unnoticeable in everyday use. On top is a blue activity LED, which flashes when something is happening, and remains off otherwise. Putting a blue LED on a blue USB drive is not exactly a bright idea -- pun intended -- as it makes the light a bit hard to see, especially since it does not emit very much light to begin with.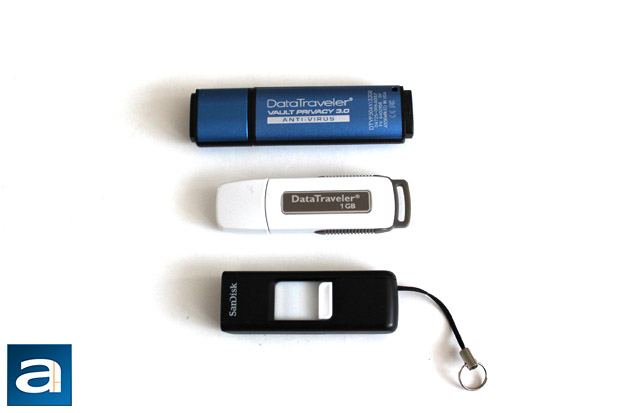 Our photo above is a comparison in size between the Kingston DataTraveler Vault Privacy 3.0 32GB, original Kingston DataTraveler 1GB, and SanDisk Cruzer 4GB. In terms of weight, it is quite obvious that the Vault Privacy 3.0 is heavier than both of the other USB drives, due to its aluminum casing. As well, the size difference is also obvious in terms of length. On a side note, it is quite amazing to see how far Kingston has come in terms of a USB drive design, from a generic plastic body, to something that is quite a bit more robust. Several things still stay the same, like the ridged sides for easy gripping, and a backend that doubles as a holder for the cap. All I can say is the changes that have been made are definitely improvements on all fronts to create what they have today.
On the flip side of the USB flash drive is the name "DataTraveler Vault Privacy 3.0 Anti-Virus", as well as some fine print. As prior mentioned, Kingston sent us the model that does include antivirus software, and I will cover that in more detail later. At the bottom of the small fine print is a line that says, "Assembled in USA". This seems to be a trend for many American technology companies who are moving away from outsourcing, and bringing manufacturing processes back to USA. However, I would bet the parts inside are still made overseas in China or Taiwan, haha. Otherwise, there is not much to mention, besides a small hole on the corner which allows for attachment of the small provided lanyard. Overall in terms of design, the Kingston DataTraveler Vault Privacy 3.0 32GB is bland but capable. I understand they want to keep a similar design as other Vault Privacy USB devices, but maybe it is time for Kingston to update this look, just to add a more modern taste. Luckily, this device still feels solid in the hand. While I did not do any crush testing as Jonathan did in his review of the SanDisk Cruzer Titanium U3 2GB back in 2006 , I will say that it is durable enough for everyday use.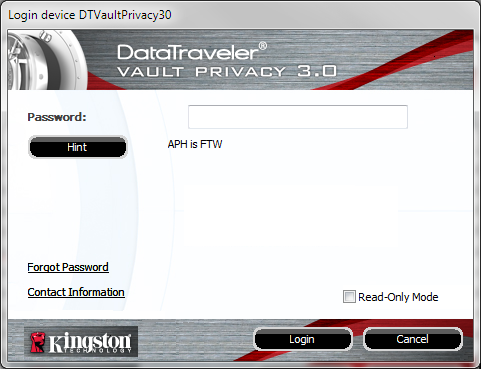 If you have skipped everything thus far, you can probably tell by just the name that the Kingston DataTraveler Vault Privacy 3.0 32GB USB flash drive is meant to be a hardware encrypted drive. Data is secured with 256-bit AES encryption, utilizing XTS (XEX-based tweaked-code book mode with ciphertext stealing) block cipher mode, which is a newer mode than CBC (Cipher-block chaining). Kingston claims this mode offers a stronger protection than CBC. For most people, all you really need to know is that each mode has vulnerabilities, whether it is CBC or XTS. When you plug in the device, it will ask you to enter in the password, which is set on the first time of plugging the thumb drive in. Once the password is entered, then it will allow access to the stored data on a different partition of the drive. Much like any person, you probably do not want anyone to be looking into your files, unless you ask them to. This hardware encryption process keeps people from being able to do so without the correct password. To begin the process, simply plug in the device, and execute the launcher program. The program will help you create a password and a password hint.
Once the password is set up, a secondary secured partition (Approximately 30GB in size) will appear for storing user data. The next time you plug in the Kingston DataTraveler Vault Privacy 3.0 32GB, this partition will not be accessible until you enter in the correct password. There is an option to log in with a Read-Only mode, which is useful in case of using the USB drive on a compromised computer. Be forewarned, if you forget your password, you only have two options. The first is to reset the password, which will delete everything in your drive. The other option is the brute-force method to guess your way. However, after ten incorrect guesses, the drive locks and reformats itself, rendering the data basically unrecoverable.
In addition to all of this, our version of the DataTraveler Vault Privacy 3.0 is equipped with an antivirus program from ESET. This company also makes and provides security software for both homes and businesses. This protects the customer's data on the USB flash drive from viruses and other Internet threats. This bundled software does not take up much room on disk, and its license lasts for five years, which coincidentally is also how long the Kingston warranty lasts for. On daily use, I found the ESET DriveSecurity antivirus to be unobtrusive and lightweight. When files are placed on the drive, the DriveSecurity scans through them to make sure there are no threats in the file. Oddly enough, our drive we received did not have the five-year license, and rather signed me up for a 30-day trial, but I am sure that this will not happen to actual customers when they purchase this device.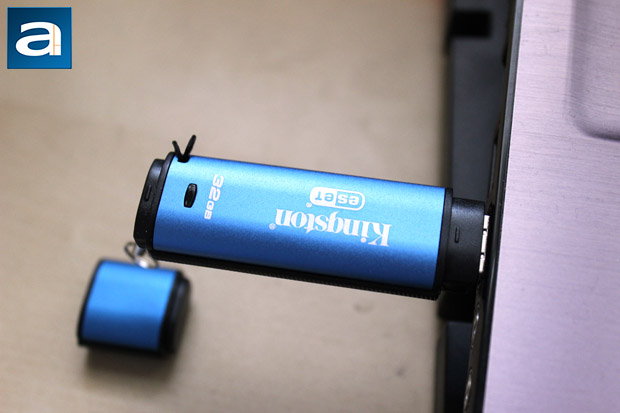 As we can see, the Kingston DataTraveler Vault Privacy 3.0 32GB has privacy and security. The real question is if this drive actually has zero compromises in speed. We know that since it is a self-encrypted drive, it will carry a larger overhead operation, and will have more work to do when data is read or written. Will this affect our scores? To find out, we tested the drive in our standard benchmark tests. Our test configuration is as follows:
CPU: Intel Core i5-2500K @ 4.50GHz
CPU Cooling: Thermaltake WATER2.0 Pro (Noctua NF-F12)
Motherboard: ASUS P8P67 WS Revolution
RAM: G.Skill Ripjaws-X F3-14900CL9D-8GBXL 4x4GB
Graphics: Gigabyte Radeon HD 7870 2GB OC
Chassis: Lian Li PC-B12
Storage: OCZ Vertex 3 Max IOPS 240GB; Western Digital Caviar Blue AAKS 500GB
Power: PC Power & Cooling Silencer Mk III 1200W
Sound: Auzentech X-Fi Bravura
Operating System: Microsoft Windows 7 Professional x64 SP1
Compared Hardware:
- Kingston DataTraveler Vault Privacy 3.0 32GB (USB 3.0)
- ADATA DashDrive Elite UE700 64GB (USB 3.0)
- Kingston DataTraveler Locker+ G2 32GB (USB 2.0)
- Kingston DataTraveler HyperX 3.0 64GB (USB 3.0)
- Kingston DataTraveler Ultimate 3.0 G2 32GB (USB 3.0)
- Kingston DataTraveler Ultimate 3.0 G3 32GB (USB 3.0)
- OCZ Rally2 Turbo 4GB (USB 2.0)
- OCZ Vertex 2 60GB 34nm (SATA 3Gb/s)
- Patriot Supersonic Magnum 64GB (USB 3.0)
- Patriot Supersonic Rage XT 32GB (USB 3.0)
---
Page Index
1.
Introduction and Specifications
2. A Closer Look, Test System
3.
Benchmark: AIDA64 Disk Benchmark
4.
Benchmark: ATTO Disk Benchmark
5.
Benchmark: Crystal Disk Mark 3.0
6.
Benchmark: HD Tach 3.0.1.0
7.
Benchmark: HD Tune Pro 4.60
8.
Conclusion