Page 3 - Benchmark: AIDA64 Disk Benchmark
About AIDA64 Engineer
AIDA64 Engineer is a streamlined Windows diagnostic and benchmarking software for engineers. AIDA64 Engineer provides a wide range of features to assist in overclocking, hardware error diagnosis, stress testing, and sensor monitoring. It has unique capabilities to assess the performance of the processor, system memory, and disk drives. AIDA64 is compatible with all current 32-bit and 64-bit Microsoft Windows operating systems, including Windows 8.1 and Windows Server 2012 R2.
From: Developer's Page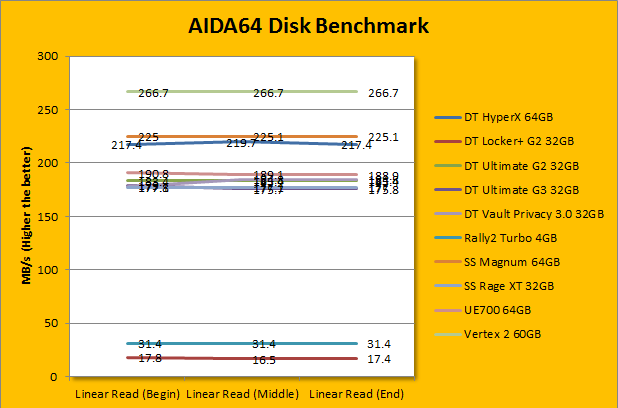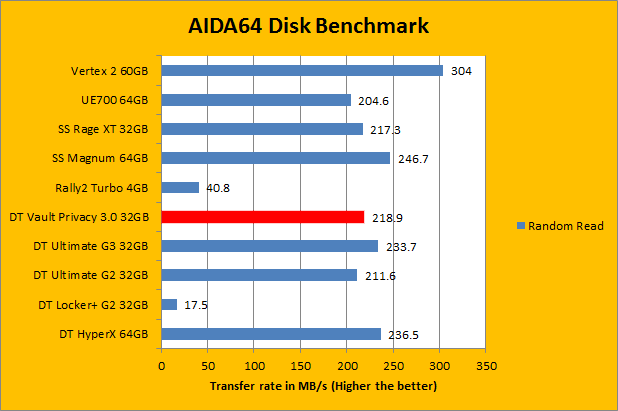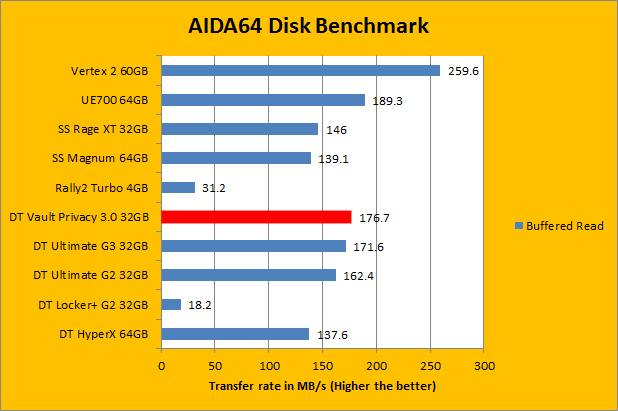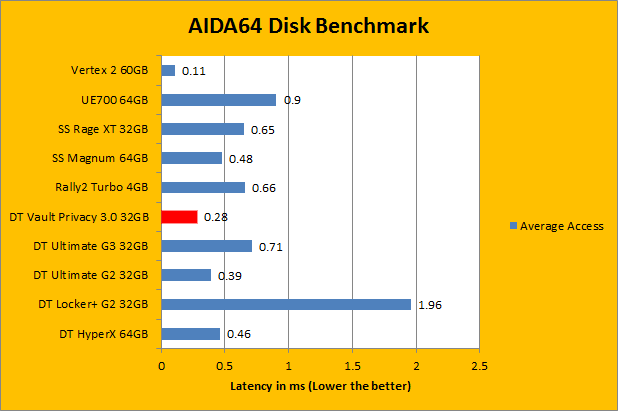 As with all our USB flash drive reviews, I would just like to make it clear from the start that we are, by no means, expecting the Kingston DataTraveler Vault Privacy 3.0 32GB to deliver performance competitive with the OCZ Vertex 2 60GB SSD, even though it is a rather old SSD. The Vertex 2 is a Serial ATA 3Gb/s storage device optimized for maximum I/O performance as a boot drive, whereas the DataTraveler Vault Privacy 3.0 is clearly not designed for SSD rocking performance. However, our AIDA64 results do provide interesting insight to the performance of this drive. Delivering up to 184.8MB/s sequential read, 218.9MB/s random read, and 176.7MB/s buffered read, the Kingston DataTraveler Vault Privacy 3.0 32GB is not something to joke at. In fact, these numbers outperform the numbers of the Kingston DataTraveler Ultimate G3 32GB and Patriot Supersonic Rage XT 32GB. Of course, this is not meant to be as fast as the Kingston DataTraveler HyperX 3.0 64GB and Patriot Supersonic Magnum 64GB, as those are designed with speed in mind. Since this is an encrypted drive, there is a lot more going on behind the scenes, yet this surprisingly holds up well against other USB 3.0 drives. This drive was rated to deliver up to 250MB/s, but we were not able to get anywhere close. Performance is far better than our other encrypted drive, the Kingston DataTraveler Locker+ G2 32GB, which also comes from the fact that it is a USB 2.0 drive. The recorded 0.28ms random access time is also quite surprising, which beat out everyone else. In fact, this latency is the lowest of both the encrypted and non-encrypted drives here at APH Networks; only defeated by the Vertex 2. It should not affect performance all that much, if at all, in real life.
---
Page Index
1.
Introduction and Specifications
2.
A Closer Look, Test System
3. Benchmark: AIDA64 Disk Benchmark
4.
Benchmark: ATTO Disk Benchmark
5.
Benchmark: Crystal Disk Mark 3.0
6.
Benchmark: HD Tach 3.0.1.0
7.
Benchmark: HD Tune Pro 4.60
8.
Conclusion