By: Aaron Lai
December 14, 2012
If I were to say I was a typical Chinese kid, what would be the first thing that pops into your mind? Would it be the fact that I have glasses, brown eyes, and black hair? What about things I'm good at? Naturally, I would say Chinese people fall into one or more of several categories. We can be good at maths and sciences, have some sort of musical or artistic talent, and/or they're a hardcore gamer. We can also be categorized as having horrendous English problems, being rather short, or speaking extremely loud in public settings, in Chinese. Luckily, I can say that I don't speak extremely loud, since my Chinese isn't that great. But of those stereotypes, I can also say that they can be very true. I do have glasses, brown eyes, and black hair. I have loved math since my preschool age, and I would say I can have my ESL moments more often than not. But as you can see, stereotypes or assumptions are not necessarily true. Even though they may cover a general population, it will not cover everyone inclusively. Likewise, when I received the CM Storm Ceres 400, I already had a general assumption about gaming headsets. I knew that they would be meant for gaming, and less for music, and the sort. Listening to music such as Gangnam Style by Psy or What Makes You Beautiful by One Direction would definitely not be the purpose of these headsets (Nor should you even listen to said music... just my opinion). Rather, these headsets should let users know the one direction enemies are in; it should stop users from getting psy-ched by their opponents. On the other hand, it would be great if a company actually develops a gaming headset that doubles as an audiophiles' best friend. Will the Ceres 400 rise above these stereotypes? Or will it fit in with the rest of the crowd? Read on to find out!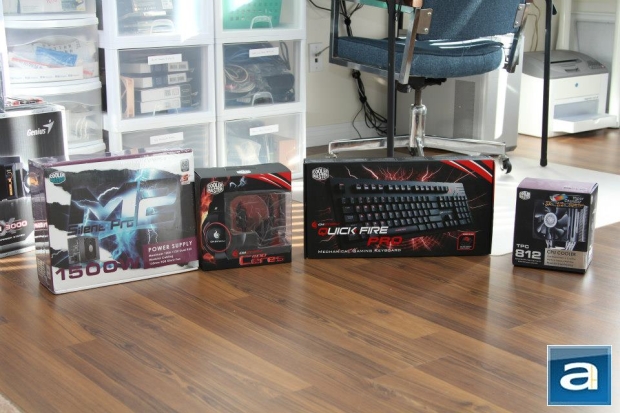 The Cooler Master CM Storm Ceres 400 arrived with other Cooler Master products, courtesy of USPS. It was then transferred to Canada Post, and to our Calgary location here in... well, Calgary, in great condition. Of course, there were the minor bumps and bruises, as well as some tears on the boxes. However upon opening the product, everything was in tip-top shape. The CM Storm QuickFire Pro was reviewed by Yours Truly a couple of months ago. Other Cooler Master products, as seen above, will be reviewed in the coming weeks.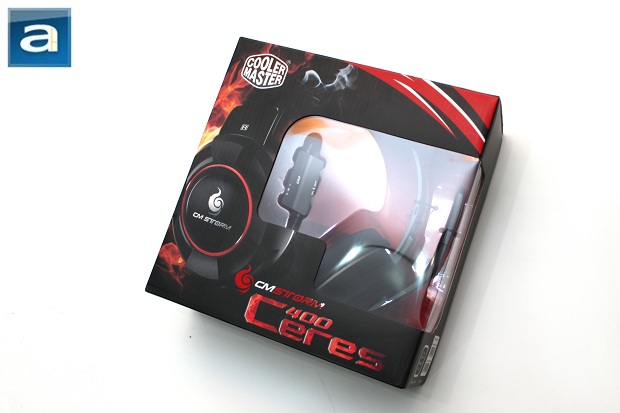 When examining the external packaging of the Ceres 400, it is quite easy to see the dramatic effect that Cooler Master tried to make with the headset. A blazing flame is shown, flaring and smoking behind the right ear of the headset. Upon further research, the name Ceres comes from the Roman goddess of agriculture, which means "to grow". Ceres also refers to a dwarf planet, located between Mars and Jupiter. Oddly enough, the name Ceres has been used in other areas, such as a brewery, a juice company, and a character in Sailor Moon. Why Cooler Master would choose this as a name is beyond me, but maybe the truth will... sprout out from somewhere. Turning the box on to its side reveals a specification list for the heads. Onto the back, Cooler Master has sprawled out a lengthy paragraph to introduce the product. As well, they have translated a smaller specification list into eight languages, so hopefully you will have no issue in understanding what this product is. The overall design of the box is quite fascinating, as they have limited the words on the front of the box, creating an overall positive appeal.
Before we continue, let's examine the specifications of the CM Storm Ceres 400, as taken from the manufacturer's website:
Headphone
• Driver diameter: φ40mm x 7.5 mm(H)
• Frequency range: 20 - 20,000 Hz
• Impedance: 32 Ω
• Sensitivities(@1kHz): 108 dB ± 4 dB
• input: 100mW
• Connector: 3.5 mm headphone jack
• Inner Ear Cup Diameter: 90 mm
• Cable Length: 2.5m
Microphone
• Directivity: Omni-Directional
• Frequency range: 100 – 10,000 Hz
• Signal-to-Noise Ratio: 50dB
• Sensitivities(@1kHz): -30 ± 3 dB (0dB=1V/pa.1KHz)
Hardware Requirements
• Audio Usage: Devices with 3.5mm audio jack
• Audio + Microphone Usage: Devices with 3.5mm audio + microphone jack (smartphones)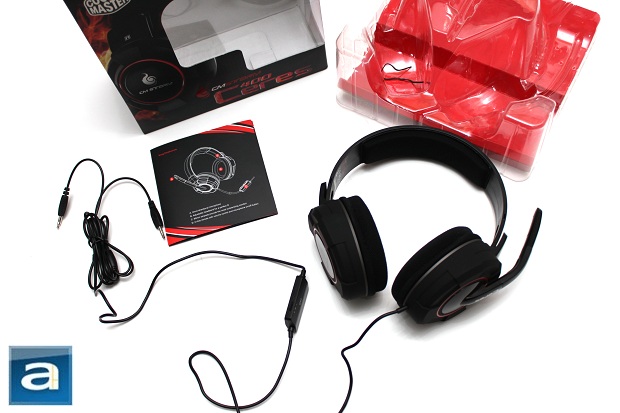 Opening up the Ceres 400 revealed nothing significant. Included with the Ceres 400 headset is an instruction manual/warranty policy. What amused me was how Cooler Master even put an advertisement for other CM Storm items, including the QuickFire Pro and the CM Storm Recon (gaming mouse). Other than that, more specifications and languages are listed in the small booklet, so I threw that aside on looked at the headset itself. The headset was packaged fairly well in the plastic shell, but some of the way the wires were forced into the shell resulted in bending and even creasing of the wire. Even though this does not physically damage the wiring, the seemingly permanent bend in the wire may off put more observant (and OCD) users.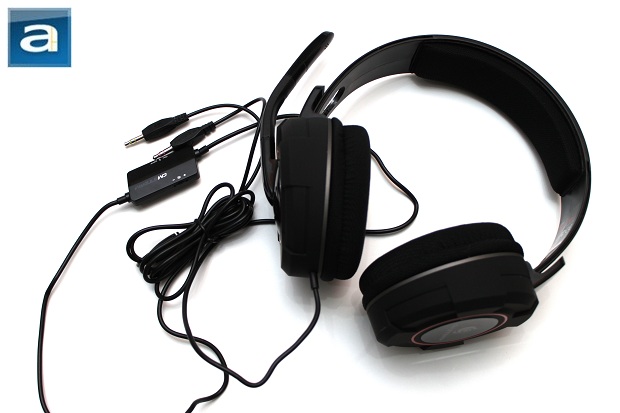 One of the main things you may have noticed is that the Cooler Master Storm Ceres 400 is this headset is an ordinary stereo channel headset. What does this mean? The wiring is fairly straightforward. This means only one 3.5mm jack -- for audio out -- is required to operate the headset. In reference to professional audiophile grade headphones, the latter probably utilizes a 6.3mm plug instead, so a 6.3mm to 3.5mm adapter is usually provided for those who want to use them for computers or portable audio devices. Other headsets, like the Cooler Master Storm Sirus reviewed by my friend Preston, came bundled together with a plethora of plug-ins, which would generally make the headset difficult to use for you average digital audio player in its 5.1 configuration. The Ceres 400, much like the Sirus, has an integrated microphone, which also plugs into a 3.5mm jack for mic/audio in. This would detract users from utilizing the Ceres 400 for any device other than a computer. However, since the Ceres 400 is made for computing purposes, I do not find any problems with this implementation. The plugs are differentiated by a color coded band on it.
The rubber cable on the CM Storm Ceres 400 measures approximately 240cm, with standard 3.5mm plug-in jacks on the end. Near the headset is an inline volume controller that also controls whether the microphone is on or off. The length of the wire is definitely more than enough, as any gamer should not be more than two meters from their computer and expects to live through a mad rampage by an opposing enemy. I was quite surprised that Cooler Master did not choose to braid the wires. Since headphones are still moved around quite often, the wires do need to be tougher and smoother to endure wire rubbing against various surfaces including tables, shirts, and skin. Other than that, the wiring on the Ceres 400 is simple, and therefore is no different from any other plug and play audio device.
One thing I truly love about the headset is the design. While this is purely opinion, I like the rubberized matte-finished surface that is on the opposite side of the ear cups. This matte finish circles around a glossy plastic which shows the CM Storm logo. The matte finish has always been a big plus to me, especially since it usually means fingerprints will not be seen. Since it probably will be the area that is most touched by any user when putting it on and taking it off, the matte finish is a good choice. On the left side of the ear cups is the fixed microphone with "Ceres 400" shown on the side. Putting the headset on made me feel like a true gamer, especially with the CM Storm QuickFire Pro as aforementioned in front of me. On both sides is a red plastic ring separating the matte finish from the gloss. When I see the red ring, the first thing that comes to mind are Canon L-series lenses, and while these are far from comparison and probably not even intended, it is a nice look, and adds color to an otherwise ordinary headset.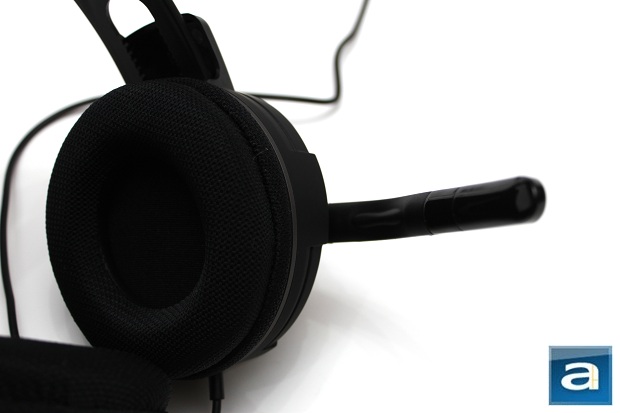 The photo above shows a (somewhat) clearer shot of the ear cups. These ear cups are not interchangeable, and it follows a velvet inside and mesh-like material on the outside. It would be nice if the cushions are interchangeable, for several reasons. Firstly, gamers can often work up a sweat when shooting down the terrorists, or attacking the base of the enemy. Headsets can often get quite dirty as a result of this, and having an interchangeable cup would help in easy cleaning and replacing. Secondly, some users prefer the feel of leather ear cups, due to its superior sound insulation. While I may not necessarily want leather, this is something that should be kept in mind. The cushion on the ear cups are quite soft and spongy, and feel quite nice to hold in your hands. The same material and cushion is also lined on the top of the headset. When putting the headset on, the top of the headset is soft and cushiony, but I find that the ears do not fit quite well. The ear cups themselves are more circular in nature, while regular ears are elongated into an oval-like shape. Upon initial testing I had no issues with the comfort, as the headset felt quite nice and light. However, after an hour or two of use, the headset started pushing at the side of my head, as well as the top of my ears. While this may not be noticeable to all users, because I have glasses, I can feel the frames being pushed into the side of my head. Translation: somewhat uncomfortable. On the other hand, I have yet to find a real good headset that you can comfortably wear for hours on end without feeling a bit of discomfort. As well, after a few more days of use, the top cushion started to slowly peel off, revealing a sticky underside. This is poor workmanship, as Cooler Master should have found an alternative adhesive that would stay sticky longer.
--------------------------------------
The Tests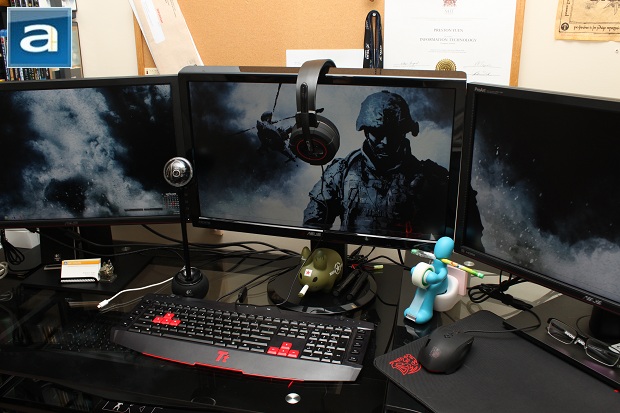 As with every audio review, there are really no true objective measurements in terms of sound quality. As the reviewer, however, I will put it through series of subjective testing to make an objective rating. Personally as read above, I do have musical experience in playing in bands, as well as by myself. Tests were conducted with the Auzentech X-Fi Bravura sound card with the Ceres 400 plugged into the dedicated headphone output, and with microphone plugged into the 3.5mm analog microphone input. (Creative CA0110, National Semiconductor LME49720NA OpAmp, Cirrus Logic CS4382A DAC, Nichon MUSE ES capacitors.) After over 48 hours of break-in time, I put the CM Storm Ceres 400 to the test. All tracks are uncompressed CDs, FLAC, or LAME encoded MP3s at 192kbps or higher. When I was reviewing this headset I didn't expect a whole lot in terms of audiophile characteristics. Gaming headphones are mostly meant to have overboosted bass for footsteps and surrounding noise, some midrange for in-game voices, and artificially pumped trebles for gun cocking and firing. Other than that, frequencies of sound between the deep bass and midrange, as well as between the mids and trebles are usually reduced. This way, each component is distinguishable and still clean.
When I was testing the headset, I found that the Ceres 400 could check off every mark in the book. The rumbling bass is present, the high trebles are audible, and the midrange is okay, with altos and tenors still clear. As well, all of the specific ranges do not overpower each other, but instead, they complement. This is a good gaming headset for the price you pay, and it does deliver acceptably in a price-to-performance view. However, this is where the good times end. The bass, while present, is rather hollow and does not produce a well-rounded sound. The trebles are again present, but lacking the depth and detail expected, resulting in a rather dry experience. The midrange is a bit muffled with several pieces of music. I think you are getting the story. Imagine a professor telling you to read the textbook to participate in group discussion the next day. Instead you forget to read the textbook, and the next day you are there for the discussion. While you are present to participate, you have no clue why you are there, and any point you make in the discussion will be shallow and/or out of touch. Likewise, while each of the bass, midrange and treble are present, they lack depth and character. Even though this is expected from a $50 headset, it would be nice if they put a bit more effort into cleaning up each of the frequency ranges, as each distinct audio level is not very clean at all.
In terms of cohesiveness, the only way to phrase it is this: What cohesiveness? As mentioned prior, the bass, midrange and treble all are very clear and separable, but almost too different. At times, it is like listening to two separate headsets, rather than one set. But again, considering its purpose, cohesiveness may not always be an advantage in gaming headsets, since it is made to distinguish sounds, not put them together closely, even though it sounds better as it is more natural. In that view, these headsets again are good for what you pay. As for soundscaping, I would say that this is one place where the headset did work out to an extent. In listening to pieces, as well as doing some light gaming, I can say that these headsets did give a directional feel as to where instruments were being played, or where my fellow teammate was yelling at me to get off the ice in NHL. In several pieces, almost all of the instruments could be clearly defined, giving a three-dimensional sense in where the sound was coming from. I would say this is extremely useful for a pair of gaming headsets. However, because soundscaping can only be as good as the sound itself, it still isn't as good as it could be. While its soundstaging characteristics do feature direction, it is not as wide as I would like it to be -- it sounds kind of cramped.
During all of the testing, I found the sound isolation to be good. There was never a need to turn up the volume to cut out background noise. I do however like the in line volume control, as I could easily change the volume for louder games, without having to go through in game settings, or through volume settings on the computer. I did notice a bit of sound leaking once one of my friends put it on to listen to music. I don't think this is a big issue, as these headsets will stay in a room, rather than being on the go.
As for the microphone on the headset, there were no issues in getting the mic to work. Recordings were crisp, clear and also cancelled unwanted noise, as specified in the features on the box. Skype calls were good, as the receiver could hear speech. At first, I didn't like the mic being fixed on the headset, but the more that I use it, I realize it would be a lot better than having a separate microphone that hangs off another place, like the Tt eSPORTS Shock Spin.
-----------------------------------------
To answer the question stated in the beginning of this review, I have to say no, the Ceres 400 is not meant for music -- it is meant for gaming, and gaming alone. Overall, for a budget-oriented gaming product, I can't really complain to any reasonable extent. Yes, these headsets are not amazing, and if you have money, I would suggest looking to other options such as the Cooler Master CM Storm Sirus. I must say though, for $50, you do get some bang for your buck if you are a gamer. The design on this headset, while not a trend-rocker, is quite nice. Build quality overall is quite good, but some corner cutting is seen with the lack of removable ear cups and a top cushion that doesn't stick well. The in line volume control and on/off switch for the mic is also very convenient and helpful in everyday circumstances. The microphone is great, and picks up noise quite loudly. As for sound quality, if you haven't read the last four paragraphs, I will talk about it all again: Everything is present, but it is not that great. It would be nice if greater care was taken to refining each of the ranges, thus creating a fuller, more rounded sound with better soundstaging. As Editor-in-chief Jonathan Kwan puts it best, "It's like listening to a band in a closet, and to be honest, these headphones need to come out of the closet." While this is acceptable for gaming headsets, I will say that the Ceres 400 does need some depth to the sound. It is not like it is all bad for the Ceres 400, as there are good points in the sound quality, such as the sound staging abilities, but refining the basic bass, midrange, and treble ranges and cleaning up the sound will greatly improve the overall experience.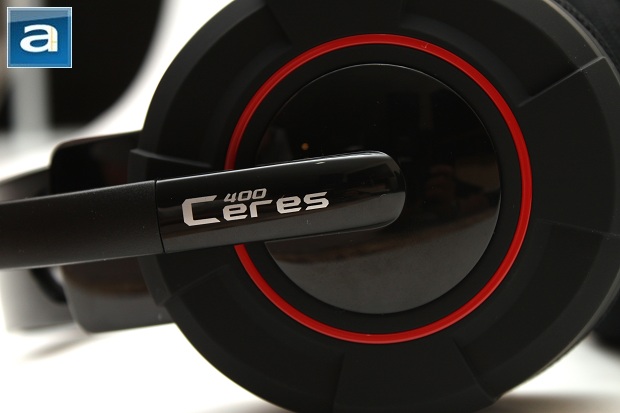 Cooler Master provided this product to APH Networks for the purpose of evaluation.
APH Review Focus Summary:
7/10 means Great product with many advantages and certain insignificant drawbacks; but should be considered before purchasing.
6/10 means A product with its advantages, but drawbacks should not be ignored before purchasing.
-- Final APH Numeric Rating is 6.5/10
Please note that the APH Numeric Rating system is based off our proprietary guidelines in the Review Focus, and should not be compared to other sites.
If you are looking for a decent headset for any type of gaming, the Ceres 400 is a great value-oriented choice.
Do you have any comments or questions about the Cooler Master Storm Ceres 400? Drop by our Forums. Registration is free, and it only takes a minute!