By: Aaron Lai (Hardware/Testing) and Jonathan Kwan (Photos/Testing)
March 27, 2015
I recently went to the theaters with one of my friends, where we watched the movie "The Imitation Game". In this movie, Benedict Cumberbatch played the life of Alan Turing, with the main focus of his life during World War II. In short, Alan Turing was a mathematician at Princeton University. In 1939, he was called to help the British army decipher German's Enigma signals, which would help them determine the location of various war vehicles, whether boats or tanks. The movie painted Turing as a socially awkward man with a high intelligence quotient. However, his one friend from his grade school days, Christopher Morcom, encouraged him by saying this: "Sometimes it is the people who no one imagines anything of who do the things that no one can imagine." Being Hollywood, this quote is repeated to a point of excess in the movie, but it brings up an important point. Turing, due to his low social abilities, is seen as ordinary, or even plain. However, with his intelligence, he is able to help the Allies defeat the Germans in their own game. Getting to our review today, if you take a look around, practically every manufacturer is releasing their sub-50 cent per gigabyte solid state drive, just to get into the budget market. Whether it is OCZ or Crucial, everyone seems to be doing it. Even two weeks ago, we reviewed the Ultra II from well-known flash memory manufacturer SanDisk. The obvious problem is in determining which one to buy -- which manufacturer is outing a product with performance like "no one can imagine"? Patriot is no stranger to enthusiasts for their performance parts, but they have nonetheless thrown their hat into the ring with the Blaze and we can only wonder where this drive fits into the market. Is there more to the Blaze than we expect? Hopefully this question, and more, will be answered in today's review!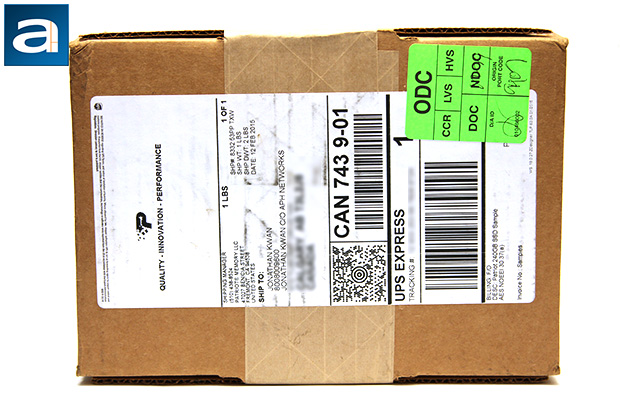 Today's review unit of the Patriot Blaze 240GB arrived from Patriot Memory's American offices in Fremont, California. Getting shipped over thirteen hundred miles via UPS Express, the parcel arrived with very little damage. There are a few dent marks, but luckily there is nothing too serious to get worried about. Since the product inside is a solid state drive, I would not be too worried if it took a bump or two. Opening up the corrugated cardboard box reveals the Patriot Blaze 240GB, protected by some large plastic air pockets. The retail container itself was in excellent condition.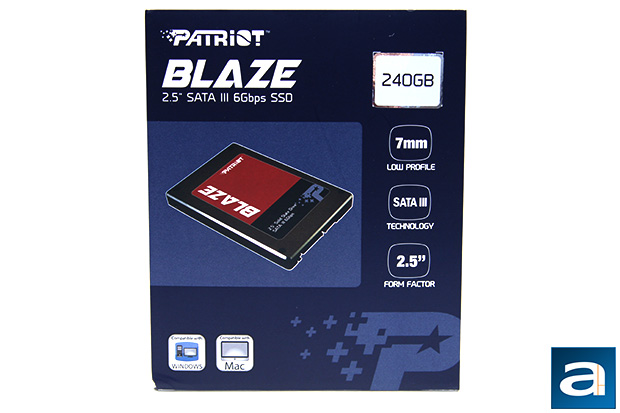 The retail container of the Patriot Blaze 240GB is simple in appearance. Using a deep blue background, an image of the Blaze appears on top in the center of the box. Patriot's logo and the model name of the product are found in the top left corner, along with a description of the product. On the right side there are several highlighted features. This includes the 7mm low profile thickness, SATA III connection, and 2.5" form factor. All of these specifications are practically standard across all solid state drives nowadays. The thickness in particular is important for thinner applications, such as Ultrabooks. This way users can upgrade their storage, even in thinner products. At the bottom of the front panel is an assurance this product will work with both PC and Mac operating systems. Otherwise, the back has even more bullet points to read up about. For those who are more interested in these points, we have pulled down the specifications from the manufacturer's website for your perusal.
Features
- Phison SSD Controller paired with qualified 16nm Synchronous MLC NAND flash for best performance, value and reliability
- DRAM Cache: 512MB
- SATA 6Gbps/SATA2 3Gbs
- TRIM support (O/S dependent)
- End-to-end data path protection (ETEP)
- Advanced wear-leveling
- Advanced Garbage Collection
- Smart ECC
- Smart Refresh
- Operating Temperature - 0° ~ 70°C
- Native Command Queuing (NCQ) - Up to 32 commands
- ECC Recovery: Up to 72bits/1KB
- MTBF: 1,200,000 hours
- Sequential Read & Write Transfer: Up to 555MB/s Read | 535MB/s Write
- O/S Support: Windows® XP / Vista / 7 / 8 / Mac® OS / Linux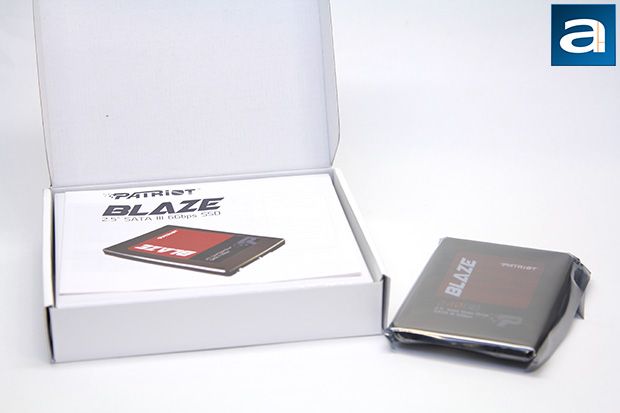 To get to the Patriot Blaze itself, all you have to do is slide the front sleeve off, and open up the white cardboard box. Inside, you will find a thin read me manual for usage and specifications in addition to the Blaze 240GB. Patriot has shipped this in a sealed anti-static bag. Even the OCZ ARC 100 was just shipped in a clamshell plastic case. Unfortunately, there is nothing else to really note in the box, as there are no adapters or extra screws. However, this is not completely surprising either. So, I pulled it out from its bag, and got to inspecting the Blaze 240GB.
---
Page Index
1. Introduction, Packaging, Specifications
2.
A Closer Look, Test System
3.
Benchmark: AIDA64 Disk Benchmark
4.
Benchmark: ATTO Disk Benchmark
5.
Benchmark: Crystal Disk Mark 3.0
6.
Benchmark: HD Tach 3.0.1.0
7.
Benchmark: HD Tune Pro 4.60
8.
Benchmark: PassMark PerformanceTest 8.0
9.
Benchmark: PCMark Vantage
10.
Conclusion