By: Jonathan Kwan
March 6, 2015
There are many "traditions" when it comes to our church-wide summer conference every year. When I say "traditions", I do not mean stereotypes like dressing in white robes or burning tall candles. Instead, it comes down to stuff like eating bowl noodles at night, playing Dutch Blitz during our free time, trading name tags with other people, and buying motor oil for fun. Additionally, one of the stuff we like to do is pay the guest speaker a visit in one night of the conference, and involve him or her in one or more of our traditions -- well, maybe except for the last one. In the most recent summer conference, on the second night, we decided to go ahead with the traditional guest speaker visit. After the evening talk, I approached him, and asked him if it was okay for us to come. Naturally, he agreed. At first, about four of us showed up at where he was staying. However, what he did not know was I have not-so-secretly invited almost everyone else. Before long, thirty to forty people crowded into his place. The next day, in his morning message, he commented on what happened the night before. "When I went back to my townhouse, I saw about four guys, which was what I have expected. Slowly, everyone started to trickle in. I did not expect all of you to show up!" A lot of times in life, there are expectations, and then there is reality. For some products, there are high expectations, and it delivers. For other products, there are low expectations, and you get exactly what you have paid for. In the case of the SanDisk Ultra II 240GB SSD, like our summer conference guest speaker last year, will we get more than what we expect? For about $110 at press time, let us find out.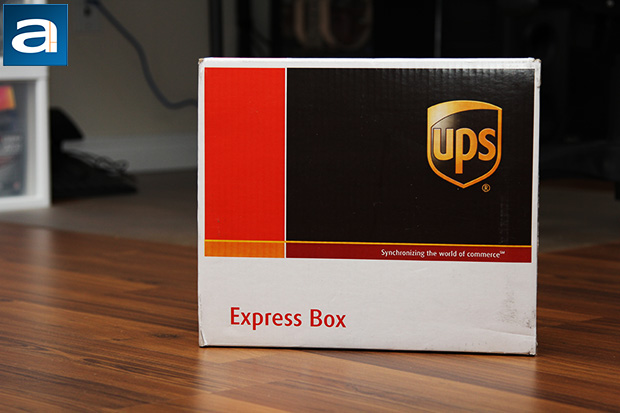 As usual, our review unit of the SanDisk Ultra II 240GB arrived in a medium sized, UPS branded cardboard box from the company's headquarters in California, USA. The service used was UPS Saver, which is a very popular shipping method with many manufacturers, considering how it can get from the place that never rains to us here in Calgary, Alberta, Canada in just one business day. After making the two thousand kilometer trip, everything arrived in excellent condition. With the usual equipment in our hands, we got straight to work.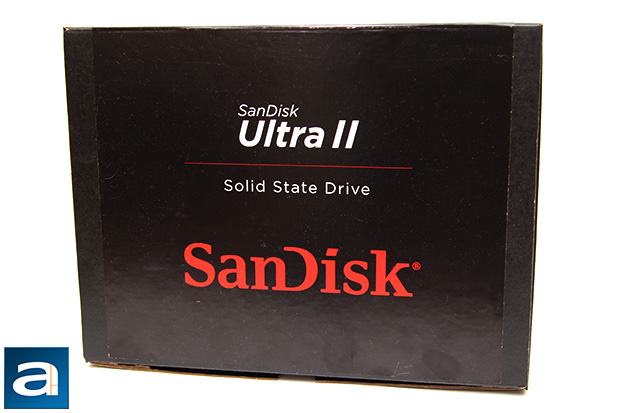 As with the last few products we have reviewed from SanDisk, they provided us with a press kit for review. The box was designed to look like a really big SanDisk Ultra II SSD. Inside, the Ultra II came in OEM packaging. As far as the retail box is concerned, from the photos I have seen, it is not a whole lot different than the rest of the SanDisk line. Its retail box features down-to-business approach is made possible by a background composed of several different shades of black and gray, an all-serious font highlight its model name at the top, and some feature highlights right under. An image of the SSD itself can be found boldly across the middle. Occupying a big part of the bottom is SanDisk's logo that you simply cannot miss. The drive capacity is located near the upper right hand corner. Our specific model is the 240GB variant, in case you have missed it.
Before we move on, let us take a look at the SanDisk Ultra II 240GB solid state drive, as obtained from the manufacturer's website:
Available capacities: 120GB, 240GB, 480GB, 960GB
Dimensions: 2.75 x 3.96 x 0.28 in. (69.85mm x 100.5mm x 7.0 mm)
Shock: Resistant up to 1500G
Vibration: Resistant 5 gRMS, 10-2000 HZ / 4.9 gRMS, 7-800 HZ)
Temperature: 32ºF to 158ºF (0ºC to 70 ºC)
Interface: SATA Revision 3.0 (6 Gb/s)
Endurance: MTBF: 1.75 million hours
Warranty**: United States: 3-year limited warranty. All other regions: 3-year warranty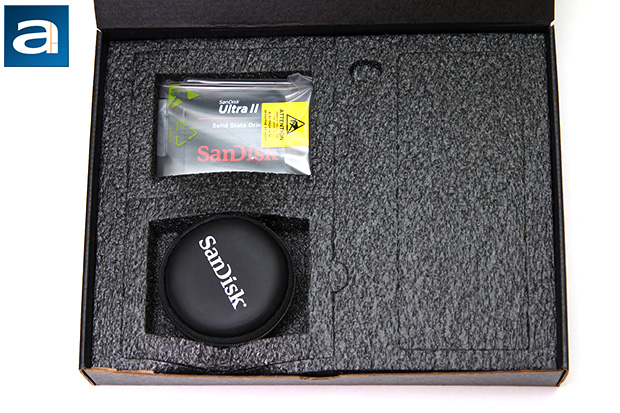 Since our review unit came in a press package, its out of the box contents differ from what you will get in a retail package. That said, rest be assured the performance of the SSD itself will still be the same, as it is equivalent to a production unit. Much to my disappointment, there was no chocolate in the press kit like the Extreme PRO we have reviewed in August of last year, but they did throw in a free set of earbuds instead. What you can expect when you pick one up at the store is a 7mm to 9.5mm shim, but you probably will not need it nowadays.
---
Page Index
1. Introduction, Packaging, Specifications
2.
A Closer Look, Test System
3.
Benchmark: AIDA64 Disk Benchmark
4.
Benchmark: ATTO Disk Benchmark
5.
Benchmark: Crystal Disk Mark 3.0
6.
Benchmark: HD Tach 3.0.1.0
7.
Benchmark: HD Tune Pro 4.60
8.
Benchmark: PassMark PerformanceTest 8.0
9.
Benchmark: PCMark Vantage
10.
Conclusion