By: Jonathan Kwan
August 17, 2012
A couple of weeks ago, a number of us were away for our church summer conference held at Olds College, Olds, Alberta. For those who don't know, the town of Olds is about an hour's drive away from Calgary. Despite being there numerous times in the past, I was always given the impression it is just a farm town with a population of about five hundred people, and that I can probably walk around the entire place in about three minutes. As it turns out, it actually has a population of over eight thousand, and driving down Main Street took me more than eight minutes. With the newfound knowledge that Olds is not just a small farming community in the middle of nowhere, a few of my friends and I decided to drive out to do some shopping... for some 5W20 synthetic motor oil. We ended up with six, yep, six -- 5L jugs. At this point, you may be wondering why anyone would want to buy so much motor oil while away for a retreat, and actually make the effort haul them back home afterwards. Well, the reason is simple: They are on sale for a very good price, and if we were in Calgary, it would have been sold out long before we even got to the store. What I am trying to say is, often times, if the economic incentive is strong enough, people will be willing to take extra effort and make compromises in their purchases. This is just common sense. With that in mind, what we have here for our review today is Kingston's HyperX 3K 240GB solid state drive. Last year, we have reviewed the Kingston HyperX 120GB SSD. Using premium 25nm Intel flash ICs rated for 5000 program/erase cycles, the performance and reliability is unquestioned, but it is rather expensive. To address a part of the market they have been missing, Kingston decided to fit the HyperX 3K with ICs rated for 3000 -- hence the name -- program/erase cycles, and lower the price tag along the way. With this change implemented, is the HyperX 3K still worthy of its name? Read on to find out!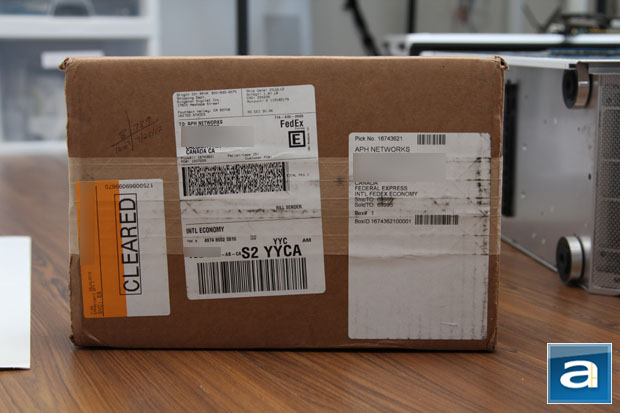 Our review unit of the Kingston HyperX 3K 240GB came in a medium sized, brown corrugated cardboard box from the company's American headquarters in California, USA. At first, I have expected the same box to contain the Kingston HyperX PnP DDR3-1600 2x8GB SODIMM kit we are going to cover in the next few weeks. Interestingly, it was dropped off in a separate package, but we will leave that discussion for another day, haha. Using FedEx International Economy, everything arrived in excellent condition for our review today. Being excited like a little kid on Christmas, I took out by knife, opened the package, and got straight to work.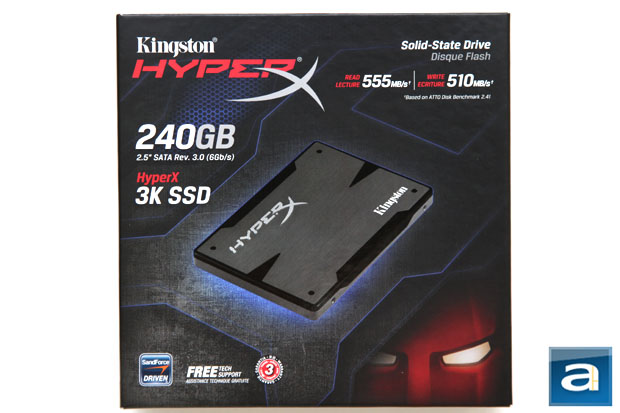 Although the exterior design and dimensions of the Kingston HyperX 3K 240GB's retail box appears to be a simple derivative of the company's top-of-the-line HyperX SSD, the product we are reviewing today is no longer enclosed in a telescope box. Instead, this is a flap top box, which is a little easier to open, but does the job with a little less... class. With that in mind, sharp CGI graphics with a dark color scheme is used to appeal to the enthusiast crowd; consistent of Kingston's HyperX brand market. Placed prominently across the center is an image of the SSD itself at 3/4 view, while "the usual stuff" is found all around it. Our image above should be self-explanatory. So before we move on, let's take a look at the features and specifications of this product, as obtained from the manufacturer's website:
Features
- SandForce controller technology
- High-speed SATA Rev 3.0 (6Gb/s) transfer speeds
- Advanced Wear-Leveling Technology
- User-Configurable Over Provisioning4
- Performance — incredible speeds for enhanced productivity
- Reliable — much less likely to fail than a standard hard drive
- Shock-Proof — dropping your notebook no longer means losing your data
- Cool & Quiet — runs silent and with no moving mechanical parts to generate heat
- Innovative — uses NAND Flash memory components
- Supports TRIM — enhances device wear leveling by eliminating merge operation for all deleted data blocks
- Supports S.M.A.R.T. (Self-Monitoring, Analysis and Reporting Technology)
- Guaranteed — three-year warranty, free technical support and legendary Kingston reliability.
Specifications
- Form factor 2.5"
- Controller SandForce® SF-2281
- Components MLC NAND (3k P/E Cycles)
- Interface SATA Rev 3.0 (6Gb/s), SATA Rev 2.0 (3Gb/s)
- Sequential reads: SATA Rev. 3.0 - 555MB/s
- Sequential writes: SATA Rev. 3.0 - 510MB/s
- Sustained Random 4K R/W: 240GB – 40,000/57,000 IOPS
- Max Random 4K R/W: 86,000/60,000 IOPS
- PCMARK® Vantage HDD Suite Score: 60,000
- Supports S.M.A.R.T., TRIM, and Garbage Collection
- Power Consumption: 0.455 W (TYP) Idle / 1.58 W (TYP) Read / 2.11 W (TYP) Write
- Dimensions 69.85mm x 100mm x 9.5mm
- Weight 97g
- Operating temperatures 0°C ~ 70°C
- Storage temperatures -40°C ~ 85°C
- Shock Resistance 1500G
- Vibration operating 2.17G
- Vibration non-operating 20G
- MTBF 1,000,000 Hrs
- Total Bytes Written (TBW) 153.6TB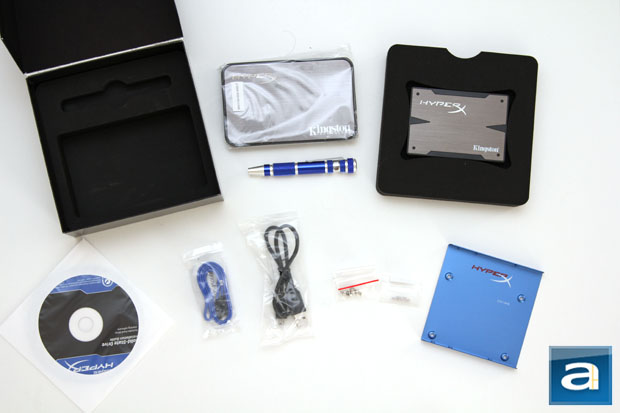 The packaging inside is just as impressive as the packaging outside. Although the HyperX 3K is slotted just beneath their flagship product, the retail box interior material and layout is absolutely identical to its bigger brother. I think this is a very good decision, because it leaves a very positive impression. Right from the start, we are presented with the Kingston HyperX 3K 240GB solid state drive in the middle of a black foam tray. The black foam tray has a cutout in the middle that resembles the 'X' in the HyperX logo. A 2.5" to 3.5" bracket is slotted on the other side to clip in two bags of screws for installation. On the bottom tray, we are presented with the rest of the bundle standard to HyperX 3K upgrade packages. This includes a 2.5" drive enclosure, USB cable, SATA cable, and a Philips head screwdriver with multiple sized tips. The company still offers a bare drive kit, but not from their website. Judging from the extremely small price difference in retail we have seen in the past, buying it with all the extra accessories makes a lot more sense.
---
Page Index
1. Introduction and Specifications
2.
A Closer Look, Installation, Test System
3.
Benchmark: AIDA64 Disk Benchmark
4.
Benchmark: ATTO Disk Benchmark
5.
Benchmark: Crystal Disk Mark 3.0
6.
Benchmark: HD Tach 3.0.1.0
7.
Benchmark: HD Tune Pro 4.60
8.
Benchmark: PassMark PerformanceTest 7.0
9.
Benchmark: PCMark Vantage
10.
Conclusion