By: Jonathan Kwan
September 14, 2012
In my QNAP TS-419P II review a few weeks ago, I have briefly talked about one of our many adventures during our church summer conference. While buying six 5L jugs of motor oil to bring home is definitely one of the highlights, it is certainly not the end of it all. On the second day of the conference, I decided it was fun to exchange name tags with a couple of my friends. Sooner or later, this trading circle expanded, and before long, everyone in the conference was involved in this ad-hoc activity (And being the conference coordinator, I fully authorize this game, haha). Understandably, there were people whose name tag had more intrinsic 'value', such as the main speaker, the pastors, and of course, yours truly, who is the coordinator. Then there were people whose name tag did not carry a whole lot of intrinsic value, but arbitrarily gained it due to undefined mysteries of the game. For example, one of the girls' tag, for some reason, was coincidentally accepted for trade for all the big guns, and as such, was held in demand throughout the few days we were there. A lot of times in the real world, it is no different. Some things are well regarded because it is intrinsically good. Other things are held in high regard simply due to arbitrary factors. With Intel's Desktop Board DZ77GA-70K we are reviewing today, is it good because it just is, or it gained its reputation purely due to the Intel brand name? I have never owned an Intel motherboard before, so let's find out together.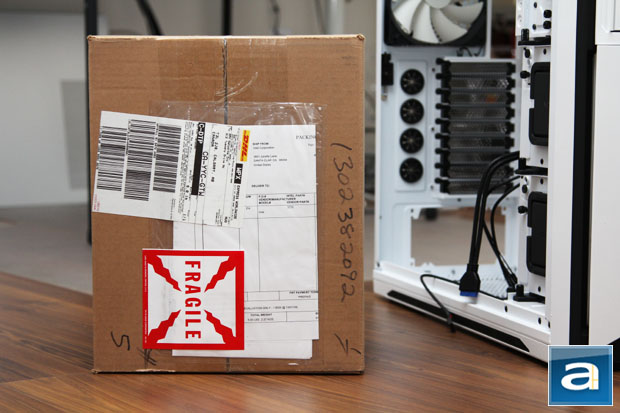 Our review unit of the Intel DZ77GA-70K motherboard came in a medium sized, brown corrugated cardboard box from Intel's headquarters in Santa Clara, California, USA using DHL Express. This was a part of the Intel Core i7-3770K press kit, where we have covered the CPU a while ago. Besides the big infamous APH review backlog (We actually got this set before NDA lift date in April), one more bump was hit along the road when my original DZ77GA-70K died. As it turned out, one of the CPU socket pins were bent out beyond repair. This is rather surprising, because I have handled countless Intel LGA boards, and never had an issue before. According to customer reviews at a large online retailer, some people reported the same issue, but it does not seem to be very widespread. Anywho, I dropped the good people at Intel a note, and a few days later, a brand new board arrived at our doorstep here in Calgary for us to complete our review.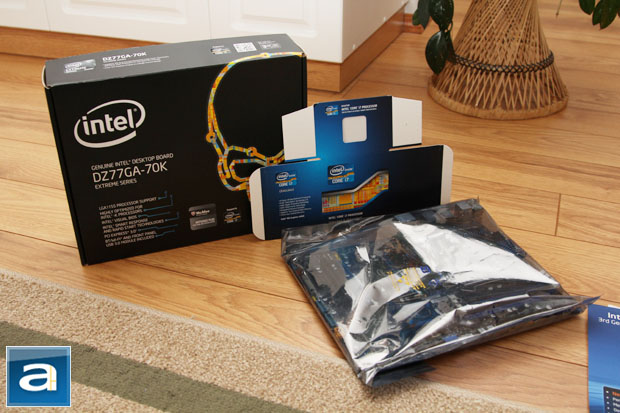 Our Intel Desktop Board DZ77GA-70K arrived in retail packaging. I have always been a big fan of Intel retail boxes; probably because they are always very clean in appearance, yet it still manages to emit a very nerdy vibe when you look at them. This motherboard is no different. Featuring a clean design with a distinctive black background, it is highlighted by a skull outlined by a chip silicon pattern on the right. Intel's logo is prominently displayed at the top left corner of the box; followed by the model number located right underneath it, as shown in our image above. A list of feature highlights can be found at the bottom right corner. Around the box is miscellaneous information for those who are interested in knowing. Before we move on, let's take a look at the features and specifications of Intel's desktop enthusiast product, as obtained from the manufacturer's website:
Form factor: ATX
AA# (Altered Assembly): G39009-XXX
BIOS ID string: GA7711H.86A with Intel® Fast Boot Technology
Processor: At product launch, this Intel® Desktop Board DZ77GA-70K supports:
- Intel® Core™ i7 -K processors series and other processors in an LGA1155 socket
- 2nd and 3rd Generation Intel® Core™ i7 processor series in an LGA1155 socket
- 2nd and 3rd Generation Intel® Core™ i5 processor series in an LGA1155 socket
- 2nd and 3rd Generation Intel® Core™ i3 processor series in an LGA1155 socket
Memory:
- Four 240-pin DDR3 SDRAM Dual Inline Memory Module (DIMM) sockets
- Support for DDR3 1600+ /1333 /1066 MHz DIMMs
- Support for up to 32 GB of system memory
- Tested system memory
Chipset:
- Intel® Z77 Express Chipset
- Intel® Rapid Storage Technology (Intel® RST) for RAID 0, 1, 5, and 10
Graphics:
- Intel® HD Graphics, HDMI*
- Two PCI Express* 3.0 x16 connectors (one x8 electrical)
- Supports ATI CrossFireX* and NVIDIA SLI*
Audio: Intel® High Definition Audio (Intel® HD Audio) subsystem in the following configuration:
- 10-channel (7.1 + 2 independent multi-streaming) audio subsystem with six analog audio outputs w/optical S/PDIF out port
- Supports Dolby* Home Theatre V4
LAN support: Dual Gigabit (10/100/1000 Mb/s) LAN subsystems using the Intel® 82579V Gigabit Ethernet Controller
Peripheral interfaces:
- Eight SuperSpeed USB 3.0 ports (4 external/4 header)
- Ten USB 2.0 ports (4 external (2 Hi-Current/Fast Charging) / 6 internal)
- Four Serial ATA 6.0 Gb/s ports, one eSATA 6.0 Gb/s
- Four Serial ATA 3.0 Gb/s ports
- Two IEEE 1394a ports/headers (1 external/1 header)
- Consumer infrared receiver and emitter
Expansion capabilities
- Two PCI Express* 3.0 x16 connectors (one x8 electrical)
- Two PCI Express 2.0 x 1 connectors
- One PCI Express 2.0 x 4 connector
- Two PCI Conventional* bus connectors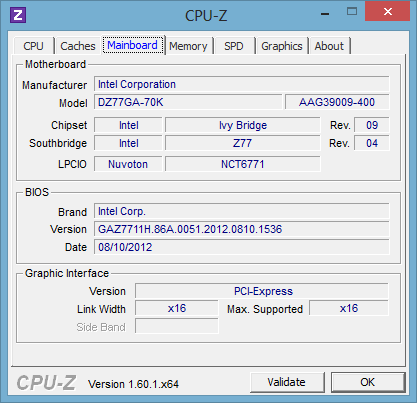 CPU-Z screenshot of the motherboard tab running Intel Desktop Board DZ77GA-70K in Windows 8 Professional x64 (Our benchmarks were completed in Windows 7). At press time, we were using Intel's 0051 BIOS revision. This is the latest BIOS revision at the time of writing this review.
---
Page Index
1. Introduction, Features, and Specifications
2.
Bundle, Chipset, BIOS
3.
A Closer Look, Board Layout, Test System
4.
Benchmark: AIDA64 CPU
5.
Benchmark: AIDA64 FPU
6.
Benchmark: AIDA64 Memory
7.
Benchmark: BAPCo SYSMark 2012
8.
Benchmark: PCMark 7
9.
Benchmark: 3DMark 11
10.
Benchmark: PassMark PerformanceTest 7.0
11.
Benchmark: SuperPI 1M, Cinebench R11.5
12.
Onboard Sound Frequency Analysis
13.
Overclocking and Conclusion