By: Jonathan Kwan
August 31, 2012
You are secure
I know what for
You're holding files behind the hard drive door
Don't need Windows
To boot you up
Linux embedded on flash is enough
Everyone else on the network sees you
Everyone else but the banned
QNAP you store all my files like nobody else
The speed you transfer data gets me overwhelmed
But when your user restrictions are set it tells
We all know
Oh oh
We all know you're powerful
If only they saw what I can see
They'll see your VMWare compatibility
Right now I just want your Active Directory
We all know
Oh oh
We all know you're powerful
Oh oh
That's what makes you powerful.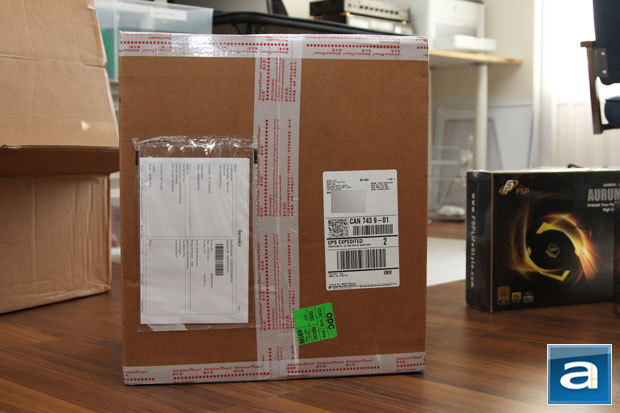 With a little bit of help from our friends in One Direction, and to prove that we are right, we put it in a song. I don't know why, but even though this NAS is part of the home/small business line from QNAP, they retained the 'P' in as part of the model name. As a comparison, the business lineup uses the word 'Pro', which is kind of confusing in my opinion. At the end of the day, they all run the exact same version of QNAP's firmware, and that's what makes it powerful. (Okay, I think I have had enough fun for the day.) Anyways, our review unit of the QNAP TS-419P II came in a large, brown corrugated cardboard box from the company's American offices in California, USA. Using UPS Standard, everything was handled very well as it made its way across the border. After being dropped off here at our doorstep in Calgary, Alberta, Canada, we opened the package, and got down to business.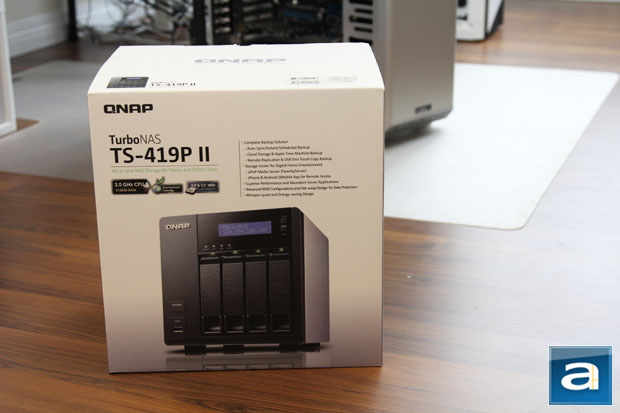 I think the entire QNAP product line with the "II" suffix in its name has the same retail packaging design theme, as we have seen in the QNAP TS-559 Pro II and QNAP TS-219P II. This design utilizes a comparatively small text on a slick white background to create a clean, spacious design. Occupying the top half of the profile view is an array of icons, situated beneath its model name, to highlight its hardware features; next to it on the right is a list of bullet points to highlight its software features. Prominently displayed at the bottom is a photo of the NAS itself. The rest of the box carries forward the design colors with a silver background; encompassing more diagrams and tables covering its features and specifications in further detail. Upon opening the box, the user will find a welcome message on the inside flap, as well as a few links on how to get connected with QNAP's social media presence.
Before we move on, let's take a look at the features and specifications of the QNAP TS-419P II, as obtained from the manufacturer's website: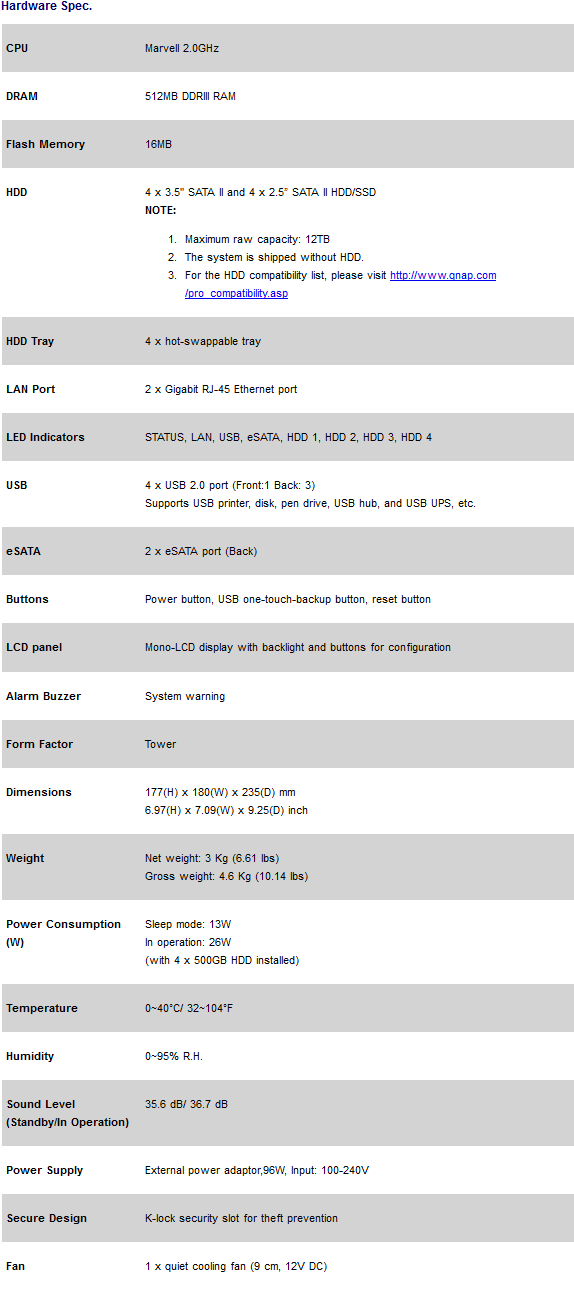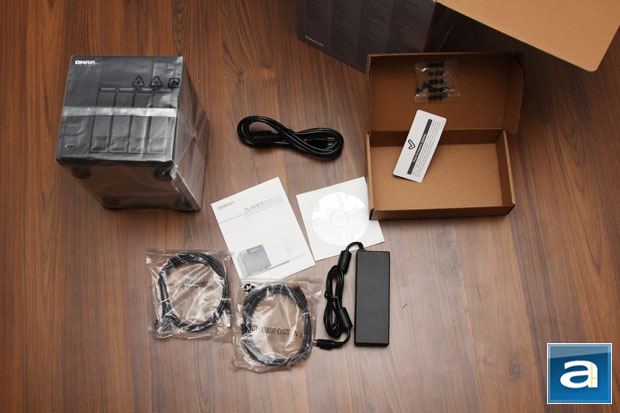 Opening the retail box reveals the QNAP TS-419P II clipped between two large Styrofoam brackets, and wrapped in a large plastic bag to ensure no bumps and scratches occurs during transport. A separate accessory box holds all your accessories in place, making it organized and easy to find. Overall, I found the packaging to be simple and effective, and I have never had any problems finding what I need out of the box.
The following items are included for the end user:
1x QNAP TS-419P II
1x Setup CD-ROM
2x Ethernet cables
1x Quick installation guide
12x Screws for 2.5" HDDs
16x Screws for 3.5" HDDs
1x Power adapter
---
Page Index
1. Introduction and Specifications
2.
A Closer Look - Hardware
3.
Configuration and User Interface, Part I
4.
Configuration and User Interface, Part II
5.
Configuration and User Interface, Part III
6.
Performance and Power Consumption
7.
Final Thoughts and Conclusion