By: Jonathan Kwan
August 26, 2011
If you have been following our reviews here at APH Networks for the last little while, you will notice the same pattern every year. If you know exactly what I am talking about, this means it is now time for yet another QNAP network attached storage review. Case in point: Check out the dates on our QNAP TS-409, TS-439 Pro, and TS-559 Pro+ articles (Actually, it is just a coincidence, haha). While it is not necessarily explicitly planned to have one of these sweet network appliances landing at our Calgary, Alberta location near the beginning of the Fall semester every year, it just happened to be this way, so why break this excellent tradition now? With that in mind, sitting on our racks for testing this afternoon is QNAP's latest 5-bay creation for SMB/corporate applications. Okay, I am going to say "SMB/corporate" very loosely; just because it costs over $1000 at press time, and loaded with every feature IT professionals can possibly dream of, does not mean it is not composed with brilliant cloud multimedia capabilities even casual home users will come to love. Before we move into the meat of our review this afternoon, let me clear up a few things right off the bat. Firstly, for those who are new to the NAS market, why would anyone pay over a grand for a system powered by an Atom processor with 1GB of RAM? Simply put, you are not just paying for the hardware. The user friendly software -- and all the features it comes with -- is where its value stands. Secondly, what is the difference between the new QNAP TS-559 Pro II and the last generation TS-559 Pro+? To be honest, it is not a whole lot. Upgrades include SATA 6Gb/s, two USB 3.0 and four USB 2.0 ports rather than five USB 2.0 ports, and user upgradeable memory. So if you already own a TS-559 Pro+, chances are that you do not need to upgrade. But if are buying a new NAS now, what does QNAP's unmatched reliability, brilliant software, and awesome performance bring to the table today? We will have all the juicy details covered in this review.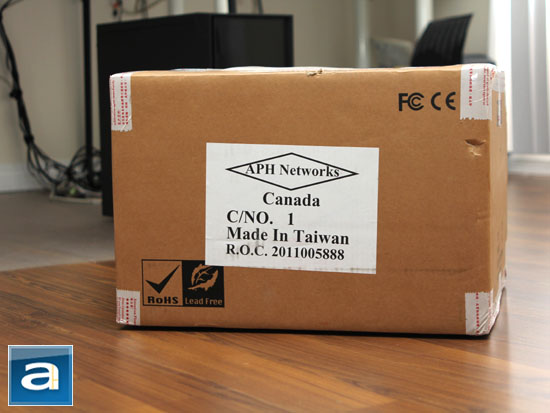 Our review unit of the QNAP TS-559 Pro II came in a rather large, brown corrugated cardboard box from the company's headquarters in Taiwan. Actually, it is exactly the same box we have seen in the TS-559 Pro+ review last year, except this one has our name printed boldly across the front. Using DHL Express, I'd hate to think how much it cost the QNAP to send it to us, haha. Sending something this big half way across the world in a couple days is not necessarily what you would call a bargain -- but landing in perfect condition here in Calgary, Alberta, we quickly brushed that thought aside, and excitedly opened the package to see what the company has in store for us.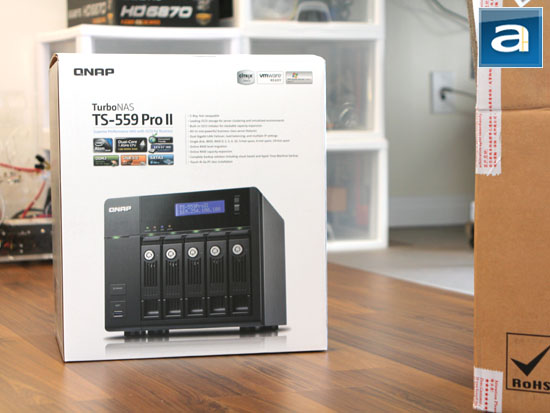 It seems to me QNAP redesigns their retail package every year, and this time around, it is no exception. From the TS-439 Pro's black and grey box color scheme in 2009, to the TS-559 Pro+'s simple brown corrugated cardboard box with a label in 2010, the latest iteration from the company now uses a comparatively small text on a slick white background to create a clean, spacious design. Occupying the top half of the profile view is a matrix of icons underneath its model name to highlight its hardware features; next to it on the right is a list of bullet points to highlight its software features. Prominently displayed at the bottom is a photo of the NAS itself. The rest of the box silver in color; with more diagrams and tables covering its features and specifications in further detail. Upon opening the box, the user will find a welcome message on the inside flap, as well as a brief 3-step configuration on how easy it is to setup the system.
Before we move on, let's take a look at the features and specifications of the QNAP TS-559 Pro II, as obtained from the manufacturer's website: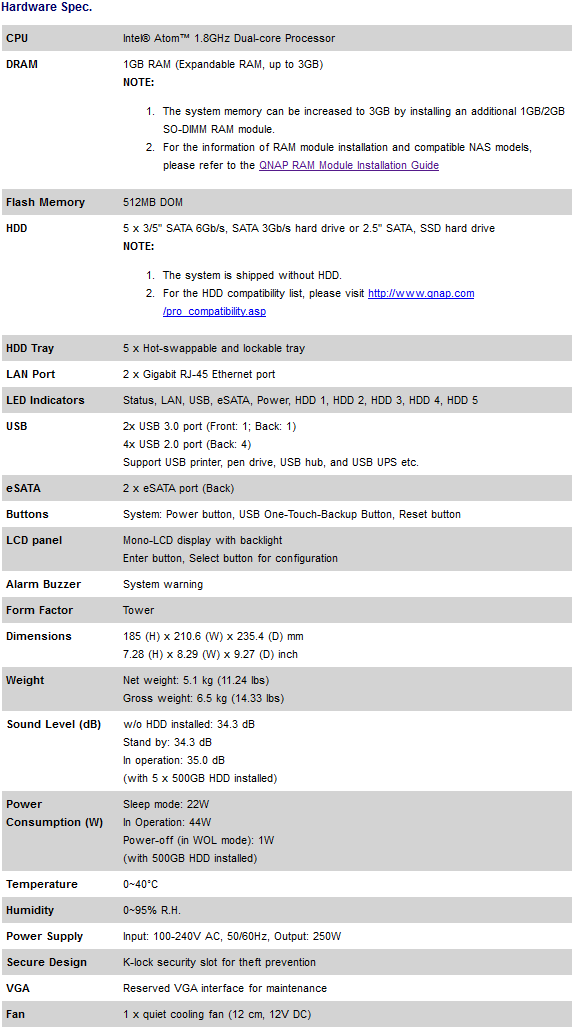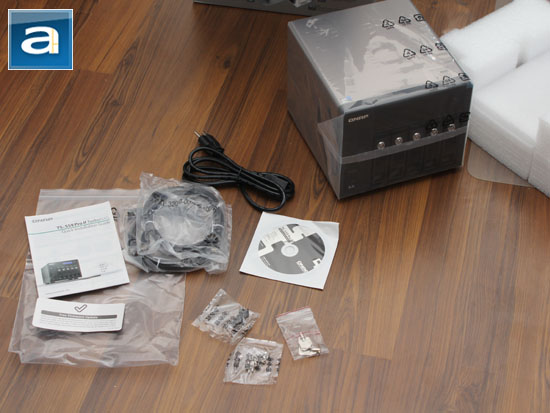 Opening the retail box reveals the QNAP TS-559 Pro II clipped between two large Styrofoam brackets, and wrapped in a large plastic bag to ensure there are no bumps and scratches occurring during transport. The accessories box seen in past models is now replaced by a large resealable plastic bag with everything other than the power cable inside. Overall, it is very well packaged in both a practical sense and aesthetically speaking manner.
The following items are included for the end user:
1x QNAP TS-559 Pro II
1x Setup CD-ROM
2x Ethernet cables
1x Quick installation guide
25x Screws for 2.5" HDDs
30x Screws for 3.5" HDDs
2x Hard disk tray lock keys
1x Power cable
---
Page Index
1. Introduction and Specifications
2.
A Closer Look - Hardware
3.
Configuration and User Interface, Part I
4.
Configuration and User Interface, Part II
5.
Configuration and User Interface, Part III
6.
Performance and Power Consumption
7.
Final Thoughts and Conclusion