By: Jonathan Kwan
September 27, 2008
Ever since Junior High computer labs, all the documents we use are stored on network drives alone -- because the students will be using a different computer pretty much every time, and Deep Freeze are deployed on every workstation so smart-arse 15 year olds won't be messing around the computers all that much. At home, however, all my documents are stored on my computer's local hard disks. I've never really given much thought into an always-on network drive because, well, this type of system never really caught my attention in the first place. As time progresses, my local area network became more and more complicated and filled up with an ever expanding count of computers. The need for a central data storage device due to this phenomenon became more evident. Almost two years ago, I've reviewed the Thermaltake Muse NAS RAID network attached storage device -- which brought quite a revolutionary change of computer usage habits in my house, at least for me. From regular data transfers, data backups, local file hosting, to media streaming, I've always wondered how I ever lived without it for all these years. There was one problem with the Muse NAS RAID though: The performance did not meet my expectations. Looking for a high performance, easy to use, loaded with features NAS device, it seems that I've finally found a solution -- the QNAP TS-409 Turbo NAS. My major concern: It better be fast. So let's see how it goes.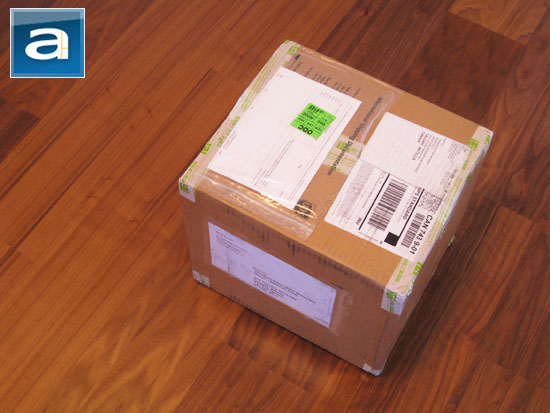 Our review unit of the QNAP TS-409 NAS system came in a large, brown corrugated cardboard box using UPS Standard from QNAP's offices in California. Everything were in perfect condition when it arrived, and a layer of packing material were placed between the shipping box and the actual retail box of the TS-409 for additional protection during transport.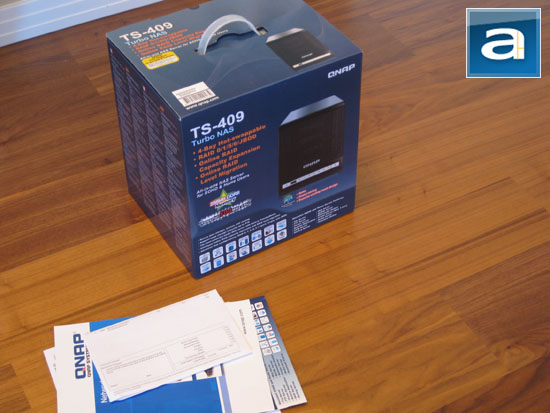 A large, cardboard retail box with a predominant blue color scheme secured our QNAP TS-409 Turbo NAS inside. This box can easily be duplicated as a shipping box by online retailers. That aside, the front offers feature highlights of the TS-409 with a photo near covering a significant top right portion. Features in four different European languages are printed on the left side of the box. At the back are feature highlights in English, along with corresponding icons and pictures. Specifications are listed on the right, while the flap-top box has a carrying handle in the middle.
Before we move on, let's take a look at the hardware specifications of the QNAP TS-409, as obtained from the manufacturer's website:
CPU: Marvell 5281 500MHz
DRAM: 256 MB DDR2
Flash Memory: 8MB
HDD: 4 * 3.5" SATA I/II HDD, up to 4 TB (the standard system is shipped without HDD)
LAN Port: 1 * Gigabit RJ-45 Ethernet port
LED Indicators: Status, USB, LAN, HDD 1, HDD 2, HDD 3, HDD 4
USB: 3 * USB 2.0, support USB printer, disk, digital camera, pen drive, card reader, USB hub, and USB UPS etc.
Buttons: USB auto-copy button, power button, reset button
Alarm Buzzer: System Warning
Form Factor: Tower
Dimensions: 225 (D) x176 (W)x 188 (H) mm
Weight: Net weight: 3 kg (w/o power adapter)
Gross weight: 4.75 kg (full package)
Temperature: 0~40°C
Humidity: 0~95% R.H.
Power Supply: External Adapter, DC 12V
Energy-saving Design: Smart fan, sleep mode: 18.8W; in operation: 44.6W
Thermal Solution: Heat dissipation by fan
Secure Design: K-Lock security slot for theft prevention, anti-kick power adapter design
Sound Level: Standby: 36.4 dB; In operation: 40.6dB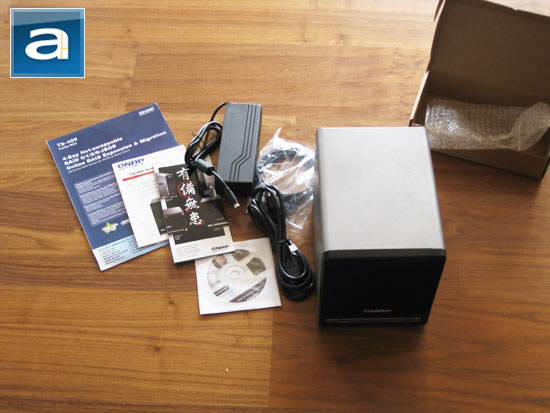 The contents inside the QNAP TS-409 retail box were packaged neatly and securely. The TS-409 unit itself is clipped between two large foam brackets, while accessories are tucked away inside an accessories box. Miscellaneous documentation can be located immediately upon opening.
Out of the box, you will receive the following:
- 1x QNAP TS-409 Turbo NAS
- 1x AC adapter and power cord
- 1x Drivers and software CD
- 1x Quick installation guide
- 1x TS-409 product brochure
- 1x QNAP product brochure
- 16x flathead screws
- 1x Ethernet cable
- 2x Keys
Basically, all the basic necessities are included for the user to get the NAS up and running.
---
Page Index
1. Introduction and Specifications
2.
A Closer Look
3.
Configuration and User Interface
4.
Performance Benchmarks
5.
Final Thoughts and Conclusion