By: Jonathan Kwan
January 15, 2007
It seems like just yesterday that 20GB hard drives were the norm of non-volatile storage in our computers. Over all these years, the rapid expansion and advancement in turning office machines into multimedia powerhouses can be considered both a revolution and evolution -- as most of us nearly have (Or maybe have more than) a terabyte of music, videos, photos, as well as the disk capacity shared off a portion for work and development purposes; we realize that there's something that has to be done to safeguard your data. What's more, most people have more than one computer in their home -- and home network is a high priority. Networking cables are roughed into the walls of new houses to accommodate this change. In order for all our computers to access the information stored and/or completed on another, a central storage system could be very necessary. However, building a new computer for a file server could possibly occupy too much space; too much hassle to configure with OS updates and more -- leaving it on 24/7 would definitely add a few more dollars to your monthly electricity bill. Is there anything that costs relatively less, does the job just fine out of the box, and consumes considerably less electricity than a full fledged system? The Thermaltake Muse NAS RAID that arrived at our door a few weeks ago might just fit the bill -- let's examine this product to see how it can accommodate users of this market.
Our review unit came in quite a large box from Thermaltake's office in the USA using FedEx Ground. I discovered it at my door early one morning, so I had no idea when it was delivered because it wasn't there the night before. To be honest, I wasn't expecting the Muse NAS RAID for review -- so it was quite interesting as I wondered what resided inside the box. After opening, I was very pleasantly surprised that the Thermaltake Muse NAS RAID -- basically a home file server -- was sent to us for our review today.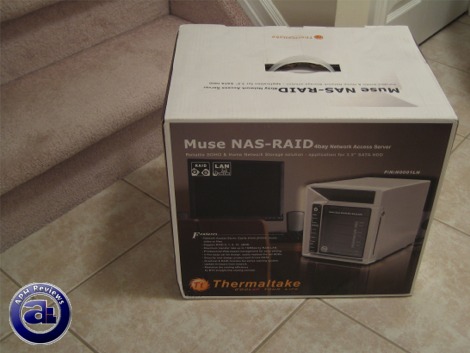 Also quite surprising was the fact that the external cardboard packaging was quite a tight fit with the actual retail box residing within. The Thermaltake Muse NAS RAID box is a mini-flap enclosed box with plastic handle at the top. The four sides outlines different aspects of the product, including features, specifications, device internal and external diagrams, as well as an example network diagram. Of course, they put the NAS RAID at the center of the diagram where all data flows toward it... quite unsurprising ;)
Below includes specifications and features of this product, as taken from Thermaltake's product page of the Muse NAS RAID:
Features:
- Network Access Sever; Easily share photos, music, video or files.
- Support RAID 0, 1, 5, 5+Spare, 10, Linear.
- Maximum transfer rate up to 1GMbps by RJ45 LAN.
- Professional Web-based management for easy setting.
- 4 Hot swap carrier design, easily replace the fail HDDs.
- Security lock design protect hard drives DATA.
- Overheat & RAID function fail active warning system.
- Update firmware from network.
- Maximize the cooling efficiency by BTX straight-line cooling concept.
Physical Aspects
- 160W power supply
- Vent hole
- Status bar & Transparent plastic panel
- 4 individual HDD rack
- Hot swap carrier HDD rack
- Material foot stand
- 12cm Fan
- Front door design
- Security lock
- RS232 & RJ45 Lan port
Supported Disk Configurations
- Linear (JBOD): 4 x SATA HDD: The individual Network HDD.
- RAID 0: Spanning mode: Merge all HDD to one.
- RAID 1: Mirroring mode: Best data protection.
- RAID 5: Parity mode: Good performance and safety.
- RAID 5+Spare: RAID 5 with spare disk
- RAID 10: The combination of RAID 0 and RAID 1.
Specifications
Form Factor / Color: Tower / Silver
Network Support: Microsoft Windows/ Linux/ Unix
Network Transport: TCP/IP
Network File Protocol: CIFS / NFS / HTTP / FTP
Network Interface: Gigabit Intel 82541
Support Industry Standards: NTP / DHCP / IP Security / DNS
Interface: RJ45 LAN 100/1000Mbps
Hardware Monitor Item: Temperature Sensor / Power Management
Processor: Intel IOP 80219 400MHZ
SATA Controller: Intel SATA controller
Regular System Memory: 256MB DDR SDRAM
Max. System Memory: 512MB DDR SDRAM
Flash Memory: 8MB
Max. HDD Bay / Type: 4 x SATA HDDs
Power Supply: 100~120 / 200 ~ 240 VAC 50 / 60 Hz 160W
Remote Control: RS232
Dimension: L290 x W 185 x H 240mm
Weight: 6.1kg
Accessories: Software CD, Power Cord, LAN cable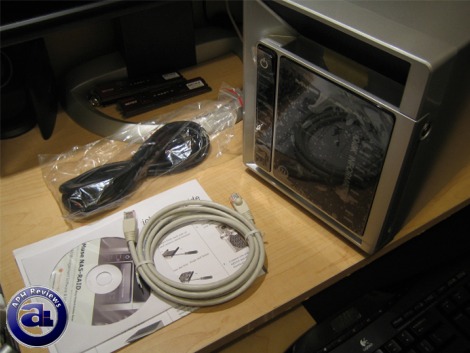 Out of the well-packed box, you'll get a setup poster (Which proves to be quite useful even to experienced users), network cable, power cable, setup CD, 2 keys, as well as the Thermaltake Muse NAS RAID unit itself. The NAS RAID will only support SATA drives (Meaning no IDE drives at all), and since this is an enclosure no hard drives are included -- which is reasonable, so no complaints here.
---
Page Index
1. Introduction and Specifications
2.
A Closer Look
3.
Configuration and User Interface
4.
Performance Benchmarks
5.
Other Notes and Conclusion