Page 5 - Other Notes and Conclusion
Prior to our review, one member from Canada in our forum said that he purchased a Thermaltake Muse NAS RAID and experienced problems with this unit. From our forum thread:
I bought one but I'm very disappointed.
I have 4x Western Digital RAID Edition brand new SATA II 500GB, the unit will not stay up for more than 2 days. After a day or so, one drive will disappear from the array. One way is to pull out the tray or shut the box down and power up again. The dead drive will return then it builds the array again in a day. Few hours later, the array will break again.
I bought the unit for just over a month, it's passed the return policy at the store I purchased the unit. I sent an email to Thermaltake, they told me they would ship me an advanced exchange unit. I was pretty happy about that until I found out from the RMA department, they won't send me a unit first. I have to ship this back first, and I'm responsible for shipping to Thermaltake. I'm in Canada, shipping to US is going to cost me arm and leg. Not to mention the unit has never worked properly.
I'm not happy with this unit, and the customer service seems pretty bad. The unit also performs very slow. 4MB/s is the best I can do when transfer over Gigabit Ethernet. If between computers, I can achieve easy 20MB/s or higher.
Now that I personally cannot confirm the claim of the RAID malfunctions, but it is true (At least with my single drive) of transfer between the NAS RAID and my computer in the previous page that even over Gigabit Ethernet, our proprietary Single File Write benchmark puts out a 5.64MB/s write and 12.25MB/s read on the graphs -- and that's over a 1Gbps connection. Although limitations of hard disks will not allow sustained speeds over 60MB/s read and slower write, we do expect faster connection speeds anyhow -- even an OCZ Rally2 can do 11.67MB/s write and 17.02MB/s read on the same benchmark over USB (ICH7R host controller).
------
Update: As Peter over at Thermaltake pointed out to us, the manual of the Thermaltake Muse NAS RAID is located in the CD. In page one of the manual, it says, "Your storage system can accommodate up to four hard disks with standard RAID 0, 1, 5, 5+spare, 10, and Linear configurations, providing up to 1.6 TB (terabytes) of shared network storage." This means that you cannot put 4x500GB drives in for a total of 2TB, as this is not officially supported by Thermaltake's Muse NAS RAID. It would be really cool if it can support higher capacities for sure though.
Update 2: One of our readers pointed out to us of the following; edited for clarity:
I had the [RAID failing all the time problem] with this unit and a Western Digital 500GB RAID Edition hard drive. I had found the problem - WD hard-drive - there is a firmware update for all WDxxxxYS hard drives on Western Digital's site to fix the exact same problem.
For more information:
http://forum.thermaltake.com/viewtopic.php?t=324
http://support.wdc.com/download/?cxml=n&pid=15&swid=57

It seems to us that the problem partially resides with the Western Digital 500GB RAID Edition hard drive's firmware. If you have such a combination, try updating the firmware of the hard drive and see if it fixes your problem.
-----
This is a relatively new product and not quite widely available at the moment. However, the problems we've seen in this network attached storage system -- are these really firmware problems due to a new product or design flaws beyond software control? This cannot be confirmed until we are provided with a new version of firmware to see if it really does improve performance of this device by any chance -- as well as fixing those few quirks.
All in all, this product still marks quite an impression for me. It looks good, and very well designed physically. With full support for SATA drives and native RAID functions, additional IDE supports won't be bad as well; although physical implementation would be another story. The layout is excellent and the array of LEDs in the front provides appropriate information quickly and easily without any flaws. The web based configuration is very user friendly; the amount of functions should be more than to most people looking for file servers.
When it comes to the testing, I said it before, but I must say it again -- there are flaws of this product that should be taken of. Firstly, the performance is less than optimal over a Gigabit connection (At least with a single drive). Secondly, firmware and software configuration has a few things here and there that definitely needs to be addressed, otherwise it would be a bit weird to use. It is still a relatively new product, but if the firmware was better at initial production, that would prevent lots of problems from happening -- especially at press time, when no firmware update is currently available.
Hardware wise, I like how everything can be easily accessed, and the layout is very good in my opinion. However, I am definitely not a big fan of the power supply. Sure, the Thermaltake Muse NAS RAID's regular power usage with a single disk at around 30W is low power consumption by any means -- but with such a loud power supply, and a PF of 71-72% could be an indication of a lower quality units -- you definitely need something to reduces line loss and power distortion these days.
Can we say the Thermaltake Muse NAS RAID is something we would recommend? Now that we would love to do so to such a nicely designed product -- but up until this point, I would -- and many of you will as well -- dispute any recommendations at this point for the firmware and software issues. It's still a product in its early phase at press time, but I would be happy if Thermaltake replaced the power supply on this product with something that's more quiet and of higher quality. In my opinion, if the performance and stability issues are not a hardware problem, then it's almost flawless; like I mean, just hand out an updated firmware and we'll test this again. Oh, and use a better power supply.
I would be happy to post any comments from owners of this product or any updates from the excellent people over at Thermaltake in this article, any updates in regards to this product (Including firmware) -- performance results will be refreshed as well as an updated rating!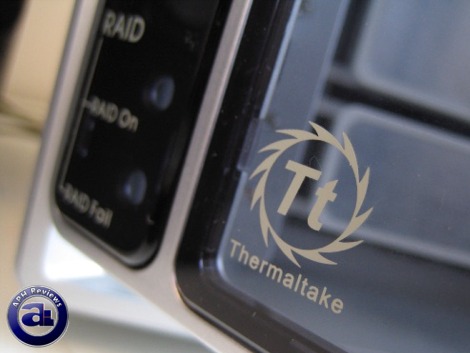 Special thanks to Peter over at Thermaltake for making this review possible.
Rating: 6.1/10
- The rating 6/10 means "A product with its advantages, but drawbacks should not be ignored before purchasing".
- The rating 7/10 means "Great product with many advantages and certain insignificant drawbacks; but should be considered before purchasing".
- More information in our Review Focus.
This product has a huge potential, just get those issues fixed and I am sure the Thermaltake Muse NAS RAID would be flying off store shelves and online inventory!
---
Page Index
1.
Introduction and Specifications
2.
A Closer Look
3.
Configuration and User Interface
4.
Performance Benchmarks
5. Other Notes and Conclusion