Page 4 - Performance Benchmarks
Digging through the physical aspects as well as software configuration of the Thermaltake Muse NAS RAID, performance has and will always be a large emphasis of all reviewed product here at APH Networks. My biggest regret is that I will not be able to test out the RAID functions of this device, but if someone wants to donate me some SATA hard drives I would be more than glad to take them ;) (Make sure they are in matching pairs for RAID though!)
Anyways, tests are conducted on the system with the following specifications:
CPU: Intel Core 2 Duo E6300 @ 2.80GHz (400MHz*7, 1.2250V)
CPU Heatsink: Scythe Infinity (120mm fan)
Motherboard: Asus P5W64-WS Professional
RAM: OCZ Special Ops Edition Urban Elite PC6400 2x1GB @ 4-4-3-11, 1:1 with CPU
Case: Thermaltake Aguila (1x120mm LED, 1x120mm)
Power Supply: Seasonic M12 500W
Graphics: BFG GeForce 7600GT OC 256MB
Sound: Creative X-Fi XtremeMusic
Optical Drive: NEC AD-7170A 18X DVD+/-RW
Hard Drive: Seagate 7200.10 320GB 16MB SATA2
The hard drive used with the Thermaltake Muse NAS RAID is a Western Digital SATA2 250GB hard drive with 16MB cache. All power measurements are done on our Seasonic PowerAngel.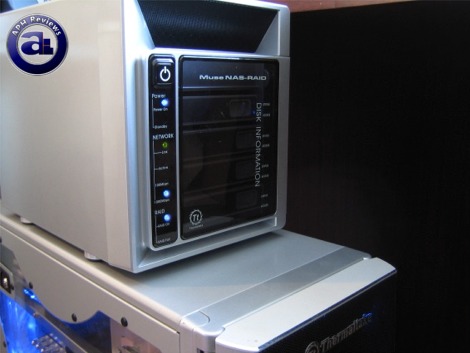 Thermaltake's Muse NAS RAID is directly connected to the second Gigabit LAN port on my Asus P5W64-WS Professional motherboard during these tests.
In our photo above shows the Muse NAS RAID in action. A blue LED lights up to show power status as well as an orange LED underneath that will be lit when the device is off but receiving power. An array of network LEDs are installed to display link status as well as connection speed (100mbps or 1Gbps). RAID (Or really disk status) is shown by one of two LEDs underneath; while individual disk status and activity is displayed by two LEDs on each hard drive tray.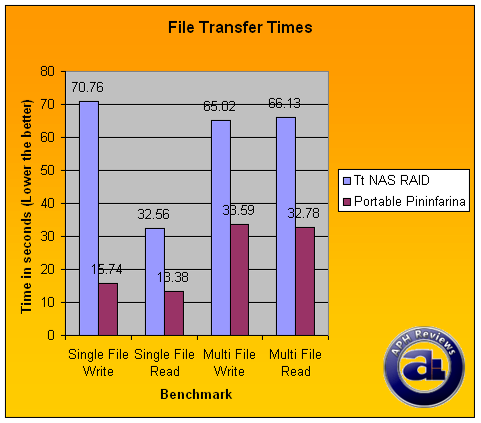 Time in seconds - Lower the better.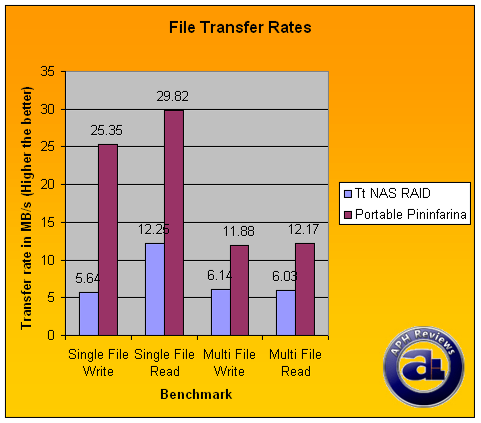 Transfer rates in MB/s - Higher the better.
Wow, what can I say... the performance of the Thermaltake Muse NAS RAID is quite a disappointment. The SimpleTech Portable Pininfarina 100GB USB 2.0 hard drive using a 2.5" Western Digital 5400RPM laptop drive was roughly twice as fast as the Thermaltake Muse NAS RAID using a Gigabit connection with a 7200RPM SATA2 Western Digital hard drive with 16MB cache.
To elaborate upon this, let's begin with our APH proprietary Single File Write benchmark -- the NAS RAID averaged a write speed of 5.64 MB/s, while the Portable Pininfarina managed a 25.25 MB/s write. In our Single File Read, Thermaltake Muse NAS RAID's 12.25 MB/s rate is definitely no match for SimpleTech Portable Pininfarina's 29.82 MB/s.
The APH Multi File tests proved minimal difference. Again, the Thermaltake Muse NAS RAID pulled a 6.14MB/s in the Multi File Write as compared to the Pininfarina's 11.88MB/s; while the 6.03MB/s read speed on the NAS RAID compares to the SimpleTech drive's score of 12.17MB/s.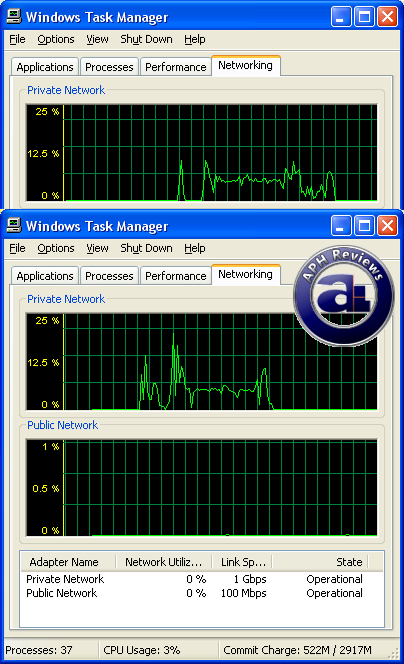 Checking network usage graphs, the above shows the write sequence while the second displays read performance in our APH Multi File benchmark. Besides an occasional burst, there's nothing much that the Thermaltake Muse NAS RAID that really takes advantage of a Gigabit connection.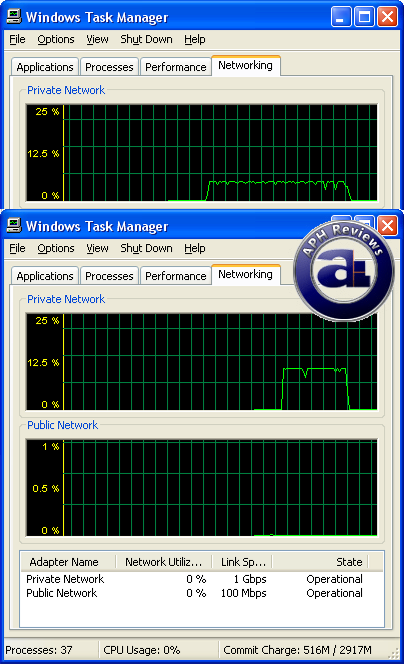 The shot at the top displays write, while the second displays read. Again, nothing that really takes advantage of a 1Gbps connection besides the second graph (Read performance) that brings sustained speed slightly above the 100Mbps mark.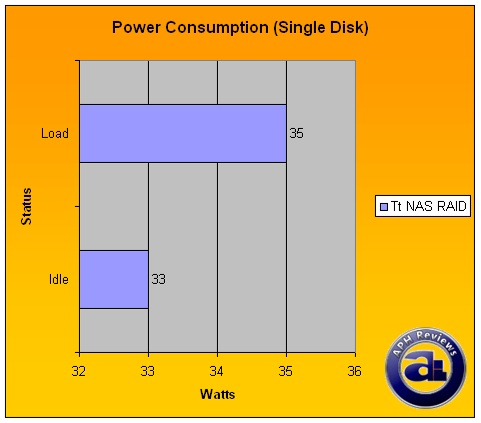 Now onto the power consumption charts. Using a single SATA2 disk, the system maintained a 33W power usage during idle and 35W of peak power usage under load as measured by our Seasonic PowerAngel. This is very good, as most modern computers will bring your power usage well beyond 100W during idle conditions. However, the recorded PF is at 71-72% -- which is less that optimal for today's power supplies and it really caused me to dispute the actual quality of the power supply unit installed in this device. No active PF correction features to minimal AC line power loss is featured on this power supply; and the power supply is really audible.
I stuck a screwdriver into the back 120mm fan (There's only one case fan in the Thermaltake Muse NAS RAID) to temporarily stop it. Unfortunately, the noise is still extremely audible -- and I wouldn't risk putting a screwdriver into a power supply where the fan I can barely reach, and my Western Digital drive is not THAT loud by any means. There's nothing else that would generate noise, and I put my ears right next to the power supply and discovered that it was clearly the noise source. It's not extremely loud, but it's audible and I don't think a 160W power supply should generate that much noise by any means. The Thermaltake Muse NAS RAID, if it is designed for the living room, it should be considerably quieter. My whole computer (With specifications listed above) is significantly quieter than this device.
---
Page Index
1.
Introduction and Specifications
2.
A Closer Look
3.
Configuration and User Interface
4. Performance Benchmarks
5.
Other Notes and Conclusion