Page 6 - Performance and Power Consumption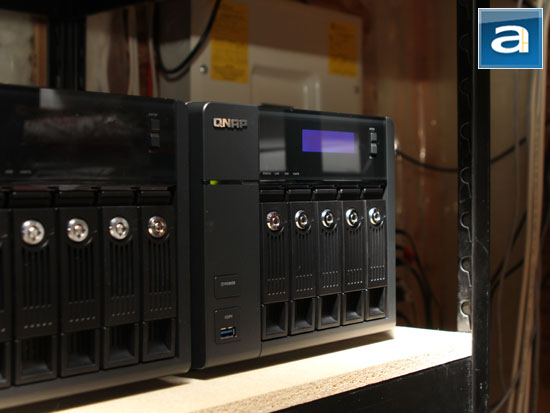 For our tests, the QNAP TS-559 Pro II is placed in the networking room in our basement, where all the network outlets in the building leads to. Next to the QNAP TS-559 Pro II is our QNAP TS-559 Pro+ from last year. Our test station is located two stories away from the NAS to simulate real world performance in a centralized networking environment. Both network adapters on the TS-559 Pro II configured in Balance-rr mode are connected to a NETGEAR GS-108 Gigabit switch, with CAT 5e cables all around the building.
Three Western Digital Caviar Blue EALS 1TB configured in RAID 5 were installed in our QNAP TS-559 Pro II network attached storage system. The client computer is configured with the following specifications:
CPU: Intel Core i5-2500K @ 4.50GHz (Overclocked, Turbo Boost disabled)
CPU Cooling: Noctua NH-D14
Motherboard: ASUS P8P67 WS Revolution
RAM: G.SKILL Ripjaws-X DDR3-1866 4x4GB @ 9-10-9-28
Graphics: Gigabyte GeForce GTX 570 1280MB SOC
Chassis: Fractal Design Define R3 (Noctua NF-S12B FLX)
Power: NZXT HALE90 750W
Sound: Auzentech X-Fi HomeTheater HD
Storage: OCZ Vertex 3 Max IOPS 240GB; Western Digital Caviar Blue AAKS 500GB
Optical Drive: LiteOn iHAS224-06 24X DVD Writer
Operating System: Microsoft Windows 7 Professional x64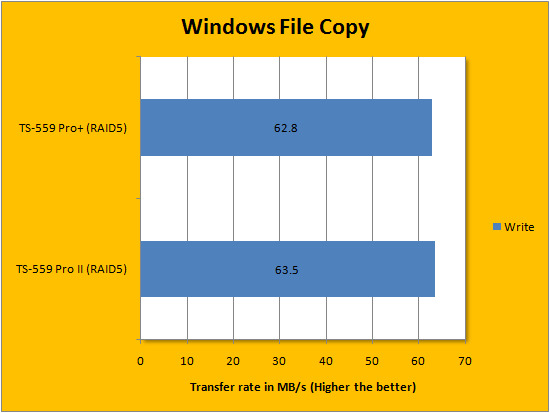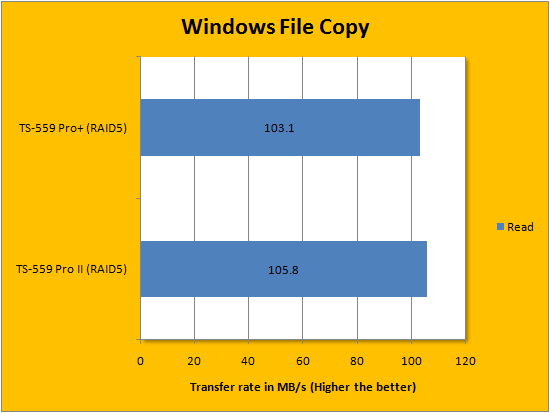 Equipped with the fast Western Digital Caviar Blue EALS 1TB drives (7200rpm, 32MB cache, 500GB platters) in RAID 5, our QNAP TS-559 Pro II is ready to roll. According to the engineers at QNAP, and proven to be true in our performance benchmarks, Intel Gigabit LAN adapters perform much better than their Realtek and Marvell counterparts. Therefore, to prevent any bottlenecks on the client side, our ASUS P8P67 WS Revolution motherboard is connected to the network via its integrated Intel 82574L Gigabit LAN adapter. We also conducted the above test on our OCZ Vertex 3 Max IOPS 240GB solid state drive to ensure there is nothing limiting the performance of our QNAP TS-559 Pro II than the NAS itself. In turn, the results were nothing short of impressive. Practically saturating the amount of bandwidth available via Gigabit LAN, the Windows File Copy tests from the NAS to my computer delivered an impressive 105.8MB/s on average. It is up slightly from the TS-559 Pro+, but I don't think we can expect too much more anyway. The write tests turned out to be almost identical between the two as well; but again, the resource intensive configuration of RAID 5 only delivered 63.5MB/s. I am sure it can be faster, but it is still a long shot from being called slow.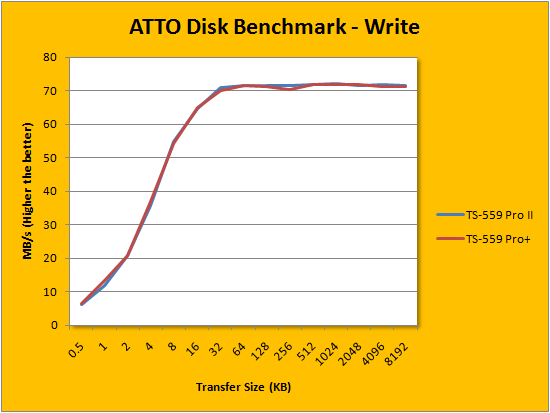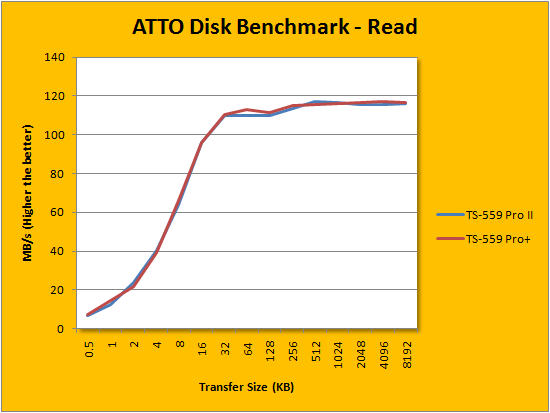 ATTO disk benchmark provides valuable insight into evaluating disk performance; it is especially valuable since it is not local disk limited like Windows file copy -- but rather the network adapter itself. After first using it in our QNAP TS-559 Pro+ review last year, ATTO has been an integral part of our storage benchmarks; used in everything ranging from USB flash drives to solid state disks. Venturing in the area of 116MB/s in read for pretty much everything 32K and up, remember that the theoretical maximum of Gigabit Ethernet is 'only' 125MB/s (1000Mbps / 8). RAID 5 write performance is at a bit over a commendable 70MB/s for pretty much everything 32K and above as well, but as aforementioned, I feel that this figure can probably be kicked up just a notch for performance craving users like yours truly. All in all, the curve is very similar to the TS-559 Pro+, and any variance you see between the two can probably be accounted into the margin of error.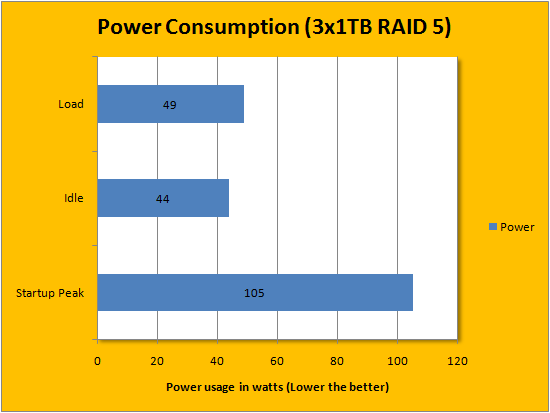 With three hard drives installed, power consumption is at a very reasonable 44W idling and 49W under load. It is important to note all my hard drives are more performance oriented 7200rpm disks, rather than power saving units that is becoming ever more popular lately. Power consumption will drop even further if the hard drives are configured to turn off if they are not used. Power factor under this load is 99% across the board, which is excellent. Just for your curiosity and reference, startup peak power usage is 105W. All in all, the QNAP TS-559 Pro II is quite a power efficient network attached storage. We got all the performance, but none of the high power bill normally associated with one. Considering it is going to be running 24/7, every watt adds up!
---
Page Index
1.
Introduction and Specifications
2.
A Closer Look - Hardware
3.
Configuration and User Interface, Part I
4.
Configuration and User Interface, Part II
5.
Configuration and User Interface, Part III
6. Performance and Power Consumption
7.
Final Thoughts and Conclusion