Page 2 - A Closer Look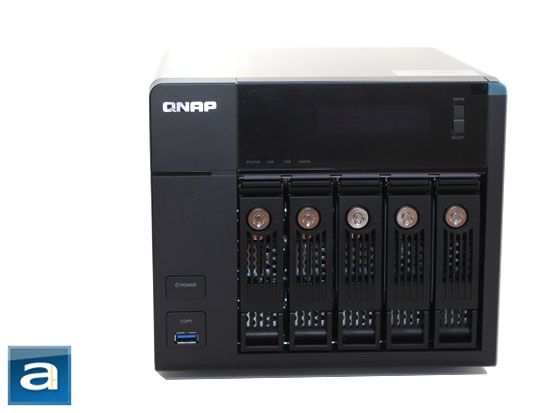 The QNAP TS-559 Pro II external design is practically identical to the TS-559 Pro+ we have reviewed last year. The only things changed as viewed from the angle of our photo above is the front USB 3.0 port in blue, and the power button now has a power symbol next to the word "Power". The penta-bay TS-559 Pro II measures in at 21.1cm wide, 23.5cm deep, and 18.5cm tall according to specifications -- just like its predecessor. Like the last few generations of QNAP network attached storage systems, the TS-559 Pro II features an internal power supply rather than a power brick; we will cover that in detail in just a moment. The current QNAP NAS design is focused on a more industrial/datacenter look than preceding models such as the QNAP TS-409 -- with five prominent and easily accessible vertically mounted disk trays, and a small, dual-line LCD display placed near the top for the user's convenience. As always, each disk tray is individually lockable, but they all use the same provided key (Actually, you can use the same key for all QNAP products, haha). Drive number order is reiterated by a diagram sticker placed at the top of the unit. The ventilated disk trays provide excellent airflow over the hard drives driven by the rear mounted cooling fan inside the QNAP TS-559 Pro II. QNAP's embossed logo is finished in brushed silver-colored metal, and placed near the top left corner; whereas a black, textured hard plastic surface occupies the rest of the front face. A green power/NAS activity LED is found a distance below the logo, which flashes when the system is booting, and remains on as long as the NAS is active. Meanwhile, two cleanly finished buttons are placed at the bottom left corner -- where one is a power button, and under it is another button labeled "Copy". This is to be used with the new USB 3.0 port placed neatly in the middle of the Copy button for quick backup processes. Having the USB port in the middle of the button looks pretty cool, but you'll sacrifice some usability. Both of the buttons protrudes slightly, so there's a slight chance that someone may accidentally knock the power button. Fortunately, the system will prompt you on the LCD screen to initiate the shutdown procedure after depressing the power button, so it is not really an issue with regards to accidentally powering off the machine.
The QNAP TS-559 II's LCD display is navigated by two simple buttons adjacent to it: The Enter key, and the Select key. There's more than sufficient room for more, especially something like a D-pad may greatly enhance navigation. Fortunately, this screen isn't necessarily used all the time. When on, its LCD screen features a blue backlight; and displays large, clear text in white to contrast with its background. The LCD display allows the user to monitor quick information as well as easily perform some configuration and maintenance tasks. An array of LEDs can be seen under it to indicate system status, LAN status, USB status, as well as eSATA status, respectively. The system status LED will turn off when the hard disks are on standby. Each independent hard drive has its own status LED as well, which are cleverly placed on the system itself, on the black strip near the top of each hard drive tray. This can be seen if you look carefully at the photo above. The drive status LEDs flashes when there is disk activity, and remains on when it is idling. It turns red if the system determines the corresponding hard drive is in trouble.
Over time, I have really grown to appreciate the sleek industrial look of QNAP's current line of network attached storage systems. The easy to access drive bays in conjunction with convenience added by the simple LCD screen really added to the overall usage experience of these excellent network appliances on my network. By retaining its excellent design, there is absolutely no learning curve for users who are familiar with using QNAP NAS systems -- it is just plug and play. Why fix something that is not broken?
While the QNAP TS-559 Pro II is constructed on a steel frame, its shell that covers three sides of the system is composed of brushed aluminum in gunmetal with a black overtone. This not only improves heat dissipation due to thermal properties of aluminum, but also makes it look incredibly attractive in my opinion. Sure, for most users, the NAS will be placed in a room where no one will bother spending time admiring your equipment, but that does not mean network appliances have to be ugly!
What we have at the back of the system is practically enough ports to more or less resemble a real computer, rather than a simple network storage device as NAS devices are back in the days. With a slight upgrade from the QNAP TS-559 Pro+ from last year, the addition of the second USB 3.0 port in the TS-559 Pro II can be seen near the upper right corner. The rest of the connection array remains in a virtually identical configuration; where you are provided with ports for two eSATA devices, and four USB 2.0 ports for storage or up to three USB printers. Two Gigabit LAN ports reside between the eSATA and USB ports that you can configure for network redundancy, load balancing, and even two independent networks. A VGA connector is also present if you want to just plug in a monitor, and an USB keyboard, to fire up its standard American Megatrends BIOS (And before you ask, no, there are no overclocking functions haha) and Linux console. Of course, most tasks can be done with QNAP's excellent new web interface remotely.
A single 120mm ADDA exhaust fan pulls heat out of your NAS server, with its exhaust vents cut into the steel panel. A proper fan grille would be better for airflow in my opinion. A small opening at the top provides ventilation for its internal power supply's 40mm fan. A vertically oriented power input male connector is logically placed at the top left corner. Since the power supply unit automatically selects input voltage, there's no need for the old fashioned voltage selector switch.
Removing its shell is pretty simple -- simply remove three screws, and slide it out. Notably missing as shown in our photo above is the dreaded warranty seal we have all come to hate, because with the promised user upgradeable memory, you are now given limited access to the QNAP TS-559 Pro II's interior (We will show you where the seal went in just a moment). Additionally, you are also no longer forced to void your warranty if you need to open the unit just to clean out some dust off its fan. This is one thing I have been pushing for years, and I am glad QNAP finally made this change to their latest product refresh.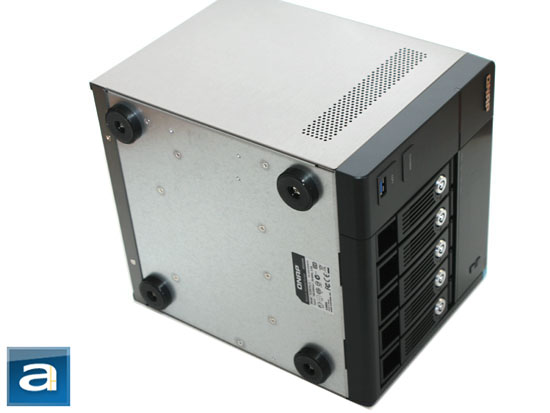 There is nothing particularly exciting at the bottom of the QNAP TS-559 Pro II's chassis; what you'll see here are four large legs affixed on top of its steel frame panel. As always, they're installed to reduce vibration noise, increase grip, and prevent surface scratching. The left side of the network attached storage system features a neat array of small openings on its brushed aluminum shell. It is placed right next to where the motherboard is inside, to make sure hot air doesn't get congested within.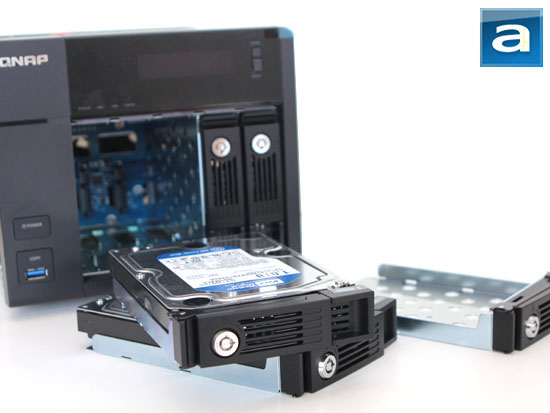 Removing its vertically mounted 3.5" SATA disk trays reveals the connector backpanel. The SATA backplane ports are powered by an external controller, connected to the motherboard on the PCIe bus. Because of this, it should be noted that these drives are not boot configurable in the BIOS. If you plan to hack your system later on, you'll need an USB or eSATA drive. We'll go over the exciting details on Page 5.
Since this is a SATA system, all hard drives are hot swappable. Removing the hard drive tray is very simple -- just release a lever at the top, and it is out. You can lock the levers with the included keys to discourage unintended disconnections. Each hard disk tray is labeled "Disk 1" to "Disk 5" consecutively, so you won't mix up which one is which when you have a bunch of them disconnected, as seen in the photo above. Each tray can accommodate a 2.5" or 3.5 drive, along with a maximum amount of ventilation openings at the bottom for improved heat dissipation. For the purpose of this review, I am going to continue to use three Western Digital Caviar Blue EALS 1TB I have purchased last year. I understand these are not SATA 6Gb/s drives, but it is important to note these disks do not saturate SATA 3Gb/s bandwidth by a long shot anyway. In other words, even if I had EALX series drives -- the SATA 6Gb/s version of what I have -- it will pose no performance benefits.
The QNAP TS-559 Pro II supports single disk, RAID 0 (Disk Striping), RAID 1 (Disk Mirroring), RAID 5, RAID 5 plus spare, RAID 6, RAID 6 plus spare, RAID 10, and JBOD (Linear Disk Volume). If you want to encrypt your data, you have the option to enable its AES 256-bit volume-based encryption.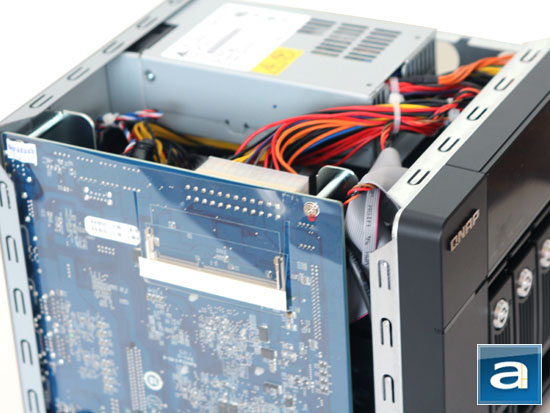 There is no wasted room inside the QNAP TS-559 Pro II network attached storage. With 99% similarity to the TS-559 Pro+, we can see the LCD controller module at the front, its five 3.5" drive bays occupying majority of the area, as well as the power supply located right above the drive bays. A few centimeters of clearance room can be seen between the rear 120mm ADDA fan and the five hard drive bays. Again, this allows some space between components to reduce heat congestion. Its well placed rear exhaust fan can then easily take out the warm air, and allow cooler air to flow over the mounted hard drives with minimal turbulence noise. The motherboard is mounted with its components facing inwards to take advantage of the airflow generated by the sole rear fan. Generally speaking, it is pretty packed inside the QNAP TS-559 Pro II, but everything is neatly placed and cabled to maximize cooling efficiency.
The power supply is a Delta Electronics DPS-250AB-44D power supply rated at 250W maximum. Sustained power output is set as 240W when all three rails are active -- distributed as 6A on +3.3V, 12.0A on +5V, 17.0A on +12V. There is no mention of such being an 80 Plus certified power supply, but other variants of Delta's DPS-250AB series power supplies are.
As you can see in our photo above, the user upgradeable memory slot can be seen. Since the entire back of the motherboard covered by a piece of clear plastic just in case anything makes contact with the shell and short circuits, a small cutout is implemented, so you can install your own DDR3 SODIMM. Additionally, the "missing" warranty seal as aforementioned is actually located upper left corner of the motherboard mount. So while you can upgrade the memory by gaining access to your TS-559 Pro II's internal hardware, QNAP made sure you cannot do much beyond that without voiding your warranty.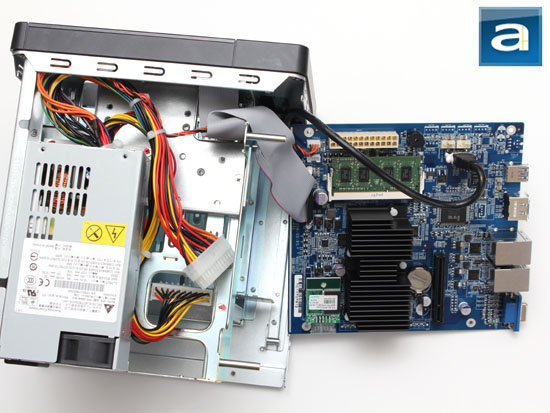 Unless you are someone determined to void your warranty and persistent enough to rip your new $1000 file server apart, it is actually quite a challenge to dig into the further details on this product. QNAP has 'conveniently' made everything interlocking -- for example, the motherboard cannot be removed unless you release the SATA backplane, which cannot be removed by itself since one of the many screws are blocked off by the chassis frame. But if you are as inclined as I have, then it is actually not too hard. After removing the chassis back panel, remove all the screws you can on the SATA backplane. You will notice one screw cannot be touched unless you remove the front panel, but I found that it is not necessary -- simply pivot the PCB on the last screw to unlatch the motherboard. Now, we can really take a closer look at the hardware under the hood.
QNAP's TS-559 Pro II Turbo NAS features an Intel Atom D525 1.8GHz dual core processor with Hyper-Threading, along with 1GB of DDR3 SODIMM memory featuring eight Hynix H5TQ1G83TFR ICs (The TS-559 Pro+ uses DDR2 RAM). This is the fastest Intel Atom processor available; identical to the one my colleague Kenneth benchmarked in the Jetway NC98-525-LF mini-ITX board review last year. QNAP's embedded Linux based operating system is installed on a 512MB Apacer flash memory chip, connected directly to the motherboard. There is a large black colored aluminum heatsink near the center of the motherboard to cool down the Intel Atom D525 processor and NM10 chipset.
Intel's NM10 chipset provides native support to its USB 2.0 ports, as well as the two rear eSATA ports -- leaving an external Marvell 6Gb/s controller to feed its five main drive bays, as aforementioned. An NEC D720200AF1 controller supplies the two USB 3.0 ports in the system; where the front USB 3.0 port is connected internally by a Type A external plug glued on. Intel's 82574L Gigabit LAN controller powers its two Gigabit Ethernet ports at the back. All of these mentioned ports are soldered directly to the motherboard. Generally speaking, it is safe to say the QNAP TS-559 Pro II is nearly a full-featured standard x86 system.
---
Page Index
1.
Introduction and Specifications
2. A Closer Look - Hardware
3.
Configuration and User Interface, Part I
4.
Configuration and User Interface, Part II
5.
Configuration and User Interface, Part III
6.
Performance and Power Consumption
7.
Final Thoughts and Conclusion