By: Kenneth Kwok
August 27, 2010
In the early days of the Intel Atom, despite being a low cost platform, many users found themselves wanting more than what the GMA950 integrated graphics are able to provide. Thankfully for us, NVIDIA stepped into the scene with the ION -- which opened up many new doors for many netbook, nettop and integrated system users alike. The NVIDIA ION platform not only allowed for better graphics performance, but also took some pressure off the CPU to make your overall system run smoother. Of course, with the introduction of the new Pineview core Intel Atom processors, users were again yearning for something better than the graphics performance of the Intel GMA 3150 -- and once again NVIDIA has stepped up to the plate with the NVIDIA ION 2. Whoops, did I just say NVIDIA ION 2? As far as I know, NVIDIA marketing would like the media to use only "Next-Generation ION" or "Next-Generation NVIDIA ION Graphics", and explicitly told us to refrain from mentioning NVIDIA ION 2 or the codename of the chip (Which is GT218, by the way) in our review for some marketing mumbo jumbo purposes. This is all fine and dandy and all, except what would we call the NVIDIA ION 3 when it is released? "Next-Next-Generation ION"? How about the ION 4? (Sorry guys, Powerade already stole that name.) While I would love to call the NVIDIA *** * "Next-Generation ION" as much as I can, at the end of the day it still seems downright silly to me. Since companies these days are so intrigued by particles and related terms such as 'Atom' and 'Ion', I'd like to take the liberty and make up my own name here instead. Guys, say hello to the NVIDIA Proton. Now that we have clarified that part, let's get onto the meat of our review. Today, we will be taking a look at another product from Jetway, a company renowned for their mITX products that has become ever so popular among system builders and enthusiasts. The Jetway NC98-525-LF mini-ITX motherboard features the newest Atom D525 dual core processor and NVIDIA Proton graphics to take it to a promising new level of performance. Let us take a look at just how much better the Jetway NC98-525-LF in conjunction with NVIDIA Proton graphics compares against its predecessors.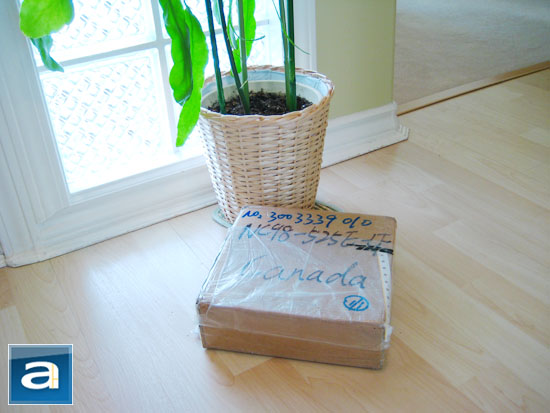 Our sample unit of the Jetway NC98-525-LF motherboard came in a small brown corrugated cardboard box from Jetway's offices in Hong Kong. The shipping method used was DHL International Express, which only took a few days to arrive in Canada. Everything came in surprisingly excellent condition despite my previous troubles with DHL; for once I am pleasantly surprised by how quickly and how well the package was delivered. There were only minor scratches and dents in the box, but everything inside was in order, thanks to the extra packing foam inside the box to keep its contents in place.
Our review unit of the Jetway NC98-525-LF came in retail packaging. It uses the exact same box as other Jetway mini-ITX motherboards we have reviewed in the past. There is a classical 'high tech' background predominated by a blue color scheme; with the standard "Energy Saving & Environmentally Friendly" motto found at the top left corner of the box in white font, while the yellow and white Jetway logo can be found near the bottom right corner. A plethora of icons around an ion type ball can be found towards the middle of the front cover. This is then surrounded by a series of globes in the background. Of course, as with the Jetway NC94FL-510-LF and Jetway NC96FL-510-LF, it includes the recommended usages of the product on the side, one of which we touched upon quite a bit is the 'gaming machine' bit, where we were more than a bit skeptical about in our previous reviews. For once, in the Intel Atom line of motherboards, we can see a more plausible (light) gaming machine thanks to its "next-generation ION" graphics. Again, because Jetway uses identical boxes for all mini-ITX boards, so just make sure you are walking out with the right motherboard when making your purchase at your favorite retail store.
Before we move further into our review, let's take a look at the specifications of the Jetway NC98-525-LF, as gathered from Jetway's website: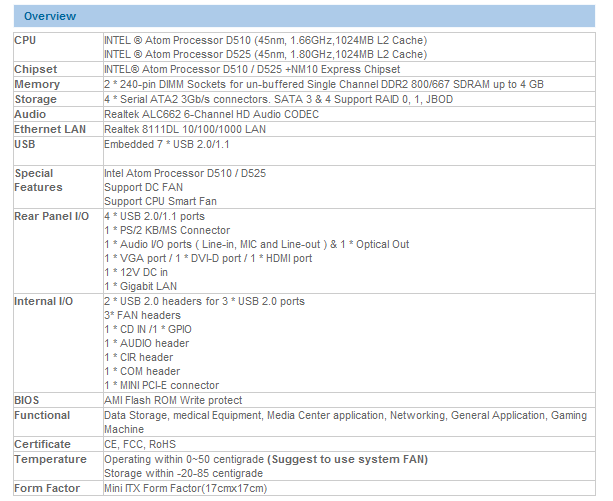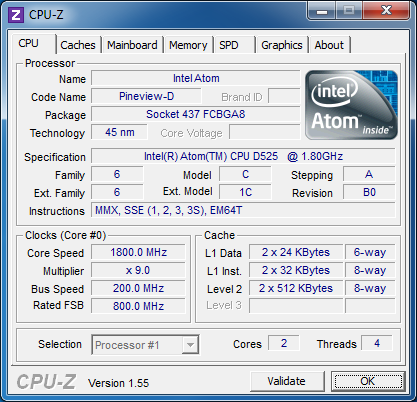 CPU-Z screenshot of the CPU tab running Jetway's NC98-525-LF motherboard, featuring Intel's Atom D525 dual core CPU with Hyper-Threading processor. It is becoming a commonplace to see low cost processors so readily available and getting more powerful with each revision.
---
Page Index
1. Introduction, Features, and Specifications
2.
Bundle, Chipset, BIOS
3.
A Closer Look, Board Layout, Test System
4.
Benchmark: EVEREST CPU
5.
Benchmark: EVEREST FPU
6.
Benchmark: EVEREST Memory
7.
Benchmark: PCMark Vantage
8.
Benchmark: 3DMark06 Professional
9.
Benchmark: PassMark PerformanceTest 7.0
10.
Benchmark: SuperPI 1M, Cinebench R11.5
11.
Onboard Sound Frequency Analysis
12.
Power Consumption and Conclusion