Page 12 - Power Consumption and Conclusion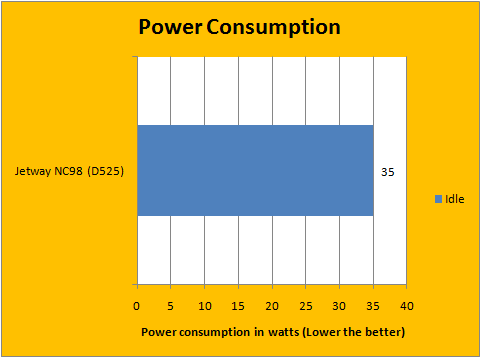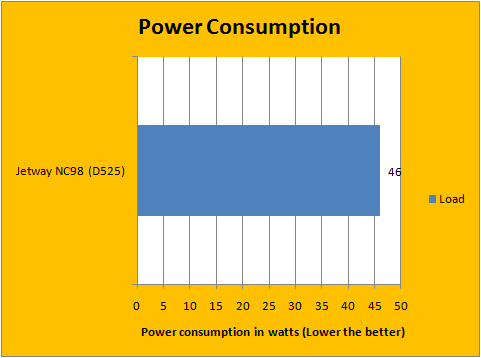 The above measurements were taken externally at the outlet, so the above data reflects total power consumption of the entire system, including power supply efficiency loss. Using 35W idling and 46W under full load, our Intel Atom D525 based system on Jetway's NC98-525-LF mini-ITX motherboard configured with one stick of RAM and a 36GB 3.5" Western Digital Raptor hard drive is overall pretty power efficient for the configuration. We decided to omit direct comparisons with the NC94 and NC96 from these charts, because my Western Digital Raptor uses quite a bit more power than the Hitachi 160GB laptop hard drive used in our previous reviews.
-----------------------------------------
At the end of the day, does the NVIDIA Proton equipped Jetway NC98-525-LF really live up to its hype? The short answer is 'yes'. It provides additional graphics power that users of the original NVIDIA ION were looking for, thanks to the next-generation ION graphics (NVIDIA ION 2/NVIDIA GT218/NVIDIA Proton... oh mang, NVIDIA is going to be mad when they read this sentence) embedded into the system. Priced at approximately $170 at press time, the Jetway NC98 provides decent performance and graphics power for users looking into a compact, low cost system. Although the Intel Atom D525 was only a little bit faster than the D510, it was nice to have the added benefit of a higher FSB for improved memory performance. However, one tradeoff was increased power usage due to its Proton graphics. Fortunately, our 60W 12V DC adapter was more than up to the task -- not to mention how easy it is to plug the cable in the back and just get it running. The onboard DC to DC converter removes the need for a bulky ATX PSU, so you can build even more compact systems as well as having better potential for more diverse system applications and integrated solutions. We'd also like to commend Jetway for using 100% solid state capacitors in the NC98-525-LF. In future iterations, it would be nice to see more internal power connectors for four devices (After all, we have four SATA ports), a better looking circuit board that doesn't scream 'generic', as it would not only make it look better, but also add some class to the motherboard. Overall, whether you are planning to be using the Jetway NC98-525-LF for building an HTPC, or just a mini low cost system that can do some light gaming, this board is indeed very competitive in today's market for a well rounded mini-ITX build!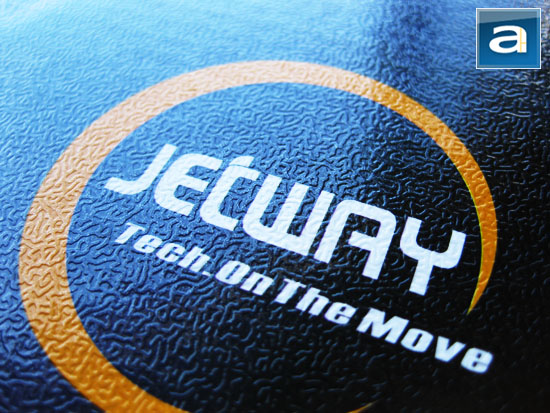 Special thanks to Aurora over at Jetway for making this review possible.

APH:Renewal Award
Starting from April 30, 2007, Number Ratings have been dropped for all CPU, motherboards, RAM, and graphics cards. This is to ensure the most appropriate ratings reflected without the limits of using numbers. Everything else will continue using the Number Rating System.
More information in our Review Focus.
The Jetway NC98-525-LF is well built and designed motherboard using the Intel Atom D525 CPU as well as NVIDIA's Next-Generation Ion technology(ION 2) that improves both on processing power and graphics power, top that off with the built-in DC-DC converter for tons of potential applications and we have a winner.
Do you have any comments or questions about the Jetway NC98-525-LF? Drop by our Forums. Registration is free, and it only takes a minute!
---
Page Index
1.
Introduction, Features, and Specifications
2.
Bundle, Chipset, BIOS
3.
A Closer Look, Board Layout, Test System
4.
Benchmark: EVEREST CPU
5.
Benchmark: EVEREST FPU
6.
Benchmark: EVEREST Memory
7.
Benchmark: PCMark Vantage
8.
Benchmark: 3DMark06 Professional
9.
Benchmark: PassMark PerformanceTest 7.0
10.
Benchmark: SuperPI 1M, Cinebench R11.5
11.
Onboard Sound Frequency Analysis
12. Power Consumption and Conclusion