By: Jonathan Kwan
May 21, 2010
The wonderful thing about creating an mITX build is that, whether you want a low cost, low power system, or a relatively more performance oriented Intel Core i3/i5/i7 based machine, all these can converge into one compact package regardless of your needs. A couple weeks ago, we brought you the Thermaltake Element Q review, where our Technology News Director Kenneth Kwok built an LGA 1156 based system packed with Intel's Core i3 processor and 4GB of RAM under the hood for a relatively powerful small form factor computer. But not everyone is willing -- or has the need -- to spend over five hundred dollars on an mITX based system. For those who are looking for something that provides adequate processing power at a low cost with a small footprint, our review today might just be your answer. The Jetway NC96FL-510-LF is an mITX motherboard with an Intel Atom D510 dual-core processor, integrated video and sound, and retails for just a little over a hundred dollars at press time. To get a full system running, all the hardware you will need is a chassis with 12V DC power supply, some DDR2 RAM, SATA hard drive, and that's about it. It is about as low cost as it could reasonably get, and certainly a very power efficient solution. But how well is the board designed and executed, and how does it perform in our battery of benchmarks here at APH Networks? Read on to find out!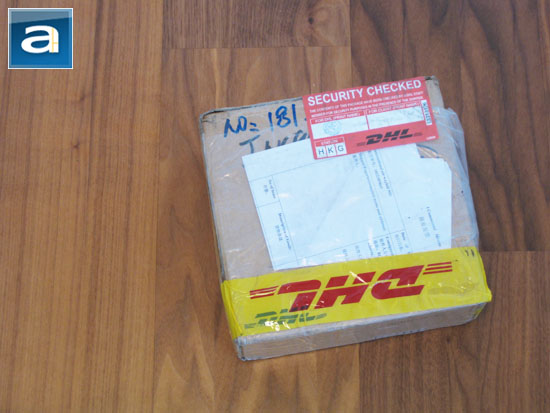 Our review unit of Jetway's NC96FL-510-LF mITX motherboard came in a small corrugated cardboard box from the company's offices in Hong Kong. Using DHL International Express, everything arrived to our doorstep halfway across the world safely and quickly -- despite the shipping box being a bit beat up, all of its contents were in mint condition. I was particularly excited to crack open the package and play with the latest in low cost, low power, and low footprint computing solutions!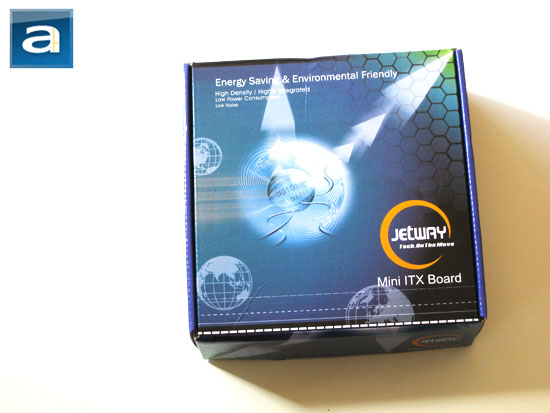 Our review unit of the Jetway NC96FL-510-LF arrived in a retail box. The design of the package consists of a classical high tech background implemented with a predominantly blue color scheme. Jetway's logo and slogan resides at the bottom right corner, while statements such as "Energy Saving and Environmentally Friendly" are situated at the upper left corner. There is an matrix of icons identical on the left and right side of the box for recommended uses of this product -- one of which is 'gaming machine'. I am sure a product with an Intel Atom D510 and integrated graphics with a PCI slot as the only expansion slot would make a hardcore 'gaming machine', haha. It is interesting to note that all Jetway mini-ITX motherboards have identical packaging; the only differentiating property with regards to its contents inside is a small sticker with the model number and very brief specifications on the side. So if you are in a computer store digging through these Jetway motherboards, you will certainly have a lot of fun searching for alphanumeric designations like 'NC96FL-510-LF', and then finding out what it actually means!
Before we move on, let's take a look at specifications of the Jetway NC96FL-510-LF, as obtained from the manufacturer's website:
CPU
- INTEL ® Atom Processor D510 (45nm,FSB 667MHz, 1.66GHz,1024MB L2 Cache)
Chipset
- INTEL® Atom Processor D510/D410 + NM10 Express Chipset
Memory
- 2 * 240-pin DIMM Sockets for un-buffered Single Channel DDR2 800/667 SDRAM up to 8 GB
Expansion Slots
- 1 * PCI slot
Storage
- 4 * Serial ATA2 3Gb/s connectors
- 1 * IDE header
Audio
- Realtek ALC662 6-Channel HD Audio CODEC
Ethernet LAN
- RTL8111DL Gigabit LAN
USB
- Embedded 7 * USB 2.0/1.1
Special Features
- Intel Atom Processor D510
- Support DC FAN
- Support CPU Smart Fan
Rear Panel I/O
- 4 * USB 2.0/1.1 ports
- 1 * PS/2 Mouse & 1 * Keyboard connector
- 1 * RJ-45 port
- 3 * Audio I/O ports ( Line-in, mic and line-out )
- 1 * VGA port
- 1 * COM port
- 1 * Parallel port
- 1 * 12V DC in
Internal I / O
- 3 USB 2.0 ports
- 3 * NB / Chassis Fan connectors;
- 1 * 4-pin Power connector
- 1 * 18 bits single channel LVDS header
- 1 * AUDIO header /1* CD IN /1 * GPIO
- 1 * RS232/RS422/RS485 connector
- 1 * MINI PCI-E connector
BIOS
- AMI 8MB DPI Flash ROM
Functional
- ATM, Automation, medical Equipment, Security, Networking, POS, General Application, Gaming Machine, Transportation
Certificate
- CE, FCC, RoHS, Eup
Form Factor
- Mini ITX Form Factor (17cmx17cm)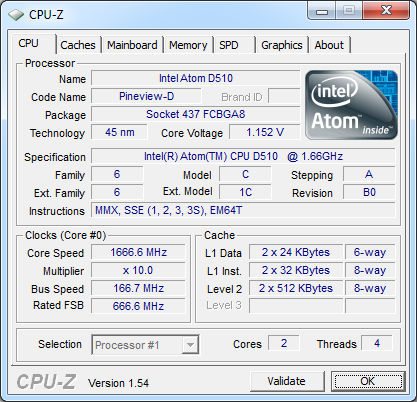 CPU-Z screenshot of the CPU tab running Jetway's NC96FL-510-LF motherboard, featuring Intel's Atom D510 dual core with Hyper-Threading processor. It is especially interesting how even budget CPUs are now readily available in dual core nowadays.
---
Page Index
1. Introduction, Features, and Specifications
2.
Bundle, Chipset, BIOS
3.
A Closer Look, Board Layout, Test System
4.
Benchmark: EVEREST CPU
5.
Benchmark: EVEREST FPU
6.
Benchmark: EVEREST Memory
7.
Benchmark: PCMark Vantage
8.
Benchmark: 3DMark06 Professional
9.
Benchmark: PassMark PerformanceTest 7.0
10.
Benchmark: SuperPI 1M, Cinebench R11.5
11.
Onboard Sound Frequency Analysis
12.
Power Consumption and Conclusion