By: Kenneth Kwok
May 7, 2010
It has been a while since APH Networks' last foray into the Mini-ITX world, with the most recent review dating back to August of last year already. The Lian-Li PC-Q07 was a simple yet elegant chassis that proved very popular among our readers. Of course, with the current technology trend, it would just be stupid (Frankly speaking haha) if we simply ignored this category of products, as there is such a huge demand for low cost, small form factor solutions in today's ultra competitive market. Be it for light office tasks, home theater setups, low power servers, or even as a personal internet/network router (Seriously, some geek by the name of Zachary Hopkins, who happen to be on the staff team, recently built a dual core router at home with more RAM than the average computer a few years back...), the mITX form factor has become a staple in more homes and businesses than ever before. With increasing amounts of people turning toward this form factor for new and innovative uses of computing hardware, it probably isn't surprising that an influx of associated components began to saturate the market. These accessories are no longer made for very small niches -- even the casual enthusiast looking for a system for any of the listed reasons above and beyond probably have their wallets ready for such a build already. With all this said, it is only appropriate for us to take further steps into examining more Mini-ITX products. While our previously reviewed Lian-Li mITX chassis is designed to accommodate a standard sized ATX power supply, what we have today is a relatively compact chassis from Thermaltake, a renowned company for having an extensive lineup of excellent cases, power supplies, heatsinks, and more. The Thermaltake Element Q is part of Thermaltake's Element series of cases; which consists of the Element S, Element T, Element V, as well as the Element G, which we also reviewed last year. Without further delay, let's take a closer look at the Thermaltake Element Q, and see just how well it stacks up in today's market for Mini-ITX dominance!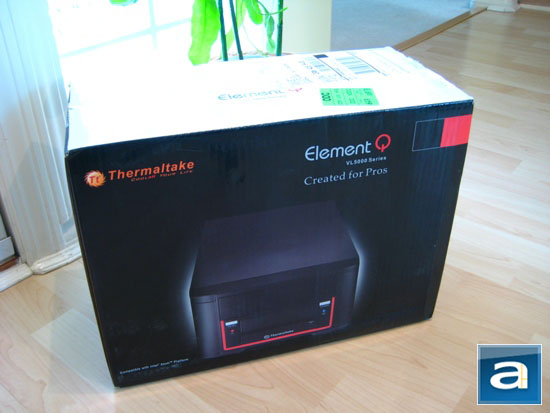 Our review unit of the Thermaltake Element Q arrived in excellent condition from Thermaltake's American offices at California, USA. The unit was shipped using UPS Standard, and was delivered safely to us here at Vancouver, BC. There were some expected casual scratches and bumps on the box, but nothing to cause any form of alarm.
Our Thermaltake Element Q arrived in retail form, and its packaging carries the design elements found on many other new Thermaltake cases, especially those belonging to the Element series. The box design is just as one would expect from Thermaltake -- a pitch black background contrasted with the Thermaltake logo and product name placed on the upper left and upper right side of the box, respectively. Situated below the Element Q's stylized text is the slogan 'Created for Pros', which is the same line used for every case in this series. A picture of the Thermaltake Element Q itself can be seen with a glow effect around it, occupying majority of the room on the front surface of the retail box.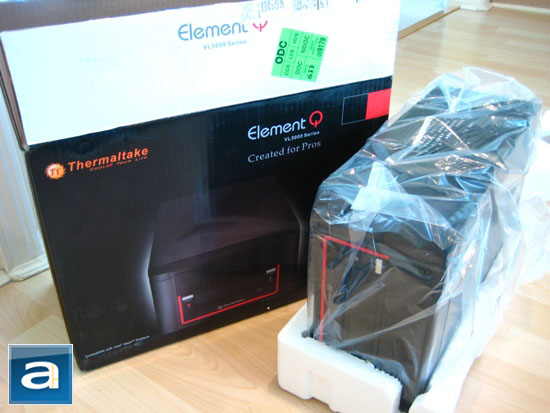 Removing the chassis from its retail packaging, we are greeted with the Thermaltake Element Q secured between two Styrofoam brackets on both sides. Furthermore, the Element Q is wrapped inside a large plastic bag for protection against dust and anything else inside that may potentially damage the case. There is practically no chance for the chassis to move around inside the box, which makes it much easier to transport without worrying too much about damaging it. Generally speaking, no room was wasted inside the retail box, while offering adequate protection -- as all the needed screws, parts, and instructions are found inside the Element Q itself. Even then, all of them are tied down and secured to ensure they do not move around either.
Before we move on, let's take a look at the specifications for the Thermaltake Element Q, as obtained from the manufacturer's website:
Case Type: Mini Case
Material: SGCC
Front Bezel Material: Plastic
Color: Black
Side Panel: No
Motherboard Support: Mini ITX
Motherboard Tray: No
Expansion Slots: 1
Drive Bays:
-5.25" Drive Bay: 1
-Ext. 3.5" Drive Bay: 1
-Int. 3.5" Drive Bay: 1
Front I/O Ports:
-USB 2.0 x 2
-HD Audio
Cooling System:
-Liquid Cooling Capable: No
-Liquid Cooling Embedded: No
Power Supply Supported: SFX
Power Supply Included: 200W SFX Power Supply
Dimension (H*W*D):130 x 220 x 330 mm / 5.12 x 8.66 x 13 inch
Net Weight: 2.7 kg / 5.95 lb
---
Page Index
1. Introduction, Packaging, Specifications
2.
Physical Look - Outside
3.
Physical Look - Inside
4.
Installation and Conclusion