By: Jonathan Kwan
September 12, 2009
Almost exactly one year ago, we've reviewed the QNAP TS-409 network attached storage system. The QNAP TS-409 offered brilliant reliability and stability in our long term tests -- of which lasted an uptime of 221 days, 1 hour, and 54 minutes until connections to Disk 2 overloaded, partially due to a user error! The system also provided excellent performance according to our benchmarks, as well as efficient power usage for a lower power bill, since it's going to be running 24/7. But it wasn't by all means perfect. Hardware wise, it suffered from a relatively slow Marvell 88F5281 500MHz CPU, and only 256MB of DDR2 memory. Once multiple simultaneous connections are established to the system, performance dramatically decreased, and its hardware huffed and puffed to keep up with the bits and bytes moving quickly over our Gigabit network. Software wise, the web configuration interface wasn't exactly appealing and intuitive. Times have changed, however. While we got a nice feel of the new standard QNAP AJAX user interface via an updated firmware available to previous QNAP devices (Including the TS-409 in question), the hardware didn't change. One year after we wrote our initial article, a brand new QNAP TS-439 Pro arrived at our doorstep as we eagerly anticipated seeing what QNAP has in store for us. Now featuring an Intel Atom N270 1.6GHz processor and four times the memory of its predecessor, along with a couple Gigabit LAN ports, how well would the TS-439 Pro stack up? We carefully examined the unit, plus our usual battery of tests, and arrived at our conclusion in the end. So, tag along, as we bring you to the QNAP TS-439 Pro Turbo NAS!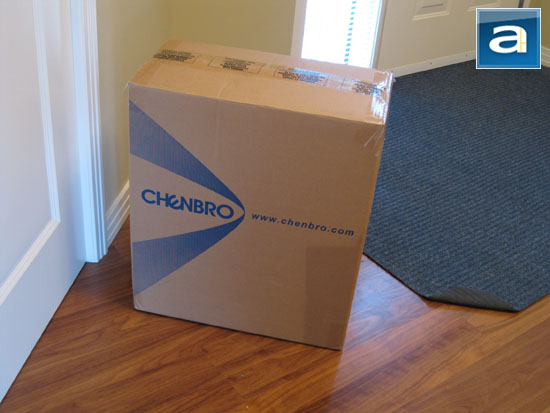 Our review unit of the QNAP TS-439 Pro Turbo NAS came in a large corrugated cardboard box designed for... well, another manufacturer, and for a totally different product (Interesting stuff, haha). The Chenbro branded brown shipping box is designed for a mid-tower chassis, which made me kind of wonder what resided within that box at first. When the Purolator guy delivered the parcel, he casually asked, "Is that your computer or something?" I had to answer in all honesty -- "I have absolutely no idea!" Other than that, everything appeared to be well handled and delivered quickly via Purolator Express from QNAP's Canadian offices in Toronto, Ontario.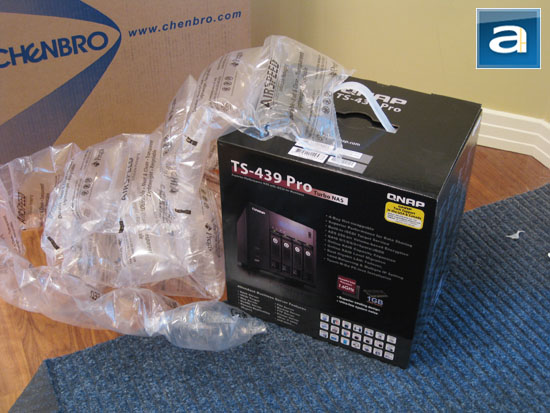 I whipped out my knife to cut open its seal at the top to unload its contents. A standard sized retail package of QNAP's TS-439 Pro network attached storage system sat humbly in the corner of the box, while the rest of the space -- remember, this is an ATX chassis box, after all -- which accounts for 75% of the box interior, is neatly filled with large air bubble strips. This kind of made me wonder what's with all the excessive space, since that exponentially increases shipping cost. This is especially true when you use the near-fastest shipping method with the courier. Other than that, our review unit of QNAP's TS-439 Pro arrived in pristine condition, retail box and all haha.
The retail box itself has also been updated with a clean black and grey gradient background that resembles style of QNAP's new AJAX web configuration interface. Combined with a series of sleek photographs, icons, diagrams, and clean text integration, it greatly enhances the professionalism feel of this NAS. At the front of the box is a prominent photo of the TS-439 Pro itself; selecting to its right are nine bullets highlighting some features. Two large icons show off its 1.6GHz Atom CPU and 1GB of DDR2 memory. Near the bottom of the front face is a 3x7 array of smaller icons, next to more bullets, to further its presentation on its "abundant business server features." It's quite a bit, by the way. It's clear that QNAP is aiming at SOHO and/or advanced users with this product!
The right side of the box is three tables titled Hardware Specifications, Software Specifications, and Powerful All-in-one Server, with its respective points. A small diagram labels different external hardware features on the QNAP TS-439 Pro. Its reciprocal side provides similar information in four different languages other than English. At back of the box are more information to lead the user to focus on further details of the TS-439 on areas such as its advanced RAID management, AES 256-bit volume based data encryption, flexible iSCSI solution, benefits of dual LAN deployment, Touch-N-Go PC-less installation, practical system management tools, comprehensive log system, and complete backup solutions. All done with tons of text, and lots of colorful, pretty diagrams haha.
Opening the retail box reveals the QNAP TS-439 Pro unit clipped between two large Styrofoam brackets, and wrapped in a large plastic bag -- to ensure there are no bumps and scratches occurring during transport. Its accessories box is neatly placed on the side. Overall, it is very well packaged in both a practical sense and aesthetically speaking manner.
Before we move on, let's take a look at the hardware specifications of QNAP's TS-439 Pro Turbo NAS, as obtained from QNAP's website:
CPU: Intel Processor 1.6 GHz
DRAM: 1GB DDRII RAM
Flash Memory: 128MB DOM
HDD: 4 x 3.5" SATA I/II HDD (The system is shipped without HDD.)
HDD Tray: 4 x hot-swappable and lockable tray
LAN Port: 2 x Gigabit RJ-45 Ethernet port
LED Indicators: Status, LAN, USB, eSATA, HDD 1, HDD 2, HDD 3, HDD 4
USB: 5 x USB 2.0 port (Front: 1; Back: 4)
Supports USB printer, disk, pen drive, USB hub, and USB UPS, etc.
eSATA: 2 x eSATA port (Back)
Buttons: System: Power button, USB one-touch-backup button, reset button
LCD panel: Mono-LCD display with backlight and buttons for configuration
Alarm Buzzer: System warning
Form Factor: Tower
Dimensions: 177(H) x 180(W) x 235(D) mm
6.97(H) x 7.09(W) x 9.25(D) inch
Weight: Net weight: 3.65 Kg (8.04 lbs)
Gross weight: 4.65 Kg (10.24 lbs)
Sound Level (dB): W/o HDD installed: 35.1 dB
Stand by: 34.7 dB
In operation: 35.6 dB
(Background: 25.5 dB)
Power Consumption (W): Sleep mode: 28.8W
In operation: 38.85W
Power-off (in WOL mode): 1W
(with 4 x 500GB HDD installed)
Temperature: 0~40˚C/ 32~104°F
Humidity: 0~95% R.H.
Power Supply: Input: 110-240V AC, 50/60Hz, Output: 250W
Secure Design: K-lock security slot for theft prevention
VGA: Reserved for maintenance
Fan: 1 x quiet cooling fan (9 cm, 12V DC)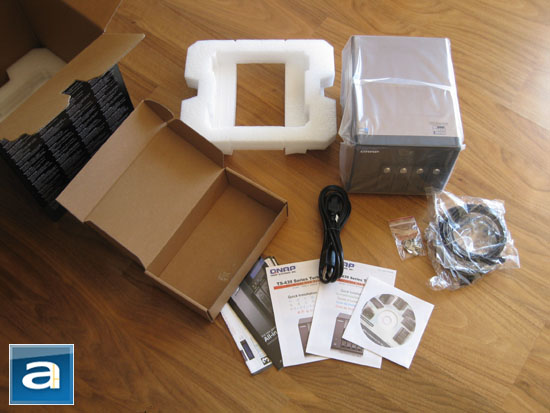 Out of the box, you will receive the following contents:
1x QNAP TS-439 Pro network attached storage system
1x Setup CD-ROM
2x Ethernet cables
1x Quick installation guide
1x Quick installation guide (RAID configuration)
1x Power cord
16x Flat head screws
2x Hard disk tray lock keys
---
Page Index
1. Introduction and Specifications
2.
A Closer Look
3.
Configuration and User Interface
4.
Performance Benchmarks
5.
Final Thoughts and Conclusion