Page 2 - A Closer Look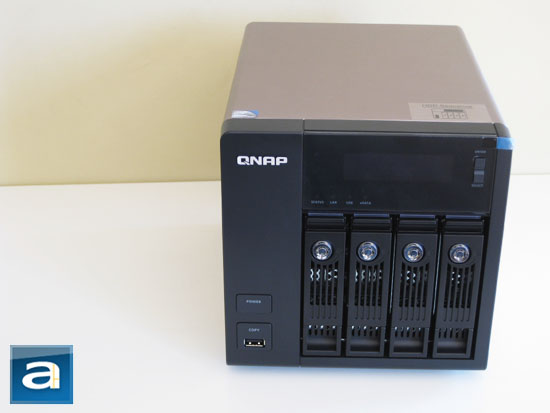 While the new QNAP TS-439 Pro is slightly wider and longer than its predecessor at 18.0cm wide and 23.5cm deep, it is actually slightly shorter at 17.7cm (Based on its published dimensions). One of the reasons why the new NAS is larger is because the power supply is not located inside the chassis. The new design also features a more industrial/datacenter look than the QNAP TS-409 -- QNAP's new TS-439 Pro now features four prominent and easily accessible vertically mounted disk trays, and a small, dual-line LCD display placed near the top. As always, each disk tray is individually lockable, but they all use the same provided key. Drive number order is reiterated by a diagram sticker placed at the top of the unit. Meanwhile, the dust accumulating mesh door seen on the TS-409 has been deleted to improve drive accessibility -- and to be honest, it is not really necessary anyway haha. QNAP's embossed logo is finished in brushed silver-colored metal, and placed near the top left corner; whereas a black, textured hard plastic surface occupies the rest of the front face. Two cleanly finished buttons are placed at the bottom left corner -- where one is a power button, and under it is another button labeled "Copy". This is to be used with an USB port placed neatly in the middle of the Copy button for quick backup processes. Having the USB port in the middle of the button looks pretty cool, but you'll sacrifice some usability. Both of the buttons protrudes slightly, so there's a slight chance that someone may accidentally knock the power button. Fortunately, the system will prompt you on the LCD screen to initiate the shutdown procedure after depressing the power button, so it is not really an issue with regards to accidentally powering off the machine.
The QNAP TS-439 LCD display is navigated by two simple buttons adjacent to it: The Enter key, and the Select key. There's more than sufficient room for more, especially something like a D-pad may greatly enhance navigation. Fortunately, this screen isn't necessarily used all the time. When on, its LCD screen features a blue backlight; and displays large, clear text in white to contrast with its background. The LCD display allows the user to monitor quick information as well as easily perform some configuration and maintenance tasks. An array of LEDs can be seen under it to indicate system status, LAN status, USB status, as well as eSATA status, respectively. Each independent hard drive has its own status LED as well, which are cleverly placed on the system itself, on the black strip near the top of each hard drive tray. This can be seen if you look carefully at the photo above.
At first, I felt that the QNAP TS-439 Pro is a step back in terms of aesthetics compared to the QNAP TS-409. It has really grown on me in the past few weeks; and to be honest, I actually like the new one a lot more. But whether you like the design or not, it's a network storage server, it's all about function over form, right?
While the QNAP TS-439 Pro is constructed on a steel frame, its shell that covers three sides of the system is composed of brushed aluminum in gunmetal with a black overtone. This not only improves heat dissipation due to thermal properties of aluminum, but also makes it look incredibly attractive in my opinion!
Interestingly, the back of the system now has enough ports to more or less resemble a real computer, rather than a simple network storage device as NAS devices are back in the days. You can now connect two eSATA devices, and has four USB ports for storage. It can even accommodate up to three printers! Two Gigabit LAN ports reside between the eSATA and USB ports that you can configure for network redundancy, load balancing, and even two independent networks. A VGA connector is also present if you want to just plug in a monitor, and an USB keyboard, to fire up its standard American Megatrends BIOS (And before you ask, no, there are no overclocking functions haha) and Linux console. Of course, most tasks can be done with QNAP's excellent new web interface.
An 92mm single exhaust fan pulls heat out of your NAS server, with its exhaust vents cut into the steel panel. A small opening at the top provides ventilation for its internal power supply; there's a very small 20mm ball-bearing fan at the other side of the PSU. Its vertically oriented power input male connector is logically placed at the top left corner. Since the power supply unit automatically selects input voltage, there's no need for the old fashioned voltage selector switch stuff haha.
Removing its shell is pretty simple -- simply remove three screws, and slide it out. Again, I don't appreciate the warranty seal that's placed so the user will void the warranty if it is opened. While there's nothing the user can do in particular to service its internal components, you will have no choice but to void your warranty if you need to open the unit just to clean out some dust off its fan. Or anything similar, for that matter!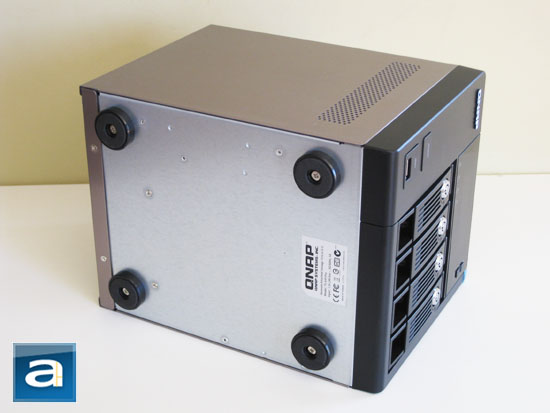 There's nothing particularly exciting at the bottom of the QNAP TS-439 Pro's chassis; what you'll see here are four large legs affixed on top of its steel frame panel. As always, they're installed to reduce vibration noise, increase grip, and prevent surface scratching. The left side of the network attached storage system features a neat array of small openings on its brushed aluminum shell. It is placed right next to where the motherboard is inside, to make sure hot air doesn't get congested inside.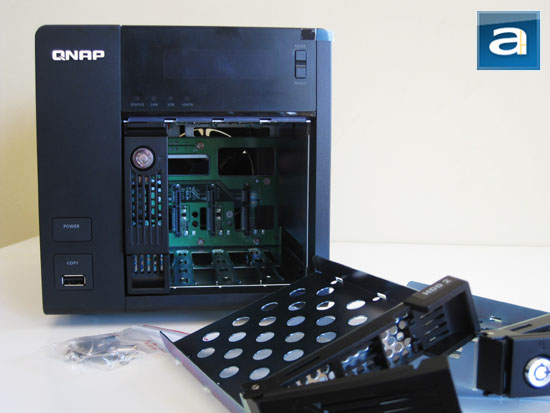 Removing its vertically mounted 3.5" SATA disk trays reveals the connector backpanel. The SATA backplane ports are powered by an external Marvell 88SX7042 controller, connected to the motherboard on the PCIe bus. Because of this, it should be noted that these drives are not boot configurable in the BIOS. If you plan to hack your system later on, you'll need an USB or eSATA drive. We'll go over the exciting details on Page 5.
Since this is a SATA system, all hard drives are hot swappable. Removing the hard drive tray is very simple -- just release a lever at the bottom, and it's out. You can lock the levers with the included keys to discourage unintended disconnections. Each hard disk tray is labeled "Disk 1" to "Disk 4" consecutively, so you won't mix up which one is which when you have a bunch of them disconnected, as seen in the photo above. Each tray also features a maximum amount of ventilation openings for improved heat dissipation.
The QNAP TS-439 Pro supports single disk, RAID 0 (Disk Striping), RAID 1 (Disk Mirroring), RAID 5, RAID 5 plus spare, RAID 6, and JBOD (Linear Disk Volume). If you want to encrypt your data, you have the option to enable its AES 256-bit volume-based encryption.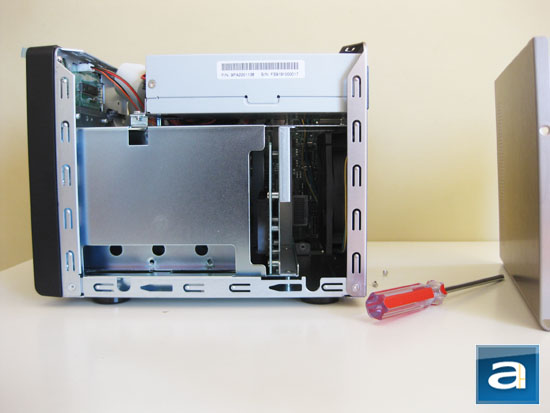 The left side of the system opposes the side where its motherboard is mounted. In the photo above, we can see the LCD controller module at the front, its four 3.5" drive bays occupying majority of the area, as well as the power supply located right above the drive bays. A few centimeters of clearance room can be seen between the rear 92mm fan, and the quad hard drive bays. Again, this allows some space between components to reduce heat congestion. Its well placed rear exhaust fan can then easily take out the warm air, and allow cooler air to flow over the mounted hard drives with minimal turbulence noise. It is pretty packed inside the QNAP TS-439 Pro, but everything is neatly placed and cabled to maximize cooling efficiency.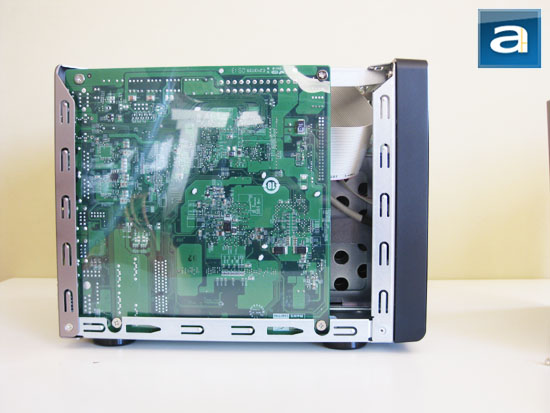 On the other side of the box is the motherboard mounted vertically. The back of the motherboard is covered entirely by a piece of clear plastic, just in case in makes contact with the shell and short circuits. As aforementioned, the QNAP TS-439 Pro Turbo NAS has an Intel Atom N270 1.6GHz processor installed, with 1GB of DDR2 SODIMM memory. I would say that it would offer significantly improved performance in a larger user environment if it was equipped with a dual core Atom processor instead. Its embedded Linux based operating system is installed on an Apacer ADM II IDE44 128MB flash memory chip, which can be easily removed by the user. There are three heatsinks on the motherboard, one for each of its Atom N270 processor, memory controller hub, and I/O controller hub. The Intel 945GSE chipset consists of the 82945GSE Northbridge and NH82801GBM (Commonly referred to as the ICH7M) Southbridge.
The ICH7M provides service to its USB ports, as well as the rear eSATA ports -- leaving an external Marvell controller to feed its four main drive bays, as aforementioned. Intel's 82574 Gigabit LAN controller powers its two Gigabit ethernet ports at the back. All of these mentioned ports are soldered directly to the motherboard. Generally speaking, it is safe to say the QNAP TS-439 Pro is nearly a full-featured standard x86 system.
I've read reports on the QNAP TS-439 Pro featuring a Seasonic SS-259SU 250W power supply. When I opened my particular unit, I found a Fortron Source FSP220-60LE 250W power supply. Fortron is both a large power supply OEM, and self-branded manufacturer under the same brand. The Fortron FSP220-60LE is rated at 250W @ 25c and 220W @ 50c. It is technically a 220W power supply, which Fortron specifies as well -- you can even see this in their model number -- but QNAP prefers to advertise it as a 250W power supply under their own specifications. Realistically, no power supplies can operate at an internal temperature of 25c under normal working environments, therefore 220W is a much more accurate rating. It can output up to 14.0A @ +3.3V, 16.0A @ +5V, 16.0A @ +12V1, and 10.0A @ +12V2 with two +12V rails. The Fortron FSP220-60LE features Active PFC, and is a 80 Plus certified power supply.
---
Page Index
1.
Introduction and Specifications
2. A Closer Look
3.
Configuration and User Interface
4.
Performance Benchmarks
5.
Final Thoughts and Conclusion