Page 3 - Configuration and User Interface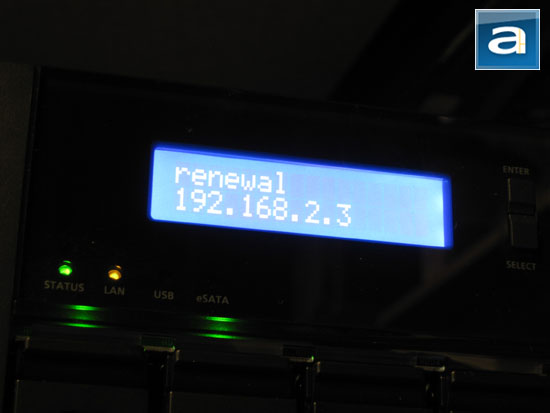 Following the designation of my file server names, the QNAP TS-439 Pro takes over as the main network attached storage system here at APH Networks. Therefore, it retains the name "Renewal"; used since 2007.
Setting up is much easier than before. Instead of installing QNAP Finder, which you would really use once and then uninstall, now with its LCD screen permits the user to quickly configure their QNAP TS-439 Pro for the very first time -- all without additional software. Once it is done, you can access the device using its web configuration interface to do the rest. That's about it! The LCD screen does a great job and showing system information and status; once it's on, it will show the server name and IP address, as shown above. A secondary screen displays the model number (TS-439 Pro) and firmware version. Holding the "Enter" button for two seconds reveals a menu for various configuration and maintenance tasks, as well as displays some vital information such as system temperature. The screen will turn off automatically if it's not being used.
Our device came shipped with an older version of QNAP's software. After a 68.6MB download from QNAP's website, we flashed our QNAP TS-439 Pro to their latest firmware, which features the company's excellent new AJAX based web configuration user interface.
Before we move on, let's take a look at QNAP's TS-439 Pro software specifications, as obtained from their website:
Powerful All-in-one Server
File Server: File sharing across Windows/Mac/Linux/Unix and centralized management
FTP Server: Supports data access from remote location via FTP (max. 256 concurrent connections), FTP with SSL/ TLS (explicit) mode, FXP supported. FTP bandwidth control and connection control, Passive FTP port range control
Backup Server: QNAP client-side backup software-NetBak Replicator supports instant, schedule, and auto-sync backup
3rd party backup software support: Acronis True Image, CA Brightstor ARCserve Backup, EMC Retrospect, Symantec Backup Exec, LaCie Silverkeeper
Printer Server: Network printer sharing via USB (Windows & Mac), Supports all-in-one printer (max. 3 sets)
Remote Replication: Block-level remote replication supports instant, schedule backup management; supports synchronization mode
Web Server: Built-in phpMyAdmin, Joomla!, editable php.ini, SQLite and MySQL
My SQL Server: MySQL database server
UPnP Media Server: Supports UPnP/DLNA multimedia technology; share stored photos and home videos on TV, listen to music on Hi-Fi system via DMP, Internet radio (built-in TwonkyMedia), Media playing with PS3, Xbox360, PSP game consoles
iTunes Server: iTunes server for music sharing, Smart playlist for iTunes software
Multimedia Station: Image slide show and rotation (+90°, -90°)
Display photo details: dates, exposure time, aperture, etc., Automatic thumbnail generation for easy browsing, Photo album access authority management, Multimedia files (video and audio) local playing, Automatic file categorization
Download Station: PC-less BitTorrent/ FTP/ HTTP download
QNAP remote download control software: QGet (Windows/ Mac), allows you to control the download tasks of multiple Turbo NAS on one PC via LAN/ WAN., BitTorrent download supports TCP/ UDP tracker protocol, DHT, BT schedule download, BT download (up to 500 tasks), Download configuration (current seed number, configurable port range, bandwidth control, download percentage, UPnP NAT port forwarding for BitTorrent download), Download status list management (download percentage), Supports access from Mac by Mozilla Firefox
Surveillance Station: Support 4 IP cameras for network surveillance
Software Specifications
Operating System: Linux-embedded system
Networking: TCP/IP, DHCP Client, DHCP Server, CIFS/SMB, AFP, NFS, HTTP, HTTPS, FTP, DDNS, NTP, Multi-IP setting, Gigabit Jumbo Frame, Port Trunking (Balance-rr [Round-Robin], Active Backup, Balance XOR, Broadcast, IEEE 802.3ad, Balance-tlb [Adaptive Transmit Load Balancing], Balance-alb [Adaptive Load Balancing], Network Service Discovery [UPnP & Bonjour])
File System: EXT3 (Internal/external HDD), EXT4 (Internal/external HDD), FAT (External HDD), NTFS (External HDD)
Supported Operating Systems: Microsoft Windows 98/ME/NT/2000/XP/2003/Vista, Mac OS X
Disk Management: Single disk, RAID 0 (Disk Striping), RAID 1 (Disk Mirroring), RAID 5, RAID 5+ Hot spare, RAID 6, and JBOD (Linear Disk Volume), Multiple RAID, Online RAID Capacity Expansion, Online RAID Level Migration, Disk usage status management, Check disk (Check Linux file system), HDD S.M.A.R.T., Bad blocks scan, PC-less RAID setup via LCD panel for the first time installation (Touch-N-Go), AES 256-bit volume-based encryption, Built-in iSCSI target service, RAID Recovery, Virtual Disk
User Management: User quota management (per user), Windows AD, User account management (max. 4,096 users), User group management (max. 512 groups), Batch creating users
File System Management: Network share management (max. 512 shares), Network volume status management, Share folder level ACL support, Hide share folder on Windows network, Unicode support, Journaling file system, Web File Manager
System Tools: E-mail alert (SMTP authentication), SMS alert, HDD standby mode, Disk usage alert, Automatic power on after power loss, QPKG add-on firmware supported, System firmware upgrade, Back up, restore, reset system settings, Smart fan setting, Configurable management port, Policy-based unauthorized IP blocking, Secure remote login by SSH connection, Remote login by Telnet connection, USB, SNMP UPS support, Wake on LAN, Schedule power on/ off (max. 15 settings), Network recycle bin, Import SSL certificate, SNMP, Real-time System Resource Monitor
LCD: RAID configuration for the first time setup. When the system is ready, users can check or configure the IP settings, physical disk info, volume info, system info, shut down or reboot the NAS, etc.
Event Logs: Complete system logs (file level): system events management, connection logs, current connection of on-line users
Multilingual Support: English, Traditional Chinese, Simplified Chinese, Japanese, Korean, French, German, Italian, Spanish, Russian, Swedish, Norwegian, Finnish, Danish, and Polish
Backup Management: PC-client backup software-NetBak Replicator: Instant/ Schedule/ Auto-sync backup, Remote replication supports Rsync, Encrypted remote replication, One touch USB copy for different destination folders, Data backup to external storage device
Multi-browser support: Internet Explorer 7 & 8, Safari 3 & 4, Firefox 3, Google Chrome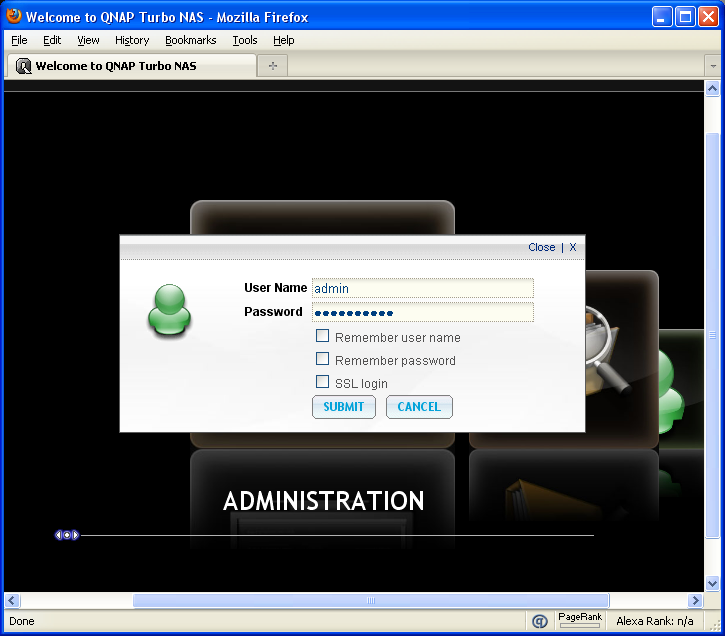 Those who have owned previous QNAP devices flashed to the latest system software would immediately feel at home with the TS-439 Pro. I've been using such with my QNAP TS-409 for nearly three months, and have nothing but good things to say about it. The brilliant QNAP web configuration GUI is powered by a large collection of AJAX based menus; combined with an extremely clean, smooth, and modern user interface. With a powerful NAS device that offers as many features such as the QNAP TS-439 Pro, it is very important that a user friendly graphical user interface is implemented. And thanks to the excellent QNAP v3 web interface, it not only excels in functionality, but also in speed and feel. QNAP's recently released interface is truly among one of the best I've seen for a network attached storage device. It has all the features you want in a NAS box, yet it doesn't take some sort of degree just to get it up and running!
Fire up your web browser of choice, and type in your server's name, or your TS-439's LAN IP address. You will be immediately greeted by its main screen, which allows you to slide between its large dock style icons, and select the feature you want to run. For example, if you want to enter the administration panel, simply click "Administration". An AJAX popup will come up, as shown in the screenshot above. Enter your username and password, and you'll have three additional options: Remember user name, remember password, as well as SSL login.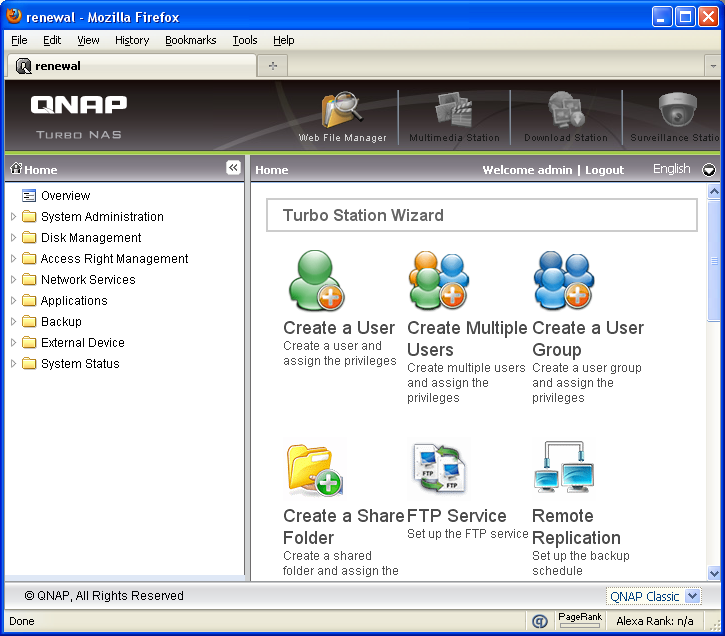 As aforementioned, the layout of its administration panel is absolutely brilliant. The sleek, clean interface is powered by mainly AJAX menus for snappy performance and convenience. At the left is a collapsible menu tree, while a static banner stretches across the top of your screen. Four icons are placed in the top right corner as shortcuts to Web File Manager, Multimedia Station, Download Station, and Surveillance Station, respectively. If the service it represents is disabled, it will be grayed out, as seen in our screenshot above. At the bottom is another static bar for QNAP's copyright line, and a drop down menu to select one of three available color schemes.
The main window is placed directly to the right of the interface's navigation bar. The home screen features six quick shortcuts to its respective labeled function, again, as seen in the screenshot above. Right under it is a section that has three different icons that links directly to QNAP's support form, forum, and wiki, in that order. A news feed shows latest software updates and news applicable to QNAP devices.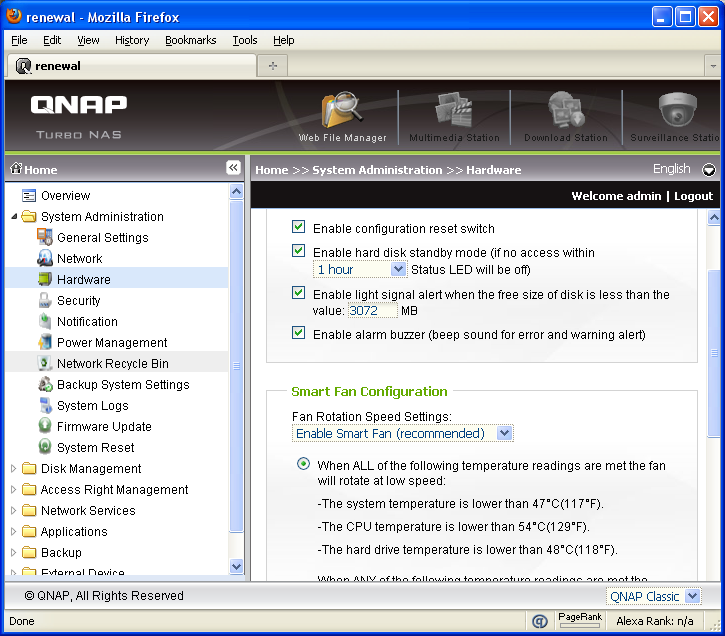 While I won't go over every menu, I'll briefly go over most of them -- since most of them are self explanatory anyway. Expanding the first menu item is System Administration. General Settings allows the user to adjust server name and port, date and time syncing options, as well as default language. The Network screen has TCP/IP and DDNS settings. The screenshot above has the Hardware screen shown; permitting the user to configure aspects like disk standby mode and fan speed settings.
Under the Security screen are three tabs: Security Level for IP access filtering, Network Access Protection to prevent brute force password attacks for various services, and Import SSL Security Certificate from a trusted provider. The Notifications screen also has three tabs: Configure SMTP Server, Configure SMSC Server, and Alert Notification; used to set your QNAP TS-439 to alert the administrator via email and/or mobile text when an error and/or warning occurs.
Under Power Management, options are provided to enable or disable Wake on LAN, power state after power failure, and on/off scheduling. You can also shut down or restart your NAS immediately on this screen.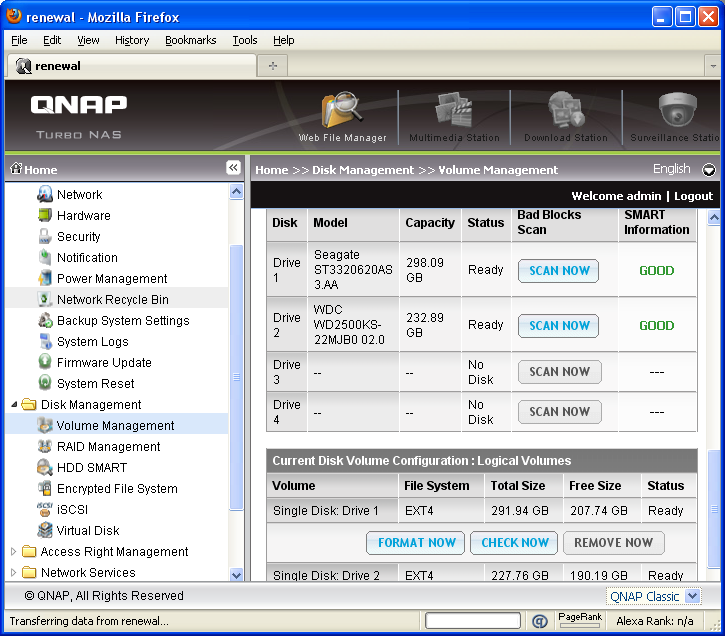 There are six options under the Disk Management expanded menu. The screen shown above is the Volume Management screen. Six icons are placed at the top with a brief description on each disk option: Single Disk, RAID 1 Mirroring Disk, RAID 0 Striping Disk, Linear Disk (JBOD), RAID 5 Disk, and RAID 6 Disk. Beneath it is a table containing physical information on installed hard drives, as seen in the image above. The Logical Volumes section displays how the disks are configured, along with three options: Format Now, Check Now, and Remove Now. The QNAP TS-439 Pro features native support for the relatively new EXT4 file system, which we have configured our disks to run on.
In the HDD SMART screen are five tabs for the user to easily work with their HDD SMART diagnostic data. Under the Summary tab displays the state of the drive (A big, green "Good" is all you need to see haha), along with information such as hard disk model, capacity, temperature, test time, and test result on the side. The Hard Disk Information tab displays more detailed data, such as your drive's serial number and firmware version. The SMART Information tab provides a summary table on diagnostic results. The Test tab gives the user an option to run a Complete or Rapid test immediately; while the final tab, Settings, can activate or deactivate a temperature alarm, as well as scheduling automatic SMART tests.
The Encrypted File System function is an encryption key management screen for volumes with 256-bit AES encryption enabled.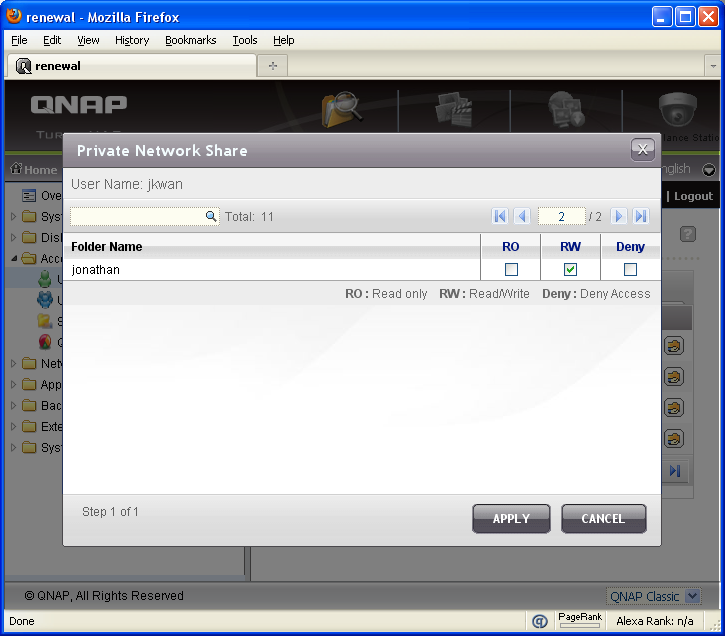 Under the Access Right Management folder tree are four options: Users, User Groups, Share Folders, and Quota. In the Users screen, a table lists all users in the system, as well as their respective independent disk quota and account options. Four icons represents four different account functions; of which they are Change Password, Edit Account, User Groups, and Private Network Share. The screen above is an AJAX popup displaying the Private Network Share option, which allows the administrator to set folder access permissions for each person. This can be seen in the screenshot above. In the Users main screen, you will also have the option to search, create, multiple create, and delete accounts.
The Share Folders screen also lists an array of folders on the system, similar to the table displayed for the Users screen. It also shows each folder's size, folders within, number of files, and if it is hidden in their respective column. Again, there are four management options for each folder: Properties, Access Control, NFS Access Control, and Refresh. Pulling up the Properties menu gives you the option to set the folder's path (If you have multiple single disks installed, you can also set which drive it belongs to), hide or show the folder, as well as locking the file. You can also enable write-only accesses over FTP.
The Quota screen allows you to configure universal disk quotas. Individual disk quotas can be set in the Users section.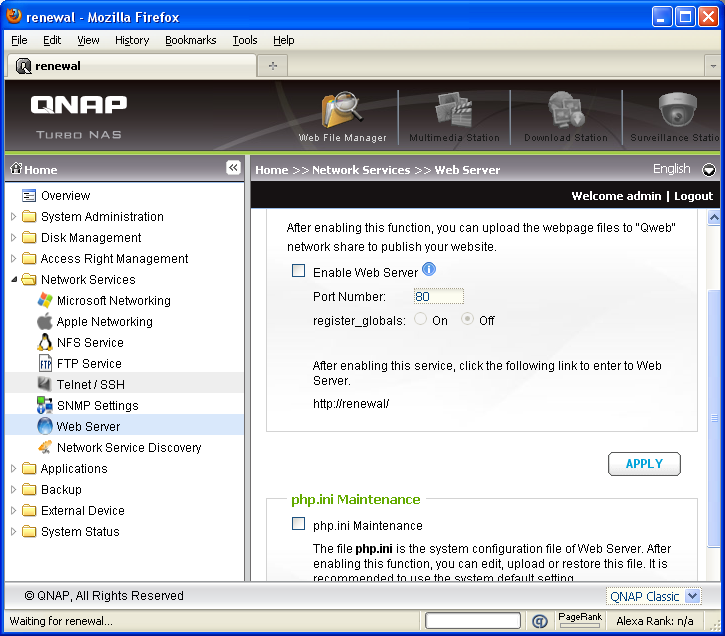 Next up on QNAP's TS-439 web configuration menu tree is Network Services. They're quite self explanatory -- most of them are just enable or disable the service, and configure a couple settings such as default port number. Particulars that are more interesting under Microsoft Networking, which you can configure it to be a standalone server, or be a Microsoft AD Domain member. Here you can configure its server description, workgroup, AD server name, domain name, domain username, and password. You can also enable WINS server, use specified WINS server, and enable it as a domain master.
Shown in the screenshot above is the Web Server configuration screen. You can enable or disable its HTTP server, set its default public port, and turn on php.ini maintenance. In the Network Service Discovery function, there are two tabs: Enable/disable UPnP discovery service, and broadcasting services through Bonjour. These services include Web Administration, SAMBA, AFP, SSH, and FTP.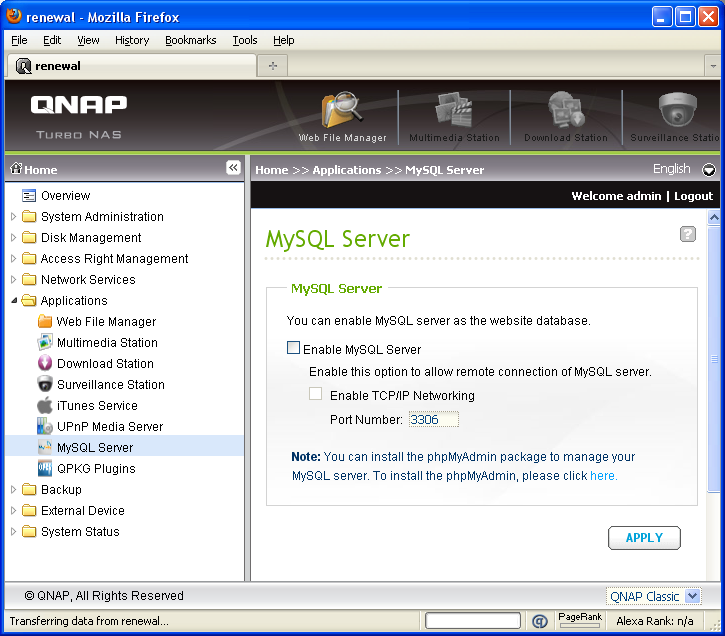 Again, the Applications submenu is quite straightforward as well. Most of the listed sections, as you can see in our image above, are simply used to enable or disable their respective services. Features such as Download Station lets you torrent things through the QNAP TS-439 Pro, and Surveillance Station works in conjunction with compatible camera models. One to note in particular is the MySQL server -- the QNAP TS-439 Pro has built in PHP and MySQL support, as well as an option to install phpMyAdmin. This is covered in its subsequent section -- QPKG Plugins -- which lets you install packages premodified for you by QNAP to install on your NAS. This includes a few worthwhile mentions such as phpMyAdmin as aforementioned, as well as WordPress, Joomla, and even SqueezeCenter 7 for direct Squeezebox streaming.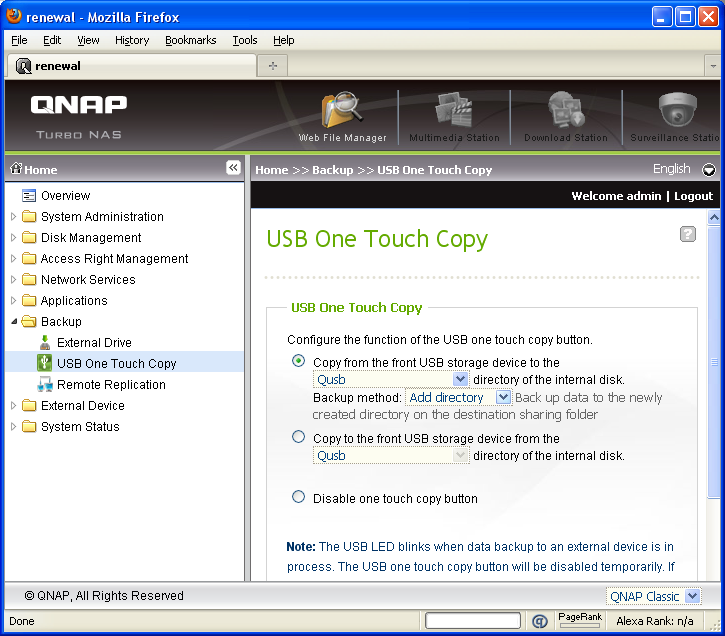 In the Backups heading are three sections. These include External Drive, USB One Touch Copy, and Remote Replication. In the External Drive screen, you can back up select data on your NAS to an external drive connected via USB or eSATA. (Now when you've thought your NAS is used for backups, you can even backup your NAS!) I have taken the screenshot for USB One Touch Copy, which as you can see configures the function of the front one touch copy button. You can use it to copy data from an external drive to a specific directory on the NAS, copy data from a specific directory on your NAS to the external drive, or disable it completely. Remote Replication lets you configure your QNAP TS-439 Pro to copy data to a remote server of the same NAS series, and backup from remote server to the local server as well. You can also set its port number, and allow/disallow remote Rsync server to back up data to the local system.
Under External Device, you can configure your NAS to work with, well, external devices -- including management of an external disk drive, USB printer, and connected UPS. The QNAP TS-439 Pro has a print server function, and the USB printer configuration screen is shown in the image above. Of course, I have no printer connected at the time of taking that screenshot haha. Other than that, the final screen in this section is the UPS settings, which is quite self explanatory in its own context.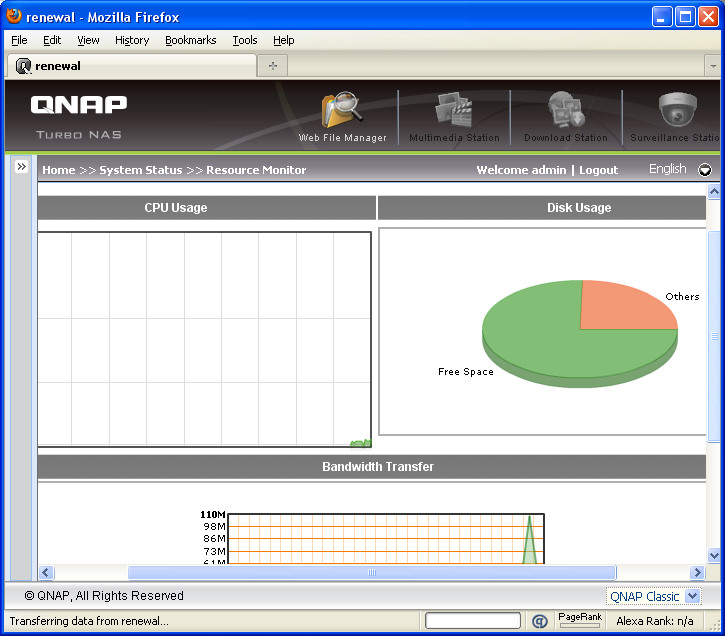 Last, but not least, are the System Status options under three specific sections: System Information, System Service, and Resource Monitor. The System Information screen provides a list of quick information on your NAS in text form, such as CPU usage, total memory, free memory, independent ethernet adapter's packets sent or received, CPU temperature, system temperature, independent hard drive temperature, system uptime, and system fan speed. System Service displays statuses of various services under different tables. The screenshot above shows the Resource Monitor screen with the side menu collapsed to maximize room. Three live, simple graphs show its CPU usage, disk usage, and bandwidth transfer over time.
Overall, the web configuration interface on QNAP's TS-439 Pro is absolutely brilliant, and I know I've said it before. But it's true! Judging from past experience, the Linux-based backend should also provide optimum reliability and stability over time -- my previous QNAP TS-409 lasted over 221 days uptime, shut down only due to a user management error on my part. Other than that, I have a couple minor complaints about the QNAP TS-439 Pro: The Web File Manager interface has not been updated to the new interface (To be honest, I've used it about once anyway, haha), and the startup time is fairly slow (But it remains on for as long as possible, so it's not a significant problem either).
---
Page Index
1.
Introduction and Specifications
2.
A Closer Look
3. Configuration and User Interface
4.
Performance Benchmarks
5.
Final Thoughts and Conclusion