By: Jonathan Kwan
July 27, 2012
"Ivy is my new girlfriend," I explained to one of my female friends in the church foyer on a beautiful April Sunday morning before service. "Sandy and I had a good run. But we are over." Confused and somewhat stunned, my colleagues Preston and Jeremy just smiled and added to the conversation before I explained to her that I haven't been secretly dating an Ivy or a Sandy. This, of course, means I am talking about none other than Intel's second and third generation Core processors, code named Sandy Bridge and Ivy Bridge, respectively. Earlier this year, right on NDA release date, we have covered a performance preview on the Intel Core i7-3770K along with the company's DZ77GA-70K enthusiast board. Unfortunately, with final exams followed by a new job right around the corner (That's not to mention many of us were involved in a movie project, but we will leave that conversation for another day), every review took a big delay, and this was no exception. That said, with Ivy's amazing performance that really made movie production so much faster, how does it perform in the APH battery of benchmarks? Well, let us waste no time, and run through the official results in this full review.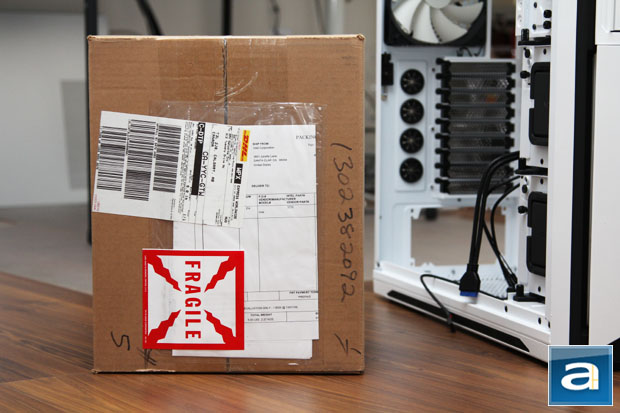 Our review unit of the Intel Core i7-3770K processor and the corresponding Intel Desktop Board DZ77GA-70K motherboard in the press kit came in a medium sized, brown corrugated cardboard box from the company's headquarters in Santa Clara, California, USA, about a week before NDA lift date. I was just about to head out the door that afternoon when the yellow DHL van showed up at my door. Excited to see what is inside this box of forbidden goods, I grabbed the package with me, put it in my car, and brought it along to my friend's house.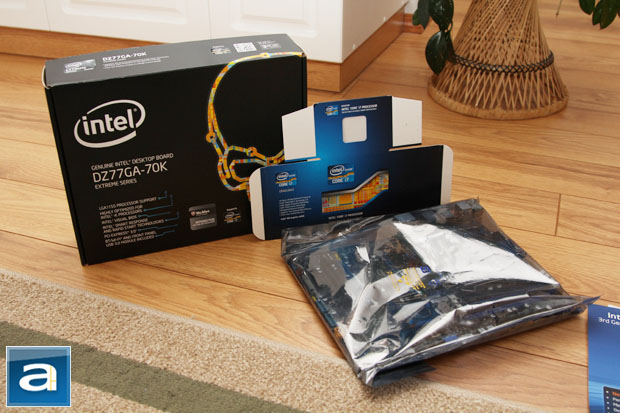 In the past, we have always received Sharpie-labeled 'Intel Confidential' engineering sample processors in small black boxes. You know, stuff that looks like it came straight out of an engineering lab, as you can see in our past reviews. Well, cracking open the shipping package, all I found was a pre-cut, unfolded Core i7-3770K retail box along with the motherboard as aforementioned. Panicking for just a short moment about the case of a potentially missing CPU, I was relieved to see it was already on the motherboard -- the unfolded Core i7-3770K retail box was included just for reference only. For what it is worth, an unfolded Intel retail box is definitely something you do not see every day, haha. With that in mind, the blue design theme found on this year's processor packaging is stereotypically Intel in every degree; if you see this in a brick and mortar store, you will know what it is.
Before we move on, let's take a look at the specifications of the Intel Core i7-3770K, as obtained from the manufacturer's website:
Essentials
Status: Launched
Launch Date: Q2'12
Processor Number: i7-3770K
# of Cores: 4
# of Threads: 8
Clock Speed: 3.5 GHz
Max Turbo Frequency: 3.9 GHz
Intel® Smart Cache: 8 MB
Bus/Core Ratio: 35
DMI: 5 GT/s
Instruction Set: 64-bit
Instruction Set Extensions: SSE4.1/4.2, AVX
Embedded Options Available: No
Lithography: 22 nm
Max TDP: 77 W
Recommended Customer Price: TRAY: $332; BOX: $342
Memory Specifications
Max Memory Size (dependent on memory type): 32 GB
Memory Types: DDR3-1333/1600
# of Memory Channels: 2
Max Memory Bandwidth: 25.6 GB/s
ECC Memory Supported: No
Graphics Specifications
Processor Graphics: Intel® HD Graphics 4000
Graphics Base Frequency: 650 MHz
Graphics Max Dynamic Frequency: 1.15 GHz
Intel® Quick Sync Video: Yes
Intel® InTru™ 3D Technology: Yes
Intel® Insider™: Yes
Intel® Wireless Display: Yes
Intel® Flexible Display Interface (Intel® FDI): Yes
Intel® Clear Video HD Technology: Yes
# of Displays Supported: 3
Expansion Options
PCI Express Revision: 3.0
PCI Express Configurations: 1x16, 2x8, 1x8 & 2x4
Package Specifications
Max CPU Configuration: 1
TCASE: 67.4°C
Package Size: 37.5mm x 37.5mm
Sockets Supported: FCLGA1155
Low Halogen Options Available: See MDDS
Advanced Technologies
Intel® Turbo Boost Technology: 2.0
Intel® vPro Technology: No
Intel® Hyper-Threading Technology: Yes
Intel® Virtualization Technology (VT-x): Yes
Intel® Virtualization Technology for Directed I/O (VT-d): No
Intel® Trusted Execution Technology: No
AES New Instructions: Yes
Intel® 64: Yes
Intel® Anti-Theft Technology: Yes
Idle States: Yes
Enhanced Intel SpeedStep® Technology: Yes
Thermal Monitoring Technologies: Yes
Intel® Fast Memory Access: Yes
Intel® Flex Memory Access: Yes
Execute Disable Bit: Yes
Intel® VT-x with Extended Page Tables (EPT): Yes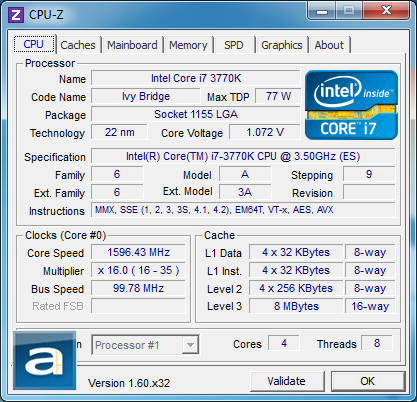 CPU-Z screenshot of the Intel Core i7-3770K processor, running at stock speeds with Intel SpeedStep enabled. This is an engineering sample unit.
---
Page Index
1. Introduction and Specifications
2.
Intel Core i7-3770K Architecture; Test System
3.
Benchmark: AIDA64 CPU
4.
Benchmark: AIDA64 FPU
5.
Benchmark: AIDA64 Memory
6.
Benchmark: BAPCo SYSmark 2012
7.
Benchmark: PCMark 7
8.
Benchmark: 3DMark 11
9.
Benchmark: PassMark PerformanceTest 7.0
10.
Benchmark: SuperPI 1M, Cinebench R11.5
11.
Overclocking, Power Consumption, and Conclusion