Page 6 - Benchmark: BAPCo SYSmark 2012
About BAPCo SYSMark 2012
SYSmark® 2012 is the latest version of the premier performance metric that measures and compares PC performance based on real world applications.
SYSmark 2012 supports 64-bit versions of Microsoft Windows® 7 or Windows® Vista®*
SYSmark 2012 extends the SYSmark family, alongside MobileMark® and EEcoMark® which has been widely accepted by IT Managers, PC OEMs, press and analysts worldwide.
The new release also incorporates numerous new features and enhancements such as an updated GUI, individual scenario execution and integrated configuration management.
SYSmark 2012 is an application-based benchmark that reflects usage patterns of business users in the areas of office productivity, data/financial analysis, system management, media creation, 3D modeling and web development. SYSmark 2012 is a ground up development and features the latest and most popular applications from each of their respective fields.
The SYSmark family of benchmarks is used by PC OEMs, hardware and software developers, IT departments, system integrators, publishers and testing labs as well as Information technologists and computer industry analysts.
BAPCo's SYSmark 2012 builds upon its predecessors utilizing the strongest and broadest development team in PC benchmark history. BAPCo's depth of membership represents the breadth of the computing industry and harnesses a consortium of experts.
SYSmark 2012 incorporates the following applications:
- ABBYY® FineReader pro 10.0
- Adobe® Acrobat® Pro 9
- Adobe® After Effects® CS5
- Adobe® Dreamweaver® CS5
- Adobe® Photoshop® CS5 Extended
- Adobe® Premiere® Pro CS5
- Adobe® Flash® player 10.1
- AutoDesk® 3DS Max® 2011
- AutoDesk® AutoCAD® 2011
- Google Sketchup™ Pro 8
- Microsoft® Internet Explorer® 8
- Microsoft® Office® 2010
- Mozilla® Firefox® Installer
- Mozilla® Firefox® 3.6.8
- Winzip® Pro 14.5
From: Developer's Page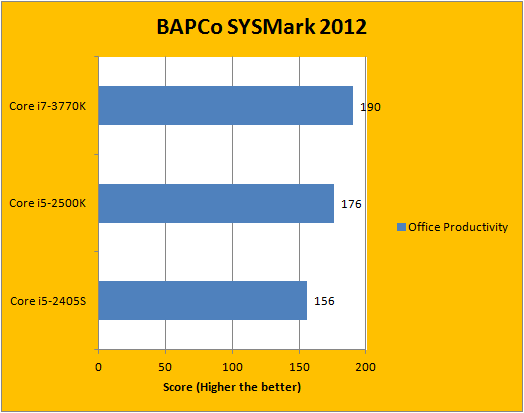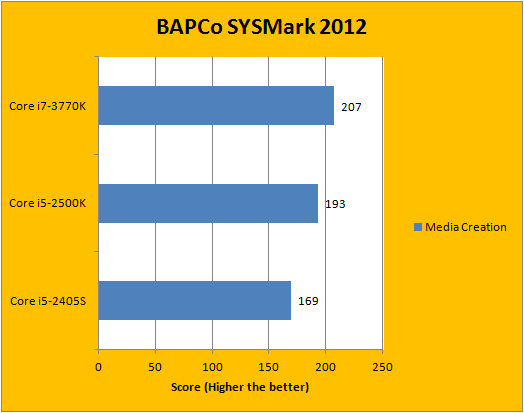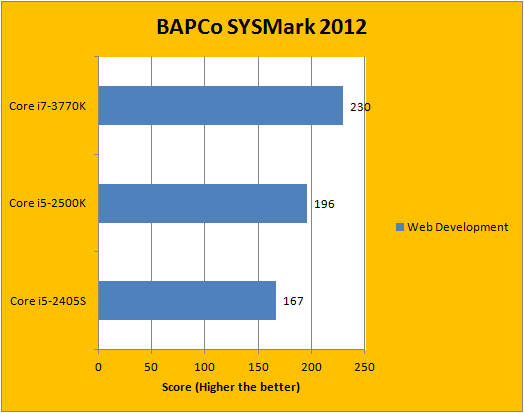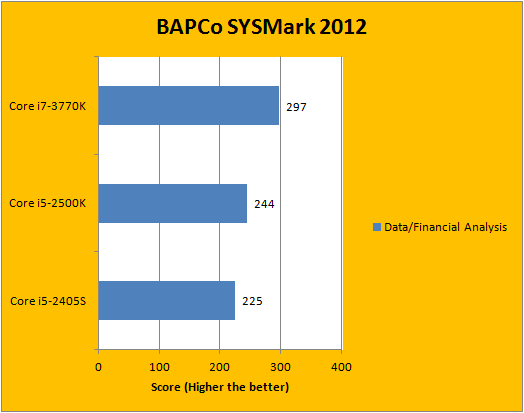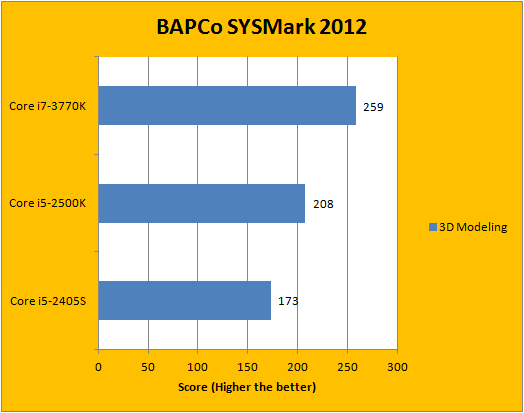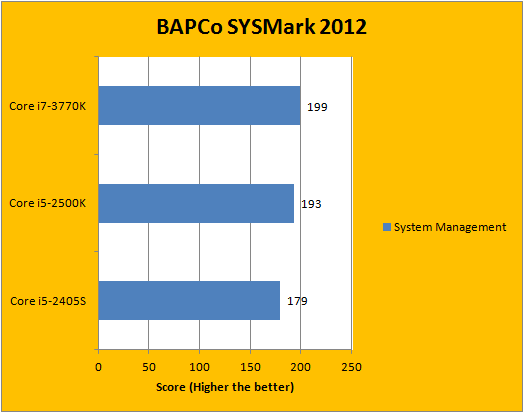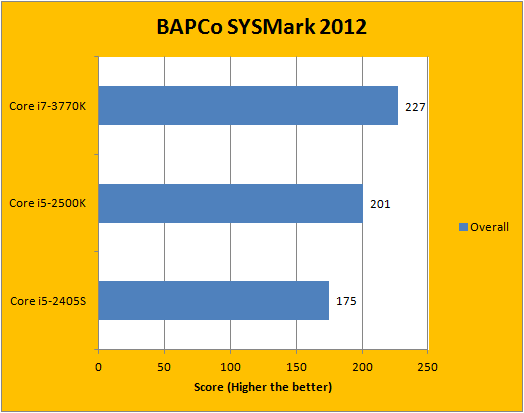 BAPCo's SYSMark 2012 is one of our favorite computer performance evaluation benchmarking suites, because it uses real life applications to obtain real life results. From Photoshop to Microsoft Office, it has all of them covered. It is actually quite interesting to watch, too -- as you witness programs open and close by themselves, the tests automatically in the foreground. The 2012 version utilizes updated programs since 2007, and now offers a more refined set of results. We did triple iteration runs on all three CPUs (These 8 hour tests are long!), and with many watts of electricity consumed, the results are as above. Again, the Hyper Threading enabled Core i7-3770K had an inherent advantage over the Core i5 CPUs, along with better clock-per-clock performance that contributed to its strong numbers.
---
Page Index
1.
Introduction and Specifications
2.
Intel Core i7-3770K Architecture; Test System
3.
Benchmark: AIDA64 CPU
4.
Benchmark: AIDA64 FPU
5.
Benchmark: AIDA64 Memory
6. Benchmark: BAPCo SYSmark 2012
7.
Benchmark: PCMark 7
8.
Benchmark: 3DMark 11
9.
Benchmark: PassMark PerformanceTest 7.0
10.
Benchmark: SuperPI 1M, Cinebench R11.5
11.
Overclocking, Power Consumption, and Conclusion