By: Jonathan Kwan
April 23, 2012
While we get our fair share of evaluation products on NDA here at APH Networks, we don't usually do performance previews on the stuff we get -- either we get the review done on time, or, well, we release it at our own schedule, haha. But here's the deal: With Intel's latest Core i7-3770K "Ivy Bridge" processor sitting in our labs for the last little while, I am as excited to share our experience with you as much as you are interested in finding out how it performs in the benchmarks. Being the 'tick' part of Intel's 'tick-tock' release cycle, what does the 22nm die shrink bring to the table today? To find out, here is a set of quick and dirty benchmarks along with a preliminary overclocking result to go. We will have a full review ready in a few weeks from now (Having a series of Electrical Engineering exams in a row last week certainly did not help). But for now, let's not waste any more time, and move straight into the meat!
Our review unit of the Intel Core i7-3770K came from the company's headquarters in California, USA. They have kindly provided an Intel Desktop Board DZ77GA-70K as part of the package for the purposes of evaluation. As part of the press kit, a completely fresh, unfolded retail box for the Core i7 processor was included for our reference. This is definitely something you don't see every day, at least for me anyway, haha. If you are wondering where is the actual CPU, good question -- I was wondering about the same thing when I opened up the shipping box. Thankfully, it was not missing (Whew!). The Ivy Bridge chip was already installed into the motherboard's LGA 1155 socket. Without further adieu, I quickly assembled a system together, and got straight to work.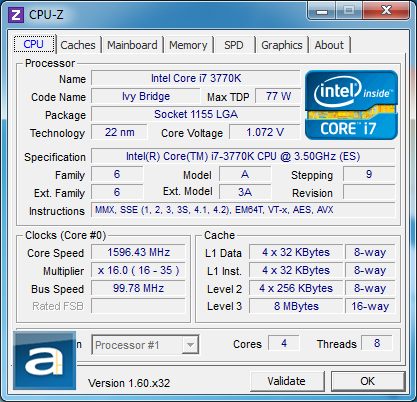 As always, the first thing we did was fire up CPU-Z to get a screenshot of the vital details of the latest Ivy Bridge CPU from Intel. In our image above, the latest version of CPU-Z shows our Intel Core i7-3770K processor running at stock speeds with SpeedStep enabled. This is an engineering sample unit, but it is otherwise identical to retail box processors that you can pick up when they become available shortly.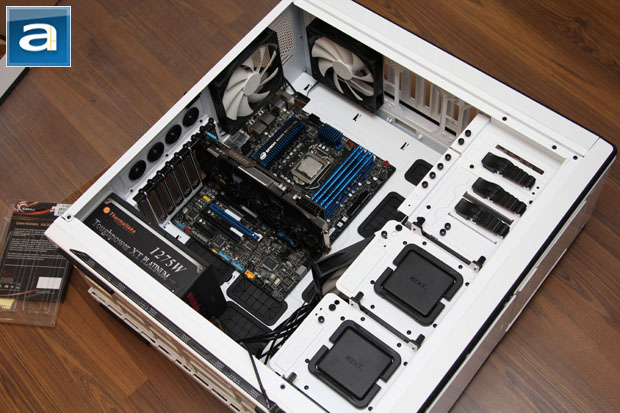 Since this is just a quick and dirty benchmarking run, we were under no constraints of establishing a series of constant hardware. Therefore, I grabbed a bunch of unused parts we have hanging around the lab here at APH Networks, and built a brand new setup for the tests. We will adjust accordingly in our actual review in the next few weeks.
Our test configuration as follows:
CPU: Intel Core i7-3770K @ 3.50GHz (Stock speed, Turbo Boost enabled)
CPU Cooling: Noctua NH-C14
Motherboard: Intel Desktop Board DZ77GA-70K
RAM: G.Skill Ares F3-1600C8Q-16GAB 4x4GB
Graphics: Gigabyte Radeon HD 7870 2GB OC
Chassis: NZXT Switch 810
Storage OCZ Agility 3 240GB
Power: Thermaltake Toughpower XT Platinum 1275W
Sound: Integrated
Optical Drive: None
Operating System: Microsoft Windows 7 Professional SP1 x64
---
Page Index
1. Introduction and Test System
2.
Benchmark: AIDA64 CPU
3.
Benchmark: AIDA64 FPU
4.
Benchmark: AIDA64 Memory
5.
Benchmark: Cinebench R11.5, PassMark PerformanceTest 7.0, PCMark 7, SuperPi 1M
6.
Overclocking and Conclusion