By: Jonathan Kwan
March 23, 2012
There is a German student in my power engineering class with a very strong accent. As such, my professor likes to call him 'Germany' in a humorous, good-natured way. One time, he was asked to come to the front of the class match up against another student in deriving a certain equation. "Where are we doing this?" Germany asked aloud. "In the skies of Southern England," I blurted out, albeit somewhat silently, near the back of the room. Whether you like it or not, war and conflict between nations has always been an integral part of human history. Sure, it is terrible -- I am not going to skirt around that question as we live in relative peace here in North America. We can only thank all the people who have put their lives on the line, and continue to do so as I type this paragraph, so that we can enjoy everything we have right now. People in the past had their culture deeply integrated with armed conflicts as well. In ancient Greek mythology, Ares is the god of war and violence. According to Burkert's book "Greek Religion", Ares is a powerful Olympian who is "overwhelming, insatiable in battle, destructive, and man-slaughtering" (1985, p. 169). With G.Skill naming their latest line of RAM after the Greek god of war, are we to expect something that can simply blow the competition out of the water? We took a G.Skill Ares F3-1600C8Q-16GAB 4x4GB DDR3 RAM kit in this morning, and see if it really packs the power to destroy under the hood.
Our review unit of the G.Skill Ares F3-1600C8Q-16GAB 4x4GB did not come in a Trojan Horse, but rather, a plain FedEx Pak from the company's headquarters in Taiwan using the International Economy service. The lack of a bubble envelope is nothing to get alarmed over, as the people preparing the shipment slipped a corrugated cardboard box inside the envelope -- along with some, you've guessed it -- bubble wrap for protection. As such, everything arrived to us here in Calgary, Alberta, Canada in excellent condition for our review today. We cracked open the box, fired up my camera, and got straight to work.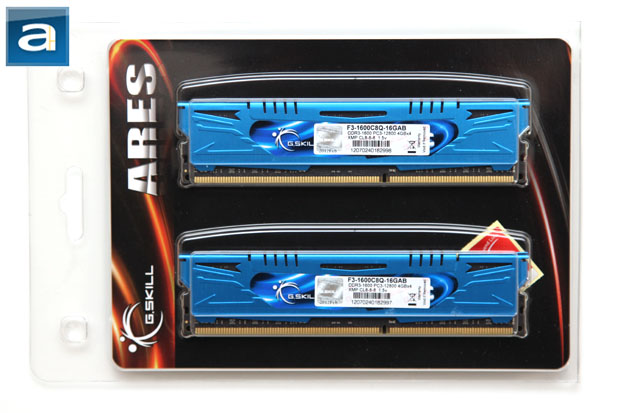 G.Skill continues to use fairly standard retail packaging for their Ares PC3-12800 4x4GB CL7 quad channel memory kit. The clamshell package is simple and held closed together at the top by two friction buttons; no blister pack techniques were used in this case -- which is, as usual, truly excellent in my opinion. A black colored insert with G.Skill's logo and Ares product line branding are placed at the top, with sharp fire orange streaks to highlight give it a more intense feel, as shown in our photo above. Two memory modules can be seen on each side through its clear plastic exterior placed vertically next to each other, where differentiating features of similar memory kits can be found on the warranty and specification label placed on each heatspreader. At the back are miscellaneous company, warranty, and specifications information.
Before we move on, let's take a look at G.Skill Ares F3-1600C8Q-16GAB 4x4GB RAM, as obtained from the manufacturer's website:
Model Number: F3-1600C8Q-16GAB
Series: ARES
System: DESKTOP
System Type: DDR3
Main Board: INTEL
M/B Chipset: X79 / P67 / Z68 / P55 / AMD 8xx / 9xx Series / FM1
Capacity: 16GB (4GBx4)
Multi-Channel Kit: Quad Channel kit
Tested Speed: DDR3-1600 MHz (PC3-12800)
Tested Latency: 8-8-8 2N
Tested Voltage: 1.5V
Registered/Unbuffered: Unbuffered
Error Checking: Non-ECC
Type: 240-pin DIMM
SPD Speed: 1600 MHz
SPD Voltage: 1.5V
Warranty: Lifetime
Fan lncluded: No
Features: Intel XMP (Extreme Momery Profile) Ready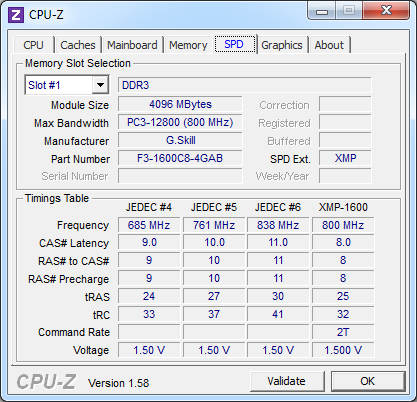 A screenshot of the memory tab in CPU-Z with G.Skill's Ares F3-1600C8Q-16GAB 4x4GB installed. The SPD timings table in CPU-Z reads standard JEDEC specifications programmed into the memory, as well as Intel XMP data for running the memory at DDR3-1600. Using the latest BIOS revision, our ASUS P8P67 PRO motherboard used for testing had no issues detecting and working with the G.Skill RAM, but it seems the programmed XMP settings are a bit off. In our screenshot provided above, this dual channel kit runs at a frequency of 1600MHz (800MHz actual clock), which is correct; but the manufacturer specifies it to run at 8-8-8-24 rather than the detected 8-8-8-25. However, manually setting it to 8-8-8-24 in the BIOS posed absolutely no problem for us. The G.Skill Ares F3-1600C8Q-16GAB 4x4GB retails for approximately $135 at press time.
---
Page Index
1. Introduction, Packaging, Specifications
2.
A Closer Look, Installation, Test System
3.
Benchmark: AIDA64 CPU
4.
Benchmark: AIDA64 FPU
5.
Benchmark: AIDA64 Memory
6.
Benchmark: PCMark 7
7.
Benchmark: 3DMark 11
8.
Benchmark: PassMark PerformanceTest 7.0
9.
Benchmark: SuperPI 1M, Cinebench R11.5
10.
Overclocking and Conclusion