Page 10 - Overclocking and Conclusion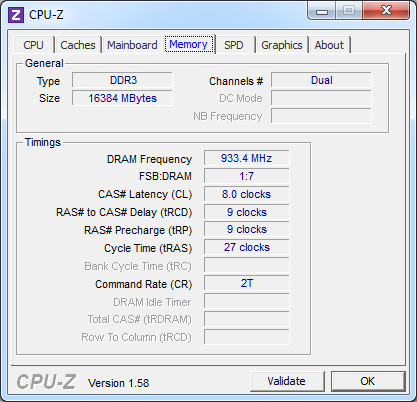 Ever since Intel's second generation Core processors hit the market, it really made a reviewer's job a lot easier. For the lazy bunch of us, overclocking memory used to involve fine tuning of the front side bus or base clock of the processor to precisely measure the maximum attainable RAM speed. Since Sandy Bridge's base clock is practically locked down, and for practical purposes, capped voltage at 1.65V, the only practical way of testing this is to see if the tested modules can notch up an entire step. With the G.Skill Ares F3-1600C8Q-16GAB 4x4GB, the short answer is a simple 'yes' -- but the story does not end here. As always, I took the voltage up from 1.5V to 1.65V. Next, I tried to see if it is possible to run at DDR3-1866 at relaxed latencies of 9-9-9-27. Pleased with the stability of the system, I started tightening up the timings to 8-9-9-27 without any issues at all in stress testing. Unfortunately, it won't do CL7 at stock frequencies, nor is DDR3-2133 possible at 10-10-10-30 -- but that is just asking too much. DDR3-1866 8-9-9-27, by any standards, is very impressive for a 4x4GB kit designed to run at DDR3-1600.
-----------------------------------------
While many RAM manufacturers are content with being the same as everyone else, and compete only with price and warranty, the G.Skill Ares F3-1600C8Q-16GAB 4x4GB sets itself apart in a number of very crucial ways. Firstly, the looks. Okay, you say it is not important. But why do you think memory heatspreaders are so popular, despite the fact that it will do just fine without? The answer is simple -- it looks cool, and it sells. The blue custom shaped heatspreaders will look great in any windowed chassis. Secondly, the physical profile. Yes, big heatspreaders look great -- until you realize that it doesn't clear your large CPU heatsink, forcing you to remove it and resort to some naked memory modules. The G.Skill Ares will fit neatly under any setup, so rest be assured that it will always remain as beautiful as you have first seen it. Thirdly, the performance. At stock DDR3-1600 8-8-8-24, it is not impressive. But once you bump the voltage up to 1.65V from 1.50V, it is all magic and more. Our 4x4GB kit ran perfectly stable at DDR3-1866 8-9-9-27. Awesome? I think so. Retailing for about $135 at press time, this quad channel kit not only offers great value for your money, but also a lot of performance for the cash. The way I see it, pack these under the hood of your computer -- because you will want the Greek god of war on your side.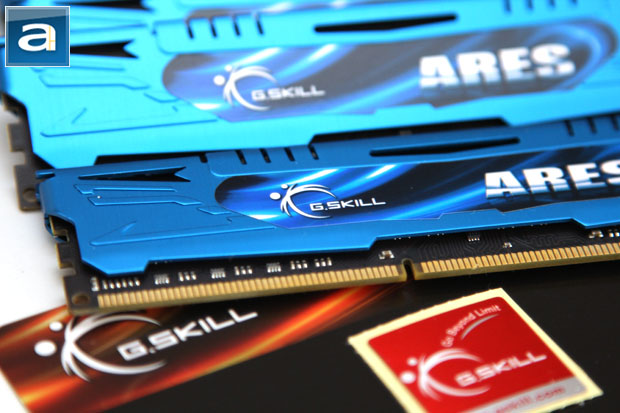 G.Skill provided this product to APH Networks for the purpose of evaluation.

APH:Renewal Award
Since April 30, 2007, Number Ratings have been dropped for all CPUs, motherboards, RAM, SSD/HDDs, and graphics cards. This is to ensure the most appropriate ratings reflected without the inherent limits of using numbers. Everything else will continue using the Number Rating System.
More information in our Review Focus.
Once again, G.Skill's Ares F3-1600C8Q-16GAB 4x4GB quad channel memory kit is a winner in our books -- packing practicality, performance, and value all in one package.
Do you have any comments or questions about the G.Skill Ares F3-1600C8Q-16GAB 4x4GB RAM? Drop by our Forums. Registration is free, and it only takes a minute!
---
Page Index
1.
Introduction, Packaging, Specifications
2.
A Closer Look, Installation, Test System
3.
Benchmark: AIDA64 CPU
4.
Benchmark: AIDA64 FPU
5.
Benchmark: AIDA64 Memory
6.
Benchmark: PCMark 7
7.
Benchmark: 3DMark 11
8.
Benchmark: PassMark PerformanceTest 7.0
9.
Benchmark: SuperPI 1M, Cinebench R11.5
10. Overclocking and Conclusion