By: Jonathan Kwan
December 17, 2013
As we come together and lament OCZ's bankruptcy in late November and its purchase by Toshiba earlier this month, let's take a moment to remember how such a young technology company has come to revolutionize the computer market in the last decade or so. I vividly recall buying a pair of Corsair Value Select PC3200 2x512MB dual channel kit in 2004 for a rock bottom price of $206.98, simply because I could not afford anything better. What I really wanted, of course, were the OCZ EL Platinum 2x1GB, but for $400 at that time, it was a little too much money for someone who was in Grade 9. So why were OCZ RAM so popular? Obviously, they were fast -- but in my personal opinion, it was really because they first ones to slap a heatspreader on practically every model they sold. Sure, the heatspreaders really didn't do anything performance-wise, but who cares? This was a resounding success, because the company sold tons of memory kits, and everyone else had no choice but to follow suit. Over the years, OCZ went pretty crazy with their heatsink designs, like the copper heatpipe enabled Reaper HPC, the ReaperX HPC with a even more intense setup, and who could forget the water cooling capable OCZ Flex XLC? Unfortunately, all these crazy heatspreader designs posed a major issue with the same people who also own large CPU heatsinks. It was not until recently that companies finally came to their senses, and decided to strike a balance between marketing and practicality by implementing low profile heatspreaders with their RAM. Today, we will take a look at the Patriot Viper 3 Low Profile PC3-17000 4x8GB. As its name suggests, it carries a low profile heatspreader. However, unlike the name it suggests, it is not modest in speed and capacity. Is this time kit that will rock you Christmas tree next week? Read on to find out!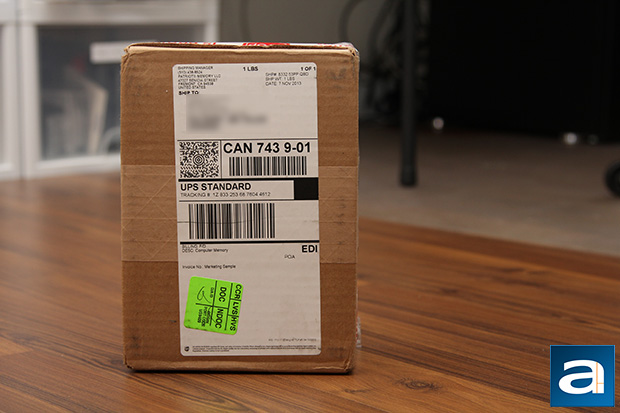 Our review unit of the Patriot Viper 3 Low Profile PC3-17000 4x8GB quad channel kit came in a small, brown corrugated cardboard box from the company's American headquarters in California, USA. For the last few products from Patriot Memory, they arrived using Canada Post via USPS as it crossed the border from USA, so it was refreshing to see UPS Standard being commissioned once again for this job. Maybe they heard we are not as slow to get reviews out anymore, haha. The men in the brown suits handled everything well, and landed here in our Calgary, Alberta, Canada location in perfect condition one week after it was sent. Being an epic DDR3-2133 32GB kit, we took no time to take a look at the beast that resides within.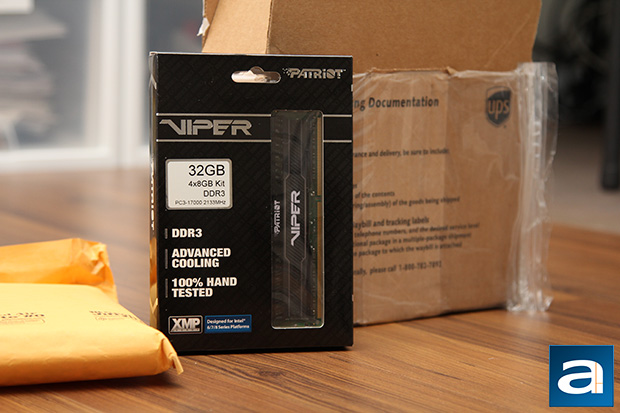 What do you expect in packaging from a RAM kit that promises to delivers on high speed and maximum capacity? Pretty low profile, to be honest. Pun intended and all. As you can see in our photo above, the Patriot Viper 3 Low Profile's retail box design is very similar to the Patriot Intel Extreme Masters PC3-17000 2x4GB we have reviewed last year; another DDR3-2133 set. I am a big fan of products that come in an actual retail box, and not a blister pack. The flat black background is certainly very appealing to my tastes; a vertical window on the right side shows off the memory module itself with aluminum heatspreaders in the same color. The company's logo is located at the upper right hand corner. Meanwhile, on the left half portion of the box, you will find a label indicating its speed, configuration, and capacity, followed by three feature highlight bullets below. Inside the box are two separate clear plastic clamshell packages. In other words, it is kind of like purchasing two dual channel kits together, which is basically what it is.
Before we move on, let's take a look at the features and specifications of the Patriot Viper 3 Low Profile PC3-17000 4x8GB, as obtained from the manufacturer's website:
Series: Viper 3
Edition: Black Low Profile
Capacity: 32GB (4 x 8GB)
DIMM Type: 240-Pin NON-ECC UDIMM
Voltage: 1.5V
Tested Frequency: PC3-17000 (2133MHz)
Tested Timing: 11-11-11-30
Base Frequency: PC3-12800 (1600MHz)
Base Timings: 9-9-9-24
Feature Overclock: XMP 1.3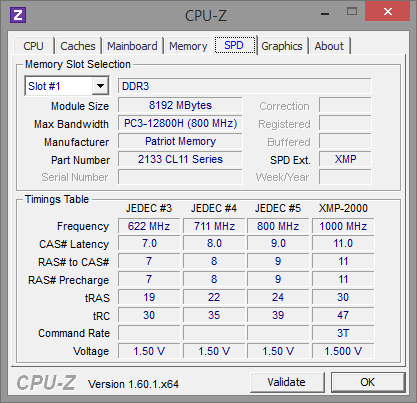 A screenshot of the memory tab in CPU-Z with Patriot's Viper 3 Low Profile PC3-17000 4x8GB installed. The SPD timings table in CPU-Z reads standard JEDEC specifications programmed into the memory, as well as Intel XMP data for running the memory at DDR3-2000. This is incorrect, because these are DDR3-2133 RAM. Using the latest BIOS revision, our Intel Desktop Board DZ77GA-70K motherboard used for testing had no issues detecting and working with the Patriot kit, but we had to manually set the memory to run at DDR3-2133. In our screenshot provided above, this dual channel kit runs at 11-11-11-30 latencies, which is correct; but the frequency is not. The Patriot Viper 3 Low Profile PC3-17000 4x8GB retails for approximately $350 at press time.
---
Page Index
1. Introduction, Packaging, Specifications
2.
A Closer Look, Installation, Test System
3.
Benchmark: AIDA64 CPU
4.
Benchmark: AIDA64 FPU
5.
Benchmark: AIDA64 Memory
6.
Benchmark: PCMark 7
7.
Benchmark: 3DMark 11
8.
Benchmark: PassMark PerformanceTest 7.0
9.
Benchmark: SuperPI 1M, Cinebench R11.5
10.
Overclocking and Conclusion