By: Jonathan Kwan
February 5, 2016
Is it possible to live without a car in places like Calgary? In my personal opinion, it is not. The truth is, once you are past a certain hour, and want to get to a place far away from a train station, there are literally more flights to Toronto per hour than buses running to the neighborhood next to you. However, I have a few friends who managed to live without a license even up until this point, and it sort of blows my mind. To see how it is to live like them, about a month ago, I decided to go a whole day without my car. In the morning, I hitched a ride with my dad, who dropped me off at the university. I stayed until evening, where I was to attend an event. After the event, I got a ride with my friend to church, where we met with a few other friends. From there, we decided to go out for food, so I got a ride there as well. When we were done, someone drove me home. What can I say? I was successful, although some of my friends were a bit skeptical at first, because they explained to me I was not a girl, like my friends without licenses. Of course, this brings about the question: Why were my friends skeptical about my plan, because I was not a girl? Clearly, although the ability to hitch a ride with others is probably more dependent on other people's willingness rather than your gender, your gender will certainly play a role in their willingness. Projecting into the keyboard world, what makes a keyboard desirable? The intrinsic factor is probably the typing experience, but nowadays, I think it is more than that. With the popularity of RGB backlights and epic illumination effects like the SteelSeries Apex M800, your keyboard's ability to put on a light show is no longer a tertiary factor. Today, we will take a look at the G.Skill Ripjaws KM780 RGB mechanical keyboard. With some pretty cool lighting effects under the hood, here is my proposition: Although the desirability of a keyboard is probably more dependent on its typing experience rather than its lighting effects, its lighting effects will certainly play a role in its desirability. Let us see if G.Skill's first foray into the keyboard market is a winner on both fronts!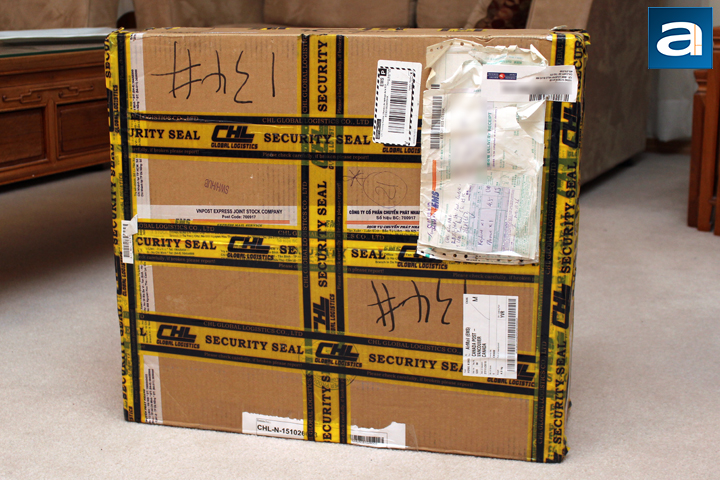 After picking up the package from the post office shown in the photo above, I was a little perplexed as to what could be inside. What is CHL, and who is shipping things to us from Hong Kong? As it turned out, it was from G.Skill, and it contained the Ripjaws KM780 RGB keyboard we are reviewing today, as well as the MX780 RGB mouse reviewed by my colleague Aaron Lai last month. As Aaron pointed out in his review, CHL is a Hong Kong based transportation company, and it probably arrived to us here in Calgary, Alberta, Canada via air freight at some point. What made me think that? Well, there is clearly an ocean between North America and Asia, and if it came by ship, it would probably have taken a lot longer than a week. Anyway, upon inspection, the shipping label was all torn up, but the brown corrugated cardboard box still arrived in good condition. With all the tape all around, the company made sure no one tampered with the internal contents. Inside, several layers of packing paper protected our review samples as it made its trip half way across the world. With that in mind, we dug further down, and got straight to work.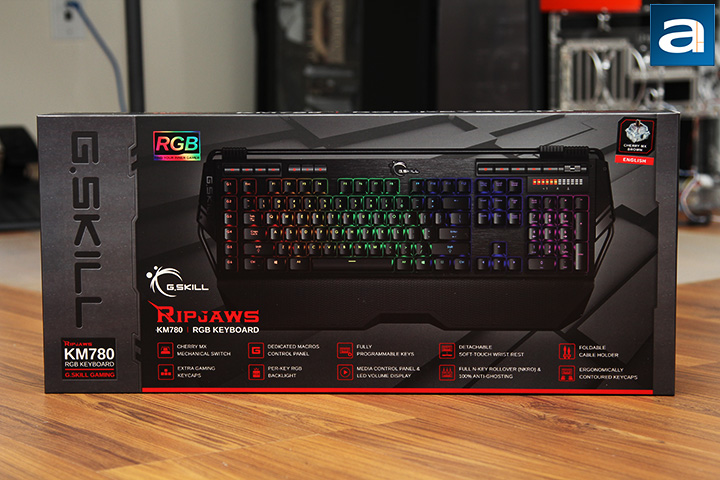 Our review unit of the G.Skill Ripjaws KM780 RGB arrived in retail packaging. The box art is quite appropriate for a gaming product. The monochrome metal color scheme is accentuated by strikes of red to intensify the mood. On the left, G.Skill's logo is printed on a metal textured plate, along with a badge indicating its model name. This is somewhat redundant, since the same information is shown immediately adjacent to it on the right, haha. Prominently displayed front and center is a photo of the Ripjaws KM780 keyboard itself, showing off its RGB backlighting capabilities in all its glory. A matrix of icons and captions are placed along the bottom to highlight some of the features of this product, such as its Cherry MX mechanical switches, fully programmable keys, detachable soft-touch wrist rest, and ergonomically contoured keycaps. The key switch variant is shown at the top right corner, which, in our particular case, is the Cherry MX Brown version. At press time, you can also buy the KM780 RGB in MX Red and MX Blue. More feature highlights, displayed in a labeled diagram form, is found at the back of the retail box.
Before we move on, let us take a look at the specifications of the G.Skill Ripjaws KM780 RGB, as obtained from the manufacturer's website:
Series: KM780 Mechanical Gaming Keyboard
Keyboard Type: Mechanical
Key Switch: Cherry MX Brown Switch
Backlighting: Yes
Anti-Ghosting: Yes
Full N-Key Rollover: Yes
Gaming Mode Option: Yes
On-board profile: 3
Additional Macro Keys: 6
Dedicated Media Control Panel: Yes
Audio-in and Microphone-out: Yes
USB Passthrough: Yes
Mouse Cable Holder: Yes
Detachable palm rest: Yes
Dimensions: 518 x 172 x 48 mm
Dimensions w/ palm rest: 518 x 228 x 48 mm
Weight: 1.36 kg
Weight w/ palm rest: 1.54 kg
Warranty: 2-Year Limited Warranty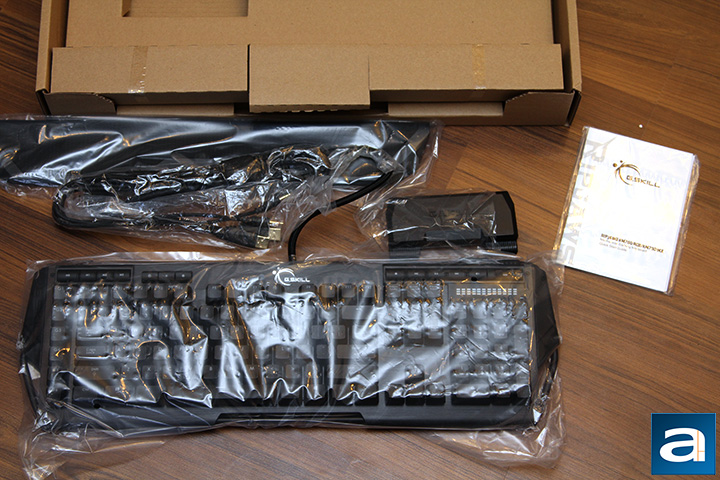 Contents inside the retail package can be removed after opening either the left or right flap on the exterior box. The keyboard, in conjunction with a small amount of accessories, is secured inside a cardboard tray enclosed by a flap top. As you can see in our photo above, the bundle is pretty standard. Out of the box, in addition to the G.Skill Ripjaws KM780 RGB keyboard, you will receive a wrist rest, keycap case (More on this later), and a quick start guide. Everything is nicely wrapped in lots of plastic to ensure contents arrive safely and in pristine condition to the end user.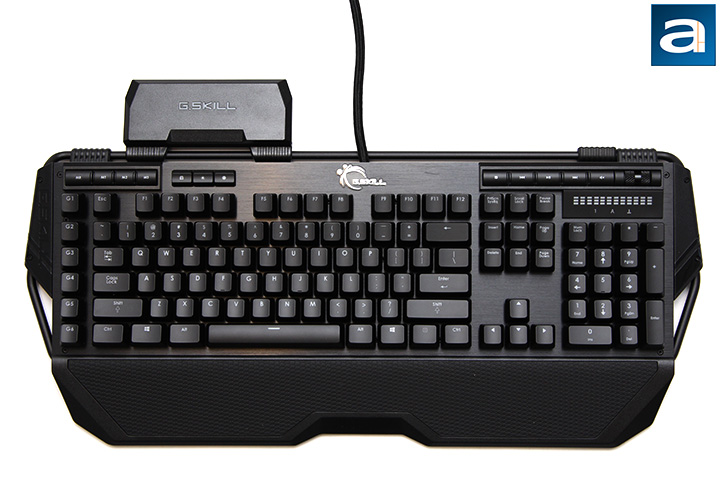 When I first saw the photos of the G.Skill Ripjaws KM780 RGB on the company's website, my first thought was, "Wow, this keyboard looks tacky." I have always been a big fan of simply designs, and I was not sure if I would actually like the Ripjaws KM780 RGB for this reason. However, after opening the box, I realized G.Skill's first foray into the mechanical keyboard world was not as tacky as the stock photos suggest. Sure, it is not something you would expect coming out of 1 Infinite Loop anytime soon, but the visual complexity was offset in the real world by its clean lines and straight, sharp edges. Material selection is also a big contributing factor. G.Skill says the KM780 RGB uses "military-grade brushed aluminum plate with black anodized finish" for maximum durability and visual elegance, and for the most part, I have to agree. With front exposed screws, metal tubing around the external perimeter, and varied platforms, the G.Skill Ripjaws KM780 RGB carries a strong industrial-military overtone. Having a cool to touch surface is definitely a big plus. If you are a computer gamer fragging hard on your PC, this keyboard will complete the look of your battle station.
The G.Skill Ripjaws KM780 RGB's wrist rest is fully detachable from the main unit. Actually, before we even get to that, I am happy G.Skill supplies a wrist rest in the first place. A lot of manufacturers think wrist rests are necessary for low end keyboards, but when it comes to their high end mechanical ones, they suddenly go missing. The wrist rest attaches securely to the main unit by two solid plastic clips. The surface of the wrist rest is textured for those sweaty palms, and while it is not exactly rubber, it is soft touch for a pleasant experience. My only complaint is the bump in the middle, which makes it come out a bit short when you move your right palm near the center of the Ripjaws KM780. I understand this is a design element, but I prefer functionality over form in this case.
The G.Skill Ripjaws KM780 RGB measures in at 518mm width, 172mm depth, and 48mm height. The depth extends to 228mm with the wrist rest attached. This is a little larger than a standard QWERTY keyboard, but it certainly is not out of hand. To go along with its medium footprint and medium profile, the keyboard weighs about 1.36kg without the wrist rest, and 1.54kg with the wrist rest according to the manufacturer. This is pretty heavy, to which my colleague Aaron Lai pointed out, "Do you even lift, bro?" -- but this is expected from a mechanical keyboard.
If you do not know what a mechanical keyboard is, there are three main types of keyboards in the market today. The cheapest is the membrane keyboard, which is the easiest to make, but also has poor typing feel and response due to squishy keys. A scissor switch keyboard has its own independent keyswitch mechanism for each key, which delivers improved tactile response and typing experience. Modern scissor switch keyboards can be very good for everyday office use. Mechanical keyboards such as the G.Skill Ripjaws KM780 RGB costs the most, because each keyswitch is an independent part. Like all mechanical keyboards, the KM780 with Cherry MX Brown mechanical switches is quite audible to type on, but certainly not the loudest. The KM780 is also available with Blue or Red switches. Cherry MX Brown is like a silent MX Blue. It still has a small tactile bump, but it is much lighter than the Blue for extended periods of typing. In gaming, you can hold the switch above the actuation point, which can be beneficial. The maximum key travel distance is 4mm, with actuation at 2mm. With an actuation force of 45cN with a light tactile bump, our G.Skill Ripjaws KM780 RGB variant will feel different than non-mechanical keyboards, but not as drastic as going to linear switches. Personally, I think this keyboard is an absolute pleasure to type on. If you are looking for a mechanical keyboard that will not completely change the way you type, Cherry MX Brown is a great choice. It is rated for fifty million operations like other Cherry MX switches. As expected, the base is rock solid, so you will not get any keyboard flex, which is excellent.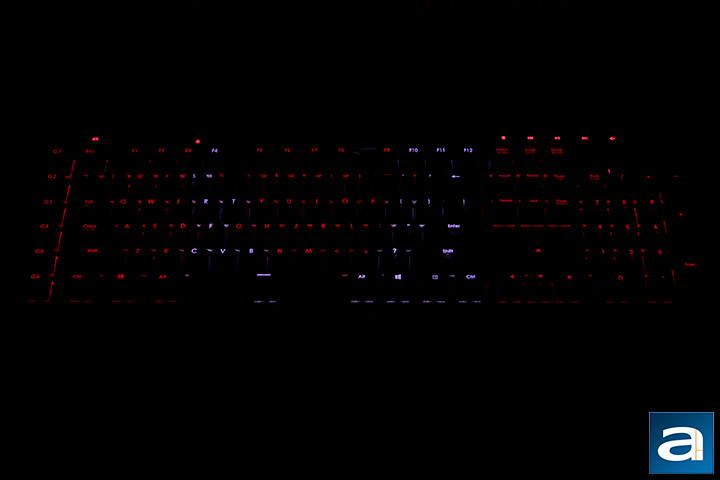 The Ripjaws KM780 is available in two versions; one with standard lighting, and the other with RGB illumination. Ours is the RGB version, and while it is not nearly as epic as the SteelSeries Apex M800 in using lighting effects to present information, the G.Skill Ripjaws KM780 RGB can still put on quite a light show. Similar to the Apex M800, the company took it to the extreme, and allowed every key to be individually configurable. This means with 16.8 million colors to choose from, you can make every key a different color. Exactly why you would like to do that is beyond me, but I am just saying you can do it. I did away with the American flag mode available on the M800, and decided to custom make my own Canadian flag mode in the KM780 instead, but I have pretty terrible artistic skills, so I am not sure if you can even tell in the above photo. Anyway, the only colors you cannot change are the keys at the top, including the M keys, keyboard features set, media buttons, volume indicator bar, and status indicator LEDs, which are always lit red.
Besides constant key illumination, there are four lighting effects available on the G.Skill Ripjaws KM780 RGB. This includes Wave, which scrolls colors from left to right or right to left. Ripple shows the default color, then ripples outward when a key is actuated. Reactive is quite similar to Ripple, except it only affects the row the key is on, as well as any immediately adjacent keys. Breathing, as its name suggests, will fade colors in and out. All lighting effects can be configured to have up to three main colors to create a gradient effect. Personally speaking, I found these effects extremely annoying, and after using them for about a minute, it literally made me feel nauseous. I guess every RGB keyboard on the market has these lighting effects, so in order to not be panned by reviewers for a "missing feature", manufacturers have no choice but to code it in. I would never use any of these lighting effects in real life. It is simply way too distracting.
The G.Skill Ripjaws KM780 RGB's key illumination distribution is not very even. For keys with more than one line of text label, you will notice the top half is significantly brighter than the bottom half. This is due to physical design limitations of Cherry MX switches, as you can see in our photo above. This is no different than the Func KB-460, but Func has managed to mostly get away with this problem by avoiding double line text labels as much as possible. That said, you can clearly see the light below and around the keys, because the KM780 has an exposed, rather than recessed, plate.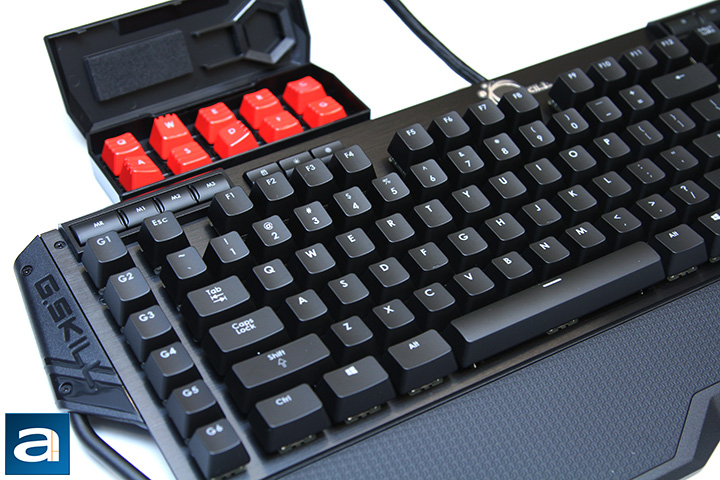 A closer shot at the left side of the G.Skill Ripjaws KM780 RGB. You can grab a glimpse of its ergonomically contoured keycaps. As you can see in the photo above, six dedicated user programmable keys labeled G1 through G6 are located here. Of course, every key on the KM780 can be programmed individually, and function as any standard keyboard key, mouse button, media control, application, text, or so forth. You can record macros as well. The software allows you to create a virtually infinite number of profiles for different key configurations and lighting effects. The G.Skill Ripjaws KM780 RGB has onboard memory with space for one profile, which can contain up to three modes, so your settings can go with the keyboard.
A few other custom buttons are located along the top left edge of the KM780. The first set at the top left corner is labeled MR, M1, M2, and M3, as shown in our photo above. Activating MR will let you to quickly record macros. M1, M2, and M3 corresponds to Mode 1, Mode 2, and Mode 3, respectively, which allows you to quickly select between three independent layers of key configurations and lighting effects. On the right side of the M buttons are three more. The first one from the left is Windows lock, which disables the Windows key. This is an important feature in any gaming keyboard, because let us face it: How many times have you tried to duck in your favorite FPS while engaging an enemy, only to be killed instantly, because you missed the "Ctrl" key and your game was minimized? Beside it is the brightness button to toggle between four brightness settings, where the lowest is off. The Timer button is probably the most interesting one. Once activated, after a preset period of time configured in software, the KM780 can enter into a lighting effect mode, and flash some text on screen to keep you reminded of... something.
I have also attached a keycap case to the left corner of the G.Skill Ripjaws KM780 RGB. It is made to look like an ammo box to accentuate the keyboard's gaming theme, and can be detached at any time. Inside it are ten red keycaps and a puller. The red keycaps are Q, W, E, R, C, A, S, D, F, and G. All of them are specially textured, so you can feel them in addition to seeing them when it is dark. Furthermore, the W, A, and D caps are raised at a sharper angle, so you will never miss a move in your favorite first person shooter.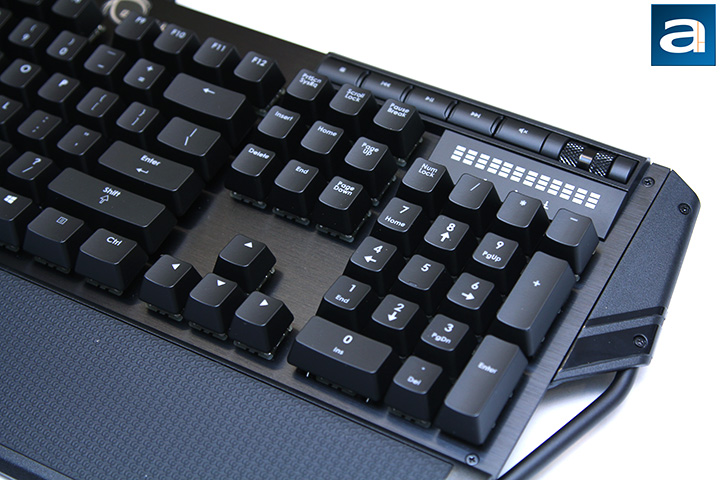 Everything here is pretty standard in terms of layout. I am a big fan of the single row Enter key, as present on our US QWERTY G.Skill Ripjaws KM780 RGB. Keyboards with a double row Enter key usually means the "\" button is moved to the left side of the right "Shift" key; reducing the size of the latter. I am more used to having a full width Shift on the right, and a half height Enter. Obviously, this is more or less personal preference, but having a half height Enter key makes a lot more sense to me.
Three standard indicator LED corresponding to Num Lock, Caps Lock, and Scroll Lock, respectively, can be found above the number pad. They glow red when activated, and cannot be changed. An integrated digital LED volume display bar is next to it, which I found to be pretty useful. At the top, a full set of media control buttons are present. From the left, we have stop, skip back, play, skip forward, and mute. Finally, a die cast volume roller ends off the media control set for you to increase or decrease volume with style. It is even cool to touch, thanks to the metal construction.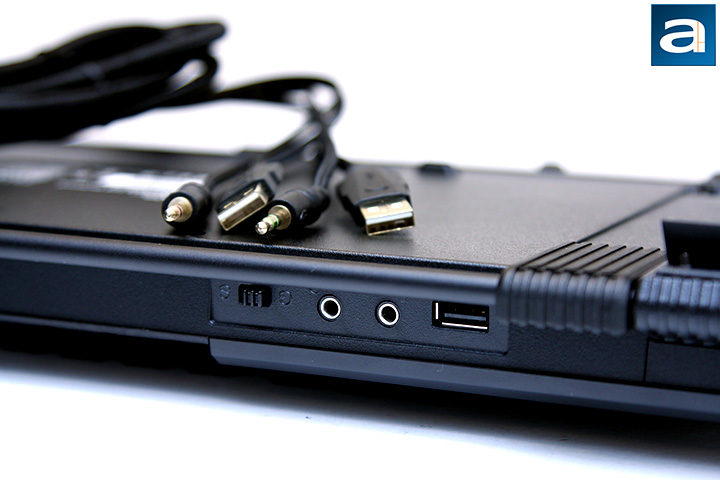 The G.Skill Ripjaws KM780 RGB is a full NKRO keyboard. It can be changed to 6KRO for compatibility reasons by a switch at the back labeled "G" and "S". "G", which I assume stands for "Gaming", will activate NKRO mode, while "S", which I assume stands for "Standard", will revert to 6KRO mode. NKRO stands for N-key rollover. If you have used keyboards with limited NKRO capabilities, you may have experienced ghosting issues in the past -- where when too many keys are pressed at the same time, your system unable to register any more strokes. A full NKRO keyboard like the G.Skill Ripjaws KM780 RGB overcomes this by independently polling each key, making all inputs detectable by the hardware, regardless of how many other keys are activated at the same time. This mean in the event you have every other key on your keyboard depressed, it will still register the last stroke. While this is a highly unlikely scenario, since you have only ten fingers, but this is as good as it will get.
At the back of the G.Skill Ripjaws KM780 RGB is its cable lead out. It comes out right in the middle, and is not detachable. This nicely braided cable is uber thick, and extends about 2m in length to connect to your computer via a pair of gold plated USB connectors, where the extra connector is there to supply extra power for the USB 2.0 port, as shown in our photo above. When we bring about the question of whether gold plated connectors are actually useful or not, let us just say if it was the actual pins, then possibly -- since gold offers better conductivity than other metals. This theoretically establishes a better connection with your computer, but on a digital signal level, we must understand it is a discrete one or zero; so if anyone tells you they can tell the difference, you can definitely defeat their theory with a double blinded test. Additionally, if you are referring to the gold part of the connector you see on the plug, I would like to point out it actually does not make any physical contact electrically with your computer. In other words, it is nice to have, and it is pretty to look at, but it is not anything significant on a practical level. It may be useful for the 3.5mm microphone and headphone jack passthrough though.
At the bottom are two rubber strips at the back and two rubber strips in front to help the Ripjaws KM780 RGB stay in place during intense gaming sessions. If you flip out the risers, you will lose the front grips, but this is not a deal breaker, since I personally do not use risers, and even if you did, you will be concentrating most of your forces at the back anyway. This is not to mention this G.Skill keyboard is pretty darn heavy by itself. Next to the USB port is a cable holder clip, which can be flipped out to guide your mouse cable, and prevent it from getting in your way. No keyboard drain holes are available, so be sure to keep your Mountain Dew far away.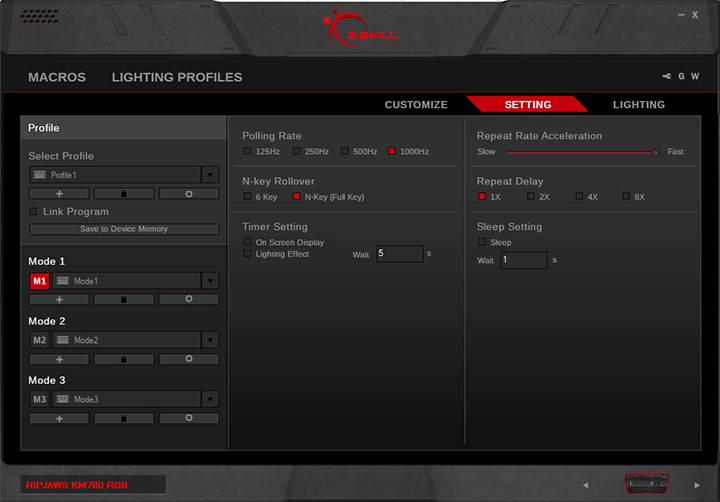 The Ripjaws KM780 RGB is managed by the G.Skill Unified Driver System software; the same program used for other hardware from the company like the G.Skill Ripjaws MX780 RGB. Upon installation, it will automatically update your keyboard firmware to the latest version. Here, you can custom tune everything from key illumination color to custom macro combinations. G.Skill's Unified Driver System is reasonably easy to use, with a clean and relatively intuitive interface. I have read quite a number of complaints about it, but it seems the issues reported by users has been mostly fixed at press time -- mine was up and running in no time.
The program is essentially divided into two parts. The first is for configuration, while the second is for implementation. The top left corner has two tabs for configuration, labeled "Macros" and "Lighting Profiles", respectively. In the Macros tab, you can record and save your macros and texts. In the Lighting Effects tab, you can customize and save your profiles by selecting options such as colors and duration for any of the four lighting effects described earlier. Under that are three tabs for implementation, labeled "Customize", "Settings", and "Lighting", respectively. The Customize tab allows you to assign keys, including the implementation of macros as prescribed in the Macros tab. Our screenshot above shows the Settings tab, which should be quite self-explanatory. Here, you can set things like polling rate, timer behavior, repeat rate acceleration, and so forth. Lastly, the Lighting tab allows you to control the backlight color of every key independently (You can also do it in groups, or just set one color for the entire keyboard), or implement the lighting effects configured in Lighting Profiles earlier. Live preview is on by default, but be sure to hit "Save to Device Memory" when done.
-----------------------------------------
Although the desirability of a keyboard is probably more dependent on its typing experience rather than its lighting effects, its lighting effects will certainly play a role in its desirability. How did the G.Skill Ripjaws KM780 RGB fare in all these factors? Well, let us start off with some intrinsic elements. The Ripjaws KM780 is everything you would expect from a quality mechanical keyboard with Cherry MX switches -- great typing experience, proven reliability, and industry leading performance. G.Skill has also done a wonderful job in making a well-constructed product, using solid aluminum plates for a substantial feel and visual elegance. I can see the company has also put a lot of thought into designing the KM780; additional features like the die cast volume roller, LED volume bar, countdown timer, 6KRO/NKRO switch, special keycaps, onboard memory, 3.5mm microphone and headphones passthrough, the list goes on -- G.Skill's Ripjaws KM780 RGB has pretty much every feature you would ever want in a high end gaming keyboard. Heck, it even comes with a soft touch wrist rest! Of course, whether you like the way the industrial-military overtone is up to you, because as much as it fits in with a PC gamer's battle station, I found it to look a little more complex than I would have liked, although this is just my personal opinion. I do not even have much to complain about when it comes to the software. My main recommendations for improvement I have, funny enough, comes down to its lighting system. Firstly, due to the nature of the keyswitches, the caps are not evenly lit. This can usually be avoided by not printing on the bottom half of the key, which G.Skill did not do. Secondly, lighting effects can be made more useful. Independent key lighting is awesome, but competitors like SteelSeries has already managed to take products like their Apex M800 to the next level by using the keyboard backlight as visual indicators to convey in-game information. Having only four animation effects is either not enough or not very useful in the real world. Lastly, some lights are not RGB. It would have been nice if those were also user configurable. Either way, for about $130 at press time, the G.Skill Ripjaws KM780 RGB is not cheap, but you certainly do get a lot for your money. The keyboard may not win the game on lighting effects, but it certainly got all of the intrinsic elements right.
G.Skill provided this product to APH Networks for the purpose of evaluation.

APH:Renewal Award | APH Review Focus Summary:
8/10 means Definitely a very good product with drawbacks that are not likely going to matter to the end user.
7/10 means Great product with many advantages and certain insignificant drawbacks; but should be considered before purchasing.
-- Final APH Numeric Rating is 7.8/10
Please note that the APH Numeric Rating system is based off our proprietary guidelines in the Review Focus, and should not be compared to other sites.
The G.Skill Ripjaws KM780 RGB is well thought out mechanical gaming keyboard with all the features you have been looking for.
Do you have any comments or questions about the G.Skill Ripjaws KM780 MX? Drop by our Forums. Registration is free, and it only takes a minute!