By: Jonathan Kwan
September 26, 2014
When my colleague Aaron Lai linked to my Gigabyte GA-P67A-UD5-B3 introduction regarding the "hypothetical" Javad character in his Kingston HyperX Cloud review two weeks ago, it came to me how ironic the world can be. For one thing, I described a teaching assistant as "underpaid graduate students who are overworked slaves to Dr. WhoeverHisNameIs". Well, as I sit here writing this review, I can no longer endorse that comment. The reason is simple. Three and a half years after that review was published, I am now a graduate student, who is -- by the way of all irony -- a teaching assistant. Because I stepped into the Master of Science in Electrical Engineering program right I finished my university degree, and being Asian and all, I can easily get away with looking like an undergraduate student. Recently, I attended a lecture for the class I am helping out with. I quietly sat at the back, and all the other students simply thought I was one of their classmates. Half way through the session, the professor introduced me as the TA. Suddenly, everyone turned around with an essence of awe, while I smiled and waved at their visibly surprised faces. As you can see here, it really does not matter if I look like one of them, the fact is, I am not. As we discuss yet again on the concept of appearance versus reality, here what I want to get through to you today: Did APH Networks not already review the Func KB-460? We absolutely did. However, the original KB-460 came with Cherry MX Red switches. The KB-460 we are reviewing today may look exactly the same, but underneath the keycaps are Blue switches instead. Just because something looks the same on the surface, does not mean they really are. Read on to find out if this ostensibly identical keyboard can roll out a different rating in our evaluation today!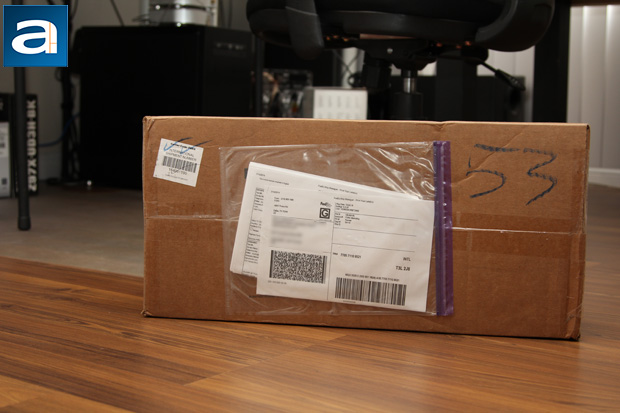 Our review unit of the Func KB-460 with Cherry MX Blue switches came in a moderately sized, brown corrugated cardboard box from the company's American headquarters in Dallas, Texas. This is the exact same sized box that carried the Func KB-460 with Cherry MX Red switches to us back in December 2013. Using FedEx Ground, it made its trip up north to the APH Networks headquarters here in Calgary, Alberta in excellent condition, as always. There were no visible damages anywhere, and as such, we cracked it open ourselves, and began to work.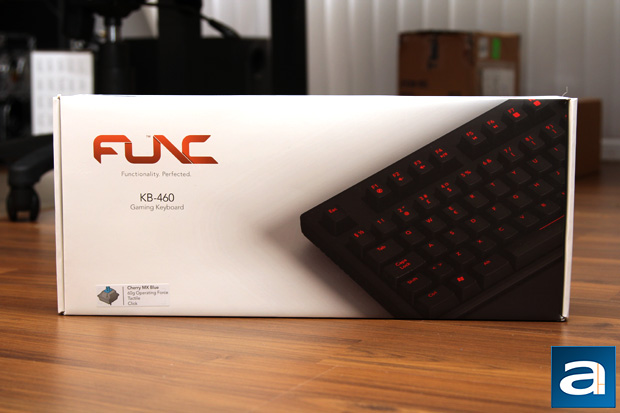 The retail packaging is almost exactly the same as the Func KB-460 with Cherry MX Red switches I have reviewed last year. In fact, other than the sticker in front to show this is the Cherry MX Blue version, it is completely identical. Last year, I said the box was so unusually compact, I got worried for a moment I misread the Func KB-460's product page, and the keyboard did not actually come with arrow and function keys or something. By now, I have gotten used to it; the KB-460 is definitely not a CM Storm QuickFire TK Blue clone -- this is a full sized, full featured keyboard. Func's branding is consistent across their product line, as we have seen with their HS-260 headset and MS-3 mouse. The retail box is very simple and unusually clean for a gaming company. All you will see in front is Func's logo, slogan, and keyboard name in the upper left quadrant, Cherry MX Blue sticker at the bottom left corner, and a portion of the keyboard on the right half. At the back, you will some feature highlights of the KB-460. Overall, I am a big fan of Func's latest retail packaging design.
Before we move on, let's take a look at the specifications of the Func KB-460 with Cherry MX Blue switches, as obtained from the manufacturer's website:
Switch type: Cherry MX Blue
Key design: Cylindrical
Anti-ghost: Full N-key roll over
Backlit: Individual LED's on each key
Memory: Onboard 128 KB
Connect-through ports: 2 x USB 2.0
Cord length: 1.8m (braided)
Connector: USB 2.0 (gold plated)
Dimensions: 448x198x33 mm
Net weight: 1245g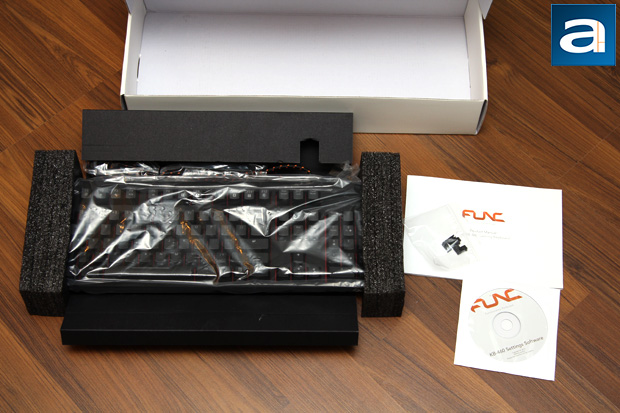 With "Functionality. Perfected." as the company slogan, you would expect their products to focus a lot on its... well, functionality. The way I see it, this functionality statement is clearly portrayed even before I opened the package, but was further reinforced when I took a look inside. Out of the box, you will receive everything you will need, and nothing more. Securely clipped between two Styrofoam brackets is the Func KB-460 keyboard itself contained in a clear plastic bag, while its detachable wrist rest is wrapped inside a separate piece of white foam. Two plastic clips used to attach the wrist rest to the keyboard are located inside a resealable plastic bag; more on this later. On the product literature side, a color manual is included, along with a separate sheet of paper telling you where to download the software. A driver CD is nowhere to be found, but this is okay. If you don't have internet, please send me an email, and let me know how you came across this review.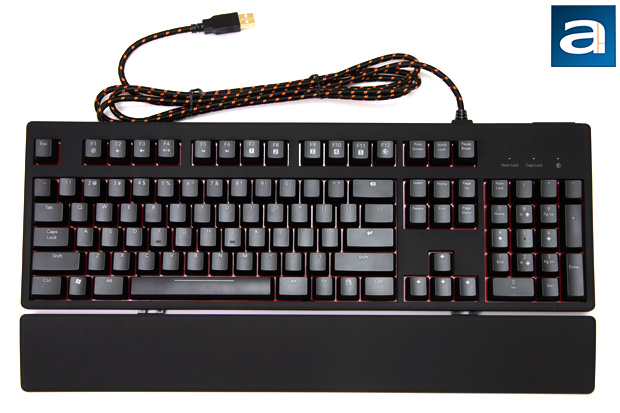 At first glance, the Func KB-460 is as down to earth as it gets. If you are looking for what the definition of a traditional keyboard is, look no further than this. With straight edges, no macro keys, and a practically reference layout, you will have to look pretty closely to see what sets the KB-460 apart. Indeed, the devil is in the details. Its platform beneath the keys is colored red to give it a little more style, while the entire surface of the keyboard -- sans the keys, of course -- is finished with a smooth rubber coating. Just to note, even our Cherry MX Blue version of the KB-460 has red accents. I have certainly seen rubber coated surfaces in mice before, but on a keyboard? This is certainly a first for me. The rubber coating is soft to touch, fingerprint and mark resistant (Unless you have super sweaty hands), and provides a good sense of grip. The detachable wrist rest is covered with the same rubber coating as well. The best part about this is it is very comfortable in every day usage.
Speaking of the Func KB-460's wrist rest, it is fully detachable from the main unit. As I have mentioned earlier on in this review, it is designed to be connected to the keyboard via two plastic clips. While it is reasonably intuitive to use, I am not a big fan of this design. For one thing, the friction grip on the wrist rest from the plastic clips is not secure at all. This means the wrist rest will fall off easily if you were to move the keyboard around. Secondly, due to the way the plastic clips are designed, there is a lot of off-axis play. Thirdly, when the keyboard is flat, there is a sizable gap between the wrist rest and the keyboard itself. If there is one thing that Func has not done right with the KB-460, this will have to be it.
The Func KB-460 measures in at 448mm width, 198mm depth, and 33mm height. This is as compact as a standard QWERTY keyboard will go. To go along with its medium footprint and medium profile, the keyboard weighs about 1245g according to the manufacturer. This is pretty heavy, but this is expected from a mechanical keyboard. If you don't know what a mechanical keyboard is, there are three main types of keyboards in the market today. The cheapest is the membrane keyboard, which is the easiest to make, but also has poor typing feel and response due to squishy keys. A scissor switch keyboard has its own independent keyswitch mechanism for each key, which delivers improved tactile response and typing experience. Modern scissor switch keyboards can be very good for everyday office use. Mechanical keyboards such as the Func KB-460 costs the most, because each keyswitch is an independent part. Like all mechanical keyboards, the KB-460 with Cherry MX Blue mechanical switches is pretty loud to type on. Cherry MX Blue are considered to be the best typing switch. It can be used for gaming, but it is not as easy to double tap like you would with Red or Black keys, due to the release point being above the actuation point. The maximum key travel distance is 4mm, with actuation at 2mm. With an actuation force of 50cN with a tactile and audible click; generally speaking, the Func KB-460 will feel different than non-mechanical keyboards, but not as drastic as going to linear switches, since you still have the bump. Personally, I think this keyboard is an absolute pleasure to type on. If you are looking for a mechanical keyboard designed specifically for typing that does not completely change the way you type, this will have to be the one.
The Func KB-460 is a full NKRO keyboard. NKRO stands for N-key rollover. If you have used keyboards with limited NKRO capabilities, you may have experienced ghosting issues in the past -- where when too many keys are pressed at the same time, your system unable to register any more strokes. A full NKRO keyboard like the Func KB-460 overcomes this by independently polling each key, making all inputs detectable by the hardware, regardless of how many other keys are activated at the same time. This mean in the event you have every other key on your keyboard depressed, it will still register the last stroke. While this is a highly unlikely scenario, since you have only ten fingers, but this is as good as it will get. As expected, the base is rock solid, so you won't get any keyboard flex, which is excellent. The switches are rated for fifty million keystrokes each.
Once you turn off the lights and activate the Func KB-460's backlit keys, the keyboard really shines -- no pun intended. The KB-460 features full key backlighting, but in only one color, and that is red. Backlight intensity can be adjusted on the fly by hitting the Function key along with the labeled '8' and '2' buttons on the number pad to increase or decrease the level, respectively. The backlight can be turned off completely, or activated in three different brightness levels. If you increase the brightness to maximum, and increment it up once more, the Func KB-460 will enter into a special backlight mode, where the backlight will fade in and fade out continuously. I am a big fan of fully backlit keyboards, and I am happy Func designed the KB-460 with this feature. On the other hand, while I do not expect SteelSeries Apex kind of light show, a few more user configurable color options would be nice. My primary concern is red light is the most attention grabbing color, so some users may find the KB-460 particularly distracting at night. Obviously, you can turn off the backlight at night, but what's the point?
The Func KB-460's key illumination distribution is reasonably even for the most part. The area between the keys are also backlit, which is pretty rare, and I like it. One thing to point out, for keys with more than one line of text label, you will notice the top half is significantly brighter than the bottom half. This is probably due to physical design limitations, as you can see in our photo above.
The F keys at the top converts into specialized feature keys when the Function key is depressed at the same time. Starting from F1 and ending in F12, in that order, we have Mute, Volume Up, Volume Down, Play/Pause, Skip Back, Skip Forward, Profile 1, 2, 3, 4, 5, and Func Mode. All keys are designed to work out of the box, and do not require any software -- software is required only to modify settings. All settings are stored on the keyboard's onboard 128KB memory. The profile selection keys allow you to switch between macro layers, while hitting the Func Mode key when a profile is active will take you out of it, and return the keyboard back to normal. Hitting the Func Mode key with no profile active will return the keyboard to the last active layer. We will talk about this more in detail later. Basically, the gist of it is the KB-460 has no dedicated macro keys, but any key other than Windows, Fn, and F7 through F12 can be customized to function as the user wishes. For example, if my "W" key is set to do something in Profile 1, deactivating Func mode will return my "W" key to its default function.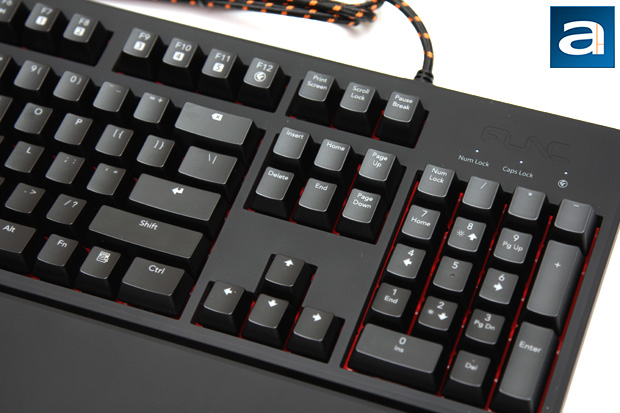 Almost everything here is pretty standard in terms of layout, with a few additions. There are multiple versions available; the one I have is the US QWERTY layout. That said, the arrangement of production keys is in classical formation -- users who are used to the Logitech arrangement will need to switch back. I am a big fan of the single row Enter key layout, as present on our US QWERTY Func KB-460. Keyboards with a double row Enter key usually means the "\" button is moved to the left side of the right "Shift" key; reducing the size of the latter. I am more used to having a full width Shift on the right, and a half height Enter. Obviously, this is more or less personal preference, but having a half height Enter key makes a lot more sense to me.
Two standard plus one custom indicator LED corresponding to Num Lock, Caps Lock, and Func Mode, respectively, can be found at the upper right hand corner. They glow red when activated, just like its backlight color. When Func Mode is on, the Windows key is disabled. This is an important feature in any gaming keyboard, because let us face it: How many times have you tried to duck in your favorite FPS while engaging an enemy, only to be killed instantly, because you missed the "Ctrl" key and your game was minimized? My only complaint is there is no way to tell which macro layer is active just by looking at your KB-460. All it tells you is Func Mode is engaged or not. Some keyboards show the current active profile by having customizable backlight colors, while others use dedicated LEDs. That said, the keyboard has come down significantly in price since last year; with this MX Blue edition running for about $80 at press time, it is not a bad deal.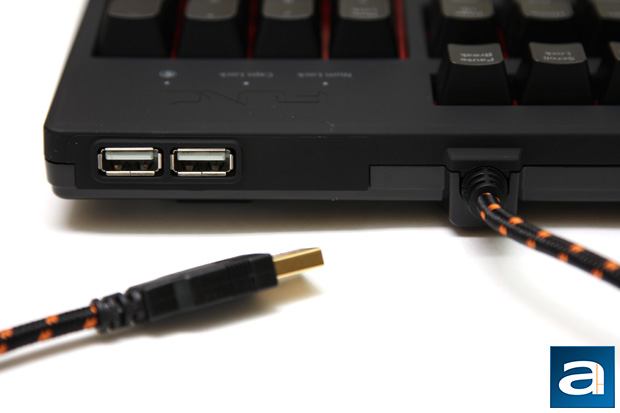 At the back of the Func KB-460 is the USB cable lead out. It comes out biased to the right, and is not detachable. This nicely braided cable features a Func-orange texture to it, and extends 1.8m in length to connect to your computer via a gold plated USB connector. Two USB 2.0 ports are present at the back. When we bring about the question of whether gold plated connectors are actually useful or not, let us just say if it was the actual pins, then possibly -- since gold offers better conductivity than other metals. This theoretically establishes a better connection with your computer, but on a digital signal level, we must understand it is a discrete one or zero; so if anyone tells you they can tell the difference, you can definitely defeat their theory with a double blinded test. Additionally, if you are referring to the gold part of the connector you see on the plug, I would like to point out it actually does not make any physical contact electrically with your computer. In other words, it is nice to have, and it is pretty to look at, but it is not anything significant on a practical level.
At the bottom are two rubber strips at the back and two hard plastic strips in front to help the KB-460 stay in place during intense gaming sessions. The front hard rubber strips on the riser edges provide very little traction, but it is not a deal breaker, since you will be concentrating most of your forces at the back anyway. This is not to mention this Func keyboard is pretty darn heavy by itself. Two flip-out risers at the back tilts the keyboard up for those who prefer it. Once flipped out, the same hard rubber is still making contact with your desk. No keyboard drain holes are available, so be sure to keep your Mountain Dew far away.

Func's software can be downloaded from their website directly. The latest version is 1.13, and it is a rather small download at 5.9MB. As I have mentioned earlier on in this review, the program is required only to customize functions. Otherwise, the KB-460 can function independent of any software, as any user programmed functions is saved on the keyboard's onboard 128KB memory.
While the Func KB-460 has no dedicated macro keys, up to any ten keys across five layers -- with the exception of Windows, Fn, and F7 through F12 -- can be customized to function to do almost anything you want. To start, select a profile at the top, then hit one of the M keys on the left side of the screen. Next, select one of the non-grayed out keys on the keyboard layout you wish to change, and select a function from the drop down menu. You can either select a preset function (Such as copy, paste, or save), launch a program, or record a macro. Personally, I found the macro recording function to be quite primitive, as it cannot record delays. Furthermore, if you select "Launch", you cannot run a command line function like you can on other keyboards I have used in the past. For example, I can make it run shutdown.exe, but I cannot do it with arguments like "shutdown.exe -s -t 00". In the future, it will be great if Func can make some improvements in this regard. Also, I am having some issues with the program crashing every time I try to adjust some macro settings.
-----------------------------------------
Put a bunch of Func KB-460 keyboards next to each other, and you will find out no matter what keyswitches reside below the caps, they will look exactly the same. Func decided to not provide visual distinguishing elements between each variant, and depending on your preference, this is perfectly acceptable. Everything from the physical appearance of the keyboard to the color of the backlight is absolutely identical. In fact, writing this review proves to be extremely straightforward, thanks to the one I did in December 2013, because -- as I am going to confess -- the good old copy-pasta method goes a long way in covering both keyboards that are, in many ways, the same thing. Okay, they feel completely different the moment you dance your fingers upon it, but even though they are ostensibly the same, I am not here to debate the merits of MX Red and MX Blue switches. Each has its market, and people have different preferences. As we come upon the conclusion today, it is important to point out while the Func KB-460 remains being a Func KB-460, one major external driving factor puts it in a much more favorable position than it was a year ago, and it all boils down to the money. Retailing for about $80 when writing this review, it is significantly more competitive than the original keyboard's hefty $130 price tag at the time. This is a no-nonsense backlit mechanical keyboard with full NKRO capabilities and a smooth, comfortable rubber coating. Needless to say, I am a fan. In fact, the original MX Red variant has been my main keyboard for the last nine months. Sure, the wrist rest plastic clip design is still poorly designed, there is no way to tell which macro layer is active by just looking at it, it features no backlight customization, and the software can still use some refinement. But for the practical functionality it provides, and considering its low $80 price tag, suddenly, these sacrifices do not seem to be so big after all.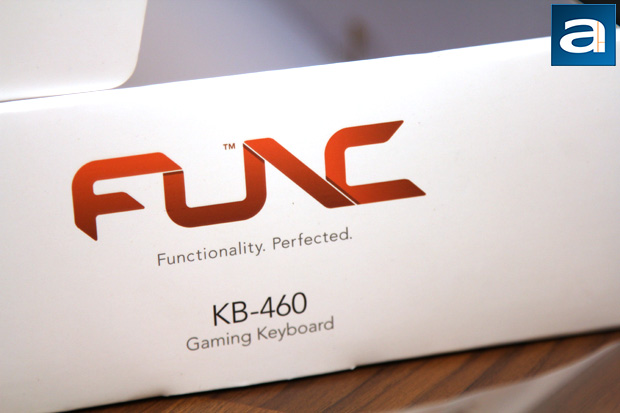 Func provided this product to APH Networks for the purpose of evaluation.
APH Review Focus Summary:
7/10 means Great product with many advantages and certain insignificant drawbacks; but should be considered before purchasing.
6/10 means A product with its advantages, but drawbacks should not be ignored before purchasing.
-- Final APH Numeric Rating is 6.9/10
Please note that the APH Numeric Rating system is based off our proprietary guidelines in the Review Focus, and should not be compared to other sites.
The Func KB-460 is a competitively priced, no-nonsense, fully backlit mechanical keyboard that is an absolutely joy to type on.
Do you have any comments or questions about the Func KB-460 (Cherry MX Blue)? Drop by our Forums. Registration is free, and it only takes a minute!