By: Jonathan Kwan
March 21, 2014
Inspirational quotes are a dime a dozen nowadays. For every person who claims to have their lives turned around by some seemingly deep thought written by a person they probably do not even remember, there are probably dozens more who have read the same thing, and their lives were no different than it was before they came across it. The way I see it, what changes a person's life is not by purely by some eloquent words printed on a piece of paper. Instead, it is a unique chemical reaction that happens between the reader and the word in the right place and the right time. As the old saying goes, "If at first you don't succeed, try, try, try again" -- my question to you today is, if one perseveres and never gives up, does it mean the person will be guaranteed successful in the end? From my experience, it is not always about how many times you try; it is whether you are moving in the right direction or not. If at first you don't succeed, and you try again in the right direction, success will wait for you in the end. If at first you don't succeed, and you are not going in the right direction, you will never be successful. Of course, one could argue what the definition of success is. Was Windows XP successful? Of course. Should Microsoft have just sat around since 2001 and do absolutely nothing? Well, no. So to append to that proverb I have quoted earlier, I would say, "Even if at first you are successful, try, try, try again until you become even more successful." Today, we will take a look at the Func MS-3 Revision 2 laser mouse. It was successful at first, but the company did not stop there. With improved mechanical left and right click switches, reinforced cord, and better scroll wheel construction, how well does it step up? Well, I got one on my desk right now. Let us check it out.
Our review unit of the Func MS-3 Revision 2 came in a medium sized, brown corrugated cardboard box from the company's American headquarters in Dallas, Texas. After making a good three thousand kilometer trip up north to the practically Canadian equivalent of the Lone Star State (With the exception of the weather, obviously) to us here in Calgary, Alberta, Canada, we were excited to try out what is in the box. FedEx Ground handled everything quite well, and nothing was damaged in the process. In some super speedy manner, and some exception in time to what we normally do here at APH Networks, we got straight to work.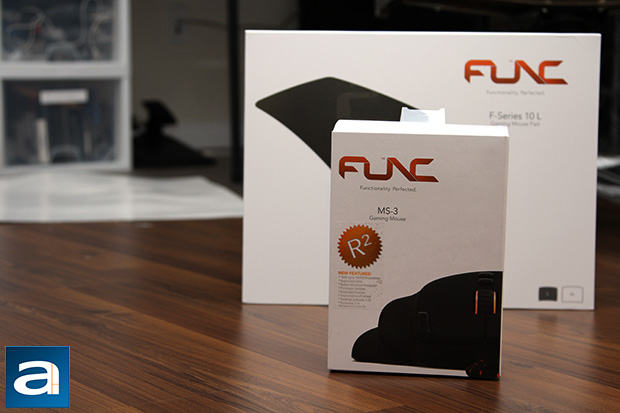 Our review unit of the Func MS-3 Revision 2 (Stylized as Func MS-3²) laser mouse came in its retail packaging. The company shipped along an F-Series 10 L mousepad to test the MS-3 with, just to ensure it tracks and glides across a favorable surface. It was then I realized how old the SteelSeries SX on my desk is, even though I got a stack of high end gaming pads -- practically unused -- kicking around in my closet. Actually, I still have the Func sUrface 1030 Archetype MBA Custom in use with my spare computer. Anyway, while we are not going to write a separate review for the F-Series 10 L, we will spend a little bit of time talking about the combination in this review today.
The retail packaging of both the Func MS-3 Revision 2 laser mouse and F-Series 10 L mousepad is extremely clean, just like we have first seen in the Func KB-460 review back in December 2013. All you will see in front is Func's logo, slogan, and product name in the upper half, a photo of the product itself in a prominent location, and that is generally about it. At the back, you will find some feature highlights of the respective products. As far as the MS-3 is concerned, a sticker is placed in front to turn it into a Revision 2 package; highlighting its new features under the 'R2' badge. If you open the Velcro enclosed flap in front, you will spot the mouse itself enclosed behind a custom PET shell. A short glimpse of Func's history and design story of the mouse is printed on the inside cover in various languages; where you will also find the MS-3's technical specifications.
Speaking of specifications, before we move on, let's take a look at it, as obtained from the manufacturer's website:
MCU/Processor: WT6573
Switches: Omron
Sensor: Avago ADNS 9500
Memory: Onboard, 512 kB
Resolution: 90-5670 DPI
Frames per second: 12 000
Tracking speed: 5.1 m/sec (150 ips)
Max Acceleration: 30 g
Image processing: 10.6 megapixels/sec
Report rate: Adjustable, up to 1000Hz
Lift-off distance: Adjustable
Upgradable firmware: Yes
Connection: USB. Goldplated (2m braided cable)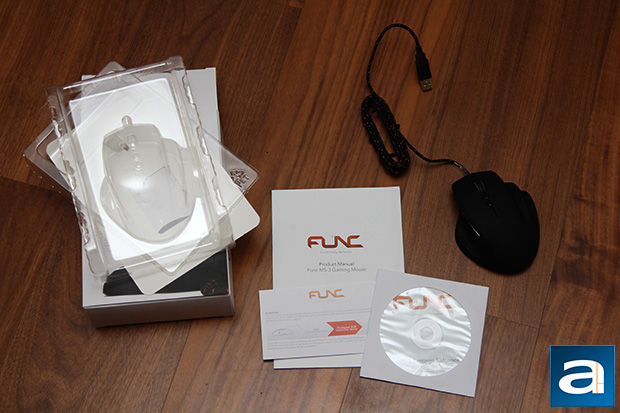 With "Functionality. Perfected." as the company slogan, you would expect their products to focus a lot on its... well, functionality. The way I see it, this functionality statement is clearly portrayed even before I opened the package, but was further reinforced when I took a look inside. Out of the box, you will receive everything you will need, and not a whole lot more. The MS-3 laser mouse is clipped inside the clear plastic shell, with the cable neatly tucked in behind. The manual, while not likely to be read by too many people, is well laid out. There is also a card to notify the user how to solve outdated driver problems in case the mouse has compatibility issues with the connected computer. Interestingly, a driver CD is included. Nowadays, I would much rather pop on to the manufacturer's website to download the software I need. Being 2014 and all, that was exactly what I did.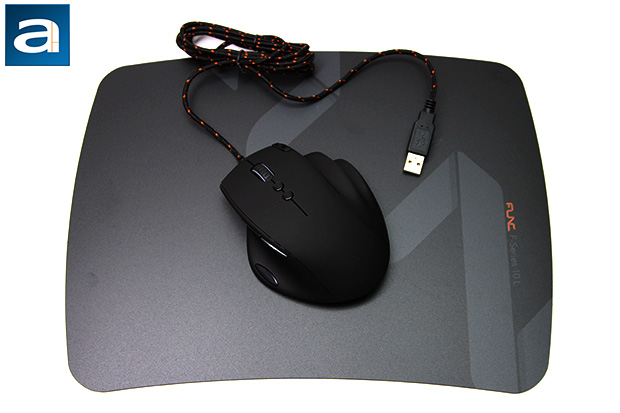 While we cover quite a number of pointing devices here at APH Networks, I sort of lost track of the last mouse I have personally reviewed. As it turns out, it was the Thermaltake Level 10 M, which was already over a year ago. Thankfully, I am not the only one who writes reviews for this website, so we do have quite an arsenal of reviews under our belt. When I first saw the Func MS-3 Revision 2, it quickly reminded me of the Mionix Naos 5000, as well as its close relative, the Naos 3200, reviewed by my colleague Kenneth about four years ago. Fundamentally, the Func MS-3 is a pretty fat mouse; designed exclusively for palm grip users. Compared to prototypical palm grip mice like the Logitech G500 I have been using for the last four years, I will now have to say it really is a "palm-centric" device at best, as you can still kind of give it a claw grip if you really wanted to. The MS-3 is a true palm grip mouse. It is that or nothing.
As you can see in our photo above, the Func MS-3 Revision 2 is built with a standard curve profile for the average sized user, along with an molded extension on the side to accommodate the last two fingers on your right hand. It caves in slightly on the left for where your thumb goes. Being a palm grip type user and all, I found the MS-3 to really fit like a glove. My hand size is pretty average, so this is good news for majority of the users. Its surface material is the same rubber coating found on the Func KB-460, making its grip great and comfortable for everyday use. It is soft to touch, fingerprint and mark resistant (Unless you have super sweaty hands), and provides a good sense of grip.
Measuring in at 126.92mm depth, 100.69mm width, and 42.38mm height, the Func MS-3 Revision 2 is quite a bit wider than the competition, as aforementioned. Unfortunately, the 185g weight of Func's sole pointing device is not adjustable, so you will need to deal with whatever the company thinks is the best for you if this ends up on your desk.
The F-Series 10 L we are testing the MS-3 with today is a 2mm thin plastic mousepad that measures in at 33cm width and 25cm depth. Being a plastic surface, it is somewhat flexible and fairly lightweight, with the main benefit of it being easy to clean. Its glide profile reminds me of the smooth side of the Func sUrface 1030 Archetype, which we have reviewed, well, eons ago, haha.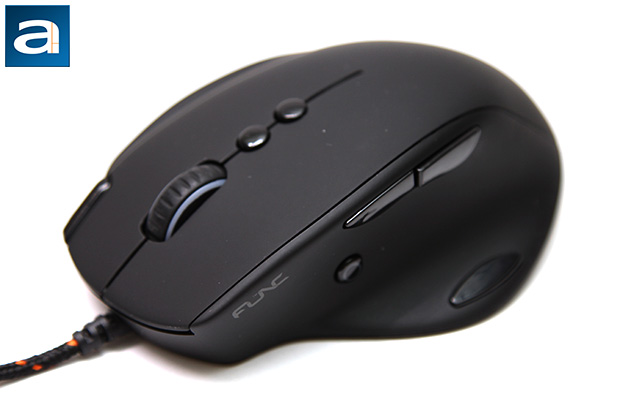 The Func MS-3 Revision 2 really comes with a lot of buttons. Thankfully, unlike some mice I have used in the past, they are all pretty well placed, so accidental actuation is not much of a problem, if at all. Sometimes, it is quite tough to design a product like this with good ergonomics. Make some buttons too accessible, and you will be firing off clicks unintentionally all the time; put them far away, and you will have a hard time reaching for the buttons in the first place. I think Func has done mostly an excellent job here, making almost every function easily accessible, yet not unintentionally accessible. By default, you have the left and right click, clickable scroll wheel, and DPI up and down buttons on top. On the edge of the right button is a toggle profile button. For thumb-accessible components, the forward and backward keys are exactly where you would expect them to be. Right underneath your thumb is what Func calls the "Instant Aim" button. When held down, it provides an instant override to the mouse's sensitivity setting. This can be especially for first person shooters. At the bottom of the grip is a mute button, which can be quite convenient -- although this is the only button I found slightly awkward to press at times. Of course, every single button is user configurable in software, in which we will take a look at in just a moment.
The scroll wheel and Instant Aim button are both backlit, and can be independently configured for different colors. To give it a bit of a Photoshop-like configuration, you can even adjust the LED's saturation and brightness -- no joke. Hidden in the seam adjacent to the back button are three orange LEDs to indicate current sensitivity setting. For the MS-3 Revision 2, Func says the left and right mouse buttons are powered by new Omron switches for increase reliability and response. Personally, I found the whole mouse to be extremely solid; I have no complaints about the quality of any of the buttons either. Every one of them clicks cleanly with proper resistance; you can definitely see where the money went in this product.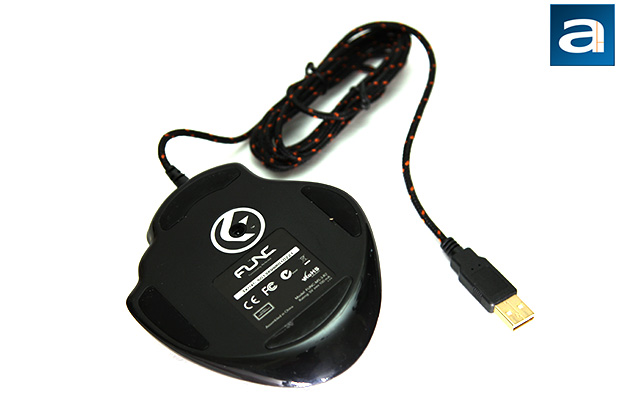 A shot at the bottom of the Func MS-3 Revision 2 laser mouse. Keeping the plastic base gliding above your mousing surface is a large PTFE feet at each corner; also known as Teflon to the common man. In Organic Chemistry, ethylene/ethene indicates a carbon-carbon bond; with two carbons and a double bond (C2H4). Tetrafluoro replaces four hydrogen atoms with fluorine atoms, making it C2F4. In non-scientific terms, 'poly' just means a bunch of them linked together.
The Func MS-3 Revision 2 is powered by a Weltrend WT6573 MCU. Supplying data to it is an Avago ADNS 9500 laser sensor capable of up to 5670 dpi sensitivity. It can track up to 12,000 frames per second. This is a pretty popular sensor for enthusiast products, and it is the same one used in the Logitech G500 and Mionix Naos 5000; both of which we have reviewed here at APH Networks before. 1000Hz polling rate is standard, but can be lowered to 500Hz, 250Hz, or 125Hz. 512KB of onboard memory stores up to three independent profile settings on the mouse itself, so rest be assured your custom settings will not be gone when you switch computers. In fact, you do not need to install the software on your PC for your MS-3 configuration to work, unless you want to change assignments.
A braided cable leads out from the front of the mouse via an extended cable guide. This nicely braided cable features a Func-orange texture to it, and extends 1.8m in length to connect to your computer via a gold plated USB connector. A braided cable, beside aesthetic purposes, also has lower friction than rubber coated cables for performance benefits. When we bring about the question of whether gold plated connectors are actually useful or not, let's just say if it was the actual pins, then possibly -- since gold offers better conductivity than other metals. This theoretically establishes a better connection with your computer, but on a digital signal level, we must understand it is a discrete one or zero; so if anyone tells you they can tell the difference, you can definitely defeat their theory with a double blinded test. Additionally, if you are referring to the gold part of the connector you see on the plug, I would like to point out it actually does not make any physical contact electrically with your computer. In other words, it is nice to have, and it is pretty to look at, but it is not anything significant on a practical level.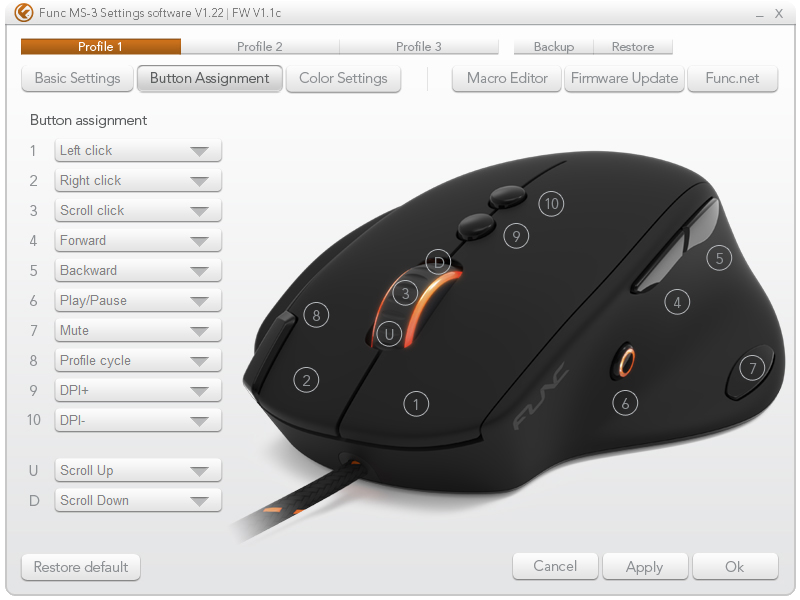 Func's software can be downloaded from their website directly. It is a rather small download at 8.4MB. As I have mentioned earlier on in this review, the program is required only to customize functions. Otherwise, the Func MS-3 Revision 2 can function independent of any software, as any user programmed functions is saved on the mouse's onboard 512KB memory. The only problem I have is it takes quite a number of seconds for it to upload new profile settings; if you are tuning your mouse, it will be a somewhat frustrating procedure.
The graphical user interface reminds me of the Func KB-460 software. I would really like Func to run unified software for all their products, but this is a different issue for another day. Overall, the program is quite intuitive to use. At the top, it will show the software revision and firmware revision. You can easily update the firmware of your MS-3 Revision 2 by hitting the Firmware Update button. To configure your mouse, first select one of three independent profiles at the top. The Basic Settings tab will allow you to preset three DPI settings, where the X and Y axis can be linked or unlinked, depending on your personal preference. The Instant Aim sensitivity can also be set here. You can also play around with your operating system based functions; this includes pointer sensitivity, double clock speed, lift off distance, scroll speed, angle snapping, and pointer acceleration. Polling rate can be set at 125Hz, 250Hz, 500Hz, or 1000Hz; do keep in mind this setting in particular will apply to all profiles. It would have been nice if the polling rate can be set independently between profiles.
Our screenshot above shows the Button Assignment tab. Everything should be quite self-explanatory. Simply choose the button you would like to configure, and select its function from the corresponding drop down menu on the left. You are free to create your own macros, which can be recorded by using the Macro Editor next to the Firmware Update button at the top. Finally, we have the Color Settings screen. This can be really useful if you give buttons different colors for different profiles. As I have mentioned earlier in this review, the scroll wheel LED and side button LED can be configured independently; you are free to customize each area's color, saturation, and brightness, too. If you want, you can set the LED to pulsate. If you do not like LEDs at all, there is an option to turn them off completely.
-----------------------------------------
The Tests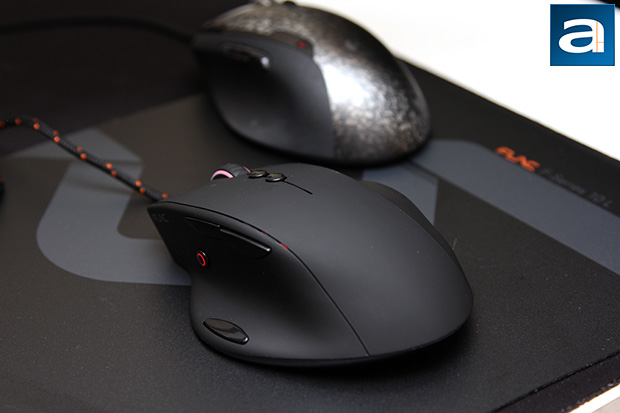 The Func MS-3 Revision 2 may look nothing like the Logitech G500, but they both carry the same Avago ADNS 9500 laser sensor.
After installing and properly configuring the Func MS-3 to my likings using the software, I have put the Func MS-3 Revision 2 through our series of standard tracking performance tests. This includes normal office usage in the Windows environment, as well as gaming within first person shooter games such as Counter-Strike: Source. Graphics work is done in addition to the regular office usage with Adobe Photoshop CS6. The mousing surface used is the Func F-Series 10 L, as it was provided for testing. We already have quite a bit of experience with Avago ADNS 9500 sensor based mice in the past, so I don't see any issues if you choose other mousepads. Please note that these are subjective tests, but we attempt to make it as objective as possible with our cross reference testing methods.
Personally, when I use my mouse, I prefer to establish a palm grip rather than a claw grip. What this means is that I prefer to cover the whole mouse with the palms of my hands, therefore a comfortable ergonomic fit is a priority preference. The Func MS-3 Revision 2, being designed exclusively for users like me in mind, is perfect for the occasion. In fact, the Func MS-3 fits so well in my hand, it felt like they knew about me before I even knew about the mouse. I found it excellent for first person shooter games, especially with the conveniently accessible Instant Aim button. Func quotes a scenario where an opponent sneaks up on you, and you really need to turn one hundred and eighty degrees quickly react, only to find your sensitivity is configured for sniper camping. With the Instant Aim button held down, your current sensitivity will be overridden with a preset you have configured earlier to alleviate the situation. Overall, I found almost all of the buttons on the MS-3 easily accessible, but not accidentally accessible, as I have mentioned earlier. The only one I found slightly awkward to use is the one adjacent to my thumb on the left (Officially, it is Button 7), mapped to mute by default. Overall, it is a very good design.
The primary purpose of Func's MS-3 Revision 2 is intended for the performance enthusiast crowd. It is primarily made for gaming, but this does not exclude graphic professionals and office users demanding the edge in tracking precision. Unlike some gaming oriented products, I found the Func MS-3 Revision 2 to be excellent for both everyday office work in addition to performance demanding applications. The sense of control and the smoothness of its glide over the tracking surface are superb, and the pointer goes exactly where I want it to go combined with the precision I want. At 1000Hz polling rate with sensor, the MS-3 is a very precise and quick responding mouse. No 'oil slick' delay is noticed; response time is consistently excellent from the lowest sensitivity setting all the way to its upper 5670 dpi limit. The Func MS-3 Revision 2 is highly customizable for user desired tracking resolution, highly responsive, virtually lag free, and razor sharp handling characteristics. Along with its PTFE feet, glide over our Func F-Series 10 L as well as different surfaces prove it capable without any problems. It works well on any regular tracking surface; obviously like majority of laser mice, it will not work with over reflective or transparent surfaces. I am impressed.
As far as the F-Series 10 L is concerned, it grips well on the surface it resides on, which is good.
-----------------------------------------
Was success waiting at the end of the tunnel when Func released the MS-3 Revision 2? If the appended version of the proverb I have introduced in the beginning of this review -- "even if at first you are successful, try, try, try again until you become even more successful"" -- is indeed applied in real life, this product will be the example posted right next to it. The MS-3 Revision 2 starts off with an already excellent design. It fits like a glove for palm grip mouse users with an average hand size; the smooth rubber coating enhances the grip while increasing comfort in the process. Despite having a plethora of buttons on board, they are mostly easily accessible, yet not easily accidentally pressed. I am a big fan of innovation like the Instant Aim button, which can be absolutely invaluable of FPS gamers. Even if you are not into gaming, all of the buttons are user configurable across three separate profiles, making the MS-3 an extremely versatile mouse. Heck, you can even record macros to it! As the icing on the cake, the LED lighting system is also super customizable. This is a pleasant surprise for something as trivial as a standard computer peripheral. Of course, it has not missed the point of being a good pointing device. The Avago ADNS 9500 laser sensor provides sharp handling characteristics at a high resolution. With the Revision 2 adding on improved Omron switches and 512KB onboard memory for storing your settings, the latest iteration of Func's MS-3 is pretty darn solid; both figuratively and literally. I do, however, have a few areas of possible improvement to propose. Firstly, the profile writing speed is annoyingly slow. If you are tuning your mouse settings, it may turn out to be a frustrating process quickly. Secondly, since Func makes a keyboard and mouse now, a unified software program to accommodate all current and future peripherals would be excellent. Thirdly, polling rate should be independently configurable between profiles. Lastly, I would like to see user adjustable weight options and a slight tweak to the button at the bottom of the grip (Officially referred to as Button 7), but these two are just very minor complaints. Overall, for about $60 at press time, if you are looking for a full featured gaming mouse, the Func MS-3 Revision 2 is a very competitive proposition for the money in your wallet.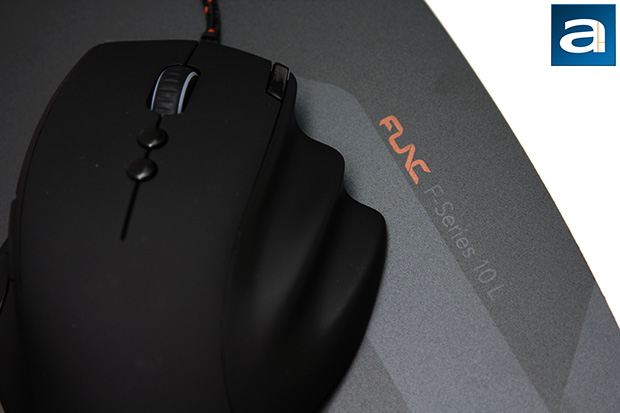 Func provided this product to APH Networks for the purpose of evaluation.
APH Review Focus Summary:
8/10 means Definitely a very good product with drawbacks that aren't likely going to matter to the end user.
7/10 means Great product with many advantages and certain insignificant drawbacks; but should be considered before purchasing.
-- Final APH Numeric Rating is 7.5/10
Please note that the APH Numeric Rating system is based off our proprietary guidelines in the Review Focus, and should not be compared to other sites.
The Func MS-3 Revision 2 is a very comfortable, well designed gaming mouse with tons of features for only $60 at press time.
Do you have any comments or questions about the Func MS-3 Revision 2? Drop by our Forums. Registration is free, and it only takes a minute!