By: Jonathan Kwan
May 14, 2010
Engineered for advanced precision and control. That was the slogan used on the retail box of Logitech's MX500 high performance optical mouse way back in the day (Funny how I still remember it so clearly so many years later, haha). The Logitech MX500 was undoubtedly a success when it was released in 2003, and it was held in very high regard by enthusiasts and gamers alike. In fact, the same Logitech MX500 I purchased in Hong Kong more than half a decade ago still holds its own special place here at APH Networks in Calgary, Alberta. But performance was not the only reason why I liked it so much. It was the contoured shape of the shell that delivered a snug and comfortable fit, especially for a user such as yours truly who enjoys operating a mouse with my palm resting over its entire surface. And I was not the only one that liked the mouse so much for its cutting edge performance during its time, as well as its brilliant shell shape. Its popularity led to the same basic design being carried over to the MX510 and MX518; when the laser sensor came along, the G5 and G5 V2 were also created. Being a proud owner of every mouse in the series, it should not be surprising that Logitech's latest successor is being added to my collection -- other than maybe the fact that it wasn't until now that I am reviewing it! Building upon the G5 V2 as aforementioned that received the highest mark ever awarded on APH Networks since May 2007, and has held that honor ever since for three years and counting, how will the Logitech G500 -- now with a even more powerful laser sensor, 'frictionless' scroll wheel, and onboard memory -- step up against its very well received predecessors? Read on to find out!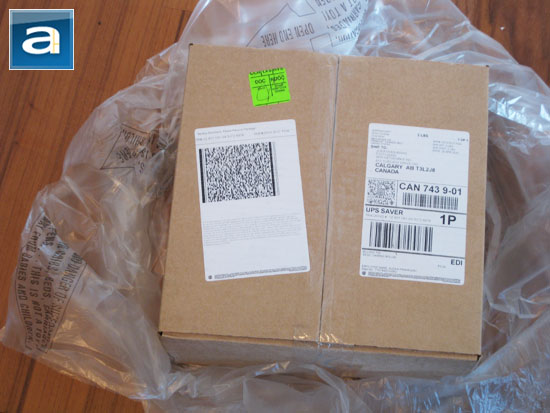 Our review unit came in a medium sized, brown corrugated cardboard box from Logitech's American offices at Fremont, California. Using UPS Saver, everything arrived safely in mint condition, as we have always expected from the shipping company. It was interesting how UPS dropped it off at my door with the package wrapped in a clear plastic bag on the last day of my Electrical Engineering exams, which happens to be on April 29th. The reason: It was snowing here in Calgary. Last time I heard, it's getting close to summer already, haha.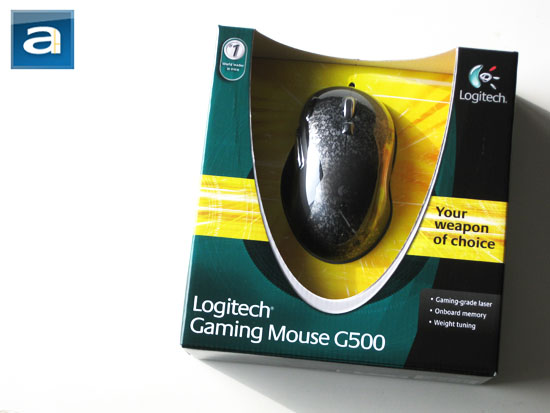 Our Logitech G500 arrived in a retail box. The retail packaging design is thematically consistent to the rest of the Logitech line of products, and consumers will have no problems recognizing this is a Logitech mouse right off the shelf. With Logitech's standard color scheme of green, teal, and black that lays across the front, adding onto that is a golden yellow colored strip for this gaming focused G-series product -- as opposed to the fire orange we've seen in the past with the Logitech G19 and G5 V2 box designs. A center partial cutout reveals the Logitech G500 mouse itself secured behind a custom molded clear plastic cover, as shown in our photo above. The latest slogan is "Your weapon of choice". Feature highlights are located near the bottom of the front of the box, showing off its gaming grade laser, onboard memory, and weight tuning. Further feature highlights with a short description can be found on the back of the box regarding its dual-mode scroll wheel, on-the-fly sensitivity change and 10 programmable buttons, as well as elaboration of these three points as aforementioned.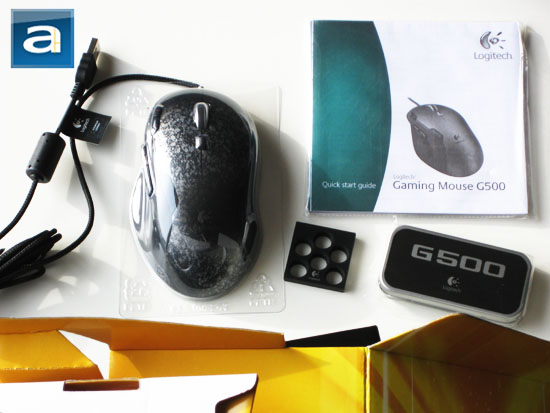 A V-shaped partition resides inside the box to hold its contents in a neat and organized manner. Out of the box, you will receive the Logitech G500 mouse itself, an adjustable weight cartridge, tuning weights and case, CD with Logitech SetPoint software, and user guide.
Before we move on, let's take a look at the specifications of the Logitech G500, as obtained from the manufacturer's website:
Tracking
- Resolution: 200 - 5700 dpi
- Image processing: 12 megapixels/second
- Max. acceleration: 30G
- Max. speed: up to 165 inches(4.19 m)/second*
Responsiveness
- USB data format: 16 bits/axis
- USB report rate: Up to 1000 reports/second
- Sleep mode: Disabled
Glide
- Dynamic coefficient of friction - Mu (k): .09**
- Static coefficient of friction - Mu (s): .14**
- Tuning weight: Up to 27 grams
Durability
- Buttons (Left / Right): 8 million clicks
- Feet: 250 kilometers
Shown above are all three generations of the Logitech G-series laser gaming mouse. From the left in our photo above, we have the latest Logitech G500, followed by the G5 V2, and the original G5. The upper exterior of the Logitech G500 actually resembles the original G5 in feel much more than its successor, the G5 V2. Besides having an identical shell shape, the upper surface is composed of smooth plastic, rather than the rubber-like textured surface offered on the G5 V2. This makes the mouse much easier to clean, since dust will not be trapped between grooves.
Meanwhile, the perimeter material of the mouse remains very similar to both its predecessors. The side finger grips are made out of rubber-like material -- Logitech claims it's not actually rubber, because the material used here exhibits better grip under sweaty conditions compared to rubber.
The mouse USB cables on all G-series mice are identical; the same braided cord seen on the G5 and G5 V2 is found on the G500 as well. Besides aesthetic purposes, it also has lower friction than rubber coated cables for performance benefits. Placement of DPI increase/decrease buttons have been relocated to the left side of the left click button from the center of the mouse. It is still easy to access, but won't be clicked accidentally by the user. You can probably see better detail in the subsequent photo. The biggest change comes down to the scroll wheel -- which was pretty much a universal complaint for the G5 and G5 V2. The biggest problem with its predecessors is that the scroll wheel doesn't click distinctively and cleanly; they have a little cushion spot between the wheel's original position and click registration position -- which annoyed many users. Logitech's G500 now features the 'revolutionary' scroll wheel originally found on the Logitech MX Revolution and VX Revolution mice. The machined alloy wheel has two modes -- one standard 'clicker' mode as we've seen in pretty much every mouse, and the second Free Spin 'virtually frictionless' mode that rotates freely for up to seven seconds.
In practice, the Logitech G500's scroll wheel resembles the VX Revolution more than the MX Revolution. The MX Revolution automatically switches gears and goes into 'frictionless' mode as you accelerate the wheel quickly (How fast it accelerates can be adjusted within SetPoint as well). If the MX Revolution is what we call having an automatic transmission, well, then the Logitech G500 is the one with a manual transmission -- with the requirement of manually switching gears by a button at the center of the mouse, which is located below the scroll wheel (This is why the DPI increase/decrease buttons are moved). While I like manual transmissions in my cars, the case is different with mice, haha. This may prove to be an inconvenience to some users, since you will need to manually switch between modes depending on application. Fundamentally, getting out of frictionless mode is crucial in first person shooters, if you don't want to switch weapons accidentally during a fight.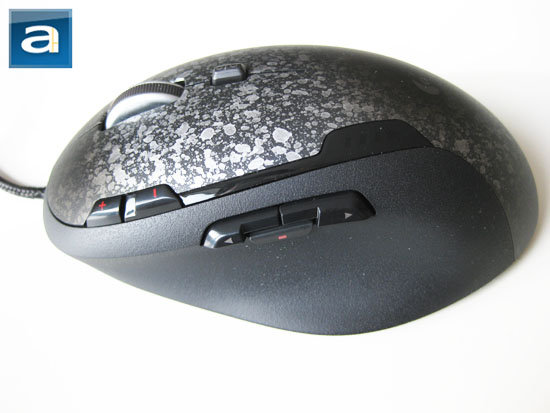 The side buttons have also been modified from its predecessors. The Logitech G5 V2 added a forward button to the original G5, but the button design and implementation remained the same. However, Logitech changed the side button design and implementation quite significantly on the G500. The new buttons protrude the surface of the mouse to a much higher degree, as well as placement of a new third side button. I found that the excessive surface protrusion in conjunction with close proximity of the buttons to cause some problems. For one thing, because the buttons are so close to together and protrudes the surface excessively, it is very easy to press one or more of these buttons unintentionally. Secondly, the third side button interferes with my thumb in normal gripping position, which noticeably reduces comfort. Thirdly, the third side button isn't really necessary anyway in my opinion. Logitech tried to fix a problem that no one asked about, and actually created more harm than good. This is probably the only fundamental flaw of the G500 too!
Custom DPI settings can be set between 200 dpi to 5700 dpi at 100 dpi increments. A minor change observed is the usage of red rather than orange LEDs as the DPI indicator lights, as well as the way information is presented. The array of red DPI indicator LEDs displays your current sensitivity level in the following manner:
High - Only top LED is lit
Medium High - Top and middle LEDs are lit
Medium - All three LEDs are lit
Medium Low - Middle and bottom LED are lit
Low - Only bottom LED is lit
If you have three independent sensitivity settings, the LEDs would present information in the following manner:
High - All three LEDs are lit
Medium - Middle and bottom LED are lit
Low - Only bottom LED is lit
It is actually quite intuitive to use, and gets information across in a clear and concise way.
As we have pushed for since the Logitech G5, we are very glad to see that the Logitech G500 finally has onboard memory implemented to store custom setting profiles. User defined configurations such as sensitivity stepping, button mapping, polling rate, and the such now goes with your mouse rather than your computer -- making it a huge convenience for users constantly moving between computers; and the fact that you won't lose your settings when your drivers are reinstalled on a later date. The G500 only has room to store one profile; the rest are left on your computer. SetPoint supports application detection to automatically switch between profiles. It would be nice if the G500 can store multiple profiles on the mouse, and allow the user to switch between them with a hardware button without software/driver involvement.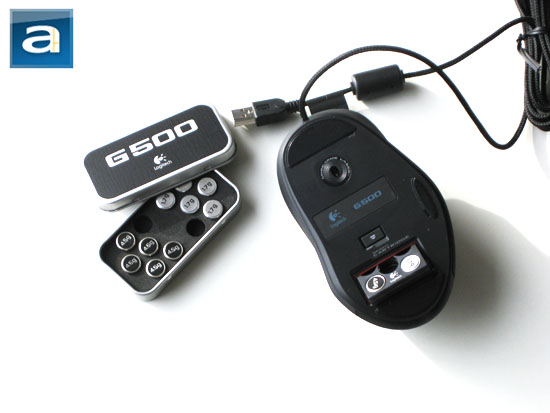 As part of the G-series legacy, the Logitech G500 implements similar weight cartridge and weight features of the original G5 and G5 V2. Anytime-accessible weight configuration, out of the box system is definitely a favorite for Logitech G-series gaming mice fans. Accommodating the black and gray color scheme of the G500, it comes with a black colored weight cartridge; whereas the original G5 and G5 V2 have an orange and blue weight cartridge, respectively. Six weights for each of the 1.7g and 4.5g configurations are included. I have my cartridge configured with all 1.7g adjustment weights as always, but the difference is that its predecessors can accommodate eight weights, whereas the G500 can only take six.
The weight labels are laser engraved and are not stickers, so scratching it with your fingernails deliberately will not remove any paint. The weights fit snugly and securely into the cartridge sockets. When the cartridge is ejected by pressing the 'eject' button at the bottom of the mouse, its compartment can be seen illuminated by a single LED inside to make it easily visible in dark rooms.
Base design of the Logitech G500 mice appears to be identical to the G5 and G5 V2. It features the excellent 1000Hz polling rate for sending up to one thousand reports per second to your computer, resulting in excellent precision and response. New to the G500 is that its sensor now scales up to 5700 dpi sensitivity from its predecessor's 2000 dpi maximum tracking resolution. Using Logitech SetPoint, you can adjust both the speed and acceleration of the X and Y axis individually -- or have them remain linked if you like. The sensor does not have Logitech's Darkfield tracking technology, but it should not be a big problem since this is a desktop performance mouse, and the tracking surface is usually constant and predictable compared to mobile products.
With regards to the polytetrafluoroethylene feet, Logitech's product page for the G500 indicates 250 kilometers mileage. This means roughly 3.42 years of usage -- that is, if you go 200m per day. This is calculated by the unit analysis formula of 250km * 1000m / 1km / 200m per day * 1 year / 365 days = 3.42 years. This is also quite dependent on how you use the mouse though -- I had my Logitech G5 V2 on my SteelSeries SX used daily on my main computer for the last three years, and it is still going good. Since the G500 has the same feet, durability should not be a concern for most users.
Polytetrafluoroethylene is Teflon, by the way. In Organic Chemistry, ethylene/ethene indicates a carbon-carbon bond; with two carbons and a double bond (C2H4). Tetrafluoro replaces four hydrogen atoms with fluorine atoms, making it C2F4. In non-scientific terms, 'poly' just means a bunch of them linked together.
The static coefficient of friction of the Logitech G500 is 0.14 and 0.09 dynamic coefficient of friction on wood-veneer surface, according to the company. It is slightly higher than before, possibly because the G500 is slightly heavier than its predecessors. A decent mousepad would probably have less friction occurring between the mouse and the surface.
-----------------------------------------
The Tests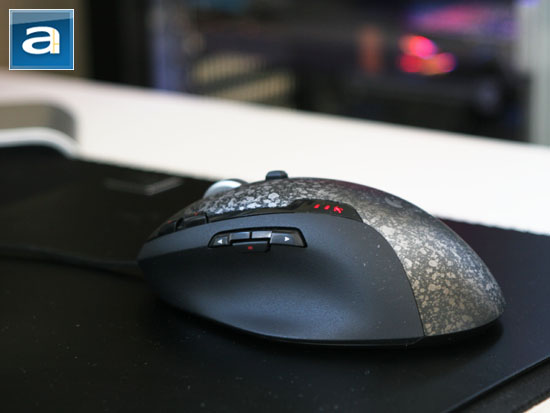 We conducted our tests on a computer with the following specifications:
CPU: Intel Core i5-750 @ 4.00 GHz
CPU Cooling: Thermaltake Frio (Noctua NF-P12 @ 1100rpm)
Motherboard: Asus P7P55D-E Premium
Graphics: Gigabyte Radeon 4850 1GB Passive
Memory: G.SKILL F3-17600CL7D-4GBPIS 2x2GB
Chassis: SilverStone KL-02 (Noctua NF-P12 - Front; Noctua NF-S12-1200 - Back)
Power: Seasonic M12II 500W
Sound: Auzentech X-Fi HomeTheater HD
Optical Drive: NEC AD-7170A 18X DVD+/-RW
Hard Drive: Western Digital 500GB AAKS 7200RPM 16MB PMR SATA2
Operating System: Microsoft Windows 7 Professional x64
After installing and properly configuring SetPoint 6.0, we've put the Logitech G500 through our series of standard tracking performance tests. This includes normal office usage in the Windows environment, as well as gaming within first person shooter games such as Counter-Strike: Source. Graphics work is done in addition to the regular office usage with Adobe Photoshop. The mousing surface used is the SteelSeries SX. Please note that these are subjective tests, but we attempt to make it as objective as possible with our cross reference testing methods.
The build quality of Logitech's G500 is excellent. Absolutely no loose or squeaky keys -- every button clicks cleanly with proper resistance; and the dual-mode scroll wheel along with its implementation is significantly improved from the previous generation. The mouse is absolutely solid with regards to construction quality, and certainly a notch up from the Logitech G5 and G5 V2.
Personally, I am a palm mouse user as opposed to a finger mouse user. What this means is that I prefer to cover the whole mouse with the palms of my hands, therefore a comfortable ergonomic fit is a priority preference. The Logitech G500, with its tried-and-true shell as described earlier, is perfect for this occasion. Along with its PTFE feet, glide over our mousepads as well as different surfaces prove it capable without any problems.
The primary purpose of Logitech's G5 V2 is intended for the performance enthusiast crowd. This is not limited to gaming; it also includes graphic professionals and office users demanding the edge in tracking precision.
Unlike some gaming oriented products, I found the Logitech G500 to be excellent for both everyday office work in addition to performance demanding applications. The sense of control and the smoothness of its glide over the tracking surface are superb, and the pointer goes exactly where I want it to go combined with the precision I want. At 1000Hz polling rate with the newly revised sensor, the G500 is a very precise and quick responding mouse. No 'oil slick' delay is noticed; response time is consistently excellent from the lowest sensitivity setting all the way to its upper 5700 dpi limit. The Logitech G500 is highly customizable for user desired tracking resolution, highly responsive, virtually lag free, and razor sharp handling characteristics. I am impressed!
As aforementioned, while it is marketed as a gaming product, the Logitech G500 is also an excellent mouse for everyday office and productivity use. I experienced zero issues using Logitech's G500 on any regular tracking surface; however just like any laser mouse it will not work with over reflective or transparent surfaces since it does not have Logitech's Darkfield sensor. Whether it's dark or light, I've used every mousepad we have here at APH Networks with absolutely no issues.
-----------------------------------------
Dear fellow readers, now we come to the moment of truth. With the Logitech G5 V2 holding the highest mark ever awarded here on APH Networks, and holding to this title for the last three years already, is the Logitech G500 a worthy contender to challenge its predecessor's supremacy in high score on this website? All in all, the Logitech G500 is quite a brilliant product. No questions in that. Building on the tried-and-true shell for excellent comfort and everyday usability, Logitech's awesome dual-mode scroll wheel, ultra high performance laser sensor, onboard profile memory, and impeccable build quality we had come to expect from the company, there's really nothing much that we can criticize with regards to the Logitech G500 laser mouse! Unfortunately, there is only one thing I simply cannot overlook through my weeks of usage is the fact that Logitech fixed something that no one asked for, and created a problem with it: The G500's third side button. I would not have a problem with it if it didn't extend into the thumb grip area, and because it does in the case of the Logitech G500, it reduces comfort in conjunction with clicking precision of its adjacent buttons. Other than that, minor refinements can be implemented such as larger onboard memory to store multiple profiles, and a hardware profile switch button, but these are just suggestions for improvement and not necessarily a drawback. Other than that, as much as I didn't want to, we will have to let the Logitech G5 V2 hold onto the crown for now, haha. I am not saying that the Logitech G5 V2 is a better mouse than the G500 on the grand scheme of things, but considering how far we have been since 2007 in the context of time and progress -- just refine the G500 in areas where it is needed, call it the G500 V2, and we have pretty much a guaranteed win!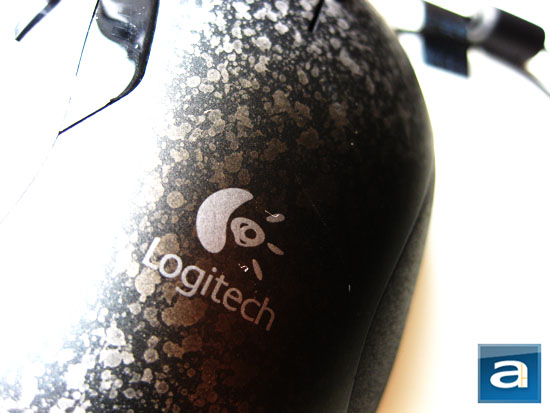 Special thanks to Amanda over at Logitech for making this review possible.

APH:Renewal Award | APH Review Focus Summary:
9/10 means Excellent product with very minor drawbacks that does not affect the overall product.
8/10 means Definitely a very good product with drawbacks that aren't likely going to matter to the end user.
-- Final APH Numeric Rating is 8.3/10
Please note that the APH Numeric Rating system is based off our proprietary guidelines in the Review Focus, and should not be compared to other sites.
The Logitech G500 is a brilliant high performance mouse that is excellent for both gaming purposes and everyday productivity applications.
Do you have any comments or questions about the Logitech G500? Drop by our Forums. Registration is free, and it only takes a minute!