By: Jonathan Kwan
November 18, 2006
Being a laptop user for quite a while, I've found myself often overlooking the mouse. Human interface input devices are definitely one of my main concerns in terms of computing experience, and it's ironic how I haven't had anything worth mentioning for computers I carry around all the time. While Logitech's G5 has been an excellent solution for the desktop (Especially for palm mouse users like me), I found myself lugging around large, outdated optical mice where the wires often get into complex tangles with the AC adapters in my laptop bag. There must be a way out of this -- and often times, questions are asked in regards to "How practical a laptop mouse is" and "Are they comfortable" versus "Is their tracking performance and good" compared to full sized mice intended for your main computer (Assuming your desktop is your main computer, of course). Today we'll be looking at Logitech's still relatively new release -- the Logitech VX Revolution laptop mice -- to see how it performs, and how we like it. That's the little brother of the Logitech MX Revolution for desktops.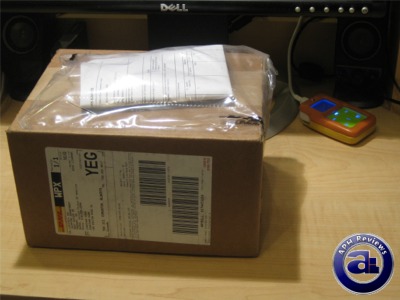 Our review unit came in a small box from Fremont using DHL. Like the last few times, it took less than 24 hours using Express -- and there were no hiccups this time. Everything came in great condition and we were pretty much described as excited to get our hands on this product. It was good the wait is minimal. Mmm good!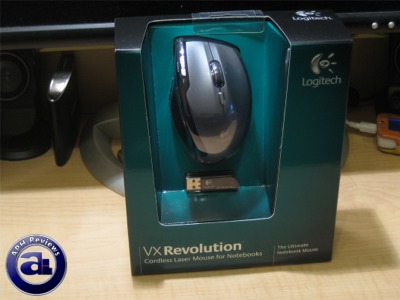 Our unit came in retail packaging with Logitech's accustomed black and teal packaging with a clear window showing the product in the middle. The extremely small wireless RF receiver is also shown in the front to give someone an idea of how small the receiver is; and the kind of fit with your hand you are looking for with Logitech's VX Revolution.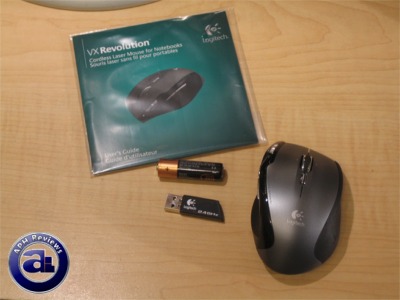 Its simple packaging with a plastic tray inside the box can be slid out once the seal is removed to reveal what's included out of the box. With that, you'll get a unit of Logitech VX Revolution, the wireless receiver, a single Duracell AA battery, driver CD, and a small instruction manual to get everything started.
As you can see in our photo above, Logitech VX Revolution's wireless receiver is much smaller than a standard AA battery.
A shot at the bottom of the mouse. Utilizing five relatively large sheets of Polytetrafluoroethylene (PTFE) as its feet (Also known as Teflon), this is the same material we have seen in the past in Logitech's gaming offerings such as the G5 as well as the G3. This is an excellent improvement as large sheets of PTFE feet will enhance the glide of the mouse significantly, especially if you have a good mousepad to accompany it.
Logitech's VX Revolution uses a single AA battery and has an estimated battery life of 4 months according to the company. We'll try to confirm that when we have the chance to do so -- but Logitech's new version of SetPoint displays an estimated remaining battery life. We used the mouse all day for one day (And spinning the wheel like crazy, more on this later) and remaining battery meter depleted 5% according to SetPoint (How accurate the program is can be disputed -- our 95% battery level actually remain unchanged for a few days despite regular usage). Therefore, under very heavy usage, you probably won't get the 4 months. There's a power button at the bottom of the mouse to conserve battery though.
UPDATE: The battery lasted 3.5 months for us.
The second most interesting thing of the VX Revolution is the micro RF receiver. It can be slid into a compartment into the mouse itself and completely hidden and secured out of sight. What's more, when the receiver is inside your mouse, it automatically turns it off, and the mouse will automatically turn on as the Eject button is pressed to release the receiver.
So you ask, what's the most interesting thing? The Logitech VX Revolution did not get its "Revolution" name for no apparent reason -- Logitech clearly got the Revolution name referring to its wheel, similar (But there are differences, mind you, we'll go over this later) to its bigger brother, the MX Revolution. The little MicroGear lever at the bottom of the mouse allows you to switch between modes of the wheel, again which we'll go over shortly later in a different section of this review.
The right side of the mouse. The grips of this mouse are vulnerable to marks and the slightest hand touch will bring it just that. Anyway, take a look at the bottom part of the VX Revolution. That little compartment door is where your micro receiver goes; where the design of the receiver is shaped to accommodated the curves of this mouse in order to make sure nothing sticks out when stored inside.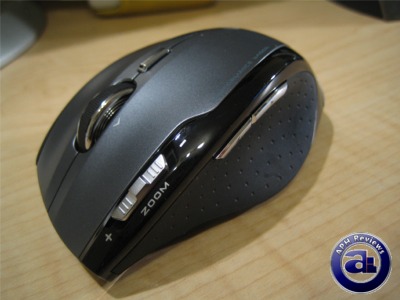 Here's the most 'typical' shot of the Revolution series -- no matter the MX or VX -- but hey, it's still the shot that shows the most of the mouse. The left side of the grip is slightly different from the right side with little pits probably intended for a little cooler usage to accommodate a hot and/or sweaty thumb. The grip is definitely enhanced as well.
The caved in thumb part is well implemented like all Logitech mice designed for palm mouse users (Those who put their whole hand over the mouse instead of manipulating it primarily with fingers) with a Back and Forward button just over it. What I mean by well implemented is that the buttons are not easily accidentally pressed.
The Zoom slider is nicely implemented as well, because again it is not easily used accidentally. It can be remapped to a volume up/down within Logitech SetPoint, so use it for your convenience.
The Quick Search button under the wheel allows you to highlight a term and click that button to search in coordination with the Logitech drivers. However, again it can be remapped to do something else like Zoom Reset (Resetting your zoom to 100%).
The most exciting thing of the Logitech Revolution series is its 'revolutionary' wheel. The machined alloy wheel has two modes -- one standard 'clicker' mode as we've seen in pretty much every mouse and the second Free Spin 'virtually frictionless' mode. As far as I know, the MX Revolution automatically switches gears and goes into the 'frictionless' mode as you accelerate (How fast it accelerates can be adjusted within SetPoint as well) the wheel. If the MX Revolution is what we call having an automatic transmission, well, then the VX Revolution is the one with a manual transmission -- with the requirement of manually switching gears at the bottom of the mouse using the lever we mentioned earlier. This will be some inconvenience because you probably just aren't going to enjoy reading a long document and flip the mouse around to switch wheel modes.
The wheel is very cool though nevertheless. In the Free Spin 'frictionless' mode, it goes really smooth -- everyone I've shown it to in the APH Labs was amused for quite a while by this feature. I found myself using the Free Spin mode most of the time, spinning the wheel and letting it accelerate and go through long documents and instantly stopping it by putting a finger over the wheel. It takes a while to get used to and master it correctly without it mis-scrolling due to its sensitivity. But, honestly the wheel is very cool. For example, in Counter-Strike: Source, give the wheel a quick spin and you'll be switching weapons so rapidly like no one else for the next 7 seconds or so.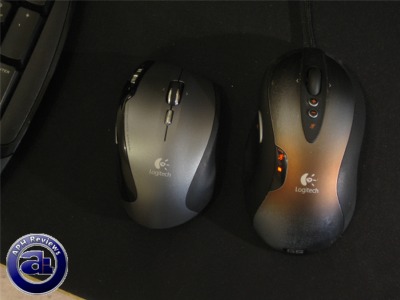 A quick size comparison with my Logitech G5. It is quite a bit smaller and feels smaller as well, but for a laptop mouse the fit is nice -- it is only limited by its physical size; and if you want something full size... well, look for the MX Revolution, because the VX Revolution, after all, is a laptop mice. As a palm mouse user, however, I still find the fit nice and comfortable for its size.
On a side note, in the black strip part right to the left of the Logitech logo on the mouse is a battery indicator with three LEDs. An array of three LEDs will light up green briefly if a good, fresh battery is inserted and will fade shortly afterwards to conserve battery. The indicator LEDs will also light up in correspondence to the estimated battery level when the mouse is turned on for the first few seconds as well.
---
The Tests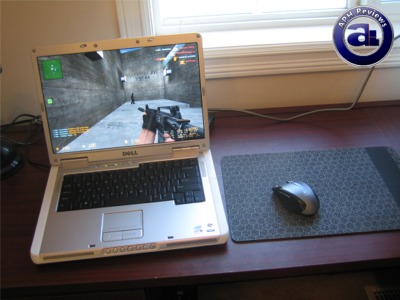 The tests were conducted on my laptop (Not that it would make any difference, but it wouldn't be a bad idea to test a laptop mouse on a laptop, right?). Specifications as below:
Dell Inspiron 6400 (Also known as E1505)
Intel Core 2 Duo T7400 (Dual Core 2.16GHz - Merom, 4MB L2 Cache)
Intel i945PM Chipset
2x512MB DDR2-533 Hyundai RAM (4-4-4-12, Dual Channel)
Hitachi 160GB 5400RPM SATA (8MB Cache - Perpendicular recording)
ATI Mobility Radeon X1400 (256MB Hypermemory - 128MB dedicated)
15.4" Dell UltraSharp Widescreen with TrueLife @ 1440x900
Just to let you know before we start the tests; my Inspiron 6400, like most modern laptops, has integrated Bluetooth. If the Logitech VX Revolution supported Bluetooth instead of plain RF, then it would be much more convenient without plugging in and removing the micro receiver all the time.
After installing and properly configured SetPoint, we've put the Logitech VX Revolution through our series of standard tracking performance tests. This includes normal office usage as well as gaming within Counter-Strike: Source. The mousing surface used is our current favorite, the XTracPads Hybrid.
In terms of build quality, we found it to be excellent. No loose or squeaky keys, and the mouse is solidly built with no obvious flaws except for one: The only thing we can complain about is that the bottom of the VX Revolution can be scratched way too easily and you should carry it in a Ziploc bag to prevent physical scrapes and damages. Otherwise everything else is quality.
For holding the mouse, even as a palm mouse user the grip is nice and decent with my hands -- especially for a mouse of this size. It's comfortable enough for your daily laptop usage for sure. With its PTFE feet, glide over our mousepads as well as different surfaces prove it capable without any problems.
Likewise, I haven't had any problems with wireless reception and range. No lag from what I can see, and the range can be over 4 meters without any problems -- although I don't see a reason why you would try to look at a sub 17" screen from that kind of distance on your laptop.
As you can tell, however, this mouse is more or less intended for the office user than the gamer. In fact, the whole Revolution (MX and VX) is -- and you can tell by the tracking engine and its design. Although not listed on Logitech's site, from what I remember the MX laser takes its shots at 800dpi -- and not on-the-fly changeable which I've grown so used to during gaming on my desktop with the company's flagship G5 laser mouse.
On the other hand, for web surfing, general office usage, and light graphics design, the mouse is excellent. I've yet to see any problems with it -- again I can only make one complain is that the control is a bit missing because although my hand can obtain a nice grip over the VX Revolution, my cursor does not to seem as 'sharp' as mice based of Logitech's G-series laser tracking engine. Therefore if you are up for some down to the detail graphics designing, you are better off with a better mouse. But for its target audience and as a laptop mouse, and everyday office usage as a pointing device, it's not bad at all.
In terms of gaming, you can possibly game with this mouse, but due to the lack of 'sharpness' in aiming, the kind of precision and fast response is not really there. Without on the fly dpi changer, the best you can do is running up the mouse sensitivity in game instead of running the hardware at a higher resolution such as 2000dpi as seen in top end gaming products from various major manufacturers.
---
Excellent laptop mouse that's built with quality and down to the detail design to accommodate the receiver (Including automatic On/Off) and fit with your hands. Implementation of buttons and the ability to remap them with drivers is great news for all laptop mouse users -- and the machined aluminum wheel is truly the star of this mouse. I only wish that it supported automatic mode switching like its older brother, the MX Revolution. Also, if it supported Bluetooth as majority of laptops nowadays has this integrated, that would have been excellent. If a better tracking engine was used that allows full on-the-fly 2000dpi resolution and faster response for sharper mouse movements, we would have had one amazing laptop mouse for the masses. Despite that, this is still probably the best laptop mouse available in the market today given its features and its design. And of course the amazing wheel in Free Spin mode!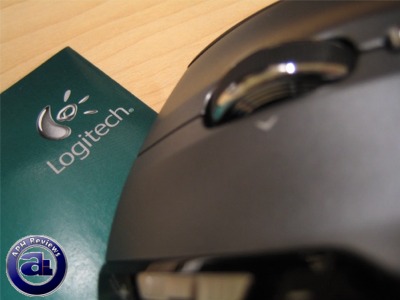 Special thanks to Kate over at Logitech for making this review possible.

Rating: 7.2/10 | APH Recommended
- The rating 7/10 means "Great product with many advantages and certain insignificant drawbacks; but should be considered before purchasing".
- The rating 8/10 means "Definitely a very good product with drawbacks that isn't likely going to matter to the end user".
- More information in our Review Focus.
Excellent, quality laptop mouse with great fit and excellent design; if it supported Bluetooth, had a better tracking engine, and a wheel that had automatic gear switching, we would have had one perfect laptop mouse. But nevertheless this is still probably the best laptop mouse on the market today.