By: Jonathan Kwan
July 1, 2006
After looking though several different mousing surfaces in the past few months, it's pretty surprising we haven't came across anything better than the still undefeated Func sUrface 1030 Archetype. How many times have I mentioned that mousepad in my previous articles? The answer is simple: I mentioned it every single one of my mousepad reviews. Not surprisingly, our review today is at no exception.
My style of reviewing usually keeps my conclusion at the end of the review. However, I can't do anything this time but to make an exception. So... let me tell you this right off the bat: I am very impressed by the XTracPads Hybrid. Very impressed. To an extent, I think it is even better than the Func sUrface 1030 Archetype. If I haven't put enough emphasis already, the XTracPads Hybrid just wowed me the second I've laid my Logitech G5 on this mousepad. All I'll let you know why throughout this review.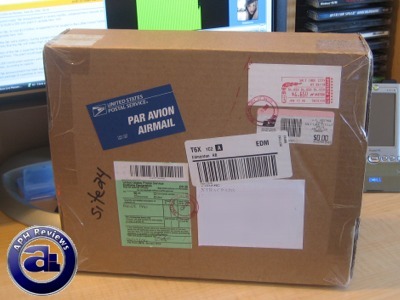 Our review unit came in a box filled with packing peanuts using USPS Air Mail. It's great that they took all the extra care to package a shipping box once again, even though mousepads are unlikely to receive unintentional damage during shipment. We've seen similar packing style when we first opened our XTracPads Ripper XXL review unit's box several weeks ago.
Within our nicely packed shipping box is our XTracPads Hybrid in retail packaging. Being one of the most outstanding qualities, this mousepad can be rolled up into a tube. I haven't realized the importance of this until one of our readers wanted a mousing surface specifically with this characteristic. However, combining positive aspects of both cloth and plastic pads (Hence the name), the XTracPads Hybrid is not only flexible enough to be rolled into a tube; it also has a surface not too dissimilar to a plastic pad -- but without the noise as well as relatively easier to clean than cloth pads.
We'll go over the rest of its characteristics later. Anyway, out of the box, you will receive your XTracPads Hybrid with a dozen of Mad Dotz. XTracPads' Mad Dotz is designed to be applied to the bottom of your mouse to enhance glide performance. However, I did not feel this is necessary because our Logitech G5 comes with Polytetrafluoroethylene (PTFE) feet which already offers excellent glide without the need of mouse feet replacement.
Also used within our review today includes XTracPads' InstaGlide accessory; it is to be purchased separately from the same company. A quick wipe at your mouse feet or even applied directly to the mousing surface you are going to use will theoretically improve glide. Here's the question -- does it work, and how well does it work? We'll run over this later in our review as well.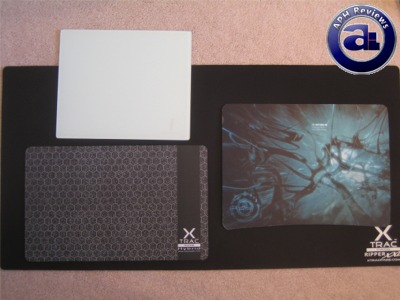 A quick size comparison against several other similar products. The one on the top left is Icemat 2nd Edition, residing on the right sits our SteelPad 5L. The gigantic mousepad (Yes it's a mousepad, if you haven't realized yet) at the bottom is XTracPads' Ripper XXL. Finally, at the bottom left is what we are going to specifically look at today: the XTracPads Hybrid.
At 254mm x 406mm x 4.77mm, it's apparent that mousepads rolling off XTracPads' production lines have a large tendency to be wide. Depending on personal preference, I'd say it's a good thing. However, I would definitely appreciate it if it is slightly taller than what it is now. With thickness at 4.77mm, it is still at an acceptable level.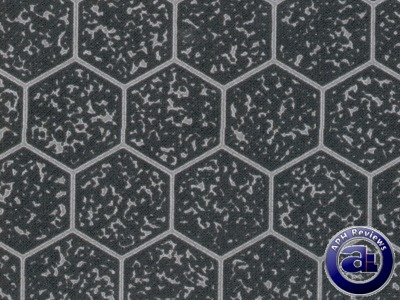 A closer look at its surface. Creating an overall consistent pattern yet maintaining degrees of differences between each sector of the tracking surface, it really appears to us as a desirable tracking surface -- at least on the technical side.
Like I said earlier in one of my previous paragraphs, the XTracPads Hybrid combines positives of a cloth pad as well as desirable qualities of a plastic pad. Having the capability to be bent and rolled up, this characteristic once unique to cloth pads becomes a major positive of XTracPads' Hybrid mousing surface. Transport becomes easier; adding on factors of durability -- it is unlikely to be snapped in half as straight plastic pads like Func sUrface 1030 Archetype are vulnerable to.
When we reviewed the Func sUrface 1030 Archetype several months back, we found that it is pretty vulnerable to scratches. Upon our initial tests, it does not seem to us that our XTracPads Hybrid is anywhere as near as the Func to receive straight iPod Nano style scratches. Even though the Func sUrface 1030 Archetype has two unique mousing surface (Which this feature is pretty much available only on that specific product), I found that both surfaces can be scratched as easily as each other.
On the other hand, in terms of cleaning, this pad is not able to inherit full advantages offered by plastic pads. The Func sUrface 1030 Archetype is so easily cleaned, I set mine under the tap or showerhead with a bit of soap and we are done for cleaning. The XTracPads Hybrid evokes many similarities to the SteelPad 5L (Not flexibility, just cleaning). Cleaning still requires more effort than the Func sUrface 1030 Archetype because sweat and other residue is not entirely unabsorbed.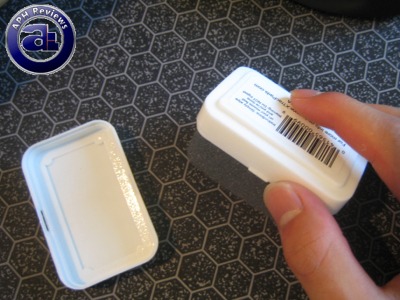 Yeah I know, I need to cut my fingernails. I did after looking at the above photo. Anyway, XTracPads' InstaGlide accessory that is to be purchased separately was also included in our review unit's package as well. Something makes me wonder -- how much potential do this sponge-in-a-box have? To be honest, I didn't really expect much of a difference initially.
But I was proved wrong the second I pushed my Logitech G5 over my XTracPads Hybrid with InstaGlide applied. As suggested by Christopher over at XTracPads, I actually applied InstaGlide over my whole XTracPads Hybrid to see what kind of glide I can possibly get. After I've gave it a quick try, all I can say was, "Wow!". I am totally impressed by the amount of glide offered when XTracPads Hybrid is combined with InstaGlide. It's truly beyond words, but I'll still try to put it into words during our testing session. And we'll get into that in just a moment.
---
The Tests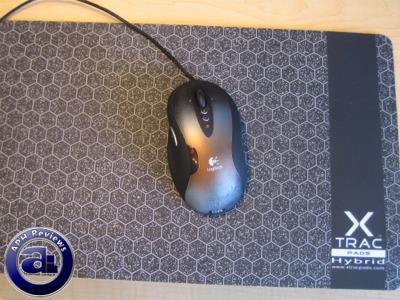 We used our Logitech G5 laser mouse using firmware version 1.1 for this article. XTracPads Hybrid along with InstaGlide was also used during our tests. For office and Windows usage, we used Photoshop as a benchmark while Counter-Strike: Source was used for obtaining our gaming results.
During our Photoshop freehand trace, I found other mousepads with lesser glide performed slightly better. However, turning down the sensitivity in Logitech SetPoint helped out and our Logitech G5 along with the XTracPads Hybrid obtained decent results. Other than that, using standard sensitivity levels that we've used all along when comparing every other mousepad, playing with the cursor within Windows is a joy with the effortless glide. Even my dad can tell the difference between this mousepad and the ones I've gave him to use on his computer.
In gaming, we typically look into three major categories to rate mousepad performance:
Glide - For quick and effortless movements
Control - For precise and accurate cursor/crosshair handling
Grip - See if the mousepad is capable of staying in the same spot after lots of movement
In terms of glide, I really enjoyed it. Or, let's put it this way -- I am very impressed by it. It's beyond any mousepad I've reviewed to this date. Looking back, there are two major reasons why I wanted to take a look at this mousepad. First, some of our readers has been looking at this mousepad already and wanted me to write a review. Secondly, Christopher over at XTracPads seems to be very optimistic about the XTracPads Hybrid in his reply after I reviewed the XTracPads Ripper XXL, when I said that its glide wasn't as impressive as others:

If you really like glide... and I mean... SUPER glide... I would HIGHLY suggest our HYBRID pad coupled with our InstaGlide accessory. You will be absolutely blown away by the combination.

To be honest, I was like, "O RLY?" at first. But after trying out the XTracPads Hybrid several weeks after I read that message, I am truly blown away by the combination. Like I said earlier, it's beyond words. But still, I'll make an attempt to put it into words. The mouse glided effortlessly across the surface as if it is a hockey puck gliding across ice. A quick push off the side of my Logitech G5 will send it gliding smoothly across the XTracPads Hybrid with InstaGlide. Resistance is minimal.
Without InstaGlide applied, glide is still decent, but not as comparable as it is with InstaGlide applied. Some users may prefer more glide, while others don't like it that 'fast', therefore it is a matter of personal preference. The Func sUrface 1030 Archetype is more of a 'slick' pad on its own; glide is definitely great (But not as good as XTracPads Hybrid with InstaGlide) but a bit of control is given up as we will go over in a moment. Therefore, you should really look into what you really want: Super glide, or average glide. If you want super glide (Like me), adding InstaGlide will accommdate this desire. Average glide can be achieve with just this pad alone without additional accessories.
While glide is very important, control is commonly sacrificed for glide to take place. As we've seen in the Func sUrface 1030 Archetype, it's slick, but control is missing a bit. During my gaming sessions in Counter-Strike: Source, I discovered excellent control offered by the XTracPads Hybrid. A good combination of glide and control is very hard to achieve, and from what I can see, the XTracPads Hybrid got both of them.
A lot of glide while maintaining control is my preference. I was playing Counter-Strike: Source yesterday, and I was looking out one door of the room because I initially thought the last guy would come in from that end. However, he came in from the entrance behind me and started shooting me with a Deagle from approximately 7 meters away. Holding an AK, I quickly gave a 180 degree spin and bursted a couple of bullets into the guy's face. I ended up with 3 health, but hey -- with fast reaction, a bit of luck and a mousing surface that allow quick and easy movements, as well as the ability to improve mouse accuracy, it's a killer combination.
The grip factor is another issue though. While it is better than the SteelPad 5L, I cannot say that it is better than the Func sUrface 1030 Archetype. Even though the XTracPads Hybrid offers decent and above average traction with our desk, our Func still retains its flagship within this category.
To say the least, the XTracPads Hybrid is one amazing mousing surface. Nothing unique and fancy like Func sUrface 1030 Archetype's double mousing surface, but it is unique by its impressive performance and unique characteristics. Combining the best of both worlds, it inherited a lot of the unique positives that cloth and plastic pads typically don't share. Although I wished the Hybrid was a little taller, I still find it acceptable along with its thickness. Combined with XTracPads' InstaGlide accessory, the XTracPads Hybrid demonstrated ultimate in glide while sustaining excellent control. Grip with our desk can be improved upon, but all in all, the XTracPads Hybrid with InstaGlide impresses me -- and you will be blown away as well. If you aren't, drop me a message and I'll be very interested to know why you don't like this product as much as I do.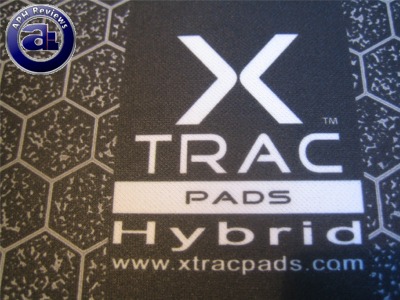 Special thanks to Christopher over at XTracPads for making this review possible.
Note: The number ratings below has been adjusted accordingly to comply with our new Number Rating System.

Rating: 8/10 | APH Recommended
What do these ratings mean?
Wow. Just wow. Combined with XTracPads' InstaGlide accessory, our XTracPads Hybrid's performance totally blew us away -- and it will do the same to you. Only thing that can be improved on? Its grip; it can be a bit better.