By: Jonathan Kwan
July 8, 2006
Logitech has been manufacturing computer peripherals for quite a while. As for their flagship mice, it usually translates to a right handed only design as we've seen since the MX500 days. While the MX500 mold has been a dream that became true for most palm mouse users like me for quite a while, left handed or finger mouse users who want high end gaming solutions have no other options but to turn to products from other manufacturers such as the ambidextrous Razer Copperhead.
In attempt to accommodate users within this market, Logitech decided to step into this area with their flagship laser tracking engine which has been implemented on the popular Logitech G5 as well as its wireless counterpart, the G7. With an ambidextrous design along with the legendary G-series laser tracking engine, Logitech's brand new G3 laser mouse is born. After arriving at our doorstep last week and having gone through our stages of testing, let's take a close look at this mouse and see if it really lives up to all the anticipation and excitement we've seen across the net in the past couple of weeks.
Needless to say, I wasn't too excited about DHL because of the Logitech G5 incident as well as what happened when I got the Icemat 2nd Edition a few months back. To be fair, I haven't had any issues at all with DHL ever since; things that have arrived problem-free using DHL includes our SteelPad 5L as well as the SteelSound 5H.
Moving back on topic, I was pretty impressed to be honest. That includes Logitech, of course. The last email I sent to them was at 2:18PM at my time (GMT -7) on Wednesday, June 28th for my shipping address. This means it's approximately 1:18PM at their time (GMT -8 in Fremont, California) when my email was received; not including the time to read it. Anyway, our Logitech G3 review unit came the next day at my doorstep on June 29th at around 12:30PM my time. Want to say "Wow!" with me?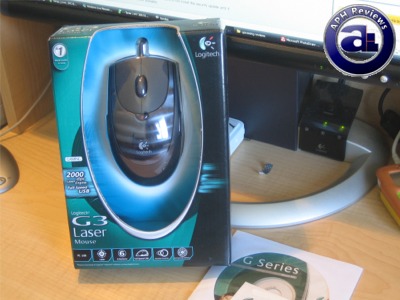 Opening our DHL Express Box Junior reveals a Logitech G3 in their customary teal and green retail packaging. The actual box size is around half the width of Logitech G5's retail box, which I can confidently say is a good thing. Less packaging, lower costs, less garbage, easier transportation, all good.
Before we begin, let's have a look over Logitech G3's specifications. The following information were obtained from Logitech's website:

* Tracking Resolution: 2000dpi
* Image Processing: 6.4 megapixels/second
* Max. Acceleration: 20G
* Max. Speed: 45—65 inches/second (depending on surface)
* USB Data Format: 16 bits/axis
* USB Report Rate: 500 reports/second
* Sleep Mode: Disabled
* Dynamic Coefficient of friction - Mu (k): 0.09 (tested on wood-veneer desktop)
* Static Coefficient of friction - Mu (s): 0.15 (tested on wood-veneer desktop)
* Buttons (Left/Right): 8 million clicks
* Feet: 250 kilometers

This is exactly the same specifications on paper as the Logitech G5. The only difference I can see is Logitech G3's static coefficient of friction is listed as 0.15 while Logitech G5's spec sheet indicates an 0.13. With 500Hz polling rate, it still does not match Razer Copperhead's 1ms response/1000Hz polling rate. Considerable amount of performance differences can be clearly seen during gaming sessions when we compared the Razer Copperhead against our Logitech G5 (Which houses the same laser tracking engine as the G3); Razer's Copperhead did have better response and sharper performance than the G5 when we were running a first person shooter game.
Out of the box, you will receive the Logitech G3 itself, and an installation booklet. It's surprising no driver CD is included; the manual directs you to download SetPoint off Logitech's site. The installation booklet claims that the "G3 Laser Mouse works right out of the box" and that "you can enhance your gaming experience further by downloading the Logitech SetPoint software". We'll elaborate later.
The mouse itself is slightly heavier than the Copperhead (To my hands anyway) but still lighter than the G5. Logitech G3's design is nothing too out of the ordinary. It is perfectly symmetrical as an ambidextrous mouse should be; with a relatively shiny middle pattern surrounding its standard buttons. Below the standard placement of left/right button and wheel is an on-the-fly DPI changer. Without Logitech's SetPoint installed, pressing the DPI toggle button will switch between 800dpi and 1600dpi. With SetPoint installed, you can configure it to toggle between 5 distinct DPI settings; as long as it is between 400dpi and 2000dpi. Unfortunately, there is no DPI indicator as seen on the Logitech G5 -- one of my favorite features on that mouse. This may pose a lot of inconvenience for end users wanting to know exactly what DPI setting their mouse is on.
Located on both left and right side of this mouse is another two buttons. They are typically used as back/forward buttons, respectively. However, both can be easily reconfigured to do other functions within Logitech's SetPoint software.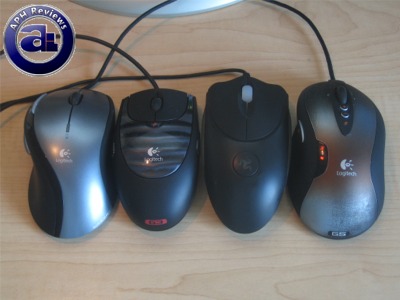 A quick comparison with other mice. In the above picture, from the left: Logitech MX600, Logitech G3, Razer Copperhead, and Logitech G5. Even amongst finger mice, the Logitech G3 is comparatively shorter than the Razer Copperhead and without large buttons with finger trails as the latter does.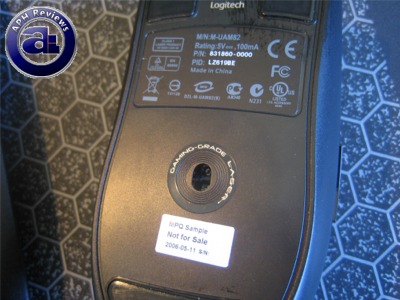 Housing Logitech's flagship G-series laser tracking engine, even the "Gaming Grade Laser" label is identical to the Logitech G5. The only difference I can see is that Logitech G3's lenses are aligned vertically while Logitech G5's lenses are aligned horizontally.
Like its bigger brothers, the Logitech G3 also uses relatively large pieces of Polytetrafluoroethylene (PTFE) as its mouse feet. Pretty cool word, I've been using it in real life (Try saying it really fast) since my Logitech G5 review back in February. Anyway, if you are still wondering what Polytetrafluoroethylene is, it's the 'actual' name of Teflon. Teflon or PTFE has lower friction compared to materials like plastic. This will give the mouse a better and easier glide due to reduced resistance. Usually we see PTFE mouse feet in white, but hey -- now it's black on the Logitech G3.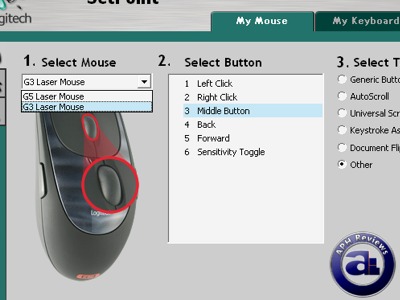 Onto the drivers. Initially I had Logitech SetPoint 2.60 build 606 for my MX3000 keyboard and Logitech G5, which at the time of writing is still the newest driver for most Logitech products listed on Logitech's site. After plugging our Logitech G3 into our computer's USB port, Windows detected it and worked without any problems. However, our version of SetPoint cannot load the Logitech G3 in for configuration.
Dropping by www.logitech.com/G3 as suggested by their included installation guide reveals SetPoint 3.00, but clearly labeled as "for G3 only". I am not sure why they labeled it that way, because a quick reboot after installing SetPoint 3.00 over my original 2.60 build 606 revealed absolutely no problems. It can properly detect my MX3000 keyboard as well as continued compatibility with the Logitech G5. Of course, it works with our Logitech G3 as well and we are able to remap buttons on our mouse without any issues.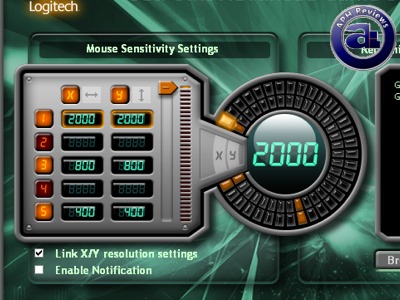 Under Advanced Game Settings, you are not only able to configure X/Y axis separately, but also allowed to preset up to 5 distinct DPI settings; as long as the preset is between 400dpi and 2000dpi. Without Logitech SetPoint installed, the mouse is able to switch between 800dpi and 1600dpi by pressing the DPI toggle button on the mouse itself. With SetPoint installed, you will be able to switch between 400dpi, 800dpi, and 2000dpi by default with possibilities to configure additional DPI settings as you wish.
---
The Tests
After installing and properly configured SetPoint, we've put the Logitech G3 through our series of standard tracking performance tests. This includes Photoshop freehand trace as well as usage within Counter-Strike: Source. The mousing surface used is our current favorite, the XTracPads Hybrid.
Before moving onto our mouse precision tests, let me go over my general opinions on the Logitech G3. First of all, this mouse is way too small to be comfortable. My hands aren't exactly large; even for my mid-sized hands I'd still consider it small. Logitech G3's mouse shape evokes too many similarities to the 10 year old Logitech ball mice that we use in our education institution's library. Even as a palm mouse user, I found Razer's Copperhead a comfortable mouse, but not the Logitech G3 -- even though they are both finger mice. In addition to that, the placement of side buttons are horrible -- they are too easily pressed accidentally -- especially the one on the right. I found this extremely annoying.
Normally I do not rate build quality, since there are hardly any differences between mice. However, from my experience, the left/right buttons seem to be very cheaply made. What I mean is that each click is not 'clean' -- both buttons seems to be fairly firm, plastic-ish clicks and very squeaky for a mouse. I am not sure whether this is an isolated incident on our particular unit, or is so with all Logitech G3s. On the other hand, the wheel on Logitech's G3 is fine with no 'funny wheel' as seen on the Logitech G5, but I must state it is a little firm for scrolling. I assume it will 'loosen up' after a while though.
Moving back onto our tracking performance tests, Photoshop seemed well enough for this mouse -- as long as you can grip the mouse comfortably for proper control. Even though it houses the same tracking engine as its older brothers, I cannot get the same sense of control feeling under my palms. Tracing the picture went fine, but it can be a chore to do especially with the annoying and very distracting side buttons.
In terms of grip, technically it's pretty good, but like I said earlier, I cannot grip it comfortably enough for proper control due to the nature of Logitech G3's physical mouse shape. With PTFE/Teflon implemented as its mouse feet, I moved the Logitech G3 across the XTracPads Hybrid. Even though it should theoretically be as smooth as the Logitech G5, I am pretty surprised that glide actually isn't as good as the G5 even though it is on the exact same mousing surface.
During our gaming tests, the Logitech G3 wasn't really performing. The small, firm, and squeaky left/right mouse buttons issue is one contributing factor; but not all. Poor placement of side buttons also distracts and annoys the user, and due to the size and design of the mouse, I cannot get a good and comfortable grip to get the sense of control as the Razer Copperhead has impressively displayed. It is not nearly as 'sharp' and deadly as the Razer Copperhead as with the Logitech G5.
Control is based on two major factors: User grip and tracking engine. While Logitech's G5 tracking engine is not as 'sharp' or responsive as the Razer Copperhead. I am not saying the G-series tracking engine is bad -- it is still a very excellent tracking engine that's beaten slightly by Razer's 1ms/1000Hz polling rate tracking engine in terms of response. However, the G5's tracking engine 'disadvantages' is definitely compensated by its comfort and excellent grip. This created a strong sense of control under the palm of my hands therefore an excellent gaming mouse. The Razer Copperhead is light, comfortable to finger mouse users, and very responsive. But for me, the Copperhead is only good at serving its primary purpose -- gaming -- and nothing else. The Logitech G3 has the 'disadvantages' of the G5's tracking engine, but not any of the advantages that compensated for its disadvantages on the flagship mice of both companies.
When talking about the Logitech G3, I can definitely say it's a good sign Logitech finally made their first steps into the ambidextrous mouse market to accommodate both left and right handed users who prefer mousing with their fingers. With their flagship G-series laser tracking engine implemented as well as technically good grip, this mouse is too small and designed unsuitably for medium to large hands. I like how it has an on-the-fly DPI switch, but I would definitely appreciate a DPI indicator as well. Placement of side buttons is less than desirable because both buttons -- especially the one on the right -- has too much potential to be pressed unintentionally. Squeaky main buttons make the Logitech G3 appear to have less than average build quality, at least on our particular unit. Without being able to comfortably hold this mouse, I cannot get the sense of control under my hands -- therefore the G3 really lagged behind directly comparable products such as the Razer Copperhead in both gaming and office tests. Glide wasn't too impressive either. At MSRP $59.99, all I can say is... there are better alternatives. It's a good attempt by Logitech, but there is way too much room for improvement, therefore from the consumer point of view, I would buy the Logitech G5 or Razer Copperhead, depending if you are a palm or finger mouse user. We'll all be looking forward to Logitech's next improved product.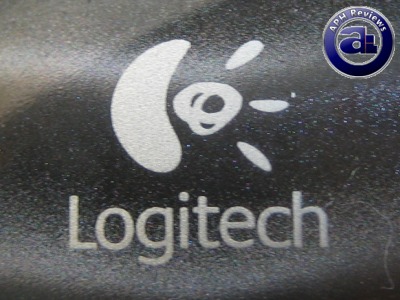 Special thanks to Kate over at Logitech for making this review possible.
Note: The number ratings below has been adjusted accordingly to comply with our new Number Rating System.
Rating: 3/10
What do these ratings mean?
Idea of implementing Logitech's flagship G-series laser tracking engine is great, but everything else is limited by Logitech G3's design -- including placement of buttons as well as physical size.