By: Jonathan Kwan
August 28, 2007
It's been a long time since we've taken a look at mousepads. After all, whether you have an office workstation or gaming setup, it's all about the CPU, RAM, motherboard, and graphics card, right? But what about the components you actually physically need to interact with daily -- the keyboard, and more importantly, the mouse? Sure, many users will tell you how optical or laser mice don't need mousepads. However, it should be understood that while mousepads are not a minimum requirement for these mice to work properly, its function can be greatly enhanced by improving the tracking surface (No, it won't suddenly give you 20 headshots in a row, but it does make a difference) as well as the gliding surface the mouse sits on as you push the mouse across. Last year, only two mousepads over a dozen we've examined excelled as APH-worthy for a quality, high performance, ultimate mousing surface. That's the Func sUrface 1030 Archetype and the XTracPads Hybrid. This year, however, SteelSeries vowed to challenge the best with the SteelSeries SX. They are extremely confident with the 'really, really smooth' surface as they claim it, with lots of industry buzz and extremely high remarks regarding the SteelSeries SX. We are really excited to find out if it is really as good as everyone says it is!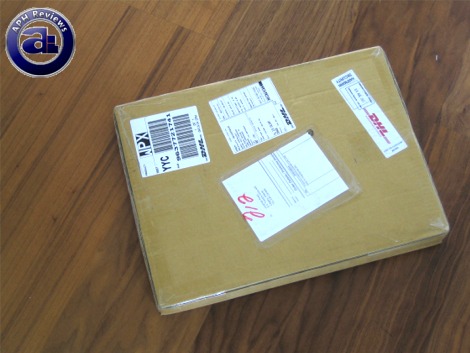 Our review unit of SteelSeries' latest SX mousepad came in a thin cardboard box, from SteelSeries' headquarters in Denmark. The box itself arrived in great condition, meaning that the sporty fellows at DHL did not use it as a type of sporting equipment anytime during the whole shipping process; from the other side of the world to APH Networks here in North America. During that week, the same DHL guy came almost every day that week to deliver review units and other goods -- I am sure he knows we are up to something!
Of course, I made sure I had my '07 Honda Civic parked inside the garage during this time, before anything happens. ;)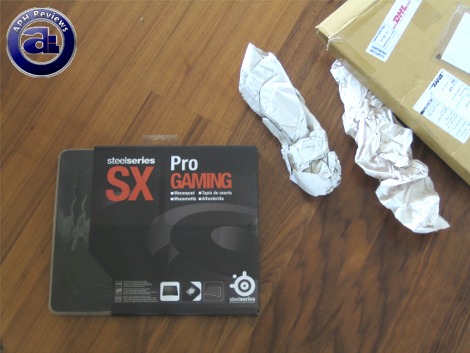 Anyway, upon opening the box revealed two crumpled up sheets of paper filled up on each side, ensuring that the retail packaging of SteelSeries' SX mousepad arrived in perfect condition -- whether it was the mousepad itself, or the retail packaging that it was shipped in. And let me tell you, I am glad to see everything arriving in mint condition!
The retail package demonstrates SteelSeries' new serious-yet-clean black and grey color motif. Sharp orange or white text in large bolded fonts creates clear contrast between the background and the text. Rounded rectangles are implemented with different transparencies and tones at different locations to depict a sense of separation between areas where different information is conveyed. On the left, behind transparent plastic is a partially revealed portion of SteelSeries' SX mousepad itself.
The packaging is sleek, clean, and not excessive -- yet tells you and shows you everything you need to know regarding the mousepad. While it is not unique-unique being something like Func's use of tin cases with their 1030 Archetype mousepads, it is still excellent from the start in my opinion.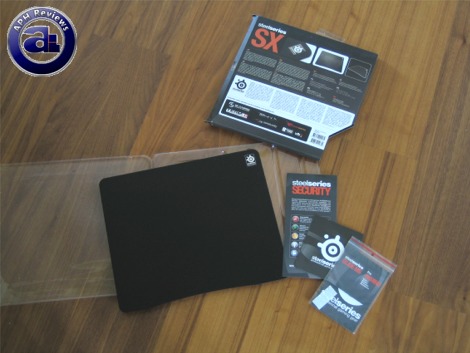 Protected inside a clear plastic clamshell enclosure is the SteelSeries SX mousepad itself, along with a couple of SteelSeries product brochures, as well as a slide lock enclosed bag containing 5 polytetrafluoroethylene (PTFE aka Teflon) self adhesive mouse feet. You probably won't need them, as users of this mousepad is more than likely to have a mouse with PTFE feet anyway (Most Logitech mice now utilizes PTFE as the mouse feet). It's always nice to see them included though, after all.
Before we move on, let's take a look at the specifications of this product, as obtained from SteelSeries' website:
- Material: High quality fiber polished aluminum
- Surface: Anodized oxide treatment
- Dimensions: 320mm*270mm (12.6 x 10.6in) - thickness 2mm (0.08in)
- Size: Medium
- Glide: Smooth (really, really smooth)
- Compatibility: Gaming grade optical and laser technologies
Seems like SteelSeries is very confident regarding the glide of this product! Here at APH Networks, we've always been a big fan of glide since the first mousepad we've reviewed in 2005 -- and we'll see how this one matches up against the best in a few moments.
At 2mm thickness, the SteelSeries SX is constructed of two distinct, but three separate layers. The mousing surface itself is black colored fiber polished aluminum; with a layer of adhesive visible from the side above the large rubber grip backing. The adhesive and rubber backing do in fact add height to the overall product, although generally acceptable -- thinner grips could be implemented to reduce height as demonstrated with Func's sUrface 1030 Archetype series.
During our tests, we found SteelSeries' SX to have excellent grip with various surfaces, as long as the surface is flat. This includes plastic, cloth, as well as standard wooden desks. In general, during FPS gaming with lots of mouse action, the SteelSeries SX is unlikely to relocate itself due to lack of friction between the mousepad and the surface it resides on.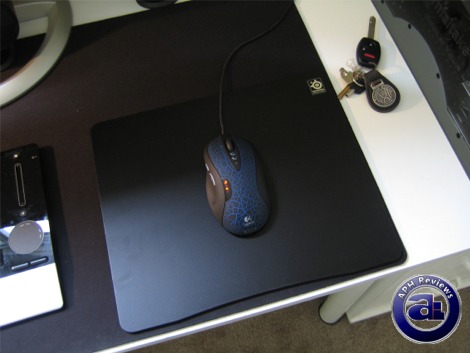 Before we move onto our tests, let's take a look at the typical properties of mousepads of this nature that APH Networks composed of with our previous experience in reviewing mousing surface. The SteelSeries SX is classified as a mousepad with hard surface, non-cloth design; which typically has the following advantages and disadvantages:
+ Easy to clean
+ Usually great glide
+ Guaranteed hard, flat surface
* Usually solid (Cannot be rolled up - depending on your preference)
- May be vulnerable to permanent scratches
- Makes noise during usage
- Harder on your mouse feet
- Control not as good as cloth pads
- Usually bad grip
- Less Comfortable
- Easy to accumulate dust and dirt on the surface
Moving onto our standard tests, I completed both our Photoshop freehand trace test and Counter-Strike: Source in game performance analysis. Our Logitech's G5 V2 will be used alongside for benchmarking. We will then rate our mousepad based on the following categories after obtaining our results:
Glide - For quick and effortless mouse movements across the mousing surface.
Control - For precise and accurate cursor/crosshair handling.
Grip - The mousepad's ability to stay in the same position on the desk without undesirably relocating itself.
Noise - Will this mousepad generate noise when the mouse is being used?
During our tests, we can conclude regarding the SteelSeries SX in the following areas:
+ Easy to clean - water slides across the surface easily, like a non-stick frying pan (Thanks to its liquid silicone coating?). However, rubber backing of this design may not dissipate water instantly, therefore when cleaning do not get the bottom wet.
+ Great glide - Ranks almost at the top. Not the XTracPads Hybrid kind of incredible glide -- that specific pad still holds the crown -- but it's clean and sharp (See Control) without any 'oil slick' effect. We certainly can't say it's the "purest form of glide in the world", or "really, really smooth", but it's undeniably "pretty good".
+ Surface is hard and durable - the anodized oxide treated fiber polished aluminum with liquid silicone coating is really something to talk about, except for the fact it is vulnerable to surface marks.
+ Control is very good - The SteelSeries SX did not make us experience any 'oil slick' effect during usage, with sharp cornering with the pointer the SteelSeries SX is definitely a control oriented mousing surface.
+ Grip is excellent, as described earlier. However, the surface must be flat because this pad is not flexible to accommodate any ridges or surface inconsistencies.
* It's solid, not flexible - this is really up to your preference which creates both its advantage by itself, but disadvantages as well.
* Comfort - A relative thing, but it's reasonable for a hard surface mousepad.
* Harder on mouse feet - Especially when it's not clean, you can feel that. However, with a properly cleaned surface, it exerted reasonable wear on our test mouse.
- Not vulnerable to permanent scratches - Scratches aren't a prominent problem, but the SteelSeries SX is quite vulnerable to permanent surface marks if you are going to travel with it.
- Makes noise during usage - The SteelSeries SX is one of the noisier mousepads we've used, as tested with Logitech's G5 V2 laser mouse with PTFE feet.
- Easy to accumulate dust and dirt on the surface - especially moisture created marks such as sweat.
The surface texture of SteelSeries' SX is quite smooth; with consistent repetition but reasonable differences for tracking from one area to another to create precision is mousing performance.
---
At roughly $60 USD MSRP, the SteelSeries SX claims to be one mousepad without compromise. Its aim is to create the ultimate gaming surface. We can see that -- from an engineering and designing point of view, the SteelSeries SX is certainly a unique mousepad of its own. The surface is pretty smooth (Although it didn't completely blow us away like the
XTracPads Hybrid with InstaGlide
), but its control and grip definitely impressed us. Areas that SteelSeries could improve upon the SX would be less noise during usage, and improve the surface so it is less vulnerable to permanent marks. It would also be nice if it was slightly thinner, although this is not a big one. The size is reasonable as a performance mousepad, and during usage there's always sufficient room for mousing -- which is excellent. In general, although we do review our share of mousepads, it takes quite a bit for APH Networks to positively recommend one. The SteelSeries SX is certainly the kind of mousepad that we would positively rate and recommend!
Special thanks to Thomas over at SteelSeries for making this review possible.

APH:Renewal Award | APH Review Focus Summary:
8/10 means Definitely a very good product with drawbacks that aren't likely going to matter to the end user.
7/10 means Great product with many advantages and certain insignificant drawbacks; but should be considered before purchasing.
-- Final APH Numeric Rating is 7.8/10
Please note that the APH Numeric Rating system is based off our proprietary guidelines in the Review Focus, and should not be compared to other sites.
SteelSeries' SX is certainly an awesome mousepad -- pretty good glide, excellent control, and excellent grip. The claims of its 'really, really smooth' surface is quite subjective, we can only say that it is 'pretty good' when compared to the best. The noise factor can be improved upon, and durability of the surface can also be optimized for less vulnerability to permanent marks.