By: Jonathan Kwan
October 14, 2006
Although the Func sUrface 1030 Archetype has already been one of our favorite mousing surfaces for quite a while. To be honest, there's only two out of all the ones we've reviewed so far that we really like -- and we've tested over a dozen mousepads in all. This is one of our favorites, while our other equally liked pad is the Hybrid from XTracPads. There's one thing that's always good but doesn't occur too often: when the best gets better. Although our "new" Func sUrface 1030 Archetype is not a complete structural overhaul, the whole custom surface idea is definitely a cool enough concept to make you just want to buy (Or rebuy) one. A Func sUrface 1030 Archetype with a custom surface design! A very logical question then arises: Are we re-reviewing the Func sUrface 1030 Archetype today? The answer is a simple "Yes". I've received a lot of feedback and it seems many of our APH readers want to know how our longtime favorite Archetype steps up against other mousepads under our new proprietary mousepad rating format. And our Func sUrface 1030 Archetype MBA custom gives us a very good incentive to do so.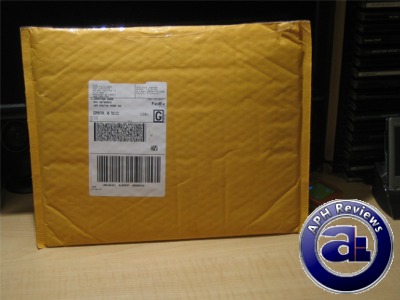 After ordering from Func's online mousepad customizer approximately two weeks ago, our review unit finally came in a brown document bag with bubble padding from FedEx, which is a pleasant change from our last unit back in January when it came from UPS and left it in my mailbox sticking out (Well, after a while, we figured that UPS isn't as bad as we say they are!). The online Macromedia... err, Adobe Flash-based customizer application is easy to use -- and very flexible. Firstly, since the sUrface 1030 Archetype is double sided (One of the biggest and most among the most unique features of this product), a standard pre-made pad that you can pick up in a store comes one side rough and the other side smooth. However, the online customizer allows you to configure it with a smooth/smooth or rough/rough surface in addition to the standard rough/smooth (More on this later on).
Of course, it's not limited to that. You can upload your own image for use with the pad design -- recommend dimensions and resolution are written into the online flash program. A library of pre-made images can also be used as well in any combination you like. However, both surfaces will have the same image printed on it, so you cannot make one side a certain design and the flip side another design.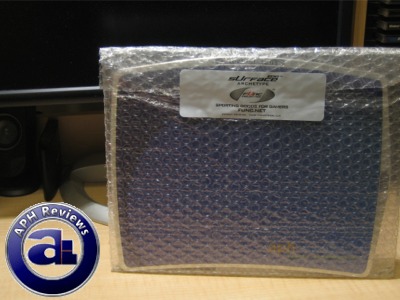 As I sort of worried about how my Photoshop produced image will come up on the surface of my new Func sUrface 1030 Archetype, it seems that it came out closer than my original image than I thought it would -- and my image used with the pad contained quite a bit of colors and fade effects. We'll have a look at that later.
Oh yeah, and if anyone wants us to help out on the design of your mousepad, you are welcome to submit a graphics request in our forums, and I can help you out to a design for free. I can send you the original PSD file of our design used in this review as well if you like.
I was sort of disappointed that the custom Func sUrface 1030 Archetype MBA Custom did not come with the cool tin case as it did with our original unit. Most of our readers expressed interest in that and in my opinion, it is one of the most unique accessory amongst comparable products.
For everyone's interest, our Func sUrface 1030 Archetype MBA Custom costs approximately $54 USD after shipping. At first, this number may seem large, but ours is the most expensive you can possibly buy through Func. The MBA (Machined Billet Aluminum) base adds an extra $20 to your bill, which means the plastic base version costs around 40% less. Customizing the surface will cost you only $6.00 more from the standard version from Func, but you'll have to sacrifice the tin case for the added coolness and uniqueness.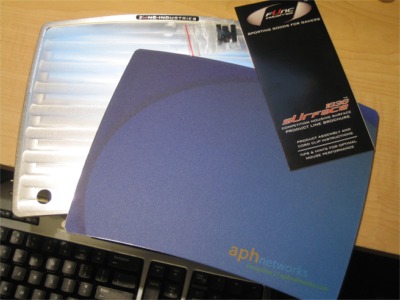 Out of the package, you'll get the Func sUrface 1030 Archetype double sided surface, the machined billet aluminum base, mouse clip and a short manual. Besides the absence of a tin case, included material remains the same.
What's unique is in what the name suggests: A Func sUrface 1030 Archetype MBA custom. Note that we did not stamp the image above, simply because our custom Func surface already has 'APH Networks' printed on it in addition to my custom designed semi-circular orb. Cool? We both know you just said 'Yes'!
One very unique feature on all Func sUrface 1030 Archetypes is its double-sided surface, which you can flip it around as often as you like and secure it back onto the base to use the other side of the mousing surface. Since it's custom, you can configure it as smooth/smooth, rough/rough as well as the standard rough/smooth. For demonstration and comparison purposes, we ordered a rough/smooth Archetype. I am a big fan of the smooth side of the dual surface, but I am sure many will like the rough tracking side as well.
Before we move on to the next section, let's take a look at the specifications of Func's sUrface 1030 Archetype MBA Custom, directly obtained from Func's website:
- New large surface area (11.5" x 9.5") ensures that you never run out of mousing area at critical moments
- The redesigned Archetype is more than 20% larger than the original sUrface1030 mousing solution
- Reversible surface sheet has two unique textures to accommodate your preference, both designed to provide exceptionally precise tracking of your optical or laser mouse
Base Component: Available in Soft-Feel Hard Plastic or Machined Billet Aluminum
- New attractive shape - allows for even more mousing area
- Completely redesigned base:
---- The Soft-Feel hard-base component has a sleek, soft-feel coating that feels like suede
---- The Machined Billet Aluminum (MBA) base component will quickly turn your friends green with envy
- New 'finger holes' in the base enable the surface sheet to be turned over quickly and easily - allowing you to switch between surface textures within a matter of seconds
- Houses the surface component and is still less than 1/8" high for your comfort
- Incorporates feet made from a revolutionary material that has unrivalled traction qualities to ensure the product stays in place, even during the most intense gaming sessions
Mouse Cord Clip Component
- Improved cord clip is constructed out of an upgraded, stronger material
- Allows free and unhindered movement while mousing by keeping your mouse cord out of the way
- Connects at one of two locations which accommodates both left and right-handed users
Full-Color Product Guide
- Mouse sensitivity tips for optimal performance
- Cleaning and mouse cord clip assembly instructions
One thing though, after going through many, many mousing surfaces, going back to the Func sUrface 1030 Archetype makes me feel that it is still a bit small during usage. Perhaps it is larger the better, but nothing extremely huge to the size of a XTracPads Ripper XXL or a Corepad Deskpad XXXL. What I mean is that a good size would be a slightly taller XTracPads Hybrid, since the curves and frame of the base surrounding the Func mousing surface reduces its overall usable space by a significant margin. This is my personal preference though, as I've grown used to much larger surfaces now. Func do have larger pads, but the Archetype is the largest of the sUrface 1030 series.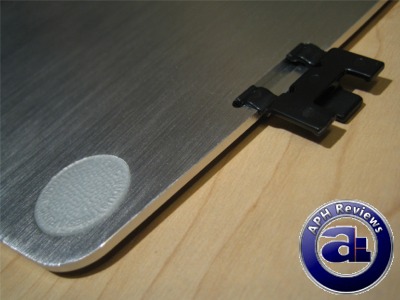 I wouldn't say that the Archetype got a 'Machined Billet Aluminum' phrase in its name without a reason. The aluminum is nice, shiny and solid, but machine marks are clear and obvious. It's not a bad thing, since we are not reviewing a heatsink. You could do some lapping on it though, if you want to spend the time doing so!
Note that the base (Especially the aluminum base) is very rigid and solid (Thus cannot be bent without damage) and it is recommended to use Func's sUrface 1030 Archetype on completely flat, even surfaces only. Otherwise, I would consider buying a cloth or flexible hybrid pad such as a XTracPads Hybrid instead.
Anyway, utilizing a set of six rubber grips with virtually no thickness, it provides incredible grip with flat desks with virtually no added height. After going through over a dozen mousepads in the last few months, I am still impressed by this implementation as I've yet to see someone else come up with a better method of holding down a solid surface so effectively.
The cord clip may be more usable to some people than others. It can be clipped on either the top left or right side under the base of Func's sUrface 1030 Archetype. Its primary purpose is to guarantee enough room for your mouse to move by reducing temporary short cord length limitations as we all have probably experienced before. It doesn't seem to hold the braided cord of my Logitech G5 too well, so it's not that useful for me personally.
Before we move on, let's take a look at our general plastic pad advantages and disadvantages list. Since our original "Cloth pad advantages and disadvantages" list was so well liked, we've developed another of our great mousepad type generalization table through our experience with the large variety of products:
Typical plastic pad advantages and disadvantages
+ Easy to clean
+ Usually great glide
+ Guaranteed hard, flat surface
* Usually solid (Cannot be rolled up - depending on your preference)
- May be vulnerable to permanent scratches
- Makes noise during usage
- Harder on your mouse feet
- Control not as good as cloth pads
- Usually bad grip
- Less Comfortable
- Easy to accumulate dust and dirt on the surface
However, the Archetype proves to be different and it's not 'any' mousepad:
+ Very easy to clean
+ Excellent glide
+ Great control
+ Solid and not vulnerable to crack or force damages
+ Impressive grip
* Some noise during usage
* Acceptable effect on your mouse feet
- May be vulnerable to permanent scratches
- Less Comfortable
- Easy to accumulate dust and dirt on the surface
Note that the above contradicts slightly with our previous Func sUrface 1030 Archetype review. We'll explain more in our Tests section later.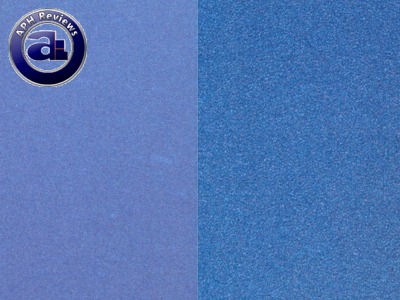 A direct comparison of the smooth and rough surfaces, respectively, as shown in our image above. Our unit is configured to have a smooth surface on one side, while a rougher surface on the other for comparison purposes. When you order your custom Archetype, it is possible to have identical surface coarseness (Or smoothness) on both sides. For example, a smooth/smooth as well as a rough/rough in addition to a standard rough/smooth can be built to your tastes and preference.
There are advantages to having replicates of each other on both sides of the surface. For example, if you know you know that you will use the smoother side only, then configuring your custom Archetype to smooth/smooth will prevent you from losing your opportunity to use the smooth side of the surface completely if it were to be worn out entirely.
We have mentioned about the problems of Func's sUrface 1030 Archetype plastic surface being prone to scratches. After a bit of research, we can hypothesize that this is likely due to our mouse used in the previous tests -- the Logitech MX600 -- which utilizes a set of plastic feet. Plastic feet do not go well at all with plastic surfaces (In reality, all surfaces), as it easily scratches them up in addition to its inability to glide. With our Logitech G5 with a relatively large polytetrafluoroethylene (Teflon) base, it is unlikely that our Func sUrface 1030 Archetype's surface is as prone to scratches as before. However, if you own a mouse with hard plastic feet, I would suggest you to not use the Archetype unless you don't mind scratches (Which will decrease traction/control performance).
---
The Tests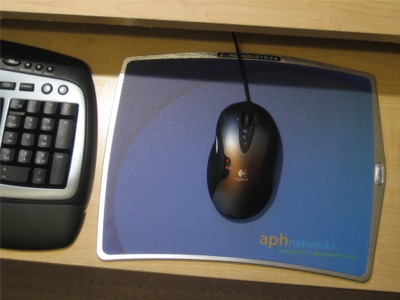 Since it's a double-sided mousing surface with both a rough and smooth side, I'll do an independent rating using our proprietary rating system on both surfaces.
Moving onto our standard tests, I completed both our Photoshop freehand trace test and Counter-Strike: Source in game performance analysis. Using firmware version 1.1, our Logitech G5 will be used alongside for benchmarking. We will then rate our mousepad based on the following categories after obtaining our results:
Glide - For quick and effortless mouse movements across the mousing surface.
Control - For precise and accurate cursor/crosshair handling.
Grip - The mousepad's ability to stay in the same position on the desk without undesirably relocating itself.
Noise - Will this mousepad generate noise when the mouse is being used?
Some of our ratings below are based on our updated tests with our Logitech G5, therefore some of the ratings contradict with our previous review because it was done using a Logitech MX600. The ratings on our previous review should be discarded and information in this review will be taken as the accurate one.
Smooth Surface
The glide is impressive, and mouse flies across the surface without any enhancements like the XTracPads Hybrid and InstaGlide. Control is not really given up in the "oil slick effect" like we said in our previous Archetype review -- we found out later that it was because our pad was dirty during that test and the mouse was different. The XTracPads Hybrid still holds the crown in this area though.
Grip
Grip is truly excellent (Although this is part of the base, not the surface, we'll put it in this part anyway), and we've yet to see another pad -- either cloth or plastic -- beat this. The Archetype itself can be considered a thin pad already, and with this sort of implementation with its virtually no-thickness grips, it's perfect. Depending on your mouse surface and how fast you move your mouse, a medium but acceptable amount of noise will be generated during usage.
Rough Surface
Glide performance is miles away from the smooth surface, and probably would have worn out your mouse faster as well. Interestingly, glide performance is still slightly better than the average cloth pad such as SteelPad QcK+. However, you'll get much more control over in this area -- again similar to a cloth mousing surface. If you are looking for these characteristics, however, an actual cloth pad will probably do a better job than a plastic pad.
We've already mentioned grip before in our previous section, so I won't go over it again. Noise generation is a little bit more -- but this time a bit of a rub between your mouse and the surface, as if it's trying to grind it down. Therefore we still like to recommend the smooth side of the Func sUrface 1030 Archetype, but if you are temporarily looking for cloth like performance in a plastic pad, the Archetype is flexible enough to provide you these kind of features if you have a rough/smooth surface.
---
The best only got better. If you are looking for a great plastic mousing surface, there's basically no other choice other than our longtime favorite -- and still current favorite -- Func sUrface 1030 Archetype series. Want a smooth plastic surface? The Archetype's got it. Want a rough surface? The Archetype's got it as well. Want a custom and unique mousing surface? Func Custom Gear pops into your head. Even if you don't want a custom design, you can save yourself a few bucks and get the standard version with a tin case. At its base price, it is very competitive for Func's standard rough/smooth plastic base edition. If you want something very fancy regardless of price, pick up a Func sUrface 1030 Archetype MBA Custom -- it truly rox0rs j00r box0rs (Honestly!). However, there's still room for improvement. If there's something that reduces its tendency to get scratched, as well as just a bit larger mousing surface with more actual usable room, we've got something that goes beyond rox0ring your box0rs.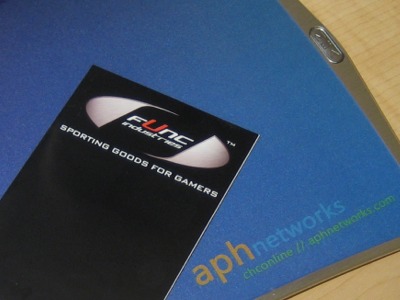 Special thanks to Reuben over at Func for making this review possible.

Rating: 8/10 | APH Recommended
- The rating 8/10 means "Definitely a very good product with drawbacks that isn't likely going to matter to the end user."
- APH Recommended is an indication of a product as best of its class, therefore only very small portions of our reviewed products get such an award.
- More information in our Review Focus.
Whether you are getting a custom one or not, its variable price range and dual surface can definitely accommodate a large variety of customers. It would be great if only it was more scratch resistant and a larger mousing surface area; however we'd say this is still one awesome mousepad. Oh yeah, and we still want the tin case that comes with non-custom Archetype editions!