By: Jonathan Kwan
August 19, 2006
Being one of our prizes in our APH Giveaway 2006, I am sure most people found it pretty ironic that we haven't reviewed one at the time; yet a SteelPad QcK and SteelPad QcK+ were supposed to be sent over to two of our members in our forums shortly after the winners were announced over a month ago. On the other hand, when Thomas over at SteelSeries asked if I wanted to review a SteelPad QcK+ -- which, as curious as I am -- wondered what is really sent to prize recipients of the APH Giveaway 2006. Then the second irony surfaced. I actually got my review unit almost a month earlier than the winners due to certain unexpected happenings. After working along with the winners just several days ago where their units just arrived at their doorstep, and getting their thoughts out prior to me writing this review, let's begin our SteelPad QcK+ review to see what we all think of this product.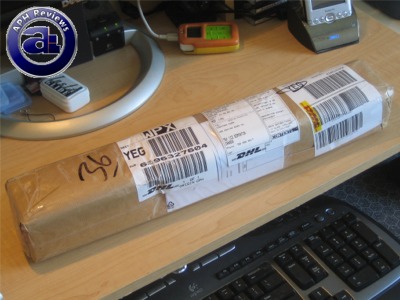 Our review unit came nicely wrapped and protected in layers of cardboard-paper-ish material from our all-time favorite shipping company, DHL. Actually, to be fair and honest, they did perfectly fine from the last few shipments I received that were using DHL. Maybe because they realized that the packages were marked 'To aphnetworks.com' or 'To APH Networks' on them!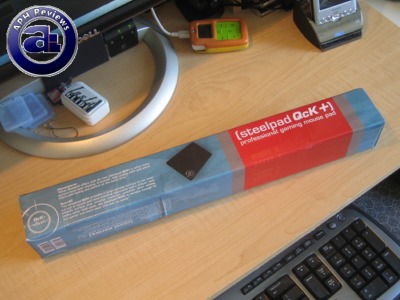 Removing the wrapping reveals the SteelPad QcK+ rolled up in retail cardboard packaging. Because it is a cloth pad, it can easily be rolled up and transported without any worries of cracking your mousing surface. There were absolutely no excessive packaging material that comes with the QcK+, and everything was easy to open, allowing you to jump straight to product usage.
Before we begin, I'd like to remind all readers that even though this was one of our prizes in the APH Giveaway 2006, it would have no influence on the rating of this product or result of this review (Except for opinions and suggestions our winners put out). Please read our Review Focus for more details.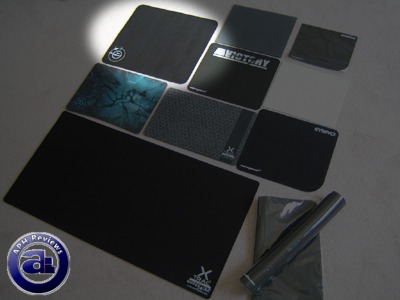 Size comparison with other mousepads. From top left: SteelPad QcK+, Corepad Magna, Corepad Eyepad S, Corepad Victory, Icemat 2nd Edition, SteelPad 5L, XTracPads Hybrid, Corepad Eyepad M, XTracPads Ripper XXL. For your interest, the one rolled up unopened is the Corepad Deskpad XXXL and beneath it is a Corepad Eyepad XL.
I found it pretty funny that the SteelPad QcK+ is nearly identical to the Corepad Eyepad XL's mousing surface area. So I dug through both manufacturer's sites and discovered that the SteelPad QcK can be directly compared to Corepad's Eyepad M, with SteelPad's QcK Mini to the Corepad Eyepad S; since their dimensions are 'coincidently' nearly the same with a few millimeters here and there difference. The only 'noticeable' difference is that the Eyepad series from Corepad is slightly thinner and lighter, while SteelSeries' products seem to be thicker but feels more 'solid' (As in 'durable'). Who is copying whom? Who knows.
Moving back on topic, HopkinsProgramming on our forums wrote, "I like its thickness (or thin-ness, depending on how you look at it)" [1]. SteelPad QcK+'s 2mm thickness is definitely a nice characteristic; you shouldn't have a problem hiding certain areas of this mousepad under your keyboard. It is slightly thinner than our XTracPads Hybrid, and exactly the same as XTracPads Ripper XXL in terms of thickness.
SteelPad QcK+'s is a cloth surface; our scanned image indicates the product to have pretty consistent texture, which, in theory, is suitable and desirable for good mouse tracking.
Here are some information taken from SteelSeries' website:
- XXL sized cloth mouse pad - your mouse will never slip off
- Ideal for low sensitivity mouse settings
- Compatible with all mice
- Specially designed non-slip rubber base
- 17,7*15,7in (450mm x 400mm) - thickness 2mm
Many will wonder what are the advantages and disadvantages of a cloth pad when compared to a plastic pad. I composed a short list, according to my experience:
Cloth pad advantages and disadvantages
+ Quiet during usage
+ Easy on your mouse feet
+ Flexible (Can be rolled up)
+ Usually excellent control
+ Usually great grip
+ Comfortable
- Easy to get dirty
- Hard to clean
- Glide is usually not as good
Update: Seems like a lot of our readers has reported that other sites are copying our Cloth pad advantages and disadvantages list exactly as shown on our site, as well as our general review format and rating guidelines. Well, it's apparent our reviews are pretty well liked ;) And for those copying, please read our Copyright agreement.
---
The Tests
Moving onto our standard tests, I completed both our Photoshop freehand trace test and Counter-Strike: Source in game performance analysis. Using firmware version 1.1, our Logitech G5 will be used alongside for benchmarking. We will then rate our mousepad based on the following categories after obtaining our results:
Glide - For quick and effortless mouse movements across the mousing surface.
Control - For precise and accurate cursor/crosshair handling.
Grip - The mousepad's ability to stay in the same position on the desk without undesirably relocating itself.
Noise - Will this mousepad generate noise when the mouse is being used?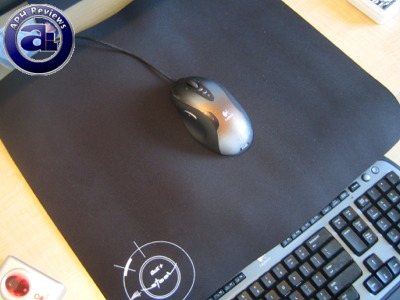 Before we move onto our main rating categories, I'd like to say that I would actually prefer the SteelPad QcK+ to be a bit wider instead of a near-square design. This is due to the fact that most users (Especially gamers) are likely to move left and right more than the mouse to move up and down. Graphic designers, however, are likely to move all directions in equal amounts of distance.
Moving onto our results, glide is pretty much average for a cloth pad. The XTracPads Ripper XXL has a slightly better glide than the SteelPad QcK+ when I tested them side by side. However, it is absolutely no competition to the XTracPads Hybrid as well as Func sUrface 1030 Archetype. Of course, it's better than Corepad Magna by a mile.
Control, on the other hand, is pretty good, as expected from a quality cloth pad. The texture of the surface is very consistent and likely a large contributor to its amount of control. This can be counted as better than the Func sUrface 1030 Archetype, and around the same as XTracPads Hybrid (Which in turn has far, far better glide). Grip can be improved upon, however; there were a bit of undesired self-relocations during gaming sessions. The XTracPads Ripper XXL, another cloth pad, has better grip with my desk from what I can see.
During usage, my Logitech G5 with the SteelPad QcK+ operated very quietly without any problems.
---
As a whole, the SteelPad QcK+ is an average pad in my opinion. It holds the same characteristic as most cloth pads, and the physical size may not appeal to everyone. Texture is consistent, and control is pretty good, but even as a cloth pad, the glide has room for improvement. I would also appreciate certain improvement made to its grip. Overall, we will recommend the SteelPad QcK+ if it has something that makes itself different and very unique that sets itself above other mousepads.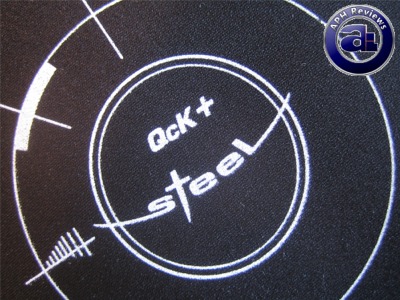 Special thanks to Thomas over at Soft Trading for making this review possible.
Note: The number ratings below has been adjusted accordingly to comply with our new Number Rating System.
Rating: 6.5/10
What do these ratings mean?
The SteelPad QcK+ is an average mousepad; same characteristics as 'standard' cloth pads that we've seen -- it has room for improvement, and with some creativity that makes it unique, it will have potential to set itself above the competition.