By: Jonathan Kwan
July 22, 2006
When we mention mousepads, many people will overlook the importance of one. "A mousepad? Yeah, sure, it will make a difference!" However, when we really dig into a certain product, all of us will realize sooner or later that it is very challenging for a mousepad company to produce a competitively priced and better-than-the-rest mousing surface. Here at APH Networks, we've done our fair share of mousepad reviews over the last few months -- and there are two companies that had their products excel in the mousepad market. Func's sUrface 1030 Archetype has gained a lot of respect from us, and lately it seems that the XTracPads Hybrid is arguably APH's new champion in mousing surfaces.
Moving forward, we'll be looking at Corepad's Victory mousepad today. A thin-and-light 750g product with dimensions at 330mm x 285mm x 1.8mm, do you think this product will truly stand out and bring up challenges to other mousing surfaces from Corepad's competitors? As usual, there's only one way to find out -- let's dig through different aspects in addition to pros and cons of this product, then we'll draw our conclusion. Let's get movin'!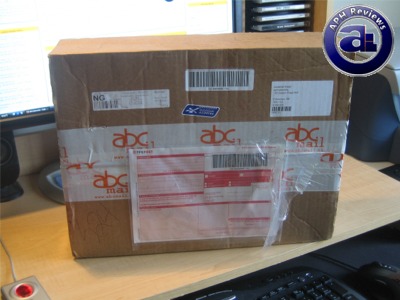 It was oddly around 7:30PM when the mailman arrived at my door with a surprisingly large box from The Netherlands. As I wondered what kind of review units came from that location, I quickly recalled Corepad, a gaming accessories manufacturer, and excitedly opened the package. The included packing slip indicates nine different products have been shipped to me, and of course, there were nine products in the box (Wow!). We'll look at the Corepad Victory today, and we'll get the other ones covered as well.
By the way, "ABC Mail", cool name!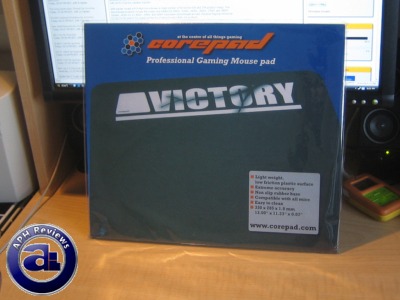 Our Corepad Victory arrived in retail packaging. A thin piece of plastic encloses its cardboard packaging; the plastic sheet can be easily removed by opening an adhesive flap. The box itself is held together in a lock position not too dissimilar to a tab. No cutting or ripping is involved through the whole opening process, and every piece can be reused to your preference. This is where all the packaging points come in. Now if only all companies used this kind of packaging...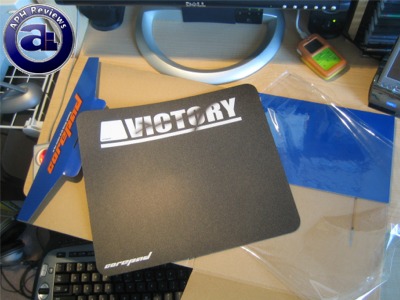 A further elaborated and clear picture of what I mentioned in the previous paragraph regarding the opening of Corepad Victory's packaging. Out of the box, you will get the Corepad Victory itself only. The cardboard retail packaging can be doubled as a mousepad carrying case to prevent damage during transport (Eg. LAN party) if you prefer to do so.
Before we move on, let's check what Corepad listed as features for the Victory. The information below is reproduced in exact words from the mousing surface's packaging:
- Light weight, low friction plastic surface
- Extreme accuracy
- Non slip rubber base
- Compatible with all mice
- Easy to clean
- 330 x 285 x 1.8 mm / 13.00" x 11.23" x 0.07"
We'll dig into the major points later in this review.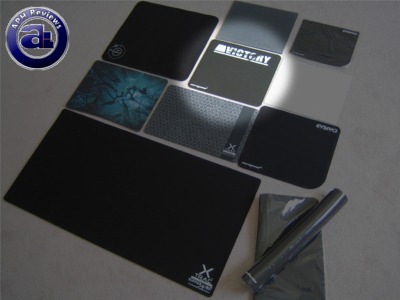 Size comparison with other mousing surfaces. From top left: SteelPad QcK+, Corepad Magna, Corepad Eyepad S, Corepad Victory, Icemat 2nd Edition, SteelPad 5L, XTracPads Hybrid, Corepad Eyepad M, XTracPads Ripper XXL. For your interest, the one rolled up unopened is the Corepad Deskpad XXXL and beneath it is a Corepad Eyepad XL. In my opinion, the Corepad Victory hits a sweet spot for mousing surface area.
Another characteristic that I found Corepad Victory unique in is how light and thin it is. On visual comparison, the Corepad Victory is approximately half the thickness of the XTracPads Hybrid. The thin rubber backing can be credited for both its thinness as well as its lightweight property.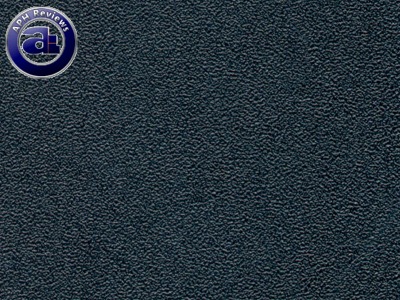 A close look at Corepad Victory's mousing surface. As a plastic surface, it has many similarities to the Func sUrface 1030 Archetype (The shots in that article is not as precisely taken as the shot above in this review), but yet unique on its own. It can be compared to the rough side of the Func, but texture of Corepad Victory's mousing surface is similar to nothing but its own. We'll take a look at its performance later on.
It's actually pretty surprising that although this is purely a plastic pad, it is still flexible enough to be bent. This is primarily due to its thin plastic surface on top of its rubber backing. I would not roll it up for transport, however; high degree of bending will cause damage to your plastic mousing surface.
As a plastic mousing surface, the Corepad Victory can be easily cleaned and dried with minimal effort.
---
The Tests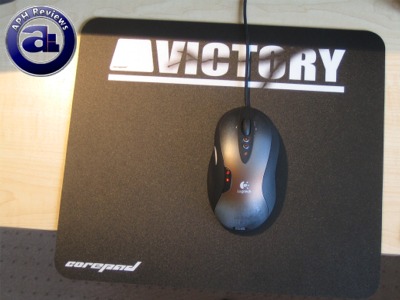 Moving onto our standard tests, I completed both our Photoshop freehand trace test and Counter-Strike: Source in game performance analysis. Using firmware version 1.1, our Logitech G5 will be used alongside for benchmarking. We will then rate our mousepad based on the following categories after obtaining our results:
Glide - For quick and effortless mouse movements across the mousing surface.
Control - For precise and accurate cursor/crosshair handling.
Grip - The mousepad's ability to stay in the same position on the desk without undesirably relocating itself.
Noise - Will this mousepad generate noise when the mouse is being used?
In terms of glide, I found it to be pretty good, although it feels a bit 'artificial' (Sort of like the Func sUrface 1030 Archetype, and its gliding performance just couldn't match our current favorite, the XTracPads Hybrid. Control is debatable; due to its 'artificial glide' the Corepad Victory just couldn't match the XTracPads Hybrid but slightly better than the Func sUrface 1030 Archetype. Of course, cloth pads generally dominate in this area, including Corepad's Eyepad line as well as the XTracPads Ripper XXL.
Moving onto grip: This area can be seriously improved on by Corepad. This is likely to be a sacrifice for having such a light mousepad, since there's little weight weighing down the pad onto the desk surface. However, weight of a mousepad is very unlikely to affect anyone in purchasing a mousepad, therefore I believe it is not a practical trade-off. I would prefer a mousepad to be heavier and have better grip with my desk than one that's light and has mediocre traction with the surface of my desk. Grip is one area that the Corepad Victory requires significant improvement. And like any plastic pad, moving mouse across its surface will generate some noise, but it is definitely acceptable.
Overall, the Corepad Victory is a pretty good mousepad. With very nice retail packaging and low profile design, combined with a very desirable size, this plastic surface is unique on its own because it is flexible enough to be bent to a certain degree without taking damage. We have to admit that it has pretty good glide, but its slight 'artificial' feel to it, along with its debatable amount of control offered can be said as holding it back, but not significantly enough to take too much away. However, the real drawback that really pulls the Corepad Victory away is its grip -- we can see major room for improvement here. If the grip is worked on, the Corepad Victory is can be a candidate for your next mousepad purchase.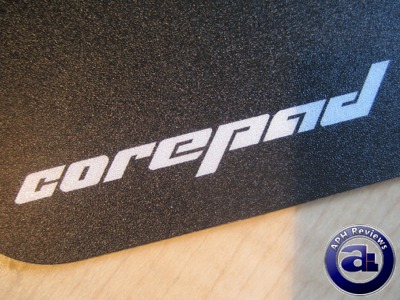 Special thanks to Marcel over at Corepad for making this review possible.
Note: The number ratings below has been adjusted accordingly to comply with our new Number Rating System.
Rating: 7/10
What do these ratings mean?
Decently sized plastic mousing surface with many unique properties. Glide is pretty good but a bit 'artificial', control is debatable, but grip can definitely be improved upon.