By: Kenneth Kwok
October 1, 2010
Last Monday, when I arrived at home and decided to check my mail, I was quite surprised to see a large FedEx package at my front door. At first, I could not remember what this package was for, nor could not recall from memory which company uses FedEx at this time to ship me a product for review. Therefore, before opening the box, I decided to do was to take a peek at the shipping invoice. To my astonishment, I discovered it was from Digital Interactive CompuExpert; a company I have never heard of before. Thinking it could be a shipping error, a closer inspection indicates it was actually correctly addressed to me -- with my name, address, and all on it. The description of the product was 'Sharkoon X-Tactic Digital Gaming Headset Gaming Accessory'. This really got me thinking. "When did I order a gaming headset?" Then panic kicked in that our Editor-in-Chief Jonathan might have sent me an audio product for review, unfortunately that is certainly not my particular area of specialization here at APH Networks. Even so, I decided it would be best to ask Jonathan what to do, so he told me calmly to "just open it". Upon disassembling the mysterious FedEx package, I was relieved to see it was the Mionix Naos 3200 I was expecting for our review today. Many of you may have read my Mionix Naos 5000 review a few months back. The Mionix Naos 5000 is a mouse I truly enjoy and still use, thanks to its commendable performance and comfort. Well, Mionix is at it again, now with their latest release. The Naos 3200 is a gaming mouse featuring an LED backed 3200 dpi sensor rather than the 5040 dpi laser sensor incorporated in the Naos 5000 for a lower price point. Without further delay, let us plunge into this review, and see how the Naos 3200 plays in real life!
Our review unit of the Mionix Naos 3200 was shipped in a fairly big FedEx branded rectangular corrugated cardboard box from Mionix's USA offices in California, USA. FedEx International Economy was used as the shipping method. Everything arrived in great condition; as with the majority of the packages I have received from FedEx. A retail package of the Mionix Naos 3200 was packed inside along with packing peanuts to fill up additional space for protection. While the packing peanuts did not fill up the box to its entirety, it was more than adequate for the job. This for me is surely a good thing, because I have more than enough packing peanuts lying around already -- anyone who has been working here at APH Networks would know.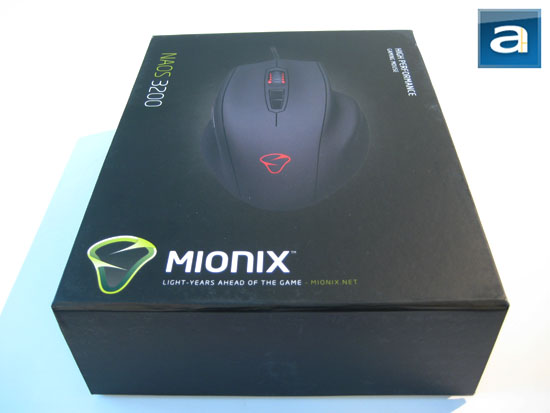 Our review unit of the Mionix Naos 3200 came in retail packaging, and has basically the same design as the Mionix Naos 5000. Due to this, it also carries the Razer-esque feel to the box. First off, there is the black background, then add a touch of green, all complemented with lighting effect in the center displaying the product in a dramatic fashion. In this case, it would be a photo of the Naos 3200 itself in its full glory. Surround that with the names and description of the mouse, and voila, a true gamer's mouse box design! It makes for a sophisticated yet very clean design. The bottom left is a big Mionix logo, with the word 'Mionix' printed next to it in white to contrast the black background; adding emphasis to the company name. The model number is written near the upper left corner in green and white text. The front flap is held closed by a small magnet for an additional touch of class.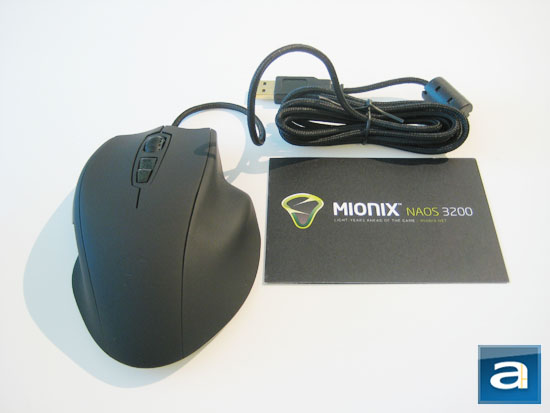 The packaging for the Mionix Naos 3200, like the Mionix Naos 5000, was packaged very well. By pulling off the upper cover portion of the box, the mouse itself is revealed. Surprisingly, there is even less inside the box than last time. Again, no CDs are included since drivers are posted online only, similar to how more and more companies are moving towards web based content for both 'green' and cost cutting purposes. Both of which isn't a bad thing, as it is good for the environment and our wallets (Or theirs... either way). Most tech enthusiasts don't even bother to use the drivers found on a CD to be honest, since by the time it arrives into our hands, it is usually outdated -- and we would rather go online and find the latest drivers anyway. Therefore, out of the box, you will receive only two items: the Mionix Naos 3200 mouse itself, and a tiny information card. Internal packaging simply involves a plastic mold for the Mionix Naos 3200 to make it easy to see when opening the package, with additional cardboard cutout to keep it in its place.
Anyways, before we delve deeper into our review, let's take a quick look at the specifications of the Mionix Naos 3200, as obtained from the manufacturer's website:
Technical Specifications
- Grip friendly rubber coating
- 7 buttons (7 programmable)
- 3 steps in-game dpi adjustment
- Built-in memory
- Cable length: 2 m (braided for durability)
Dimensions & Weight
-Dimensions: 130.84x84.72x38.67 mm / 5.15x3.33x1.52 in
-Net Weight (w/o cable): 99 gr
-Net Weight (cable incl.): 152.2 gr
Sensor Specification
- 3200 dpi gaming LED-optical sensor
- 3.5mm lift distance
- 1 ms response time
- 6469 frames/sec
- Tracking speed: 1 m/sec (40 ips)
- 5.8 megapixels/sec image processing
- Acceleration: 15 g
The Mionix Naos 3200 uses the now fairly standard braided USB cable among high performance mice, as more products in this category utilize cables of this type for stronger durability, increased flexibility, and generally less friction than those standard plastic or rubber coated cables. The cable is 2m long, which should be more than sufficient for most desktop users.
In terms of design, the Mionix Naos 3200 is nearly identical to the Mionix Naos 5000 with the same basic shape and design. There are a few minor physical differences in which we will discuss over the course of this review. Design elements of this gaming mouse are generally presentable, starting with the all black design, to the two part LED lighting system. Meanwhile, the surface of the Mionix Naos 3200 mouse itself is rubber coated for better grip -- this is beneficial for both comfort and performance. In general, the Naos 3200 makes it a palm grip type mouse, as the shape of the mouse surface is used to support and accommodate the natural shape of your palm. The shortcoming of palm grip mice is that the mouse design is asymmetrical, so if you use your mouse with your left hand, then you are out of luck. There is a curve on both the right and left side of the mouse to rest your thumb and ring finger, respectively. There is also space for your pinkie below the arched area, as shown in our photo above. The overall design is very well thought out in providing adequate comfort and grip.
The center of the Mionix Naos 3200 features a LED backlit Mionix logo, a partially LED backlit scroll wheel, and sensitivity up and down buttons conveniently located underneath the scroll wheel. The sensitivity buttons are not LED backlit, unlike the Mionix Naos 5000. It should be fairly self explanatory with regards to the dpi setting buttons, which allow the user to increase or decrease mouse sensitivity levels at any time. Missing from the Mionix Naos 3200 compared to the Naos 5000 is the array of three LEDs on the left used for indicating sensitivity. Instead, when dpi is changed, the entire mouse's lighting color changes correspondingly. The first setting is red, followed by green, then finally blue at the highest sensitivity setting. (Interesting how they chose RGB, eh?) Regrettably, it only supports three pre-configured dpi steppings; personally I would like to see a few extra sensitivity steps like the Logitech G500, which supports up to five dpi settings. It wouldn't have been too hard to add additional stepping, even if it involves two additional LED colors variations. Located below that are two standard forward and back buttons, but you can map them do other tasks as well. Users familiar with mice having side forward and back buttons should be familiar with their usefulness in navigating through pages on your favorite web browser or file menus in Windows Explorer. In games, the user can bind these buttons for alternate functions, too. The scroll wheel is fairly standard in design, sporting some horizontal grooves on the surface for additional grip when scrolling the wheel up and down. In my opinion, the scroll wheel is fairly standard in feel; there is nothing special about it in particular -- considering I am used to the 'frictionless' scroll wheel on my Logitech G500. On the other hand, it is certainly 'good' in a sense that it works as well as the scroll wheel of the Logitech G5. As aforementioned, the scroll wheel on the Mionix Naos 3200 is translucent with an LED backlight for aesthetics, as well as providing visibility in the dark.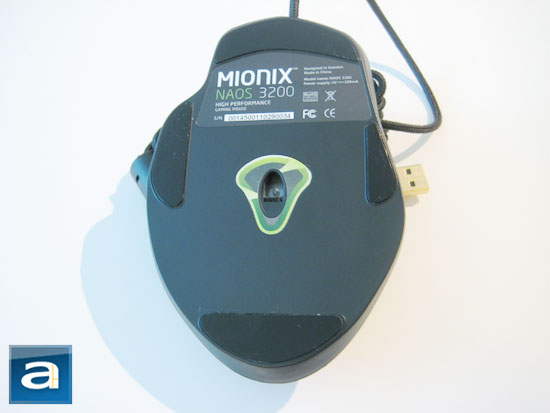 Flipping the Mionix Naos 3200 over, we are treated with a view of the bottom of the mouse, as shown in our photo above. The bottom of the mouse is made out of plastic. Prominently shown is Mionix's logo around the areas of the optical sensor; additionally we have a Mionix label at the top displaying the product name and model number. The Naos 3200 also utilizes four sheets of polytetrafluoroethylene (Multi-C2F4, Teflon) feet which are all attached to the bottom of the mouse. It appears that these feet can be replaced by the user if they eventually wear out. Although we are not given an estimated amount of time that these Teflon feet will last, it should be fairly safe to assume that it will be at least as long as the lifetime of the mouse. This assumption is based on calculations we have done with previous Teflon feet equipped mice that we have owned in the past.
Diverging from the Mionix Naos 5000, the Mionix Naos 3200 implements an LED optical sensor instead of laser based tracking. The LED sensor is located in the middle of the mouse. This sensor is capable of up to 3200 dpi sensitivity, with 5.8 megapixels at 6,469 frames per second in image processing power. It is worth noting that the dpi rating is more of a marketing term than a true reflection of actual performance in sensor precision -- we will cover that later on in the tests. A high sensitivity sensor provides flexibility in usage, and can easily adapt to different styles of gamers. Using a gold-plated USB 2.0 adapter, the Naos 3200's LED sensor supports adjustable polling rates up to 1000 Hz with 1 ms response time. This means that the mouse can send up to one thousand pieces of tracking data per second for increased precision. Of course, as savvy users would be quick to point out, the aforementioned gold-plated USB connector does little to nothing in reality, since gold plating on the outside doesn't make actual contact with the USB pins. But it is pretty to look at, haha.
Another change they have made to Mionix Naos 3200 is the removal of the adjustable weight system. This is one of those 'mixed bag' types of situations. While the Naos 5000 did not have the best weight system to be honest, it still allowed additional customization for end users. The positive aspect is production costs will go down for the most part, and there is just so much we can ask for in a mouse that costs MSRP $30 less than the Naos 5000.
------------------------------------------
The Tests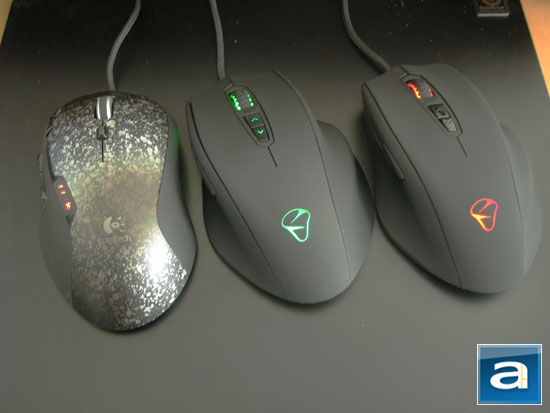 Our tests were carried out on a computer with the following specifications:
CPU: Intel Core 2 Quad Q9550
CPU Cooling: OCZ Gladiator
Motherboard: Asus P5E3-Deluxe
RAM: OCZ Special Ops PC3-10666 2x2GB
Graphics: Palit Radeon HD 4850 Sonic 512MB
Case: NZXT Panzerbox (NZXT 120mm - Back, NZXT 190mm - Top back, NZXT 190mm - Front)
Power: Cooler Master Silent Pro M 1000W
Optical Drive: LG 16X DVD Burner
Hard Drive: Seagate Barracuda 7200.11 640GB
Operating System: Microsoft Windows 7 Professional
Mionix requires the user to download the driver package online in conjunction with the firmware upon the installation of the Naos 3200 gaming mouse. Installation of the driver software was easy, and just required the usual reading and clicking 'next' repeatedly. The driver also automatically updates the mouse to the latest firmware as well. The provided software is actually quite unique, as it does carry on the stylistic theme that Mionix uses to identify its brand -- this consists of the black background with white and green text as seen in the packaging material. Mionix's custom software along with the mouse's onboard memory allows one saved profile for different settings, such as custom button assignments, double click speed, polling rate, scroll speed, pointer acceleration, dpi stepping, and pointer speed (Note that the Naos 5000 supports up to five independent profiles). Missing from the Mionix Naos 3200 is the Surface Quality Analyzer Tool found on the Naos 5000, which is a feature used with the sensor to analyze the tracking surface. Sensitivity is also constant and cannot be independently adjusted on the X/Y axis. Finally, there are macro customizations, which allow users to record their own macros for games and other features.
I have put the Mionix Naos 3200 through our new revamped series of tracking performance tests. Included is regular office usage in productivity programs, as well as gaming tests with various games including Garry's Mod, Counter-Strike: Source, and Company of Heroes. The mousing surfaces used includes the cloth-based Razer Goliathus and Razer Mantis, as well as the aluminum-based SteelSeries SX.
Over the course of time in using this mouse on a daily basis, I grew to enjoy the grip offered by the rubber coating, as well as the top notch build quality of the mouse. The construction quality is solid and very impressive in both feel and detail. The reason why I say this is because all the parts were slick and smooth with no loose or flimsy parts; from the mouse buttons being very 'clickable' and refined, the side buttons being easy to press, and the scroll wheel's tactile feel. Again, the Mionix Naos 3200 is truly impressive here in both usability and quality -- all these combined with the smooth Teflon feet provides smooth, excellent glide among most mousing surfaces makes the Mionix Naos 3200 a very commendable product.
After years of Logitech's G-series mice, ranging from the original G5 and G7 to the latest G500, I am naturally inclined to be classified as palm mouse user. This means that I prefer to rest my entire palm completely over the surface of the mouse, instead of just using my fingers for grip. In this case, the Mionix Naos 3200 is a perfect fit for users with these preferences such as me. A large, curved resting surface is designed for the palm, while a series of curvatures for the thumb, ring finger, and pinkie are set on the side where they belong -- it is hard to not to admit how comfortable this mouse is. This design makes it both usable and an excellent experience at the same time; with the added grip from the rubber coating, this makes the Mionix Naos 3200 one of the most comfortable mice I have used, just like the Naos 5000. This comfort does not come without a small sacrifice though -- because this mouse has to accommodate the two fingers as mentioned and the pinkie, it is just a wee bit wider than the G500, and may be an issue if one dislikes the idea of a physically larger mouse. In no way is it too big or even too bulky in my opinion; I had no issue at all with the size and I don't think it is that large of an issue either because the Naos 3200 is designed for desktop use. This mouse is much more comfortable to use than the Logitech G500 in my opinion, due to the softer touch surface.
The target market for this mouse is obviously the gamer, and less so office users. However, this does not mean that the Mionix Naos 3200 is bad for day to day office or productivity usage. Even so, I found that using this mouse at the maximum dpi setting of 3200, it was still very usable for office work, and even image editing such as the ones seen in this review. With the 1000Hz polling rate and 1 ms rated response, the Mionix Naos was responsive and snappy. Speed was not an issue at all, and the mouse is very precise and sharp with no 'oil slick effects' or response time issues. At 3200 dpi, the mouse was still very precise and accurate, and it did not feel out of control at any point, even with the LED optical sensor instead of the more powerful laser sensor. The flexibility allowed great potential for precise gaming and graphics editing. I have experienced zero issues in tracking when using it over our test surfaces, including a bare desk in addition to the performance surfaces. Even the side buttons worked very well in their location on the Naos 3200. Overall, the mouse was responsive and snappy, and provided great tracking consistency on each and every one of them. Of course, with all LED sensors, it has inherent limitations on tracking reflective or transparent surfaces. Realistically this is the nature of all types of optical mice, and most users would not use a completely transparent glass table as a tracking surface directly anyway.
------------------------------------------
Carrying a MSRP of around $70 at press time, the Mionix Naos 3200 undercuts the Naos 5000 by roughly $30 -- but I would still consider it to be an overall very good mouse. For the price you pay, I think it is very fair it is missing a few 'luxury' features from its bigger brother, such as customizable weights and more LEDs. The built-in memory is still a good touch, although it supports only one profile rather than five, it still gets the job done for retaining settings independent of your computer. The 3200 dpi LED based optical sensor still provided commendable performance for gaming and productivity alike. Its glide is excellent as it utilizes smooth polytetrafluoroethylene feet. Tack that on with the Mionix Naos series comfort we know and love, this is indeed a pretty solid mouse! It is worth noting that the software drivers for Mionix's Naos 3200 has slightly less features than the Naos 5000 to correspond to lower capabilities of this mouse. This is no indication that the drivers are 'crippled' by any means -- with the same areas of configuration customizations, it corresponds to hardware limitations. There is still some room for improvement for a product of this caliber. It would be nice to see more stepping for the dpi settings instead of just the standard three, some more advanced software features like independent X/Y sensitivity adjustments, and capability to save more than one onboard profile. Custom color settings would also be nice. With all this being said, looking at the big picture, the Mionix Naos 3200 is a worthy contender for those who want the basis of the Naos 5000 without paying full price for it!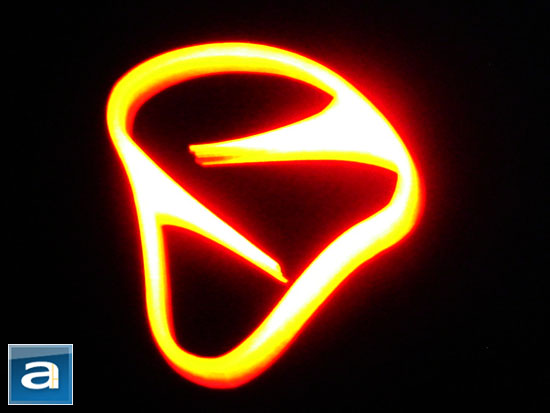 Special thanks to Calle over at Mionix for making this review possible.
APH Review Focus Summary:
7/10 means Great product with many advantages and certain insignificant drawbacks; but should be considered before purchasing.
6/10 means A product with its advantages, but drawbacks should not be ignored before purchasing.
-- Final APH Numeric Rating is 6.9/10
Please note that the APH Numeric Rating system is based off our proprietary guidelines in the Review Focus, and should not be compared to other sites.
The Mionix Naos 3200 is an excellent gaming mouse that combines excellent build quality, great all round performance, and overall comfort for a lower price than its bigger brother.
Do you have any comments or questions about the Mionix Naos 3200? Drop by our Forums. Registration is free, and it only takes a minute!