By: Kenneth Kwok
September 28, 2009
It has been three quick summer months since our last PSU report, which happened to be on the Thermaltake Litepower 450W article written by yours truly back in June. The Thermaltake Litepower 450W that I've looked at is a budget oriented power supply. Although Thermaltake classified it as being 'green' and 'efficient', the price to performance ratio was a bit lacking; especially considering its $90 price tag. But what we have today at APH Networks is a power supply that is not only aiming for efficiency -- but also addresses the enthusiast market at a competitive price, combined with large power rating. Cooler Master promises that their latest creation is not 'just another kilowatt power supply' in context -- the Silent Pro M 1000W promises to deliver lots of power with as little noise as possible, as denoted by its name. As far as world domination goes, it is clear that the Silent Pro M series certainly did set its sight on Earth. Just by taking a look at the retail box (Which we'll show you in just a moment) makes one fear the dominance of the power supply! Just the sheer thoughts of it will cause fear and panic to all mankind, lol. Anyways, in all seriousness, I found the Cooler Master Silent Pro M 1000W's name to be pretty interesting, because it wasn't all too long ago that 1000W power supplies are still quite a distance from being 'silent', due to several technological limitations. With the Silent Pro M series recently refreshed by Cooler Master by an addition of 850W and 1000W editions to the product family, we were able to get our hands on the 1000W version for our report today. We'll be especially keen on seeing how the Cooler Master Silent Pro M 1000W lives up to its name!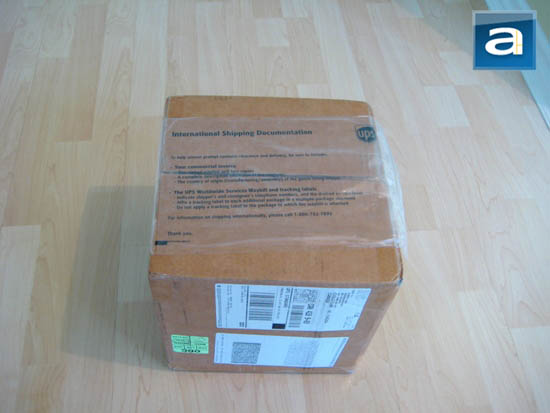 Our review unit came in a heavy duty, brown corrugated cardboard box from Cooler Master's office in California, USA. UPS Standard was used to ship the package to our Vancouver, BC office. The box came in great condition; there's hardly any evidence of damange on the outside box. In terms of the inside packaging, there is just the Cooler Master Silent Pro M 1000W retail box aligned in a horizontal position inside. Brown colored packaging paper fills up extra room on the sides of the box. Nothing moved around inside, even the heavy power supply box remained in its position thanks to the tight insulation.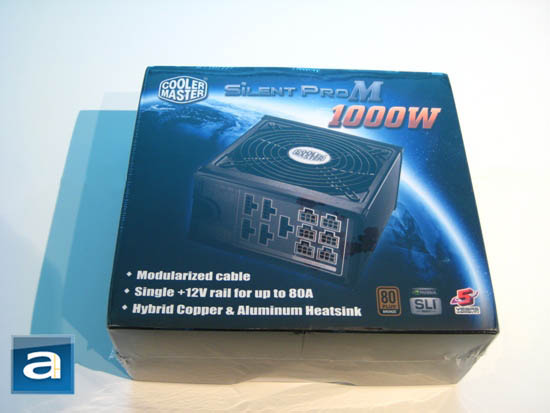 Cooler Master takes on a quite an interesting approach in its Silent Pro M 1000W retail packaging. The front of the box has a huge picture of the power supply, centered into the middle of the box. Behind that is a photo of planet Earth surrounded by an otherwise black background to accentuate some kind of outer space theme of "we want to take over the whole world with this power supply muhahahahahaha". Whatever it is, just take a look at the box and all will be clear haha. At the top is Cooler Master's logo, and the words Silent Pro M 1000W bolded. Near the bottom edge are some of the main feature highlights and various certifications denoted by different icons.
At the back of the box follows a similar design pattern -- it has half a picture of the power supply itself, and a background picture of Earth blended underneath it. Also included are also the same logos and text with respect to power supply property highlights. More detailed specifications are listed, along with highlights and features. It goes without question that there's also images of various certifications that the Cooler Master Silent Pro M 1000W has received. There is a region designation mark as well; ours of course is the US type. Finally, there is a graph for the voltage versus the fan speed with respect to certain amounts of load from the company's internal tests.
Let's take a look at the specifications of this power supply before moving on any further. The following information are taken from Cooler Master's website, and formatted for easier viewing:
-Model: RSA00-AMBAJ3-US
-Type: Intel ATX12V V2.3 / SSI EPS 12V V2.92
-Dimension:
*5.91(W) x 3.39(H) x 6.5(L) (inches)
*150(W) x 86(H) x 165(L) (mm)
-Input Voltage: 90~264V (Auto Range)
-Input Current: 14A@115Vac, 8A@230Vac
-Input Frequency Range: 47~63Hz
-PFC: Active PFC >0.9
-Power Good Signal: 100~500ms
-Hold Up Time: >17ms
-Efficiency: 85% Typically
-MTBF: >100,000hrs
-Protection: OVP/ UVP/OCP/OPP/OTP /SCP
-Output Capacity: 1000W
-Max. Output Capacity: 1200W
-Operation Temperature: 0~40°C (Nominal Input Voltage)
-Regulatory: TUV / CE / GOST / C-tick / UL / FCC / CCC / BSMI
-Fan: 135mm ultra silent fan
-Certification: SLI / 80 Plus Bronze
-Warranty: 5 years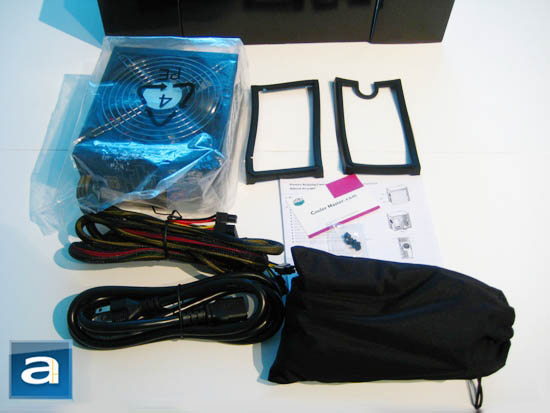 Out of the box, you get the Cooler Master Silent Pro M 1000W, AC power cable, instruction manual, two vibrational dampeners (for mounting in difference cases), and a bag of modular cables. The following modular cables are included:
- PCI-E 6+2 Pin x 6
- 4 Pin Peripheral x 6
- SATA x 9
- 4 Pin Floppy x 1
- PCI-e Y cable x 2 (One PCI-e 6+2 Pin extends to two PCI-e 6+2 connectors)
---
Page Index
1. Introduction, Packaging, Specifications
2.
Physical Look - Outside
3.
Physical Look - Inside
4.
Minor Tests and Conclusion