By: Jonathan Kwan
January 4, 2013
I don't know about what happens in other parts of the world, but here in North America, everyone who owns a BMW drives like an idiot. They weave in and out of traffic, have no awareness of something called blinkers, corner like it they are on a racetrack, fail to yield to merging traffic, and often operate in significant excess of the speed limit. I do apologize for the stereotype, but hey -- you know it is true. It was not until a few months ago when I got behind the wheel of a brand new, 2012 'F30' BMW 328i that I finally understood why their owners are so smug (To put it nicely) all the time. Its perfectly balanced chassis and sharp steering for awe-inspiring handling characteristics, in conjunction with unmatched smooth power delivery -- even for a Honda owner -- makes no mistakes. The car just begs to be operated that way, and for the next half hour or so, I was your stereotypical BMW driver. It was born to be driven, and to be driven in this manner. Whether you would like to put this in positive light or a negative sense, it is up to you. When Thermaltake collaborated with BMW DesignworksUSA to design the Tt eSPORTS Level 10 M gaming mouse, one question popped into my mind: What is it made to do? The box suggests to me that it is "Born to be Seen", and as superficial as it may seem, this is definitely the highlight of this product. But is its beauty just skin deep, or is there also brilliance in engineering? We took one out for a test drive to get a glimpse of its road... err, desk manners.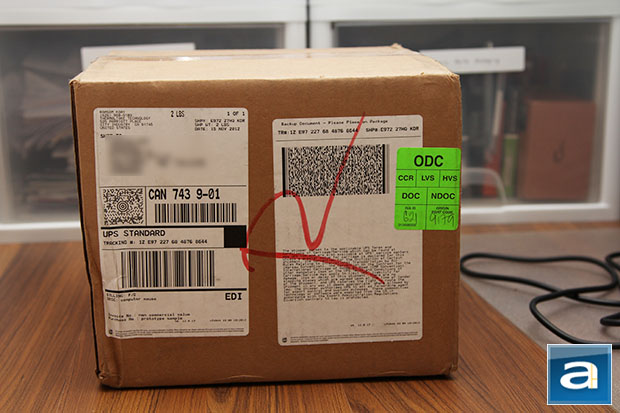 Our review unit of the Thermaltake Tt eSPORTS Level 10 M came in a medium sized, brown corrugated cardboard box from the company's American headquarters in California, USA. Actually, we were one of the first review websites to get a hold of this mouse back in November last year. However, we work on quite a tight schedule, so it was not until the calendar rolled over to '2013' before this review is completed. As always, UPS Standard was the carrier, and with its two thousand kilometers up north to us here in Polar Bear Land, we cracked open the package with tons of excitement for a closer look.
The Tt eSPORTS Level 10 M continues the line's standard color scheme in its retail packaging. Using a flat black background, it denotes a strong sense of sophistication and class; this is rather uncommon for gaming products -- although more companies are making good progress towards this. The black background is contrasted by Thermaltake's red branding and white text across the front of the box, as you can see in our photo above. Even the image of the mouse itself -- black in color, mind you -- occupying the left one-third of the box is well contrasted by someone skilled in Photoshop. Born to be seen? Born to be seen is right.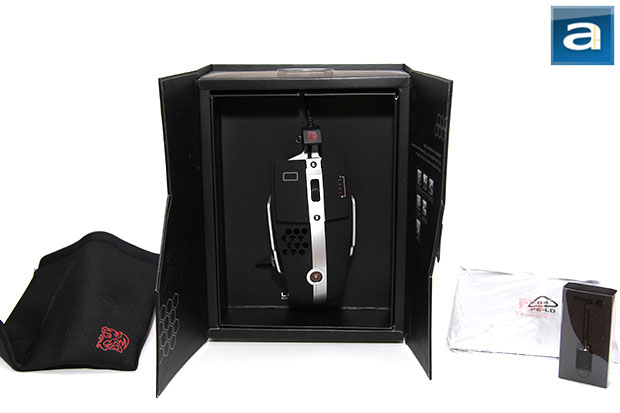 What you have seen above is just the wrapping, because the real stuff is stored inside another box, which can be slid out from the top or the bottom. Opening two sophisticated looking doors with cool slogans reveals the mouse, leaving a strong first impression that seems to speak to you quietly, "Behold, your Tt eSPORTS Level 10 M." The black colored tray makes the mouse feel like an expensive boutique product, and to be fair, even though it is not going to be from a boutique store (Unless you count Newegg as one), a hundred bucks is still some moolah for the working man. Other than that, not a whole lot is included out of the box, which is cool. A soft, high quality drawstring pouch is provided to carry your mouse. It is even separated into two internal compartments to keep the mouse cable organized. Meanwhile, a key is included so you can adjust the mouse's "3D Steering" angle -- more on this later. Of course, the usual manual and stuff is included, but I never bothered to open it.
Before we move on, let's take a look at the specifications of the Tt eSPORTS Level 10 M, as obtained from the manufacturer's website:
Color: Diamond Black, Iron White, Military Green, Blazing Red
DPI: 8200
Sensor Type: Laser
No. of Buttons: 7
Game Genre: RTS, MMORPG
Memory Size: 128kb
No. of Macro Keys: 11
No. of Game Profiles: 5
Lighting Effect: Yes
Pause-Break Effect: Yes
Color Options: 7
USB cable length: 1.8m
Weight-In Design: No
Graphical UI: Yes
Industrial Rubber-Coating: Yes
Weight: 185g
Gold-Plated USB: Yes
Dimension: 147 x 67.5 x 38.8 mm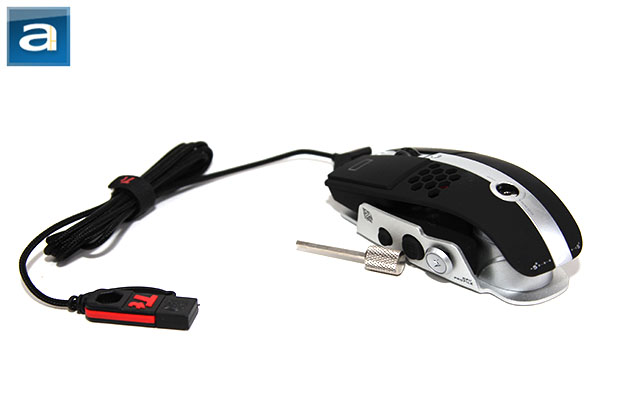 In case you have missed it in the specifications table, the Thermaltake Tt eSPORTS Level 10 M comes in four colors: Diamond Black, Iron White, Military Green, and Blazing Red. Coming from something designed by BMW, I would have expected at least an Alpine White on the list, but I digress. I decided to be conservative and went with Diamond Black, but every Level 10 M comes with silver stripes and base. As far as its appearance is concerned, I am not exactly sure if I see much of the design language carried over from their cars to the mouse, and while most gamers would awe at its sophisticated high tech industrial look, Apple users will cringe at its aesthetics. As it always goes, beauty is in the eyes of its beholder, so I will leave the judgment to you. All I can say is the Level 10 M is quite polarizing, haha.
At first glance, the Tt eSPORTS Level 10 M is almost symmetric in design, but in practice, this is done to accommodate those who like to grip their mouse with their finger rather than their palm. In other words, this is not an ambidextrous pointing device, but every left handed person I have met uses their right hand for the mouse anyway. Since the Level 10 M is made for RTS and MMORPG gamers, it certainly rings in with the market correctly. Its dimensions are specified at 147 x 67.5 x 38.8 mm.
With this in mind, the Level 10 M designed in collaboration with BMW DesignworksUSA has quite unique physical attributes, besides what that meets the eye. The hollow center with ventilated sides and partial honeycomb grille at the top keeps your sweaty palms from infesting the surface of the mouse; a smooth industrial grade rubber coating overlays the black portions of the mouse to maximize friction between your skin and the surface. A backlit Tt eSPORTS logo glows directly behind the honeycomb grille at the top, constantly pulsating in a cycle of permanently fade-in/fade out routine to let you know of its presence. A continuous aluminum surface wraps around the bottom up to the left and right sides of the Level 10 M for its lightweight characteristics. As you can see in our photo above, a hex key is included to adjust the height and the front/back displacement of the top -- cool. This can be done by two screws located on the Level 10 M, with one located at the top and one located on the right side of the unit. This definitely comes in handy depending on the size of the user's hand. Unfortunately, the 185g weight of Tt eSPORTS' flagship pointing device is not adjustable, so you will need to deal with whatever Thermaltake thinks is the best for you if this ends up on your desk.
Two buttons and one control switch is placed on the left side of the mouse. I use 'control switch' rather than 'button' for the big silver thing for a reason; this is really joystick that lets you roll between four preset sensitivity settings between 50 dpi to 8200 dpi when tilted between front and back. Thermaltake refers to it as the 'Z key'. It can be programmed for additional functions if tilted between up or down. Depress it, and you will go through five different stored profiles. The current profile is indicated by the Level 10 M's LED backlight color, which can be configured between seven options in software. We will talk about that in just a moment. Meanwhile, the two buttons labeled 'A' and 'B' is forward and back by default, just like your standard office mouse. I found the placement of these side buttons to be particular annoying. Essentially, they have placed protruding buttons on an already protruding surface where your thumb rests. It is so easy to accidentally engage them, it will simply drive you nuts in every day usage. The same goes for the other side, where you will find two additional buttons, logically labeled 'C' and 'D'.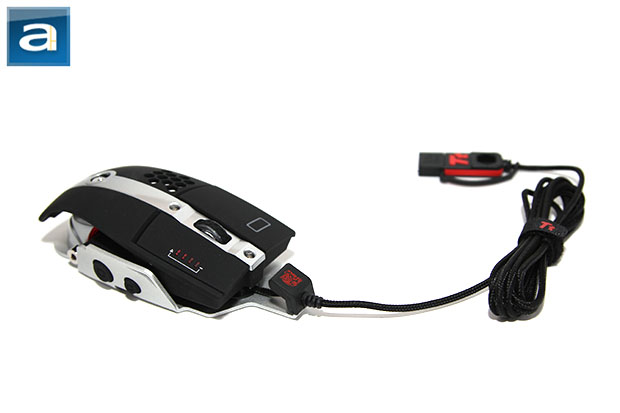 ... and here they are. Once again, do not be twitchy -- otherwise you will start do something weird in game, depending on your programmed macro or function. It will cost you, and you have been warned. Traditionally, if you design a human interface peripheral, you would like to keep auxiliary buttons from easily pressed. Anyone who has typed a long forum post and accidentally hit the 'back' button would know how annoying this could get. You may argue that you can disable the buttons, but what is the point then? Complaints aside, as you can see in our photo above, here you can see more clearly the set of indicators LED on both mouse buttons. On the left, a rectangle lives near the edge to let the user know which one is which. LAN party goers will definitely appreciate this touch. On the right, an array of four LEDs -- with a '1' at the top of the array, and a '4' at the bottom -- shows the active sensitivity level. This also implicitly lets you know the location of the right mouse button. The wheel is translucent with a black rubber grip at the top, and is also backlit for easy visual identification. Only the sensitivity LED array backlight is permanently red; the rest will change color in accordance to the one corresponding to the current active profile.
A 1.8m braided cable leads out from the front of the mouse via an extended cable guide. A braided cable, beside aesthetic purposes, also has lower friction than rubber coated cables for performance benefits. The USB connector is gold plated, and comes with a plug attached to the cable. When we bring about the question of whether gold plated connectors are actually useful or not, let's just say if it was the actual pins, then possibly -- since gold offers better conductivity than other metals. This theoretically establishes a better connection with your computer, but on a digital signal level, we must understand it is a discrete one or zero; so if anyone tells you they can tell the difference, you can definitely defeat their theory with a double blinded test. Additionally, if you are referring to the gold part of the connector you see on the plug, I would like to point out it actually does not make any physical contact electrically with your computer. In other words, it is nice to have, and it is pretty to look at, but it is not anything significant on a practical level. The cap, however, is certainly a nice add on; not to mention this is one time where having strings attached is actually a good thing. If you travel to LAN parties frequently, this in conjunction with the travel pouch will prove to be an invaluable asset.
There is a total of eleven buttons configurable on the Tt eSPORTS Level 10 M. Of course, five of them come from the joystick control 'Z' switch on the left. With regards to build quality, I found this product to be hard to argue against; every bit feels solid, every click registers with a consistent and distinct engagement, and the wheel scrolls with proper increments. No squeaks, no rattles, just all-round goodness.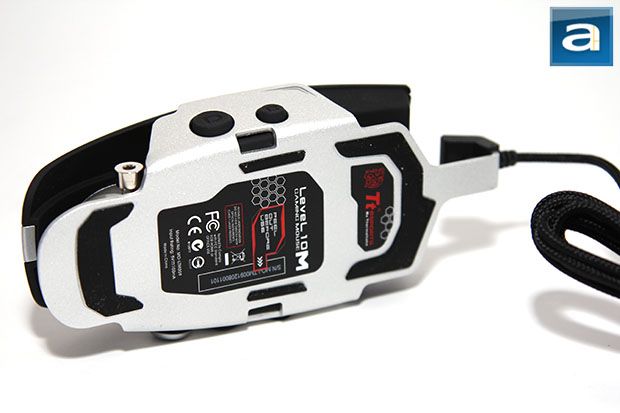 A shot at the bottom of the Thermaltake eSPORTS Level 10 M. As aforementioned, the aluminum base provides a solid structure and lightweight handling, and I like it. Keeping the aluminum base gliding above your mousing surface is a pair of PTFE feet; also known as Teflon to the common man. In Organic Chemistry, ethylene/ethene indicates a carbon-carbon bond; with two carbons and a double bond (C2H4). Tetrafluoro replaces four hydrogen atoms with fluorine atoms, making it C2F4. In non-scientific terms, 'poly' just means a bunch of them linked together.
In the center of it all is a laser sensor capable of up to 8200 dpi sensitivity. By default, the increments are 800, 1600, 3200, and 5000, but this can all be changed in software between its five user configurable profiles. 1000Hz polling rate is standard, but can be lowered to 500Hz, 250Hz, or 125Hz. 128Kb of onboard memory stores your profile settings on the mouse itself, so rest be assured your custom settings will not be gone when you switch computers. A removable label provides protection for the sensor out of the box. I am not sure if this is actually necessary. My biggest complaint is not its presence, however; I really do not appreciate the fact that it required quite a bit of effort to peel off. I mean, if it came off in one piece, sure -- why not. But it did not, which is quite a pain in the butt.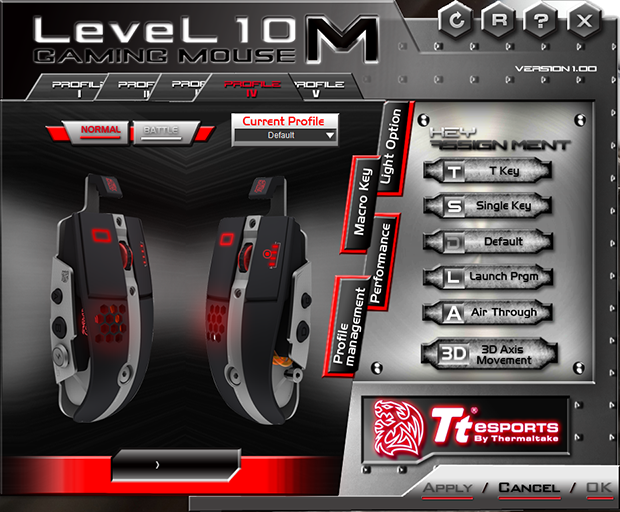 The Tt eSPORTS Level 10 M's configuration software design is true to the product line. Retaining a fundamentally similar design theme than other Thermaltake mice we have used in the past, once again, do not expect that office look; this is all gaming. Yes, it does look a bit tacky, but hey, we all appreciate different things, right? Personally, I found the GUI to be a bit confusing at first, but once you get the hang of it, usage is quite straightforward. First, select the profile you would like to modify. Click on the corresponding buttons on the photo of the Level 10 M to modify key assignments by using menu options on the right. Selecting "Air Through" and "3D Axis Movement" will bring up a video demonstrating the respective features. If you want to modify features such as its glow color or sensitivity (Including independent X/Y axis speed), those options are in the buttons located in the middle. And of course, you are always free to set your own macros. Generally speaking, just click around until you find what you need, it is not going to take too long.
-----------------------------------------
The Tests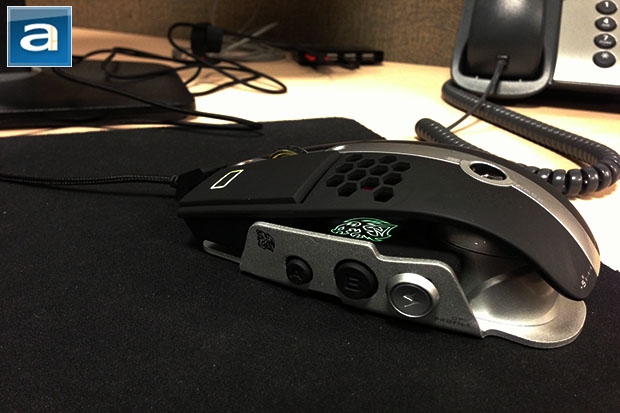 After installing and properly configuring the Tt eSPORTS program, we have put the Thermaltake Tt eSPORTS Level 10 M through our series of standard tracking performance tests. This includes normal office usage in the Windows environment, as well as gaming within first person shooter games such as Counter-Strike: Source. Graphics work is done in addition to the regular office usage with Adobe Photoshop. The mousing surface used is the SteelSeries SX and XTracPads Ripper XXL. Please note that these are subjective tests, but we attempt to make it as objective as possible with our cross reference testing methods.
Although I prefer to grip the mouse with my entire palm extended over the surface of the mouse, the Tt eSPORTS Level 10 M is made for a claw like grip. As discussed earlier on in this review, this is more of a preferable setup for RTS and MMORPG players, so when reviewing a mouse designed for this configuration, I have adjusted my usage habits accordingly. Overall, I found the shape of the mouse to be quite comfortable, and the rubber is pleasant to touch. Having tons of ventilation on the side, as well as a mesh opening on a part of the surface, made intense gaming sessions more than bearable, especially for users with sweaty palms. That said, the protruding side buttons is pretty annoying as aforementioned, because it is constantly under your fingers. The chances of you accidentally pressing one is incredibly high. Therefore, in terms of raw comfort, the Level 10 M is quite agreeable, but putting it in practice -- thanks to the location of the side buttons -- will require a stressful amount of concentration and care to prevent you from accidentally engaging a programmed function. A simple twitch will set it off. If you are just browsing the web, or moving from day to day Office use, trust me -- it will absolutely drive you nuts.
The primary purpose of Thermaltake's Level 10 M is intended for the performance enthusiast crowd in playing certain games. I also do not see any issues with nailing some headshots in FPS games using this device, given that you are this type of mouse user. The sense of control and the smoothness of its glide over the tracking surface is excellent, and the pointer goes exactly where I want it to go combined with the precision I want. At 1000Hz polling rate, we here at APH Networks never had any questions with the company's choice of laser sensor; the Level 10 M is a very precise and quick responding mouse. No 'oil slick' delay is noticed; response time is consistently excellent from the lowest sensitivity setting all the way to its upper 8200 dpi limit. The Tt eSPORTS Level 10 M is highly customizable for user desired tracking resolution, highly responsive, virtually lag free, and razor sharp handling characteristics. It has the performance of every gaming class mouse should be.
However, like some gaming oriented products I have used in the past, this Tt eSPORTS mouse is probably a not preferable choice for regular office and productivity use. Its techy appearance is more tacky than practical, and in turn, gets in the way of the user. To be honest, they could just fix the side buttons by moving them away from the user's fingers in the standard grip position, and reduce its protruding distance. All I can say is, the electronics under the hood is notch -- no question about that. The mechanics on the outside, however, leaves a lot to be desired.
-----------------------------------------
Some say the best car in the world should combine German engineering, Italian design, Japanese reliability, and American marketing. On the flip side, the worst car in the world would consist of German marketing, Italian reliability, Japanese design, and American engineering. But what does American marketing, Taiwanese engineering, German design, and Chinese manufacturing bring you? Okay, Captain Obvious just signed in, it is the Tt eSPORTS Level 10 M gaming mouse. The Level 10 M is indeed born to be seen. I won't argue against that, because I can't. But just because it is born to be seen, does not mean it is born to be used -- and this is exactly where the problem is. Yes, it has very unique looks. The Level 10 M will not be mistaken for any other mouse in the market today. When I took it out in the office, everyone seems to be dropping by just to talk about the Level 10 M. The build quality is also top notch. It feels solid with nearly perfect detail in every corner. Not only that, any enthusiast will appreciate the Level 10 M's internal electronics; delivering performance that ranks among the best in the market today. The issue is it just cannot be used comfortably, and this is very significant. The placement and implementation of its side buttons are just too frustrating to bear, at least for me, and in that, a rather unfortunate major stumbling point for otherwise brilliant hardware.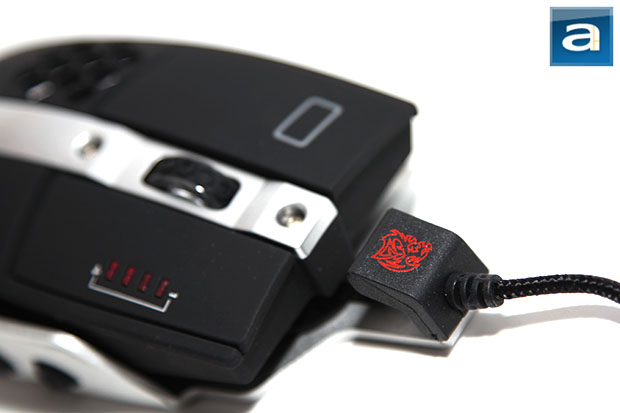 Thermaltake provided this product to APH Networks for the purpose of evaluation.
APH Review Focus Summary:
7/10 means Great product with many advantages and certain insignificant drawbacks; but should be considered before purchasing.
6/10 means A product with its advantages, but drawbacks should not be ignored before purchasing.
-- Final APH Numeric Rating is 6.3/10
Please note that the APH Numeric Rating system is based off our proprietary guidelines in the Review Focus, and should not be compared to other sites.
The Tt eSPORTS Level 10 M combines distinguished appearance with excellent electronics. Unfortunately, the poor placement of side buttons will contribute to frustrating amount of accidental clicks.
Do you have any comments or questions about the Thermaltake Tt eSPORTS Level 10 M? Drop by our Forums. Registration is free, and it only takes a minute!