By: Aaron Lai
September 12, 2014
Generally speaking, I think most people are trusting people. That is, most people will take things at face value. Starting at birth, a child must trust their parents or their caregivers will provide for the basic necessities. Of course, this trust comes from the fact children are physically and mentally limited. But as each person grows up, this reliance or trust fades, especially if they experience something to harm this trust. More recently, I have been getting to know a new friend. While we have met for a few years already, I had not talked to her much. Randomly while talking, the topic of age came up during our conversation. I knew she was two years younger than me. Yet when I asked her about it, she kept asserting she was actually only one year younger than me. During the entire evening, I could not understand how this was possible. I even went to ask one of her friends, and she confirmed that our age difference was only one. Being the gullible person I am, I began to accept the possibility of her being only a year younger. It was not until after several days of them laughing at me did she finally tell me her actual age. From this, I learned two valuable lessons. For one, people enjoy trolling each other, especially when they find easy targets. Secondly, and more importantly, if you think you have a reliable source you will trust it, until it proves to be false or, as Editor-in-Chief Jonathan Kwan calls it, a "Javad". And this is where we fall in with today's review of the Kingston HyperX Cloud gaming headset. Kingston has a very good track record in producing excellent computer hardware and peripherals, as we have seen in the past, but they have never done any audio products. So when Kingston announced they were going to make a gaming headset, I thought they were just joking around. But since you are reading this review, you obviously know this is real. Can Kingston once again produce a winner out of the HyperX Cloud, or are they really just trolling us? Let us find out.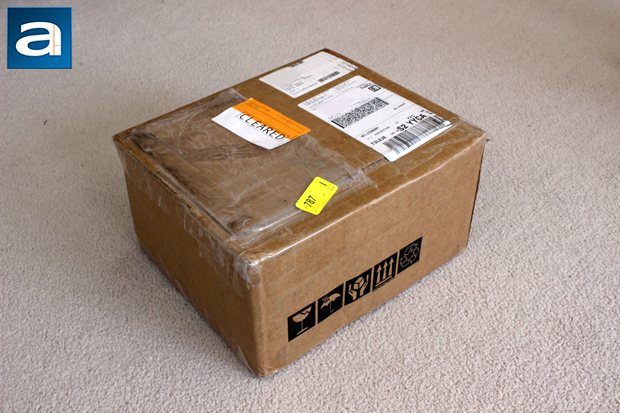 Today's package of the Kingston HyperX Cloud gaming headset arrived from Kingston's offices in Fountain Valley, California. Traveling with Kingston's usual partner of FedEx, the shipment arrived in good condition to our Calgary, Alberta location. Kingston seems to more often than not deliver their items with FedEx, and so far it is working out great for us. I can say I have yet to receive a damaged product through shipping from Kingston, and thankfully this statement still stands true today. There are no dents or holes on the corrugated brown cardboard box, so I can safely assume the inner contents are in pristine condition as well.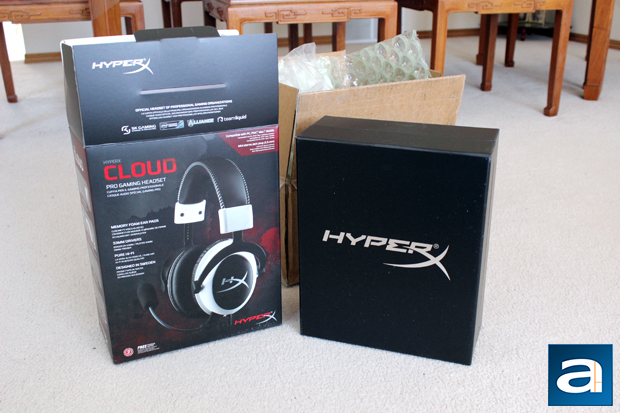 If you recall my Func HS-260 review, you probably remember how much I raved about the retail packaging of the headset with its minimalist, clean, and perfected design. Open the shipping cardboard box, and you probably will not think along the same lines for the Kingston HyperX Cloud. The retail box is surprisingly large, and has lots of small words on the front panel. The front also includes a photo of the headset, which takes up majority of the space. The sides and back of the box are plastered with more features and photos. I should also note there were a few findings this headset is actually a rebranded QPad headset, and Kingston confirms this on the side panel. On a side note, after doing even more research, we have found that the headset that the Kingston HyperX Cloud is based off of, the QPad QH-90, is actually a rebranded Takstar PRO 80 with a microphone input. Honestly speaking, this is a somewhat mediocre styling of the packaging. But if I were to end here, this would do Kingston a complete injustice. Upon opening this box, the retail packaging takes a complete 180 degree turn. Inside is a completely black box with the word "HyperX" on the front. Slip off the front cover, and we finally get the real packaging. The headset is found nestled in large foam cutouts to cushion the HyperX Cloud quite well. Inside, there are not too many words, except for a blurb to welcome the users to the HyperX team. Everything inside is also plastic wrapped or bagged, so you can have the satisfaction of opening every little accessory. Kingston once again proves the old saying that it is the inside that counts.
Before continuing to the actual contents of the product, let's take a look at the specifications and features of the Kingston HyperX Cloud:
Features
- Comfortable — memory foam ear cushions with leatherette-padded headband
- Customizable — switch between leatherette and velour ear cushions for varying sound profiles and feel
- Compatible — with PCs, notebooks, tablets, mobile phones, aeroplane adapters and PS4 consoles
- Distinctive — HyperX branded design in red and black or white and black
- Guaranteed — two-year warranty, free technical support
Specifications
Headset:
- Transducer type: dynamic Ø 53mm
- Operating principle: closed
- Frequency response: 15Hz–25,000 Hz
- Nominal impedance: 60 Ω per system
- Nominal SPL: 98±3dB
- T.H.D.: < 2%
- Power handling capacity: 150mW
- Sound coupling to the ear: circumaural
- Ambient noise attenuation: approx. 20 dBa
- Headband pressure: 5N
- Weight with microphone and cable: 350g
- Cable length and type: 1m + 2m extension + 10cm iPhone
- Connection: mini stereo jack plug (3.5 mm)
Microphone:
- Transducer type: condenser (back electret)
- Operating principle: pressure gradient
- Polar pattern: cardioid
- Power supply: AB powering
- Supply voltage: 2V
- Current consumption: max 0.5 mA
- Nominal impedance: ≤2.2 kΩ
- Open circuit voltage: at f = 1 kHz: 20 mV / Pa
- Frequency response: 100–12,000 Hz
- THD: 2% at f = 1 kHz
- Max. SPL: 105dB SPL (THD≤1.0% at 1 KHz)
- Microphone output: -39±3dB
- Length mic boom: 150mm (include gooseneck)
- Capsule diameter: Ø6*5 mm
- Connection: mini stereo jack plug (3.5mm)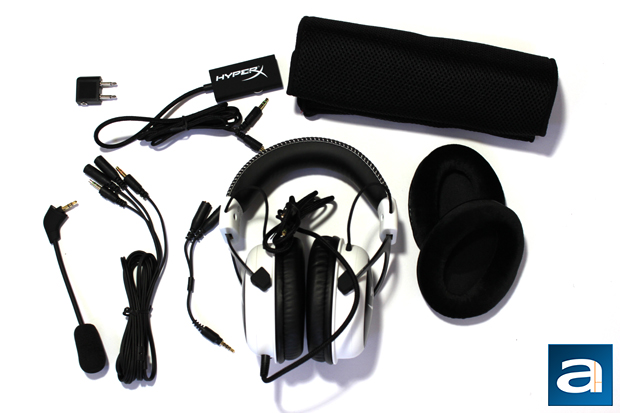 Taking the wrapping off of everything, you can see all the accessories thrown in with the Kingston HyperX Cloud, and it is quite a bit. Going from left to right, top to bottom, we have an airplane adapter, microphone, 110cm braided extension cable with a remote add-on at the beginning, 200cm non-braided extension cable, 10cm mobile phone adapter, HyperX Cloud headset itself, large mesh carrying case, and finally, an extra set of velour ear cushions. It was quite a struggle to place all the items on our white background for photos, as there are quite a number of accessories. This is great for Kingston, as they have thrown in everything thinkable, and maybe even the kitchen sink. Let us continue on by taking a closer look at the main focus, the headset.
---
Page Index
1. Introduction, Packaging, Specifications
2.
Physical Look - Hardware
3.
Subjective Audio Analysis
4.
Conclusion